Best Paid Jobs – The Ultimate Guide
– Chapter 11
What is it REALLY like to be a retail assistant? There are a lot of responsibilities involved, and the hours are sometimes long. Does the pay match this? Find out in this article.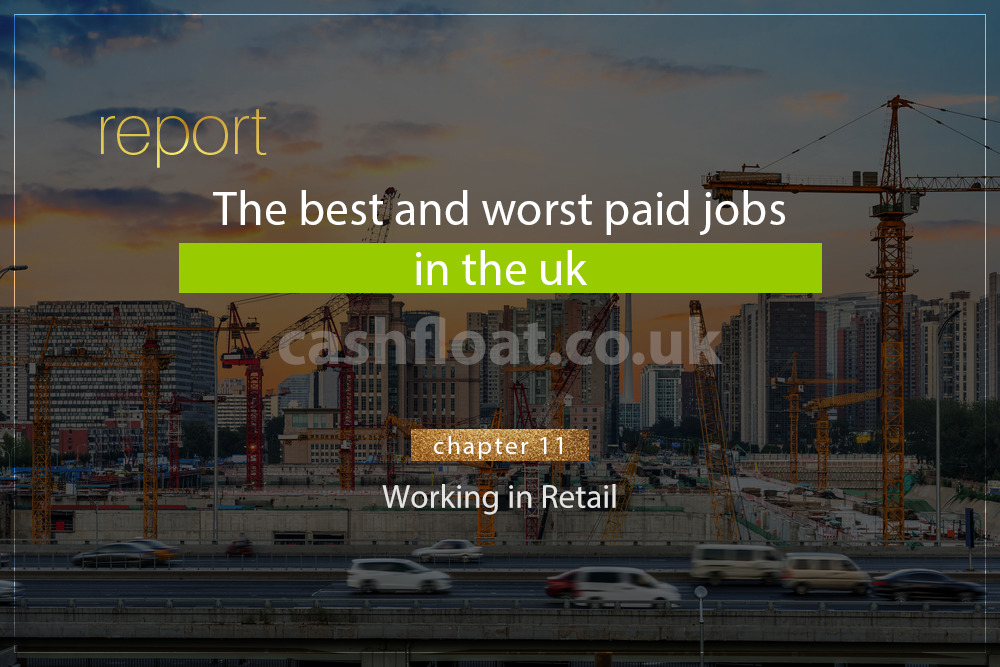 Low Paid Jobs in Retail
Some of the lowest paid jobs in the UK are in the retail sector and these often require a worker to perform some menial tasks as well as dealing with customers. Sales assistants are also often needed to work longer and more unsociable hours than those people who work in offices. So, what are the realities of a working day for a retail assistant in the UK?
What Does a Retail Assistant Do?
A retail assistant in the UK is expected to perform a lot of duties some of which are daily tasks and some of which crop up on an irregular basis.
First and foremost a retail assistant must greet customers as they enter the store. Acknowledging a customer even with just eye contact is one of the skills that is demanded and a retail assistant is expected to be friendly and engaging no matter what kind of day they are having.
Routine daily tasks include stocking up shelves, assisting customers to find what they want and processing cash and card payments.
Some retail assistants have to deal with complaints from customers and there may be a requirement to tidy up and clean the shop.
These kinds of tasks give you an insight into the many responsibilities that retail assistants undertake and this is not a complete list. In addition to dealing with the public who can sometimes be unpleasant, some assistants are required to meet sales targets so this is a job that is not without stress.
What Rate of Pay Do Retail Assistants Get?
Despite the need for a comprehensive list of personal skills that includes being constantly helpful and polite, being physically fit to cope with the long hours on their feet and having a good knowledge of the products they are selling, retail assistants earn a low rate of pay.
The average rate of pay for a sales assistant in the UK is £6.47 per hour and this rate does not always improve with experience unless you work for a large corporation where there is room to progress to a higher level with potential for a better payday UK.
Is This a Good Career to Choose?
The prediction for the retail industry is that it is getting smaller and by 2025 there will have been a loss of around 900,000 jobs in the UK. The reasons for this are varied but include the introduction of the National Living Wage which will cause a rise in costs for retail businesses.
So, the poor pay that is currently being paid will increase but apparently this will cause a loss of jobs in the long run. Either way the lot of the retail assistant will suffer.
There is also the fact that many retail outlets are now operating online and the reduction of retail assistant jobs in the UK is one reason why the rate of pay is so poor. With many high street names, such as Woolworth and MFI, now disappearing, a job in retail looks increasingly like a poor option although for many people who suffer from a lack of higher education, it is the only one.
Changes in The Retail Work Place
Many businesses are supporting the introduction of the National Living Wage but business owners agree that this will cause some major changes in the retail sector. Areas where sales are economically fragile will be affected and there will undoubtedly be a reduction of employment as the problem of persistent low pay in the retail sector is being challenged.
What Will a Rise in Wages Mean?
As the NLW increases the rate at which wages will rise, it will cause some changes in the makeup of the work force in retail sales. Businesses will be trying to mitigate the costs of paying the extra money and some may choose to relocate to other countries where taxes and pay rates are lower.
So, although the intentions of the government are to increase the poor rate of pay for retail assistants, this could have some far reaching effects on both pay and the chances of a job in this sector.
Is Retail the Lowest Paying Sector of Employment in The UK?
Although businesses in the retail sector have gained a bad reputation for paying low wages and asking staff to work long unsocial hours, there are some big differences in the UK in how retailers treat their staff.
High end shops like Monsoon have been guilty of paying below the NMW but there are others like Selfridges which pay more than the required £7.20 per hour. Even a cost cutting store like Aldi beats some of its higher profile competitors. And John Lewis not only pays more per hour but enrolls its employees in a bonus scheme based on annual profits. Whilst retail workers will not earn the best payday out there, these extras do make a big difference.
Hard Work for Little Reward
A job as a retail sales assistant demands a lot of hard work and sometimes the rewards can be very little. Depending upon the opening hours, you may be required to start work very early or finish quite late at night.
You may receive some training but in this sector of employment there is often no reward for experience and any pay increase might depend upon a sales target.
Besides juggling the demands of customers, dealing with complaints and keeping the store clean and tidy, sales assistants must also keep a smile on their face at all times. As most people can testify, this rarely happens.
Although working in a retail environment can be a starting point for a career in sales, it is not an easy field. The reality is more often than not, that the staff are underpaid and overworked.
With confidence and tenacity, a sales assistant may be able to increase their earning power. However, with the looming threat retail representative debulking, this is unlikely to happen in the near future.