How Much Does It Cost To Fix Home Appliances?
– Chapter Twenty Four
Save yourself a payday loan keeping a simple kitchen cleaning schedule. Keeping your appliances clean keeps them running efficiently, saves on energy and gives them a longer lifespan.
Story highlights
Kitchen cleaning of the condenser coils at the back of your fridge helps your fridge to run efficiently.
Save money on your energy bills by keeping the lint filter and vent in your tumble dryer clear of dust.
Saving money by keeping home appliances clean may seem to be a simple idea. But, with so many different appliances now in use, you may feel that this is a task that takes up too much time.
However, keeping all your handy home appliances in good working order by keeping a regular kitchen cleaning routine can help you avoid energy bill loans. And that is besides for the satisfaction of having a clean, orderly home. As well it helps with making sure that these essential goods last for as long as possible.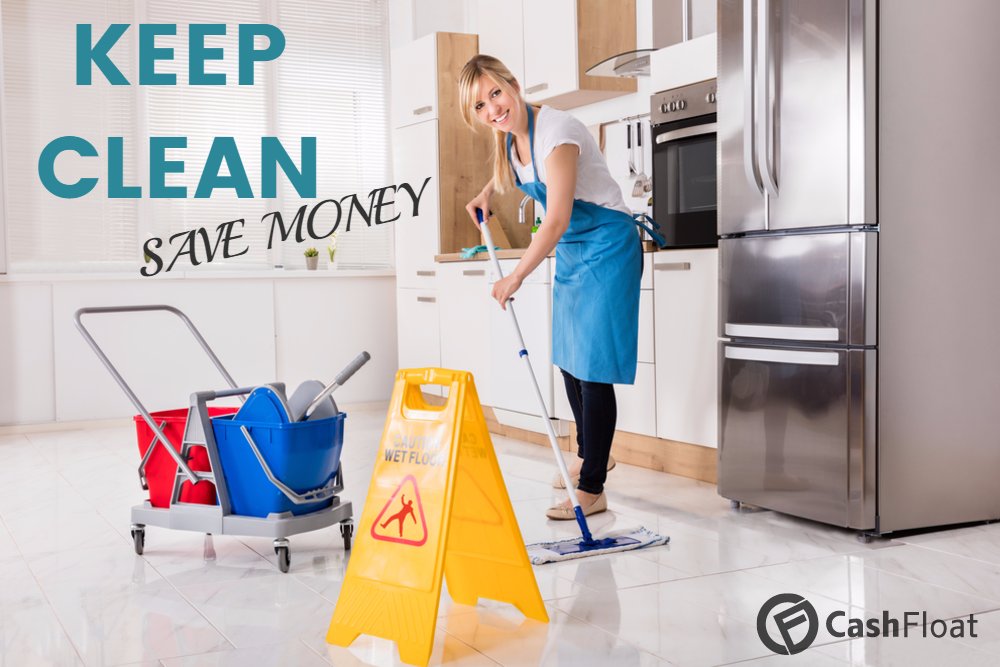 Keep Home Appliances Clean And Save Money
Small appliances like toasters will last a lot longer if you regularly empty out the crumb tray. You should also clean your blender as soon as you have finished making your daily smoothie. If you are in a rush, just rinse it quickly under running water to get most of the dirt off. Then, when you have time later you can give it a proper clean later. Regularly cleaning your oven not only stops the elements from being damaged but also helps the thermostat to keep the oven at the right temperature.
In addition, don't forget to descale the kettle especially if you live in a hard water area. These are just a few simple tasks that only take a few minutes but will help to make sure that your home appliances last longer and give the best possible performance.
Kitchen Cleaning: The Fridge Freezer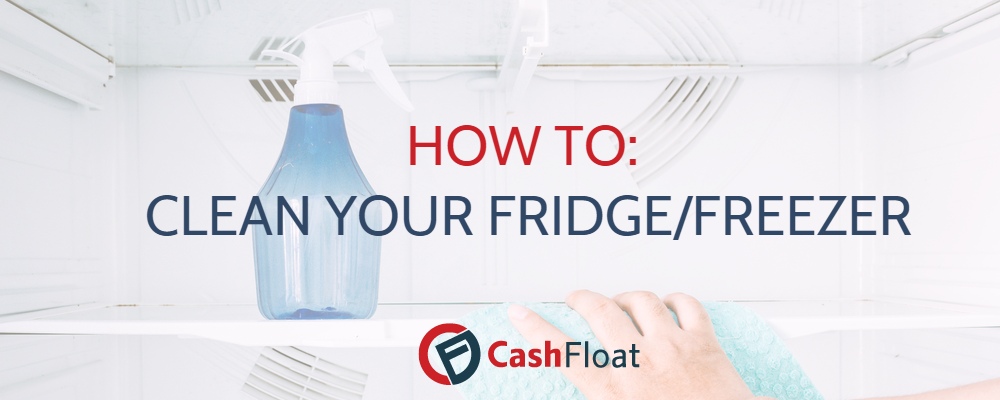 Most people will keep the inside of their fridge freezer in a clean state of repair. But many people either forget or are just unaware that you need to keep the condenser coils and fan clean if you want your fridge to have a long life. Furthermore, it is necessary for energy saving and good performance. In fact, by keeping the condenser coils in a good state of repair, you can save up to £300 over a period of 10 years.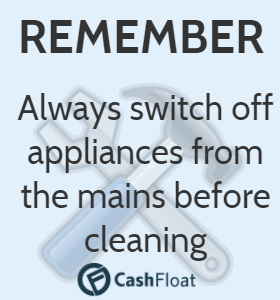 What you will need to clean the condenser coils on your fridge;
A stiff brush
A vacuum cleaner
A torch
A screwdriver
A face mask to stop the dust getting into your lungs.
How to clean the condenser coils;
Switch off: Switch off and unplugging the fridge freezer. If you know which circuit breaker powers the appliance on the fuse box you can turn this off. But, it is always best to unplug any appliance before you start messing about with it.
Locate the condenser coils: You can usually find the condenser coils at the rear bottom of a modern fridge freezer. There may be a protective cover (grate) which you will need to remove. Some grates just pop on and off, while others have small screws holding them in place.
Put on your dust mask: Once you have removed the cover, make sure that your dust mask is in place. Then use the brush to remove dust and debris from the coils being careful not to damage them.
Vacuum up: Use the vacuum cleaner to suck up the pile of debris and dust that has accumulated.
Search for spots you missed: Next, use the torch to look for any areas that you may have missed.
Replace the grating: Finally, replace the grate cover, plug in the appliance and check the settings.
Using the correct temperature settings on a fridge freezer is another way to save money. If it is set too cold by a measure of around 10 degrees you could end up paying 25% more than necessary to keep your food fresh.
Kitchen Cleaning: The Tumble Dryer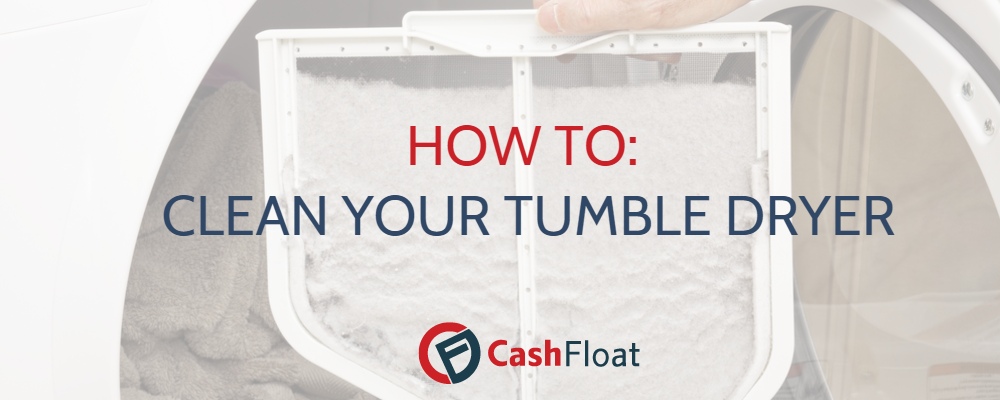 The simplest way to ensure that a tumble dryer is working efficiently and safely is to keep it clean. There are two areas that you need to keep clean; the lint filter and the vent.
A lint screen or filter that is clogged with fluff will stop the dryer from working efficiently as it prevents the air from moving freely around the dryer. This also means it uses more energy and therefore costs more to run. So, clean this after every use.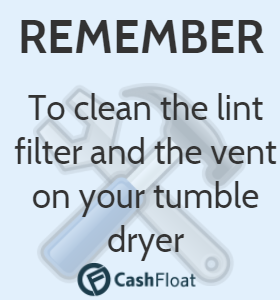 What you need to clean your tumble dryer;
A vacuum cleaner with an attachment for removing lint
A rubbish bag
A dust/vent brush
How to clean your tumble dryer lint filter;
Locate the lint filter. The lint trap is usually located just inside the door or at the top of the dryer. A quick look at the user guide will point out the correct location.
Take out the lint screen, it should easily lift out. Roll the contents into a dust ball and put it in the rubbish bag.
Take the vacuum cleaner and add a soft brush to the nozzle. Then use this to clean the screen of any remaining particles of dust or lint.
After you have cleaned the filter, use the vacuum to clean out the area where the filter is placed.
Once the area is clean, simply put the filter back in place.
How to clean your tumble dryer vent;
The vent on a tumble dryer will usually be at the back of the machine. Once again it is better to check in the user guide to make sure where it is located. Vents are usually made from tubing that is constructed of aluminium or a special plastic.
Taking care not to obstruct the vent or to cause it to tear, pull the machine away from the tubing and remove the clamp that attaches the tube to the dryer.
Using the vent brush clean the piping and the vent in a clockwise and anti-clockwise direction and this will remove as much lint as possible.
Push the vent brush right through and simply vacuum up the pile of debris.
Replace the vent tubing with the clamp.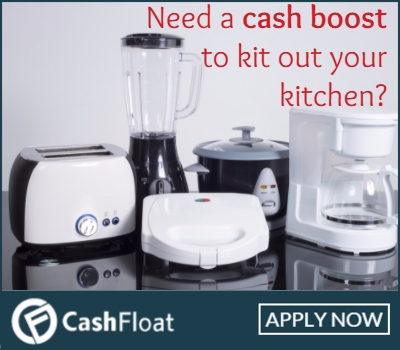 Kitchen cleaning the vent from outside as well as inside is a good idea. But, if this is inaccessible you may not be able to do this. Therefore, in this instance you can turn on the dryer (empty) and the hot air should push any remaining lint or fluff out.
This simple kitchen cleaning job will help your tumble dryer to work more efficiently and will save on energy costs. It is recommended that you clean the vent twice a year.
Saving On High Energy Costs
One of the simplest ways to save on energy costs is to make the most efficient use of a washing machine and tumble dryer. There are some simple tips that will help you to do this.
Saving Energy And Money When Using Washing Machines
Modern washing powders mean that the old rules about washing machine temperatures no longer apply. Many experts recommend washing clothes in cold water unless they are covered in grease or oil. You can save lots of money and help the planet by adopting this. Your clothes will also last a lot longer.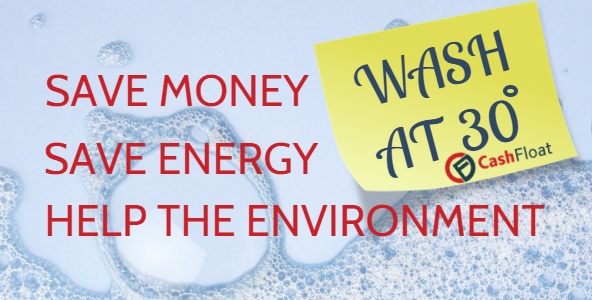 Using a full load when washing will also ensure that you save money. If you stop using the extra rinse cycle and use a short wash cycle, you can also help to reduce your electricity bill. As well you can save on the amount of water your washing machine uses.
Saving Energy And Money When Using Tumble Dryers
The first step to saving money on tumble dryers is not to use one. However, given the poor weather and number of drying days in the UK, it is not always possible to peg out the clothes.
So, make sure that the dryer is always kept clean (see above). Use the lowest possible heat setting. Many clothes are made from thin material. You can set them on the 'delicates' cycle.
Do not overload the dryer as this will use more power. If possible, dry clothes for a shorter period. Then, if they are still not dry enough, set the dryer for 10-minute intervals until they are completely dry.
Learn more with these trending articles
Following these simple guidelines, you can save money. COnsequently you will ensure that your essential home appliances last for longer before you need to take out a short term loan for new appliances.