Best Paid Jobs – The Ultimate Guide
– Chapter 6
Discover why the number of self employed is increasing so much, and explore the reasons why they are earning less than ever before.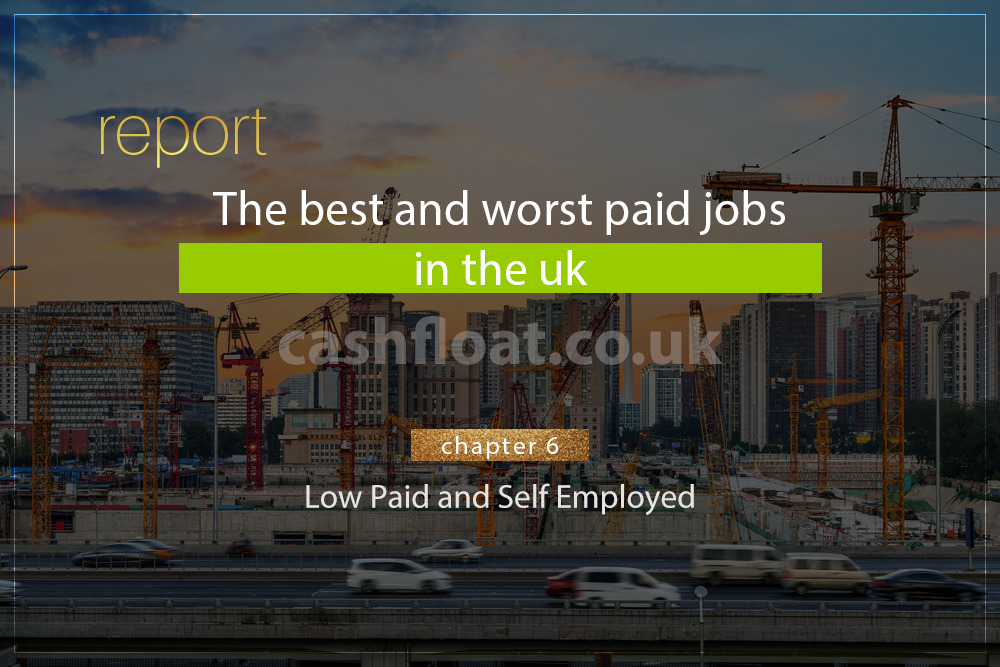 After the recession that followed the financial crisis of 2008 it was expected by many economic advisors that unemployment figures would go up to as much as 4 million. However, that did not happen and one of the reasons behind this phenomenon is the growing number of self employed people who do not appear in the government unemployment statistics.
Statistics of the Self Employed
One in seven people in the UK, or around 4.5 million, is now self employed and this is due to a wide variety of reasons. However, the main one is the lack of work opportunities in the post recession workforce in the UK.
Self employment is a key element that has contributed to the move towards lower paid work in the UK and it is one of the factors why the mean average wage has gone down. In addition to earning a low wage, those who work for themselves are also missing out on sick pay and holiday pay as well as an employer's contribution towards a pension. And, despite earning lower pay, the self employed often work longer hours with as many as 13% putting in 60 hours a week or more.
The Disappearing Income
The growing number of people in the UK who are now self employed has resulted in a reduced income for many families. Figures show that a large number of self employed people earn very little from their work, with no fixed payday UK and many of them actually achieving an income that is below the National Living Wage. The NLW amounts to around £13,000 per annum for a 35 hour week and it is clear that this is barely enough money for a family to survive on in the twenty first century.
A Fall in Earnings
The number of self employed has steadily risen since the year 2000 but their average income has fallen well below that achieved by an employed person. In 2007, the average income for a self employed person was around 28% lower than that of someone who worked for an employer but now that figure has changed and research today shows that a self employed person can expect to earn 40% less than someone who is fully employed.
Why Has Self Employed Income Dropped?
The factors behind the drop in income of the self employed are varied. One of the reasons for the drop in average income is that more women have now joined the ranks of the self employed and as women are still lagging behind men in annual income this has brought down the mean average.
Another factor is the reduced hours that the self employed are working and this is being forced upon people due to a lack of available money in the economy. People who would normally have spent money on house renovation or employed a gardener have had to cut back and these are the very people who would normally offer work to the self employed.
More Self Employed Not Less
One of the other factors behind why those in self employment earn low wages is simply that there are more of them. Since the recession more people have joined the ranks of the self employed than the amount that are leaving. This is in part due to the fact that many older people have now become self employed as they seek to postpone retirement or need to top up their meagre state pension by getting that amazing payday.
How Much Worse Will It Get?
Since the introduction of the National Living Wage it has been estimated that over 1.7 million workers who are self employed will earn below this amount. The figure will rise to 1.9 million by 2020 but this fact will be hidden simply because pay for self employed barely raises a headline in the newspapers in the way that low pay for the employed does.
Additionally, there may well be a rise in the number of companies who contract out work to the self employed. Those people who are offered work as freelancers get jobs simply because it is cheaper for a company to work in this way instead of offering direct employment.
The Lowest Paid Sectors of The Self Employed Ranks
Although self employment is now at its highest since figures were first recorded, there is a record number of people who are on very low wages. The self employed figure for the UK falls below that of other European countries. However, despite the government explanation that this is due to people wanting to be their own boss, the fact is that for some people there is little choice as other avenues of employment have been closed to them.
Regional Differences
The problem of the low paid self employed is worse in London than elsewhere in the country and there are certain job sectors where the problem is more acute. Coach, taxi and lorry drivers, cleaners and gardeners and construction workers are the self employed jobs that attract the lowest wages.
Conclusions
Self Employment May Continue To Increase
The increase in the ranks of the self employed in the recent past has astonished many economic commentators. The factors that have led to this situation are complex with some people pointing out that older workers are often putting off retirement and topping up their pension whilst others say it is due to people wanting to be their own boss.
However, the major factor behind the increase of those in low paid self employment is the weakness of the UK jobs market. This means less choice for those who are unemployed and forces some of them to choose loans for unemployed or low paid self employment as a last resort.
A Precarious Lifestyle
The government has promised to support the self employed with start up loans and tax allowances as well as declaring that it will cut through the red tape that so often causes problems for new enterprises. However, despite promises of a change in policy, there is no doubt that being in a state of self employment is a precarious situation and it is not as well supported as the government would like us to believe.
The financial insecurity that arises when work levels are unpredictable means that many people would prefer a regular job. Unfortunately, at this juncture there are not enough full time jobs to go around and the high levels of low paid self employed are stuck in this situation for the foreseeable future.
If you are a self employed taxi driver and you need extra funds to pay for an emegency car repair, you can click here to borrow payday loans for taxi drivers.