Student finance in the UK is a hot topic, especially for English students. Cashfloat busts 5 myths that stop people from applying or wasting their money. Read on to discover more.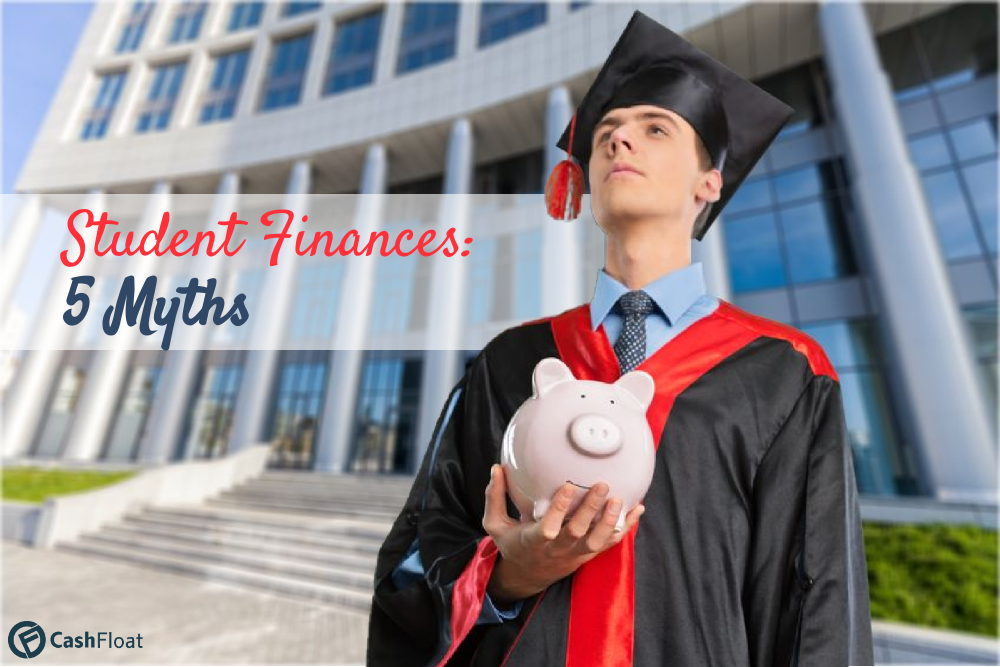 Student Finance in the UK
Since the introduction of student finance in the UK in 1998, it has undergone many changes. And more reform is on the cards. Theresa May has requested an independent review of UK university tuition fees, and whether they represent good value for money.
In view of this, Cashfloat, a short term loans lender, have highlighted some of the most commonly-held misconceptions about student finance and will set the record straight. The five we've chosen are:
In this article we shall examine:
Do higher tuition fees mean higher repayments after graduation
Do student loans represent 'Debt for Life.'
Can graduates avoid debt by working abroad
Are Scottish universities are free
Will student loans affect mortgage applications
Conclusion
Do Higher Tuition Fees Mean Higher Repayments after Graduation?

The cap for university tuition fees is £9,250 a year. Although the original intention had been that universities would charge different fees according to the course and university facilities, in practice most UK universities charge the maximum amount.

When British students take out finance from the Student Loan Company, their debt for both fees and living costs during their degree course is added together in their 'account', and interest is added. They only start to make repayments on the April following their graduation. The amount they pay every month has nothing to do with how high their fees were. Instead, repayments are calculated according to how much they earn. Since April 2018, the salary threshold for repaying is £25,000 a year, so they pay 9% of any earnings over this figure.




Do Student Loans Represent 'Debt for Life'?

The media often draw a great deal of attention to the fact that the average student graduates with total debts of over £50,000. In reality, this figure is entirely meaningless. The misconception seems to be that they'll then spend the rest of their working lives trying to repay this debt.

However, the structure of at the moment means that any outstanding student debt is written off after 30 years. The organisation Money Saving Expert estimates that a graduate would need to have a starting salary of £45,000 a year to pay off all the money they owe.

Can Graduates Avoid Debt by Working Abroad?

One of the common myths surrounding student finance in the UK and its repayment is that graduates can avoid their debt by emigrating or working abroad.

The Student Loan Company states that graduates going to work outside the UK for longer than three months have to notify them. This would allow them to make arrangements for the repayment of the debt from a foreign country. The threshold for repayment is slightly different to students working in the UK, and this depends on the country they go to (both the salary and the cost of living).




Scottish University Fees are Free

Sometimes English students are mistakenly encouraged to apply to Scottish universities because there are no tuition fees there. This is absolutely true, but university is only free for students born in Scotland and from EU countries. Unfortunately, students from other countries in the UK would have to pay some of their tuition fees. How much this is, depends on where they come from.

Since devolution granted more powers to all the countries in the UK, the rules regarding university fees are different in each country. In Wales, tuition fees are capped at £4,000. If Welsh students choose to study at a university outside Wales, their government will pay any fees higher than this. Students from Northern Ireland pay less than £4,000, but only if they study in Northern Ireland.

Unfortunately, English students get the worst deal as they receive no governmental financial support. No matter where they study they have to pay the full tuition fees.

Cost of Student Fees Per Country
Country
Cost
England
Full tuition fees
Northern Ireland
Students pay less than £4000 if they study in NI.
Scotland
No student fees for Scottish students and EU Countries only
Wales
Capped at £4000

Do Student Loans Affect Mortgage Applications?

The effect of student finance in the UK on mortgage applications is another cause for confusion. Unlike other consumer debts such as online payday loans, details of student finance aren't kept by credit reference agencies on someone's credit file. In this sense, it represents 'invisible' debt.

However, when a graduate applies for a mortgage, their lender will carry out an affordability check. As well as taking into account their income, this check will also be concerned about their existing financial commitments. Student loan repayments are deducted every month from their salary, so they leave them with less disposable income. In this sense, they might play a small role as to whether a mortgage is approved or not.
Conclusion
It's imperative that school-leavers – and their families – understand everything about student finance in the UK before they apply for university. Some of these misconceptions can prevent them from applying in the first place. They would, therefore, miss out on the experience of a lifetime and a chance to increase their earning potential so they won't need to resort to loans for bad credit and no guarantor.