Full Guide to Managing Family Finances – Chapter 38
Studying in university will no doubt open many doors for you… but will it also leave you with a huge mountain of debt? This article destroys the myths by presenting the straightforward truth about student loans and repaying them.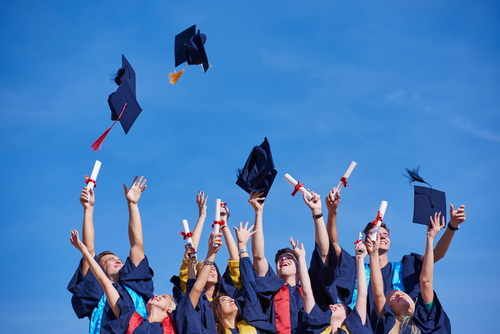 Graduating in Debt from Student Loans
Many graduates feel that once the final exams are out of the way that their troubles are over. Unfortunately, for those who have borrowed large amounts of money to fund their education, this might only be the beginning. Although these financial challenges may feel overwhelming following graduation, there are many ways to deal with them.
First of all, it's a good idea to get the facts on historical myths about student debt that you may have heard. This will help you cope with what may appear to be an insurmountable amount of debt. Debunking these myths can help prevent students from being put off from going to university. So, what is the true cost of a higher education and how can you pay it off when you graduate?
Just How Much Do I Borrow?
The most important fact about university fees is not the amount that is borrowed – rather what has to be paid back and when. Young graduates who don't land a high-paying job in their chosen career may find it hard to repay. However, those who do earn a substantial wage will pay the total amount back.
You don't need cash to pay for university. Once you are granted a loan, the Student Loan Company pays the fees and maintenance loans for living costs. As you would expect, tuition fees pay for your courses and maintenance loans cover the cost of housing, food, clothing and books. Full time students get up to £9,000 per year and part timers can apply for up to £6,750 per year.
Students living at home can claim up to £4,565 per year for living expenses. Those living away from home are can apply for up to £5,740 if they are staying in a district out of the London area. Students living and studying in London can apply for up to £8,009 per annum. Finally, if you want to spend a year abroad during your studying period, you can get up to £6,820 per annum.
So What's the Total in Student Loans?
These figures can add up to a minimum of £40,000 – that's a lot of debt to carry over into working life. However, the amounts you will repay each year will depend upon how much you earn once you start to work. Your repayments are based upon 9% of all sums above £21,000 from all your earnings, whether you are employed or self-employed. Sometimes, the sums you earn from investments are also added into the calculation. If you become redundant or move to a job with a lower salary, then the payments will be reduced accordingly.
Many parents are concerned about their children getting into horrendous amounts of debt that seems impossible to repay. However, the system is designed to help those who land lower paid jobs, as they will only pay back a small amount of what they borrowed. Those who earn higher salaries will subsidise the rest. Although there were plans to raise the earning threshold, this has been put on hold while the government holds consultations. If the freeze goes ahead it will mean more students paying off their loans even though they are low earners.
What Affects How Much I Repay?
One important aspect about repaying the loans is the monthly pay that you receive. The monthly figure of £1,750 is more important than the 9% of £21,000 as they take annual bonuses and overtime payments into account. So, if you get an annual bonus, the Student Loans Company will adjust the amount to pay for the month you get the bonus. The 9% of £1,750 monthly figure also means that overtime could take you over the limit and your wage will be reduced accordingly by the amounts withdrawn for the loan.
Any additional income in the form of interest payments or dividends may also affect the amount you pay back. Additional income of more than £2,000 is considered to be part of your salary and payments will be calculated accordingly. Unfortunately, the repayments for a student loan are calculated on pre-tax income but deducted after tax has been paid so there are no tax perks to be had for repaying student loans. And, if you decide to work abroad after you graduate you will still be liable to make the necessary repayments.
What if I Never Earn Enough?
Once a period of 30 years has elapsed any remaining debt will be wiped out. So, if you do remain in low paid employment for that period of time you may never have to make a repayment. Some mature students find themselves in this position because unless they get a huge bonus each year the debt will not have to be repaid. In addition, if you die the debt dies with you or if you become disabled and cannot ever work again it is also wiped out.
What all this means is that the highest earners will take the brunt of debt for student loans. The scheme was designed to work this way so that students from poorer families could access a decent university education. Your employer makes all the repayments for you through the payroll system by deducting the amount from your monthly salary. This means there is no danger of falling behind and no chance of debt collectors chasing you for the money. In the case of those who are self employed, payments are sent to HMRC along with any tax that is owed for the year. Failing to repay could result in a court appearance as the money is owed to the tax authorities who have paid the amount due.
Student Loans Interest Rates
Interest rates for Student Loans are complicated. While you are studying, the interest accrues at inflation based on figures for RPI plus 3% of the balance. After graduation this becomes RPI inflation only if you earn under £21,000 and a gradual increase as your salary increases. So, the more you earn the more interest you pay and this is another way that higher earning individuals are subsidising those earning a low income. Likewise, some people will never earn enough to pay back the loan and these individuals are getting the benefits of a free education.
The most important point to remember about is that the amount the university charges for a course is virtually meaningless. Your repayments will depend entirely upon your earnings which is your ability to pay. This makes student loans vastly different to short term loans or even other long term loans such as mortgages. With these types of credit, you pay however much you are able, and the rest is eventually written off.