The History Of The Leading UK Banks
– Chapter Twenty Three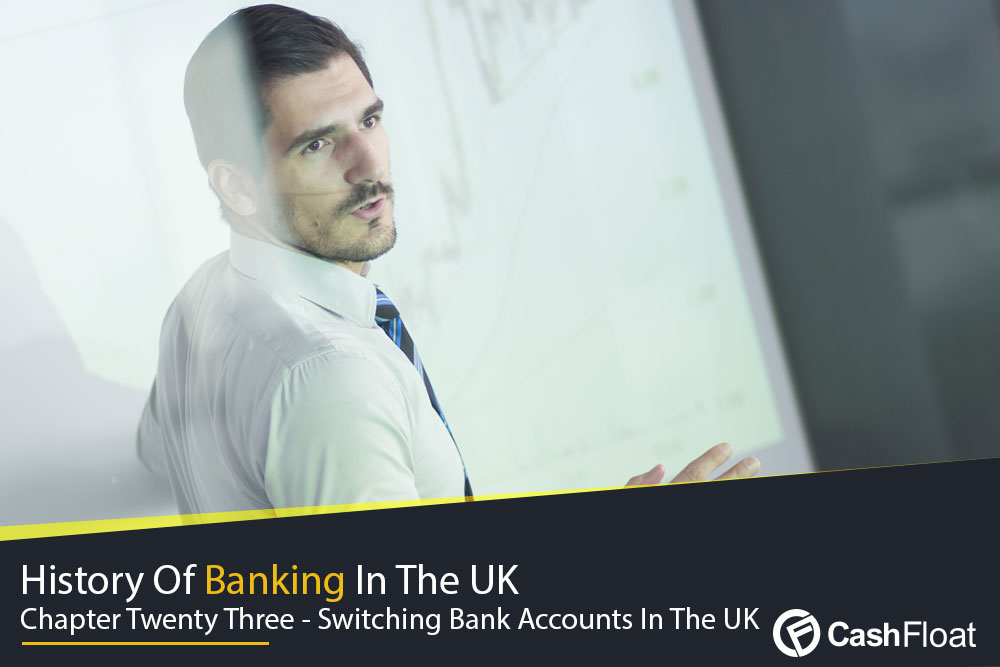 If you bank at HSBC, Barclays, Royal Bank of Scotland or Lloyds, you might be better off switching bank accounts. In fact, that extra bit of cash from interest and other incentives might just tip the balance allowing you to pay for those extra expenses without taking short term loans. Cashfloat, an honest and direct payday loans lender explains how to make the switch.
The Players in the Banking Sector
The Big Four Banks In The UK
The big four UK banks have dominated the market for so many years that it seems as though this state of affairs could never change. However, there are now some challenger banks who are trying to pry customers away from the status quo.
In spite of the many scandals that have enveloped the big high street banks, most people remain loyal to their chosen banking provider and four out of every five individuals in the UK choose from the big four banks. Namely, HSBC, Barclays, Lloyds and Royal Bank of Scotland.
Challenger Banks In The UK
In recent years there has been a spate of new banks that are now set to challenge the traditional banking giants, and these include Metro Bank, Tesco Bank, TSB and Virgin Money. In a bid to break the dominance of the so called 'big four,' the new banks are offering a revolution in personal banking that is tempting some customers into switching bank accounts.
There still may be some way to go before the new entrants are a serious threat. Nevertheless, the new banks have made some inroads especially among the younger customers who do not seem to suffer from the inertia that envelopes older clients.
Only around 3% of customers choose to switch bank accounts each year. This trend means that the new banks are facing a struggle to pry customers loose from the prison walls of the dominant banks even though their accounts are sometimes better and cheaper to run.
How Easy Is Switching Bank Accounts
The introduction of a new service that makes it possible to change banks within a seven day period has been giving the new banks a helping hand to gain more customers. Add to that the fact that the big banks have been subject to many substantial fines for bad practices and it is easy to see why so many customers have become disillusioned about the trustworthiness of the standard big four banks.
Two out of every five customers who were asked stated that it had never occurred to them to move their accounts. This was true even though a move could provide better service and sometimes a free cash bonus.
The Switching Account Guarantee
Coming into force in 2013, the Current Account Switch Guarantee instigated new rules that made it far easier to move your account from one bank to another. The banks have a time limit of seven days to move all the details like direct debits to the new account without incurring any problems for payments.
If problems do occur, the banks must compensate customers for any payments that are put accidentally into an old account. There are systems of tracking direct debits and standing orders that stay in place for 13 months so that it is certain that everything has moved over satisfactorily.
So, switching your bank account to another bank should be easy. It is just a matter of finding the right current account to suit your requirements. You can check 'Which' online magazine or look on the many money advice websites for information about the best choices.
Things to check are details such as monthly charges, costs for borrowing (overdrafts) and the amount of minimum deposit required by the new bank.
How To Go About Switching Bank Accounts
The way to change accounts is to go to the new bank first and ask the staff about switching bank accounts. You will need to provide details of your current bank and two pieces of identification. You will usually need to complete an application form and a transfer form. The forms should only take a few minutes to fill out, and that is all that you are required to do.
However, it is best to check with the bank you have chosen that it offers a 'switcher overdraft.' This service covers direct debits and standing orders that are set up and which may go out before your wages are deposited for the first time.
Moving From A Big Bank
Although you are probably one of the 77% of people in the UK who use the big four banks, there is now enough competition around to consider making a move which should operate seamlessly. A smaller bank may not offer better rates, but it will usually provide better and more personal customer service. Personal customer service is especially useful is you have had tedious and unpleasant experiences when attempting to contact your bank in the past.
Savers Are Still Protected
The new names on the block may be unfamiliar to many people. But that does not mean that savings are not secure with the newcomer banks. The Financial Conduct Authority regulates all the new names, and all of them are fully authorised.
Challenger banks are bringing competition with extra choices of products and services that are not available from the usual sources. Sometimes the new banks have better or longer opening hours and sometimes they are just offering better and more personal service.
Some of the new banks operate only online. This cuts down on expenses which can lead to better deals for customers. New banks like Tesco offer a 3% interest rate on current accounts. This is apparently unthinkable at the big banks. Additionally, you could be offered a cash bonus to switch to a new bank.
The Break Up Of The Big Four Banks
Increased Competition – Is It A Risk To The Big UK Banks?
In 2014, there was a lot of discussion about whether or not the big four banks would be broken up by the new competition. The Competition and Markets Authority believed that it would benefit all customers to end the dominance of the Big Four. Additionally, the UK economy would benefit from more competition in the banking sector.
Sadly, to date this increased competition does not appear to have made many inroads. The customer base of Barclays, HSBC, Lloyds and Royal Bank of Scotland in particular have not been affected. Although many people complain about the services at their bank, figures show that two-thirds of customers are still wary of swithing bank accounts to another banking service at this point.