87,496 children turned to Trussell Trust Foodbanks for food during the 2018 school holidays – a 20% rise from 2017. Find out from Cashfloat the good the charity does as well as what other programmes are feeding children during school holidays.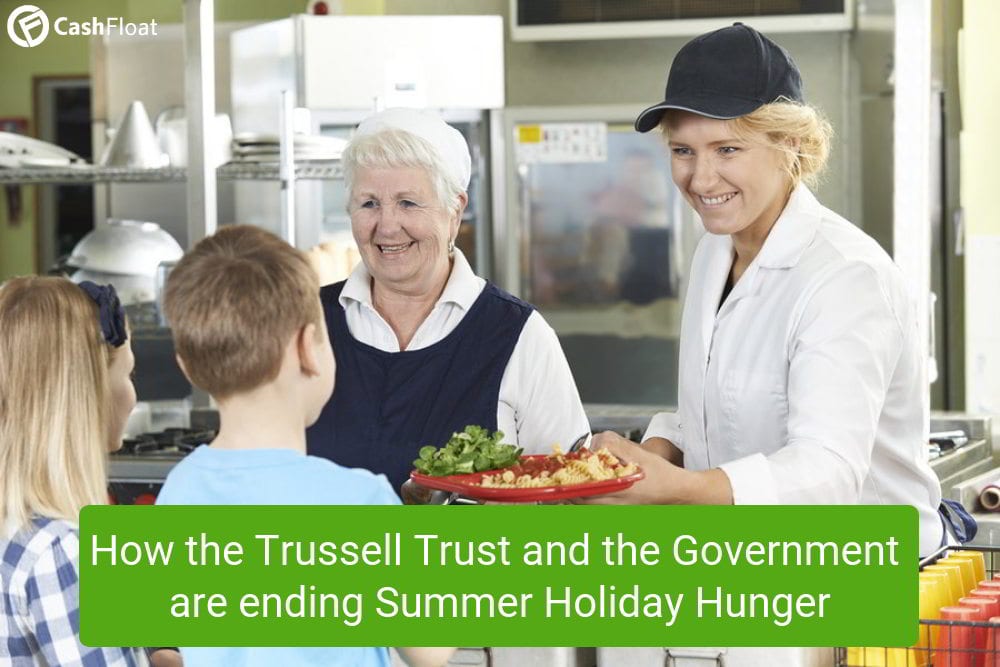 In this article about Holiday Hunger and the amazing work of Trussell Trust, we will examine:
When the school term ends, so does free meals for over 1 million children in the UK. Many of these children face 'holiday hunger' as their parents' stretched budgets cannot accommodate the additional £240 expense over the six week holidays.
The Trussell Trust launched an appeal for more food supply donations before the school summer holidays see an increase in young children relying on meals provided by food banks. In 2016 it was noticed that there was an increase during this period as children missed out on their school lunches. In this article, Cashfloat explores what Trussell Trust charity, the government and other organisations are doing to help hunger in the school holidays.
These are Trussell Trust's contact details:
What Is the Trussell Trust?
The Trussell Trust is a charitable organisation that provides food for hungry people in the UK. They are responsible for over 1,200 food banks throughout the UK that helps to feed the 14 million people who are living below the poverty line – 4.5 million of whom are children. Doctors and social services can give vouchers to people who they deem in need of help. The people can then exchange the vouchers at a food bank for a three day supply of balanced, nutritious food. It can be a lifesaver for some families. 1.6 million three-day emergency food supplies were given out by Trussell Trust between April 2018 and March 2019. Foodbanks have been under increased strain lately as the 5-week wait for Universal Credit system forces more people to turn to foodbanks and loans to cover the missing period.
Why Does the Trussell Trust Need a Summer Appeal?
A few years ago Trussell Trust and other charities noticed an increase in hungry children during the school holidays. A 2017 Parliament report noted that one million children are fed by school meals – who is feeding these children during the school summer holidays? The point is driven home by 2016 data published by the Trust, which shows a 4000+ surge in food packages to children between term-time (May and June) and school-holidays (July and August).
What Age Children Rely on use Trussell Trust Food Banks
In a break down of the provided food parcels, there is a clear indication that younger children are more vulnerable. Here are the percentages of food parcels given to different age groups of children.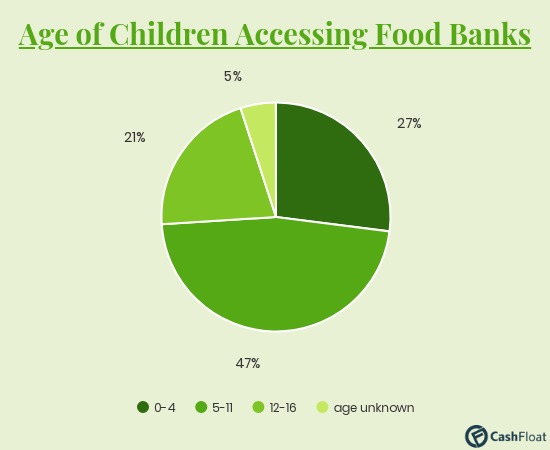 These figures clearly show the need for more support for young children. According to the Trust, these worrying high percentages of young children are consistent all year round which highlights the need for all year round support, not just during the summer holidays.
What Trussell Trust Foodbanks Offer During School Holidays
It was the Trussell Trust that first noticed the increased need during the holiday and responded. During this year's school summer holidays, many food banks in the Trussell Trust network will be providing extra support for families.
Some of the children there have parents who work but cannot afford the high cost of childcare and feeding their child. Holiday Clubs at Trussell Trust foodbanks not only provide children with food but also their parents with advice from volunteers. Volunteers sit down with parents, and together they analyse what can be done differently to improve the financial situation. Trussell Trust staff also put parents in touch with the local social services or relevant support agencies.
What the Government Is Doing to Feed Children in the Holidays
In 2019 the government responded to the needs of the school holiday period by funding free meals and activities for 50 000 children. The Department of Educated allocated a budget of £9.1 million to be used by 11 local co-ordinators to take care of children during school holidays.
Find out Where to Get Free Meals During School Holidays (2019)
| Region | Local Co-ordinator |
| --- | --- |
| Newcastle, North East region | StreetGames |
| Chester and Cheshire West, North West region | Essential |
| Bradford, Yorkshire & the Humber region | Transforming Lives for Good |
| Yorkshire & the Humber region | Leeds Community Foundation |
| Birmingham, West Midlands region | Happy Healthy Holidays consortium |
| Leicestershire, East Midlands region | Barnardo's |
| East of England region | Suffolk County Council |
| Family Action | Croydon, London region |
| Hampshire, South East region | The Romsey School |
| South West region | Plymouth County Council |
| North East region | Gateshead Council |
What You Can Do to Help Tackle Holiday Hunger
With 3 million children expected to face holiday hunger, government programmes won't satisfy all the hungry tummies. In addition to Trussell Food Banks, there are other organisations that are stepping up against holiday hunger. These programmes, along with Trussell Trust foodbanks, can use your help in keeping pantries stocked this summer.
Ways you can help Trussell Trust
Call your local food bank and find out what items they need.
Donate your time to your local Trussell Trust
Donate online to Trussell Trust
Conclusion
The increased demand for food for children during the school holidays draws attention to the desperation of many families in the UK. These young children are usually fed for at school during term time, yet summer holidays face hunger. It indicates that more help is needed from the government to feed the families in need. This should be instead of relying on charities to do their work for them. This year the government has rolled out programmes, yet readers can still help organisations meet the shortfall.