The History Of The Leading UK Banks
– Chapter Twenty Seven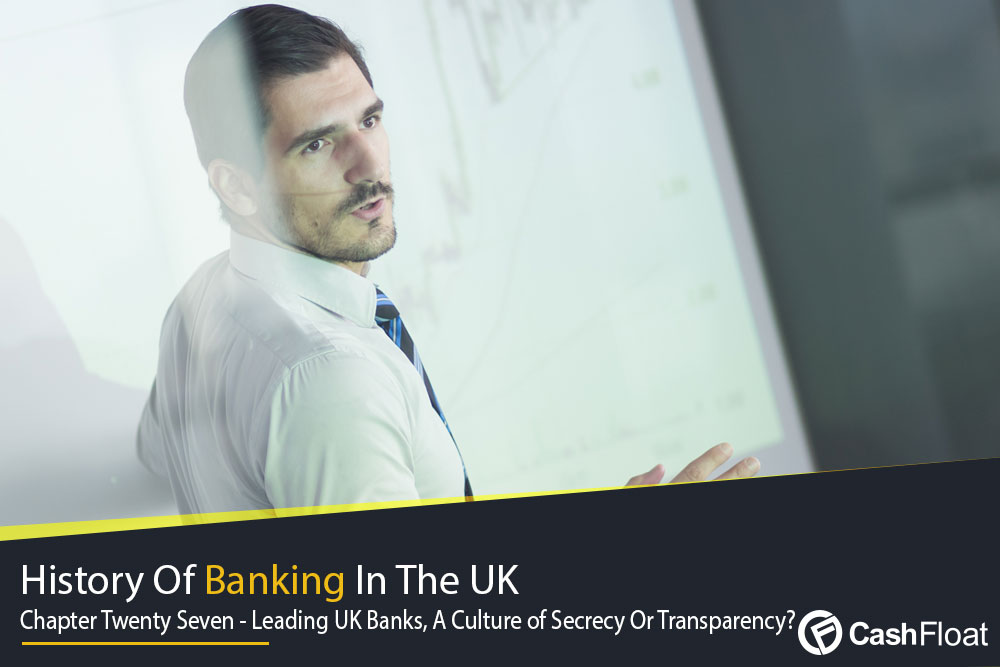 Under new regulations, banks should release details of their business. But in reality, are leading UK banks transparent or secretive? Cashfloat.co.uk, a short term loan company in the UK, explores.
The Exodus From Switzerland
In 2013 there was something of an exodus of UK and foreign banks from operating in Switzerland. The rising costs and increased scrutiny by regulators led many banks to come to the conclusion that exit was the best strategy.
Having once been a necessity for any self-respecting bank, the de-rigour private Swiss arm of the banks is now seen as something of an indulgence. As regulators sought to reduce the secrecy of Swiss bank accounts which were once such a great attraction for the wealthy, banks saw a rise in costs that eroded the usual big profits.
Although Switzerland remains a large center for global offshore banking, UK businesses like Lloyds and HSBC have now closed their Swiss arm of banking in response to rising compliance costs, aiming to make banks transparent over their dealings, and lower profits.
Tax Evasion Using Swiss Banks
One of the reasons for the increased examination of UK banks operating in Switzerland was the concern about tax evasion, and there was an International imperative to develop global standards. This imperative allowed customer details to be shared, a development that would have been unheard of even ten years ago.
So, if there is no way to achieve a serious amount of tax saving by using a Swiss bank account, many of the banks which remain in the Swiss market now need to develop new products to retain and increase their customer base.
The combination of pressure from the US and the EU for Swiss banks to be more open and to comply with regulations has led to a swift exit from the country for many banks. Profit margins have fallen, and this was a cause for concern for some banks but for the ordinary investor this retreat from secrecy regarding tax evasion for the wealthy can only be a good thing.
The Leading UK Banks and Secrecy
Why are Banks Not More Transparent?
Most members of the public in the UK want their banks to be open and transparent about their dealings both in the UK and around the world. However, this is not always the case, and while the banks are legally required to publish details of their activities, it would appear that some are more open than others.
A report by Christian Aid in 2015 revealed that Barclays Bank was the most transparent followed by Royal Bank of Scotland and then Lloyds. Reports by the banks show the number of employees, the amount of tax that it has paid and the annual turnover. This data is important because it helps regulators and the tax authorities to identify any suspicious behavior that could come from with tax evasion or tax avoidance.
HSBC Remains the Most Secretive
The HSBC organization, which is the largest global bank, was identified as the most secretive bank, and the report stated that it was concerned whether the bank was paying the right amount of tax. The impact of tax evasion and tax avoidance impacts severely on developing countries, and as companies used all the means necessary to hide what was going on, poorer people were subjected to lower standards of living and poorer public services.
While there was no suggestion that the bank was doing anything illegal, the amount of secrecy that was exposed means that Christian Aid was concerned about the global activities of the bank. The change in European law that required major banks to publish reports on their operations in each country came through in 2014. So, 2015 was the first opportunity for UK banks to adhere to this request and HSBC did not step up to the mark.
The bank operates in some 74 territories and countries but instead of declaring the interests individually, HSBC lumped them all together under the title of 'other' and declared a turnover of £5 billion for the whole lot.
Lloyds Banking Group
Lloyds followed a similar approach and put together all of its operations in Jersey, Isle of Man and Guernsey as one lump sum instead of splitting them up as Barclays and Royal Bank of Scotland did. Using this method, it is far harder to assess if taxes are being paid in a proper and correct manner.
Barclays Bank turned out to the best that year for transparency and while it was not perfect it far outstripped the other UK banks.
Customers and Current Banking Culture
Accessibility, Individuality, and Responsibility
Customers of UK banks are entitled to expect an open and transparent attitude from the leading banks, and this relates to three primary expectations. The public wants the bank to be accessible i.e. be able to access all the services and products easily either through branches or by phone/the Internet. Most people understand that a bank cannot provide a bespoke service, but equally, most feel that the UK banks are falling short of a reliable, open and efficient service.
Customers also expect their bank to treat them as an individual, and while most banking staff are approachable and friendly, some customers feel that the limitation of systems and regulations prevent them from being treated as a person and not just a number. Often it is the case that an automated reply to a request overrides the individual circumstances of the customer.
Most important is the factor of responsibility. Customers want banks to acknowledge when they get things wrong and to put it right without the necessity for a formal complaint.
Are Banks Transparent in Information
Although being open and transparent is part of the regulations for banks this often falls short of what a customer needs. It is not enough for a bank to produce a leaflet showing terms and conditions of a product without giving some explanation and ensuring that the potential client fully understands all the detail.
Both the rewards and the consequences of the product needs to be spelled out. Also, a lot of customers feel that although their bank may stick rigidly to the letter of the regulations, the subsequent information can be an overload. A bank may send out a booklet detailing changes to the terms and conditions of a product, but most customers feel overwhelmed by too much detail and are unable to pick out the most important aspects of the changes.
Openness about Decisions
One of the most contentious aspects of openness to customers regards decision making. Many people would appreciate an explanation about why they have been turned down for credit, and though banks do not have to justify their reasons, this is an area where an honest response could help the customer to make some changes to enhance their credit rating so that future loans could be accepted.
Looking for a bank loan with high acceptance rates? Click here for our HSBC Bank loan alternative with same day funding and flexible repayment terms.
Changes in Banking Culture
There have been some massive changes to banking culture. The days of the 1990s when the incorrect type of product was sold have long gone and by and large, the UK banks are now more transparent, responsible and accessible. Although, many older customers do not feel that this is the case as the rapid decline in the number of branches continues apace.
There has been an increase in the number of packaged products, and this is of some concern to customers who often feel that exclusions are not highlighted. For example, in an account which includes holiday insurance, the exclusions should be clearly spelled out. In effect, it is often difficult to come to a conclusion about whether or not these package deals are good value for money.
Do the Banks Go Beyond the Required Regulations?
When it comes to the leading UK banks, it appears that most do not go beyond what regulators require about providing an open and transparent service for customers. So are banks transparent? Not all are completely open. Is there hope? Other areas of the financial services have undergone drastic improvement recently, such as the payday loans market, so there is hope. Smaller banks in the UK are doing better, and although there has been a significant improvement in recent years, the leading UK banks will need to do better if they want to retain their customer base which now has much more choice of banking in the UK.