Congratulations it's a baby boy! Kate and William have their hands (and pockets?) full, after giving birth to Prince Louis. Cashfloat explores the cost of raising 3 children and whether everyone is fortunate enough to afford it.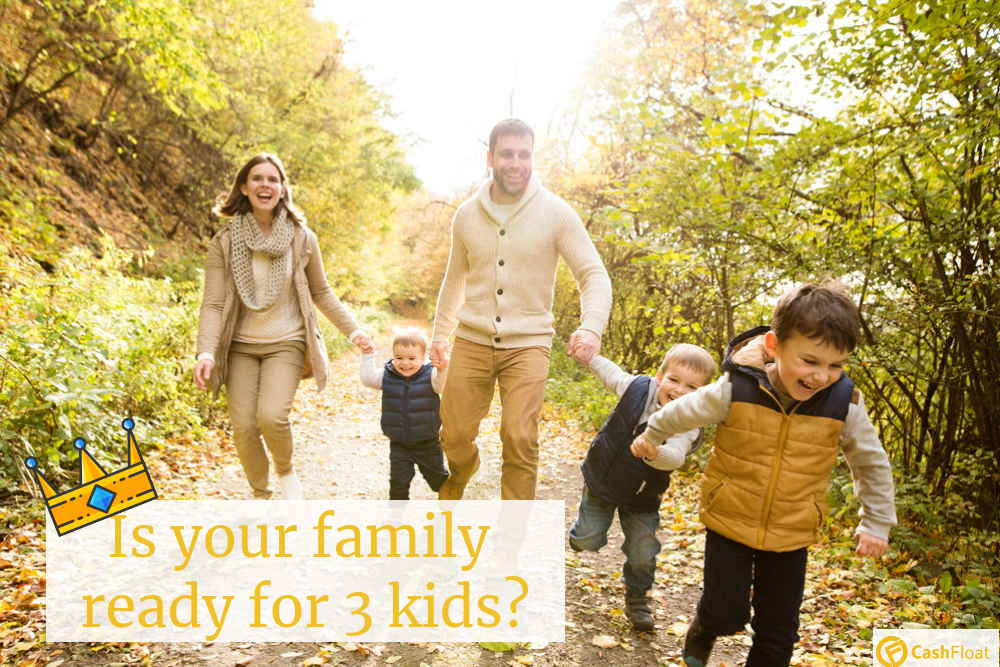 Can You Afford to Raise 3 Children?
William and Kate have a new bundle of joy on their hands, adding to their growing little brood. As they stood on the small steps of the Lindo Wing, well presented and all in smiles, holding their prince, it occurred to me that a family with 3 children is an entirely different experience than a family with just 2. Suddenly you are outnumbered. Not to mention that it's expensive!
I'm not worried about William and Kate, or George, Charlotte or the little Louis for that matter. With the income they earn as a royal family, the houses they own and the privileges they have – I wouldn't exactly say money is going to be a struggle. But what about the rest of us?
The Cost of Raising a Child Today
If you are a parent, you will know that every child is a new individual that requires care, support and love. It is not just three kids, it's one kid three times, and that is when it comes to your money too!
According to research by the Centre for Economics and Business Research (CEBR), the average cost of raising a child until the age of 21 is around £231,843. That's roughly £11,000 a year or £920 a month. Per child. Do the maths! With three kids, this accumulates to almost 1 million pounds, and that is excluding university fees or paying for private school.
Is Having 3 Kids the Average?
No and it is no wonder the average amount of kids in the UK is less than 3. It currently stands at 1.8 children per couple compared with nearly 3 children during the baby boom in the 1960's. Lets put this into perspective. The average median income for a working household is just under £30,000. If one child costs £11,000 a year – an average household will not be able to afford three!
Families Take Out More Payday Loans
Statistics have found that parents are more likely to take out a payday loan, compared with adults without dependents. It is clear that parents face tremendous financial pressure when raising larger families. Furthermore, research estimates that the average family will be £15,000 in debt by 2020 as Britain struggles with a living standards crisis.
There are ways for parents with 3 or more to save money and avoid payday loans. In fact, estimates suggest that you spend 22% less per child if you have 3.

Here are some practical examples:

Eating out with a family is very expensive. The average family of five will spend no less than £50 in a restaurant. The alternative? Go out for an ice-cream instead. With kids, it is not the food but the experience.
Days out can run your pocket dry – however, there are plenty of parks, beaches, museums and art galleries that offer free entries. You often just end up paying for the parking and having a great and fun day out too!
For most people with 3 kids, staying in hotels is no longer an option. Instead, stay in a house or flat which you can book through Airbnb or other rental websites. Owners sometimes let you take more than just 5 guests, for a little extra. Furthermore, staying in a home with a kitchen allows you to cook and go easy on eating out.
Why 3 Children is not 2 Plus 1
A third child in the house is not just a 'buy 2 get 1 free' bargain. Your child may change many things about your life.
You may need to upgrade your car or house to something bigger.
Jobs and career changes such as working part-time or stepping down from roles altogether.
Often the hand me downs from your oldest can not stretch to the third, requiring the extra expense of buying new clothes.
Like to stay in hotels when you go away? Think again – most family hotel rooms are designed for 4, and you don't want another one just for the extra child.
Expect day trips to be more expensive – remember its usually 2+2 for a family ticket.
Conclusion: 3 Children Equals 3 Times the Joy
Having a third child is not all doom and gloom! Every child is a gift that will provide a beautiful and unique difference to the household. So yes, you may need a new car or the odd short term loan UK in an emergency, but you have the highchair, cot, toys and books from your eldest two. Also, the third child often has better cognitive skills and more creativity as a result of their siblings' interaction with them. The third is often dependable and strong-willed and will no doubt fill your home with friendship, family and fun (and lots of mess too!)
Yes, a third child is an added expense and will stretch the inside of your purse or wallet to the limit. However, there are many things that the baby can share with his/her siblings and a third child. On average you spend 22% less per child if you have a family of three. That's not bad! And as William lifted his 3 fingers showing that 3 is thrice the worry, remember its thrice the joy too! Get some sleep!