Looking for practical budgeting tips for teens? This article has some easy ideas to implement in your day to day life. Help your teenager and university student to gain vital money skills.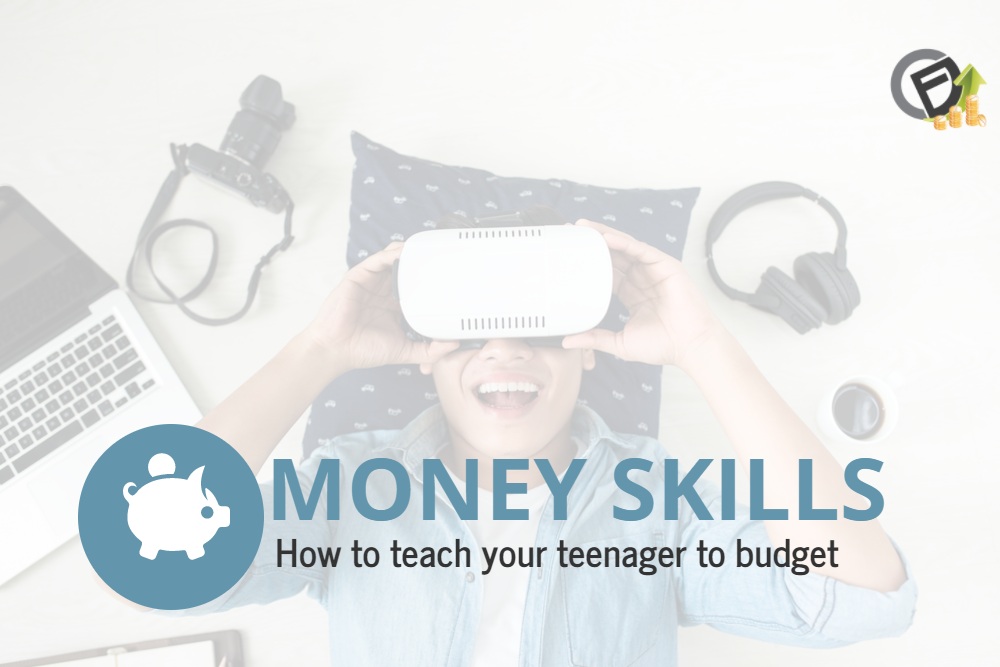 Article highlights
Discover how to allocate pocket money in a way that will teach your child to handle money responsibly
Learn budgeting tips for teens and how to act if your child is always running out of money
4 in 10 1st-year university students found arranging expenses difficult
One of the purposes of this article is to show you that it's never too early to get into the habit of budgeting. You can begin at childhood. By training your teenagers in from an early stage, you can help to ingrain in them budgeting habits which they can use on a daily basis. You may not see the results immediately, but you could very well be saving them from requiring direct lender payday loans when they're older. If you give kids money whenever they need something, you aren't doing them any favours. The best start you can give them in life is to teach them how to handle their money when they have a set amount every month.
In this chapter, we look at how parents can teach their children valuable lessons about dealing with their money. Whether it's pocket money or money earned from casual jobs like paper-rounds or babysitting.

The next main step in their lives – and the second part of this chapter – is how they can cope with budgeting when they're at university. For the first time in their lives, they'll be responsible for all their living expenses and not just their personal expenditure. Their maintenance loan might seem a sizeable sum when they receive it at the beginning of the term. How can they make sure that it lasts, and that they won't need loans online UK to keep going.
Teaching Budgeting Tips for Teens
Pocket money, for most of us, is our first taste of financial responsibility. Mistakes that we make at this age can teach us a great deal about how we later cope with our first salary. There are some things that parents can do to make sure their kids develop a healthy attitude to money. Let's go through them.
Allocate a Sum for Kids' Pocket Money
Budgeting tips for teens #1: Instead of shelling out whenever your children want something, you need to allocate a regular sum of money. This can either be weekly or monthly. Your kids should realise this is how much they'll get and they won't get any more. This sum should increase as they get older. It should be clear what they're expected to pay for out of this amount.
As they grow, you need to talk to them in greater detail about budgeting. You also need to trust them more with money. By their teen years, they should be responsible for the majority of their spending decisions. Work out together how much their expenses are (for example, for their phone, lunch, bus fares, etc.) and give them this amount.
Have a Talk with Teens
Budgeting tips for teens #2: You should sit down and have a chat with teenage children about the pocket money they receive. Both sides should be clear about what they're expected to pay for. If necessary also discuss whether they're expected to do some chores in return. You should be prepared to compromise during this talk. Treat them like an adult, and they're more likely to act like one.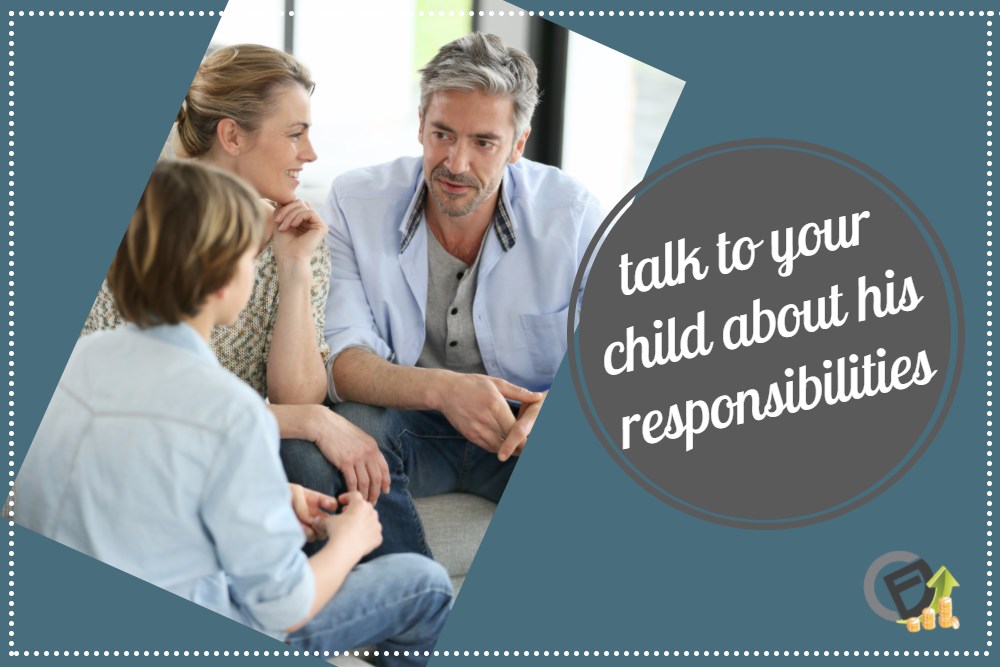 It's very important for you to be consistent and also not to bail them out if they get into trouble. Teens have to learn that the 'Bank of Mum & Dad' doesn't possess unending money reserves. In the same way that they should make intelligent choices about their budgeting and spending habits, you also have to keep track of your own salary.
Lending Teens Money
Budgeting tips for teens #3: Whether you're prepared to lend your teenage children money is completely up to you. If it's a one-off purchase, you might decide to give a helping hand. But, you must make sure that they pay the money back. Not necessarily in one lump sum, but gradually over a few months. This will teach them the problem of borrowing in general and credit in particular. It might also be the ideal opportunity to explain to them the way that interest works. They will learn how much they would have had to give back if you were a financial institution.
Set a Good Example
Budgeting tips for teens #4: Like many other things in life, our attitudes to money and our spending habits can be a learned behaviour. Teens often copy what their parents do. If you're guilty of impulse buys and not keeping track of your spending, then your children are more likely to do the same. Make sure you have your own budget in place before you talk to your kids about money. They're more likely to listen to your advice if you practise what you preach.
Getting into the Habit of Saving
Budgeting tips for teens #5: Your child should already have a bank account. If they don't, now is the time to open an account, letting them be part of the decision-making process. Explain the importance of savings, how different accounts work and the importance of interest on savings. They should decide how accessible they want their savings to be.
Encourage your child to regularly add to this account. Whether it's from pocket money, casual work, or money they receive from family for birthdays and Christmas, they really should aim to put by at least 10% of this money into their account.
Is there anything that your child would really like? Whether it's a top-of-the-range mobile phone or the latest fashion, give them a short-term goal showing how they'll be able to save up for it in a certain number of weeks. Encourage them to research the market, compare different stores/online sites and take advantage of sales so they can make the most of their money.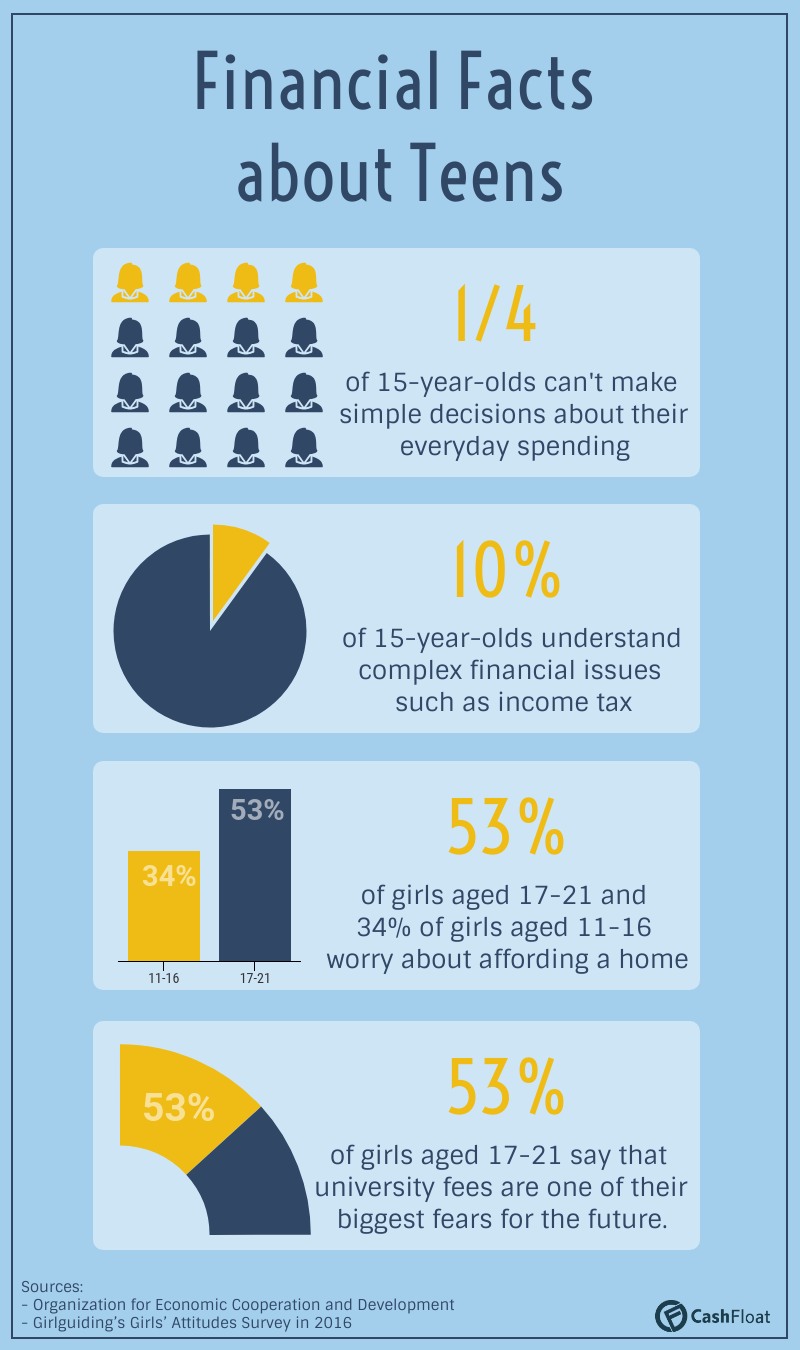 What if a Teen always Runs Short?
Budgeting tips for teens #6: If your teenage child always runs out of money and then wants an advance on their pocket money, get them to sit down and write down everything they spent their money on. This will show them more clearly than anything the impact bad spending habits can have on their finances in general. If they choose to buy a can of soft drinks every day at school, then they won't be able to save up for the brand-name trainers they want. After this experience, you can show them how to draw up a budget.
Getting a Part-Time Job
Budgeting tips for teens #7: Once your teenaged child has reached their 16th birthday, you might decide together that they could get a part-time job to add to the pocket money they already receive from you. They will now be able to equate the money they spend with how many hours they worked to earn it. This can completely change their attitude to how they spend or waste it.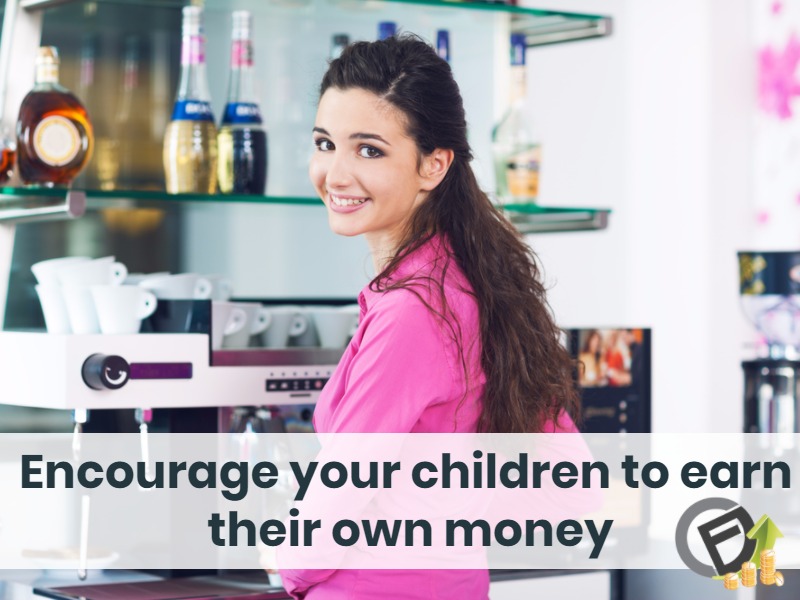 Make sure that their work doesn't affect their academic performance and still gives them the time for leisure activities. A part-time job shouldn't have such an impact that it affects their marks or prevents them from playing sports.
The Difficulties of Budgeting at University
Once you have a place at further education and move out of your parental home, financial decision-making becomes much more serious. No longer is it a question of covering your personal expenditure but being responsible for all your living expenses without the security of knowing the fridge will always be full and the bills paid. Hopefully, you have already been given some responsibility by your parents and these lessons will stand you in good stead when you're independent.
If you do face problems, you aren't alone. In research carried out by 'Which?' in April 2017, 4 in 10 of 1st-year students found arranging their expenses more difficult than they'd expected. Unfortunately, research conducted by Natwest found that 39% of students don't budget. This is probably one of the reasons they encounter difficulties.