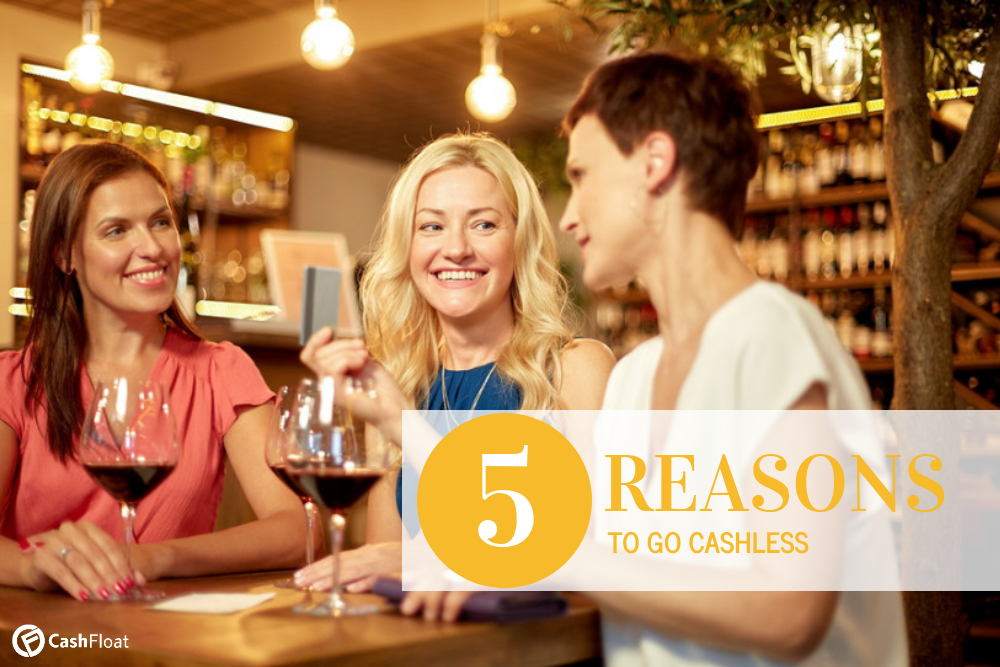 Should I go cashless when shopping?
Here are 5 reasons why you should go cashless:
'I promise to pay the bearer…'
Protection under the Consumer Credit Act
The chargeback protection of debit cards
Rewards for spending on credit cards
Proof of purchase for faulty goods
Why Should I Not Use Cash Anymore?
For the first time, cash is no longer the most commonly-used means of payment in the UK. In 2016, people used cash for 42.3% of all purchases – in second place to cards.
Although cash might be convenient for low-value purchases, more and more Britons are using debit and credit cards to pay for goods and services instead.
This article contains 5 very good reasons why you should 'go cashless'.
'I promise to pay the Bearer..'

Have you ever taken in what it says on our banknotes? It's a promise to pay the bearer. This means that if you lose your money, it's difficult for the finder to return it to you unless your wallet/purse contains contact details. It's definitely a case of 'Finder keeps, loser weeps'. The same is true if your money's stolen. There's no way to prove your ownership.

If you take all the safety precautions, you're much better protected with the loss or theft of a card. You must notify the card provider as soon as you realise it's missing. As long as you haven't acted negligently (such as keeping your PIN with the card), you're protected from any fraudulent use by a thief.





Protection under the Consumer Credit Act for Credit Cards

Under the terms of the Consumer Credit Act, you're also protected when paying by credit card for goods and services worth £100-£30,000. Your money is safe if the firm goes bankrupt or you receive sub-standard goods, for example. Section 75 makes the card provider jointly liable with the retailer so you'll receive a refund. This also gives you the option to ask the card provider to sort out any complaints instead of returning the flawed goods to the retailer.

One of the terms means that the card provider is responsible for the total amount of money lost even if only a fraction is paid by card. For instance, you paid a deposit by card and the rest in cash.

If your card provider refuses to pay, you can complain to the FOS (Financial Ombudsman Service). This is much better than suing in court since the FOS judges if you've been treated fairly – looking at both the law and 'standard industry practice'.

The only exception to Section 75 is when you pay through an intermediary such as Paypal or through an agent. In this case, it's felt that the direct link needed by law has been broken by the use of a third party.




The Chargeback Protection of Debit Cards

Part of the rules imposed on card firms by Visa, American Express and Mastercard is that you're also protected when shopping by debit card. If ordered goods don't arrive or are faulty and the retailer refuses to refund you, your card provider can request a refund from the supplier's payment processor on your behalf.

For credit cards Section 75 offers much better protection but this service is ideal for debit cards. However, you must use chargeback within 120 days of realising there's a problem for up to a maximum of 540 days after payment.

Rewards for Spending on Credit Cards

Rewards – in the form of cashback, loyalty points, air miles, etc. – are another advantage of using cards and not using cash. This extra bonus shouldn't be your main reason for choosing one card over another or an excuse to overspend. However, it can give you some extra cash from larger purchases that you would have bought anyway.




You must use credit cards wisely. Set up a direct debit to avoid late fees and always try to pay off the total every month so you don't pay extra for interest. Never use your credit card to make cash advances. There are alternatives for cash advances with Cashfloat. Following these guidelines for using credit cards means you get all the benefits of using a card and none of the drawbacks.

Proof of Purchase for Faulty Goods

Have you ever bought something and then couldn't return it because you'd paid in cash and lost the receipt? You're protected if you pay by card. All the law requires is proof of purchase. You can easily do this by showing a bank or credit card statement.
A Warning about Credit Cards
Some stores and service providers charge extra for the use of a credit card. Although the rules state this should be in proportion to operational costs, this rule is rarely challenged by customers and so it's rarely enforced. If you see you'll be charged to use a card, balance this extra fee against the additional protection and benefits it offers.
Finally, use your card responsibly and avoid impulse buys. This is the easiest way to pile up debts or an overdraft. The extra charges and interest will swallow up any rewards you receive from using the card. Taking out a pay-day loan might help you in the short-term to pay off the money you owe but it will still create problems for your future budget.
Conclusion: Should you Go Cashless?
Often reports in the media concentrate on the drawbacks of using cards as a means of payment. Many of their stories are about consumers who have been reckless in their spending and become trapped by problem debts.
However what's often forgotten is that cards are also both convenient and relatively risk-free. If cards are used wisely, they can save you money.