Story highlights
Some digital newspapers have apps – but surprisingly, these newspaper applications aren't so popular.
Free newspapers make their income from advertisements, and everyone gains.
History of British Newspapers
– Chapter 25
We like to check the daily news, often via digital newspapers for maximum convenience. Do you use an app? Not all papers have one – but for those that do, it definitely makes checking the news much easier. In this article, we will also look at advertising within UK newspapers. Did you know that this is the only source of income for free newspapers? Not only that, but as print sales are dropping, advertising is becoming more and more important to a newspaper's financial survival.
We will also take a quick glance at some of the marketing tools used by various UK digital newspapers. Read on to learn some fascinating facts, brought to you by Cashfloat.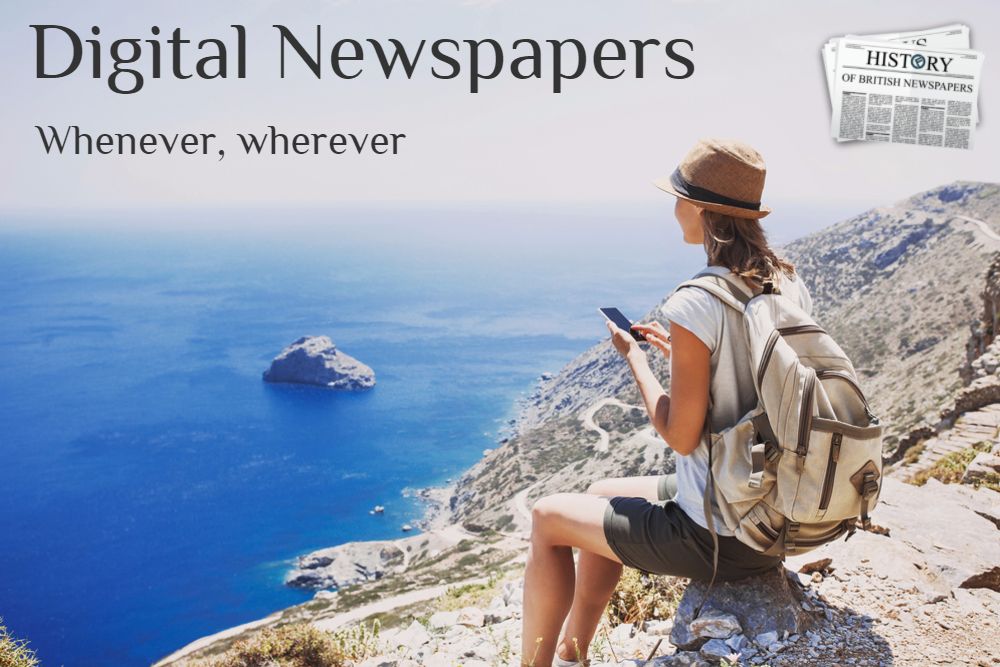 It's APP-solutely Perfect
A digital feature that is prominent in today's society is the app, or application. Smartphones and Android devices have the functionality for apps, and there is an app for almost everything these days. Successful app creation is a rather lucrative business, tapping into the ever-evolving digital market. Twitter and Facebook are available in app form, and this is what has contributed to their success as it is so much easier and quicker to access your app account and update as you go.
Mobile Banking
The high street banks have apps, and The Guardian reported in July 2016 that payments via apps had soared by 54% and, as a result, physical visits to the bank had reduced. With the new contactless card facilities in place for a lot of people, this makes the very method of paying for items a simple, hassle-free transaction. However, given this, is it now too easy to transfer funds electronically from place to place? Is there more danger involved in potentially losing track of payments when using a contactless card, and does it open us up to more security risks?
If apps are free, this maximises the number of downloads/installations possible, as people are getting a good deal. Most free apps would come with in-app purchases, so there is always a chance of a sale for the respective company further down the line once a customer is secured. Apps that are chargeable in advance are slightly more specialist, but tend to be reasonably priced so it is not too off-putting.
Newspaper Apps
There are some digital newspapers with apps in existence, but the coverage is not as widespread as first expected. There is an android newspaper app download called 'UK Newspapers' which links out to a lot of digital newspapers' websites. It is a free app, but it has a large file size because it links out to a plethora of broadcasting sites. It includes broadcasting news channels such as Sky and the BBC, as well as some regional papers.
Specific newspapers
However, you might just want to have an app for a particular paper and, from my research, only a couple of them were officially created by the relevant media group. Subscriptions to individual papers that offer a digital package might, therefore, allow for a greater opportunity as they often provide content in mobile, tablet and website form. Of course, readers can also access the newspaper websites on a phone via Google Chrome. However, it is so much quicker to just click on newspaper apps, and if they have the app functionality, the format will be correct for use on a phone and not displayed in a slightly 'jumbled' form. Furthermore, if you have notifications turned on, you are likely to receive alerts on any breaking news as it happens throughout the day. You would not need to log in to your phone to receive them, as they would appear on the front screen as an alert.
Daily Mail
The Daily Mail's online app provides instant access and the function to pre-load articles for when the reader is offline. There is an interactive element where the reader can comment on articles, and also rate other user comments. It also allows the user to select a location so that news can be received that is more relevant to your vicinity. This app is from Associated Newspapers Limited, but there is another version available from an unknown individual
The Guardian
The Guardian has an app from Guardian News and Media with an age limit set at 16+. There is an introductory warning message that in-app purchases will incur extra charges. The home screen can be tailored to the reader's preference, and breaking news alerts can be activated. The reader can follow stories and writers which allows it to be personalised, and they can also benefit from the interactivity by commenting on articles. There is an option to upgrade to receive extra content, and this is also within an advert-free environment.
Other newspapers
Apps for both The Sun and The Telegraph offer a very brief description and merely link out to the relevant websites. Both apps are, however, unofficial.
Interestingly, there is an Android app for The Financial Times, and it is set for all ages. However, the content of the print form would suggest that it is not suitable or even relevant for someone who is 13 or 14 years old, for example.

Security Risks
Applications, just like any form of digital media, do come with security risks. Apps tend to need access to certain information, for instance, location and account details, and this does, therefore, make us more vulnerable in the digital world. With the latest virus software, however, this risk can be carefully managed and enables us to break down potential barriers in place to succeed with digital media.
Advertising – Print and Digital Newspapers
Advertising space sales make up the majority of the revenue that newspapers and magazine publishing houses/organisations can achieve. It is therefore not surprising to find a multitude of advertisements throughout print copies. Digital newspapers are no exception, and the importance of them is even more significant given the decline in print sales. Online ads often take the form of banner style commercials, some of which depict a moving image. However, are we safe from potential pop-ups?
Free newspapers
It is important to have a good relationship with clients, and often newspapers will have their own advertising department to make all of the deals. Free papers rely on this as their income, but those businesses who are paying to advertise in the paper know that, as it is free, they are more likely to reach a wider range of people. It is mutually beneficial, – and of course, it is useful to the customer who gets a free paper. Unless some sort of survey is run on data it could be difficult to ascertain the extent of this in practice, but the papers continue to do this and businesses continue to advertise so it must be working. The larger the advertising space, the higher the price.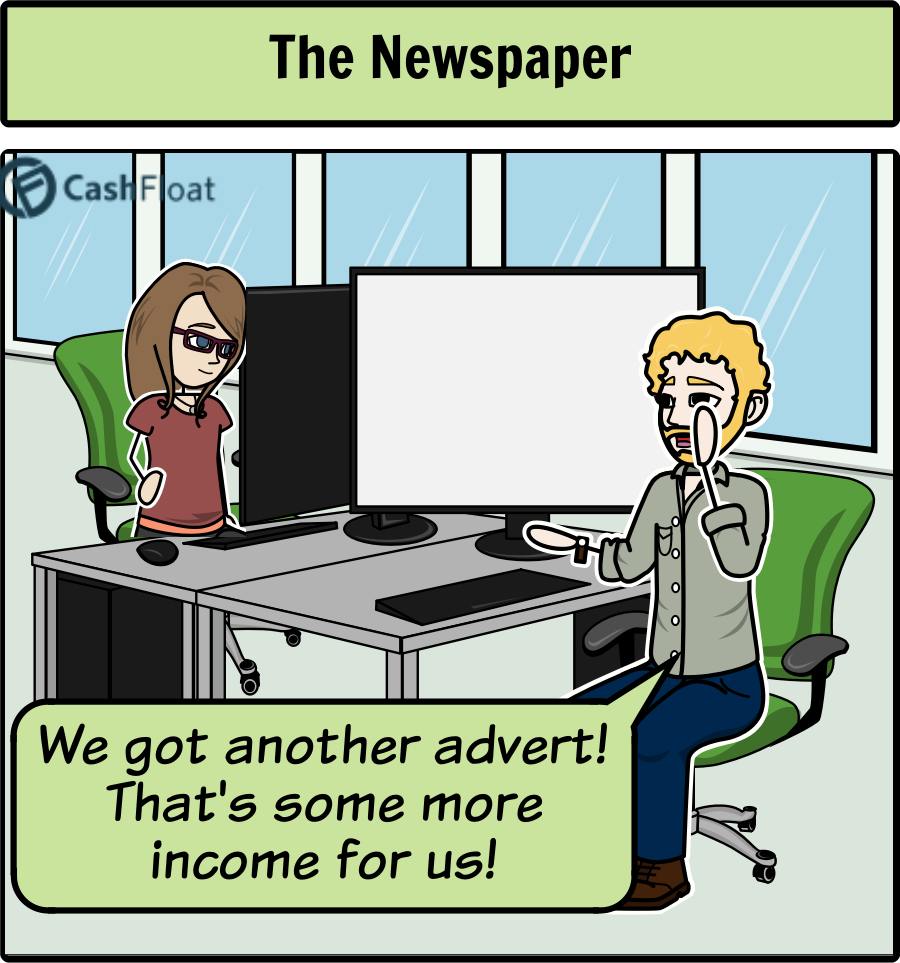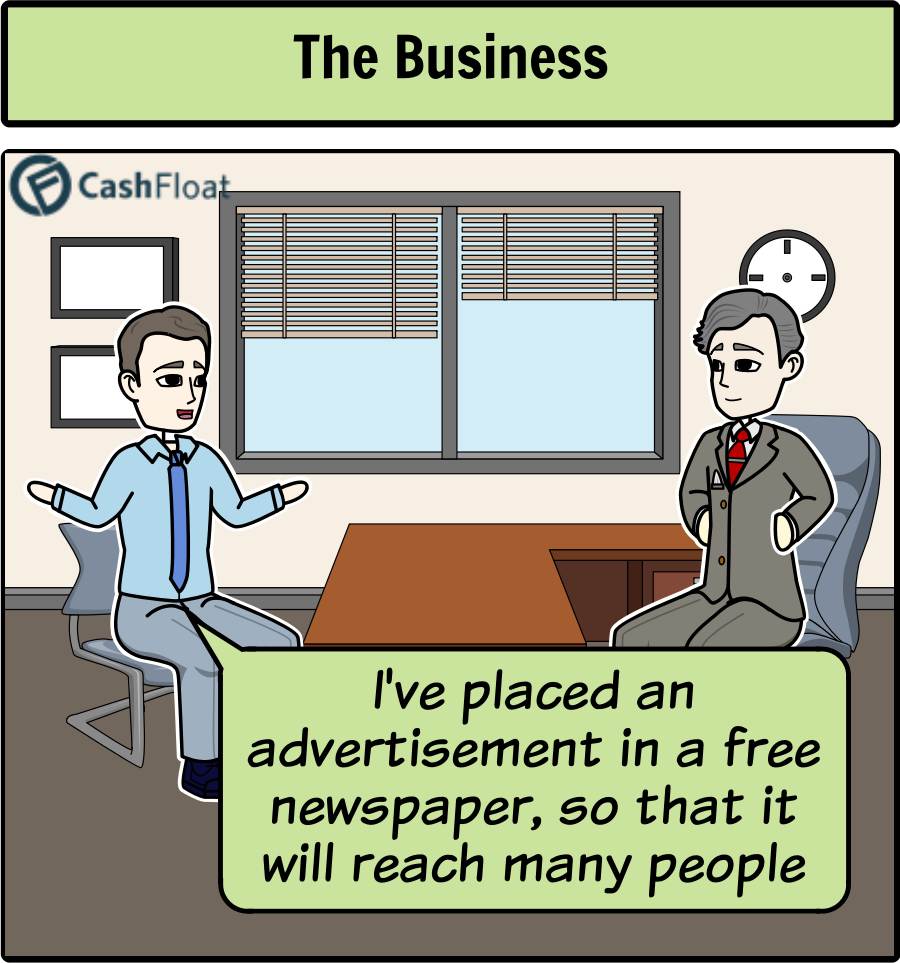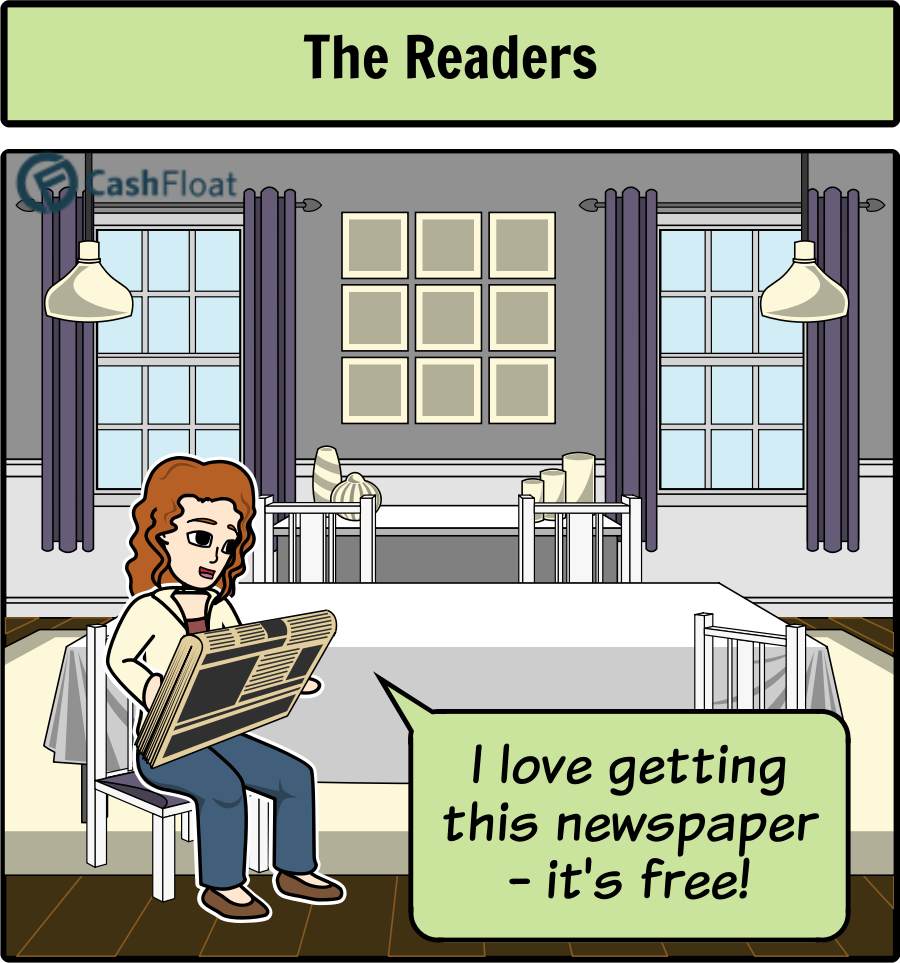 Newspapers mostly feature display advertisements, which contain text and photos, as well as maps and logos. However, classified ads are also featured within specific sections, for instance, jobs and car sales, and are based on customer demand.
Financial advertising
The type of display advertisement varies from newspaper to newspaper. Travel and food are quite popular inclusions. Banks also advertise in the papers, although there is not much presence of this. This may be due to the recent furor over payday loan adverts and the PPI scandal. In relation to the latter, The Mirror featured an advertisement from Gladstone Brookes, urging customers to "call for a PPI check or simply to get advice before it's too late!" The language and punctuation used here is quite pressurising. Are they really trying to look after the public by giving them the chance to seek help, or is it a last ditch attempt at securing more customers? They are a business after all. However, it might encourage members of the public to contact them if they think they might miss the chance so, in this respect, the advertisement may help someone claim back some money. Minus the company fee of course.
We want to help you reclaim your PPI... minus our fee, of course.
Click To Tweet
Understandably, in this arena care must now be taken since the distress brought about by these financial scandals. While pay day loan adverts are not featured in newspapers these days, there are still articles that refer to the controversial behaviour displayed by some payday lenders. It is still very much a hot news topic and individuals are still trying to recover. In the following article, we will look at this further.
Marketing
Regarding marketing, it was interesting to discover that a few of the leading newspapers have their own established subsidiaries, for example:
The Times bookshop,
The Guardian travel insurance,
and so on.
Having many strings to their bow is a beneficial way of expanding their audience and marketing helps in this respect. It also helps them promote the various subscription packs on offer. They are allowing customers to take advantage of the digital and print packages that are available to them, as well as those which can be tailored to their requirement as a reader.