Depending on who you ask, Search Engine Optimisation (SEO) is the holy grail for the online business owner or a massive waste of money. Why is this? Before we can understand that question, Cashfloat – a payday loan online lender – will look at what SEO actually is.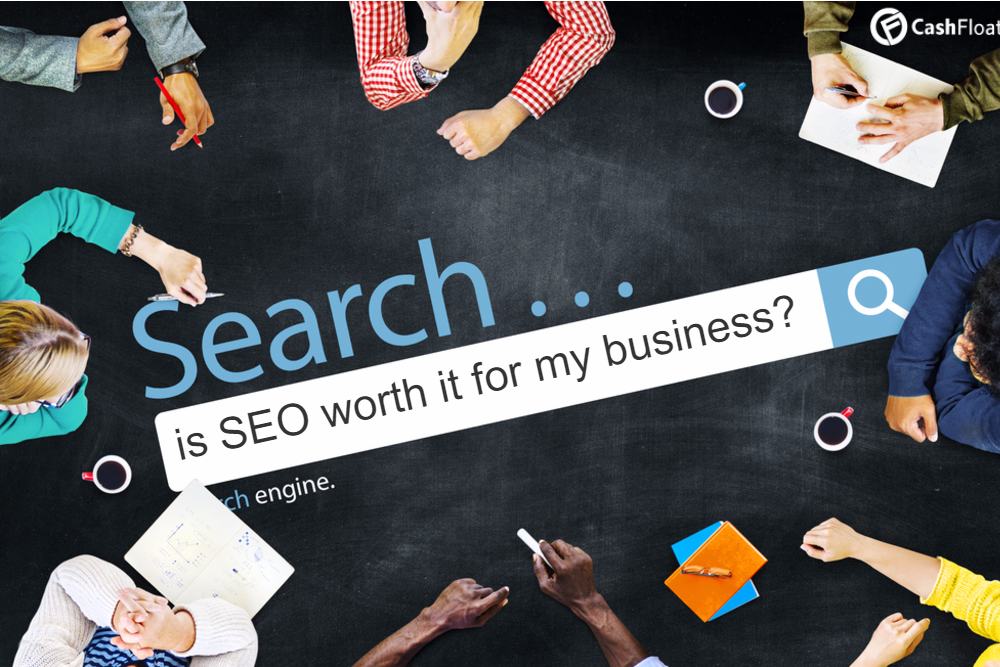 What Is Search Engine Optimisation?
SEO refers to search engine optimisation and is a way to ensure people find your business site online. If you're running a business, an SEO service could maximise the chances of your business appearing on page one of the SERPs. These are the search engine results pages and getting to page one is crucial. Most users online don't bother searching past page one and will rarely ever get beyond page ten. Therefore, the higher up in the SERPs your website is, the better it will be for your business. Due to this, SEO is a possibility that almost every online business owner should consider. However, it is important to realise that SEO isn't quite as simple as it first appears.
If you have a basic understanding of Search Engine Optimisation, you probably think it's to do with links and keywords. That's true, and in the past, keywords and their value used to be the main form of currency in SEO. Getting your site optimised for the best keywords would guarantee high levels of traffic for your business site. Recently, however, things have changed, and now SEO includes other factors too.
This is evident when you examine the job market for SEO experts. Most advertisements aren't just interested in employees that have a basic understanding of SEO. They want to cover all the bases. These include website analysis, configuration, social media marketing and content creation. You probably have very little knowledge of what some of those involve and that should tell you something. SEO has become a highly sophisticated industry involving various different skill sets. This is one of the reasons why top SEO companies can charge such a high price.
Hiring an SEO Company
There was once a misconception that marketing online was free. Now, most people realise that online marketing is just as expensive as offline forms of promotion. In some cases, you'll find that the cost of online marketing is nearly ten times the amount of an offline promotional campaign. Why is this? Well, firstly it requires constant work, and it always needs to be updated to work efficiently. Then there is the issue of its power. An online marketing campaign, run the right way has a lot more power today than a TV advertisement. You can execute a targeted Search Engine Optimisation campaign and reach a massive audience online.
So, if you are hiring an SEO company, you'll have to be prepared for the cost. You can look at cheaper businesses but be careful with this option. Don't forget that the service offered reflects on your business and your company. As we have already mentioned, SEO now includes far more than the use of keywords. Your SEO company could be updating your social media profiles and creating content. You need to know that you can trust them to provide the same level of quality your customers have come to expect. This may not be possible hiring a business that is offering budget SEO options.
Be Careful of Penalties!
You also need to take into account the quality of the SEO service itself. There are certain forms of SEO that work fantastic in the short term, but that will eventually earn you a Google Penalty. Google penalties are given to sites that use black hat SEO tactics. One example of this would be stuffing a piece of content on the site with keywords. Or, filling it with links that aren't relevant, and contextually, don't make any sense. This is another reason why you need to find an SEO company you can trust. A Google penalty will damage your search ranking can recovery times can be incredibly long.
What Should You Look Out For?
There are both positive and negative traits you need to watch out for when choosing an SEO company. First, do be aware that no company can guarantee you the top spot on Google in the organic results. The organic results appear below the Google Ads and are not paid for directly. If you see a company guaranteeing this result, don't trust them. You may find it frustrating that SEO companies are not making specific promises. But, it's far better than lying to you. If you are worried about paying and gaining nothing, there are options. Some companies will only expect you to pay if you see results. This should tell you how confident they are in their skills.
Do not use a company that is offering overnight changes to your business. Again, this is another empty promise that cannot and should not be guaranteed. If SEO works too quickly, you can bet black hat tactics are being used. It will take at least a few weeks before you see noticeable effects on your market performance.
Online Transparency is easy to check
You do want to look for a company that is willing to show you the people behind the business. You need to know who will be operating and running your Search Engine Optimisation service. Ideally, you should be able to search for these people online and look at their career history. By doing this, you can make sure you are getting a quality service.
You may also want to pick a site that has received awards for their work. This shows that they have proven themselves in the SEO industry. Therefore they will be worth your time and your money.
Reviews are also an excellent resource to watch out for. Many of the best SEO sites will display customer feedback on their web page. Make sure that these are official responses can be sourced back to real individuals. You might even find that some of the top companies work with brands that you recognise.
Be aware that a low price doesn't always mean a bad service. It may be a business or individual that has yet to find their feet on the market. It is up to you to determine whether the low price makes taking a chance on this business worth it.
Finally, look at their web design and how they have set up their campaign. This should reflect the level of quality that they will provide in any work they complete for you. It's worth thinking about how satisfied their own SEO campaign has been too. How difficult were they to find and were they in the organic results?
Do You Need SEO?
Whether or not you definitely need a Search Engine Optimisation service will depend on the size and the function of your business. If you are running a blog, you might still classify it as a business. Many bloggers do, but will you need SEO as a professional blogger? Not if you know how to use tags efficiently and always right fantastic, high-quality content. Don't forget that quality content might be just as powerful for building ranking as a basic SEO service.
You need to think about how important your online campaign is as well. If online marketing is just a small part of your promotion, it's probably not worth hiring a professional service. For instance, a local service business owner could easily find out how to complete basic forms of SEO themselves. They should start by setting up a Google business page.
You might find that you're performing well enough without an SEO service. If you have excellent levels of customer retention and high traffic levels, you won't need SEO. You also won't need an SEO service if you can set up online marketing yourself. As already stated, social media and content promotion are now the most dominant forms of SEO. If you can handle these areas yourself, why bother hiring someone else to complete the work for you?
You need to assess where your business is right now. If you think there is room for improvement, an SEO service could be an option you can consider. Of course, there are also other possibilities.
Alternate Options to SEO
The primary alternative option is paid marketing. Don't get the wrong idea here. You'll be paying for Search Engine Optimisation too but with paid marketing your paying directly for the results. One example of this is PPC promotion. With PPC advertising the amount you pay is based on how many clicks you receive. Your ad will appear in the sponsored results, and approximately thirty percent of users click these first. Due to this, there is an important distinction to make. You're paying for clicks, not purchases. If you gain plenty of clicks and still get limited purchases, there's a problem with your site, and you could lose a lot of money.
You can also buy leads. Buying leads is another form of direct marketing. You literally purchase the traffic for your site, in the hope that it generates opportunities for sales or investments. It can pay off, but leads can also, no pun intended, lead nowhere. For example, if we take the short-term loan sector: Some companies buy loan applications from brokers, but may not end up approving them. Also, you have to be careful and make sure you're buying from a source that you can trust.
Conclusion
In conclusion, SEO may be worth the investment, but you have to know what you're buying. Consider whether it is worth the cost for your particular business model. Remember, results can not be explicitly guaranteed, but with the right company, you will see success. If SEO doesn't sound like the right choice for you, there are other possibilities to look into.