Are you a low earner looking to create a budget in 2021? You have come to the right place. In this article from Cashfloat we give you 5 budgeting tips for low income earners. Read on…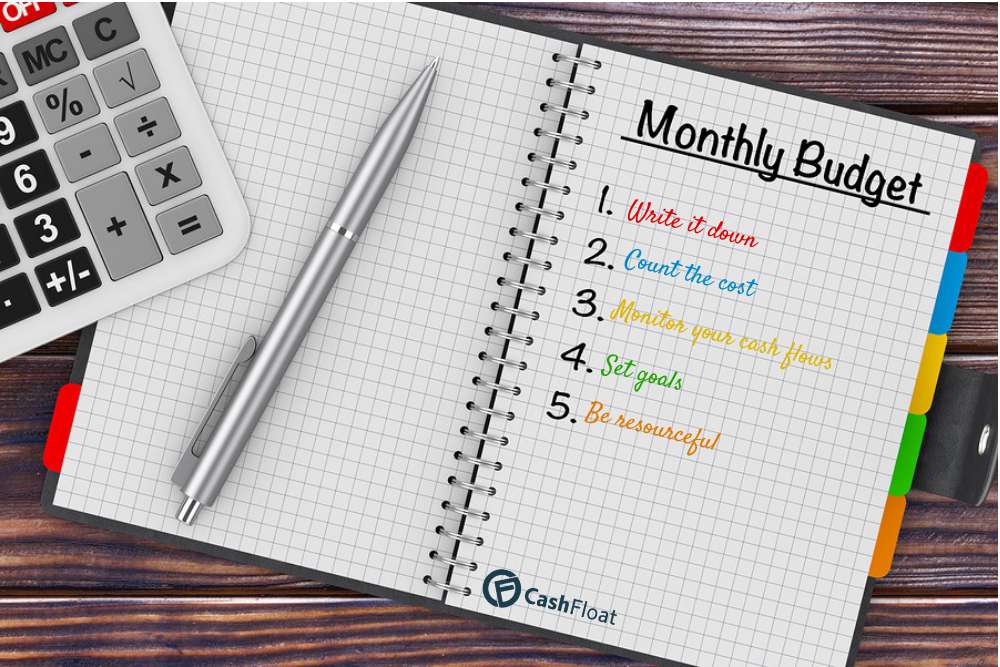 In this article about budgeting tips we shall learn about:
Budgeting tips for low income earners including:
Getting your budgeting in writing
Budgeting what you spend
Monitor your weekly and monthly cash flows
Setting financial goals
Learning how to make do with less
Budgeting tips for low income earners
Whether you come from the low-income earners category or even a high-income bracket, there is no reason to shy away from learning how you can still make money work for you. Cashfloat provide 5 budgeting tips for low income earners. (NB: If you are a high earner, these tips will still be useful.)
Much has been said about living within one's means, and that is not just for those who have less to spend either. Sometimes, the adage could mean different things to different people. But it is for everyone to understand that priorities must be made. Financial health is an important aspect of one's life, and one must tend to it.
Here you will read about 5 budgeting tips for low income earners that can help you manage your money, but any earner can find them useful.
Get your budget in writing

It does not matter whether you do it manually with a piece of paper and a pen, or virtually using a budgeting spreadsheet or Evernote. What does matter is the act of documenting your monthly income and expenditure, as this will give you an overview of your money flow within the next 30 days. Do not just do a mental math. Write down the items using the various apps available online, or in your trusty little notebook.

What are the things you need to remember? Household bills such as electricity and gas. Living allowances such as food and clothing. Financial products and liabilities such as mortgage or stock investments, needs of family and friends, travel and entertainment.

Put all the paperwork in one place, such as a storage box for receipts, bank statements, credit card statements, and your bad credit payday loan contracts. The mobile or browser apps usually have templates for budget planning, which can make things easier for you. Just pick one according to your preferences.

Budget your spending

Know how much each of the items you listed down is costing you every month. Do not let the minor details escape you, such as your fascination for buying certain magazines off the rack, or your family's fondness for eating out for no obvious reason.

Keeping all the receipts you get from restaurants will not help, but an estimate of how much your family is spending on dining out will give you an idea on what to slash off from the budget. Sometimes, there are those that can slip your mind because they have become an indelible part of your daily routine, such as using the heater, leaving the television on right before sleeping, and driving the car almost every day to work.

Account for the use of each item. Know what you can do to save energy. Take an alternative solution for going to work, such as walking on some days. Be creative about your alternative solutions. They may not always work for everybody, so choose which technique will work best for you. Sometimes, the best part is when you know that everything else has been exhausted and yes, you are still moving on. Remember you are on a low income so splashing out can't be a common occurance.



Monitor your weekly and monthly cash flows

As much as possible, you should watch out for your spending habits. Do not be blinded by your capacity to snag money to pay off your debt. No debt is better than with debt. Keep borrowing money out of your options.

Journaling how you spend can also help you see a pattern or an erratic habit, which will stick out like a sore thumb. It is a learning experience through and through. Remember that you cannot be perfect, but you can keep getting better at it as time goes by. If you work hard on something, someday you will harvest a reward—and develop a better, more disciplined you. So use the spending journal to measure your progress.

Set realistic financial goals

Keep setting goals for yourself. For example, you want to pay up certain liabilities within three months. Take one step every day towards your aim. Slash off a movie plan over the weekend. Next week, try preparing your own meals and taking them to work. Next, alternately walk and drive to your office and save on travel costs. You can also start an activity at home where you teach your children the value of conserving energy. Tell them to turn off the television when they are not really interested in any of the shows currently on. You can also refrain from using the heater every day. When your family is itching to go out, why not set up the table in the backyard and eat dinner with everybody al fresco?

Be creative and positive about the outcome of your ideas. Enjoining the whole family will also make it an enjoyable ride for everyone.


Manage your expectations

You are going to cut down on costs, for sure. Ultimately, this will entail sacrifice. Remember that sacrifice is different from compromise. You can sacrifice eating out but not your children's health. You can sacrifice the comfort of going to the workplace in your car but not your arrival to important meetings. Money management is part of a complete lifestyle change. It is not an overnight event, but the effects will last a lifetime.

Pay back what you owe

Part of managing your finances is clearing up your liabilities. Include debts in your budgeting, but know how to prioritise. Settle the high-risk secured borrowings first and then move down to the unsecured ones, like any wage day advance loans you may have taken.

Learn how to make do with less

Now if you think you want to expand your lifestyle, you will have to work overtime or double time with a side job. A side job need not be taking a lot of your time. It can be as fun as cooking or baking at home with your children, and selling your output to neighbours. If you have currently dormant talents and skills, leverage them by fusing those interests with an enterprising spirit.
Conclusion
There are a lot of steps you can take to manage your money, these were just 5 budgeting tips for low income earners. In the end, though, it is really up to you to persevere, be disciplined, learn self-control, and never lose hope.
To read about balancing your income versus expenditure, click here.