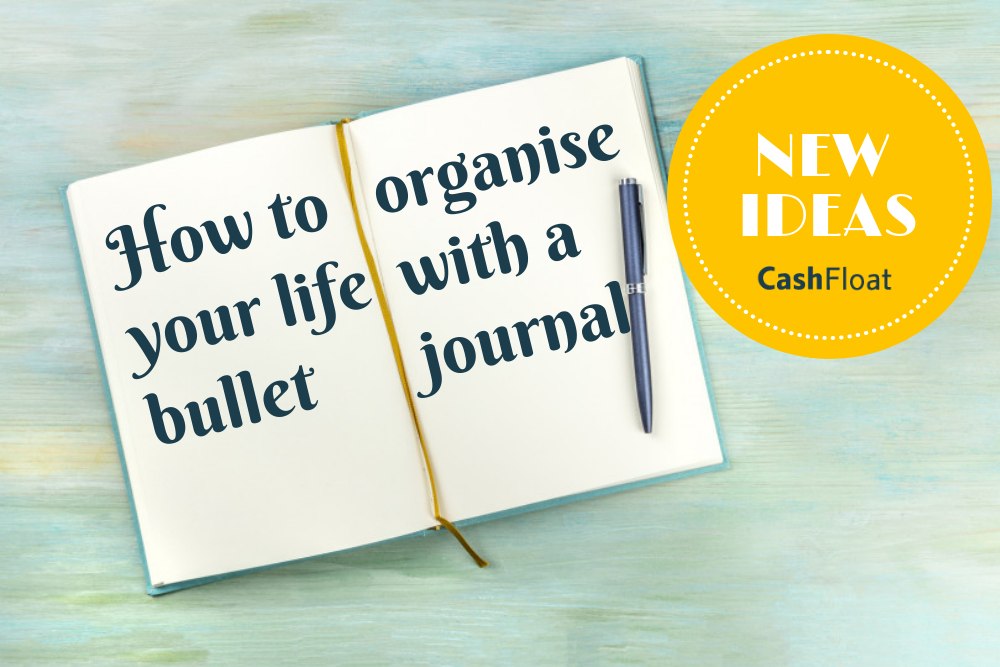 If you're reading this, you've likely come across the 'bullet journal' concept and want to find out if it's right for you.
Here, we will answer the following questions:
At Cashfloat, we are continually looking for ways that you can manage your life in an organised and responsible way so that you never need to rely on payday-loans, or other emergency products. Getting into debt can be stressful and unnerving but organising your life can help you regain your sense of control and help you not feel helpless. Using a bullet journal is one of the ways we found to help you get your life back in order and help you regain a sense of control.
What is a bullet journal?
A bullet journal (or BuJo, as it's commonly called online) is a journal that you make yourself to help you organise your life on a daily/weekly/monthly basis. It's called a bullet journal because everything is recorded using a bullet system (an organisation system devised by Ryder Carroll, the inventor of the bullet journal). The purpose of a bullet journal is to help you organise your life and keep track of anything that you need to do or remember.
Why should I use a bullet journal?
Bullet journals can be moulded to contain precisely what you want them to, giving you full control. In this digital age, it's important to take some time away from the cyber world to sit down and explore your inner self: What you want, what you need, your dreams and aspirations. A bullet journal is a beautiful way to do this. So, if you love being organised and are looking for a fresh and fun new way to organise your life, you can try bullet journaling! Just remember, all good habits take time to get used to so don't give up before you've even started!
What do I need to start a bullet journal?
The simplest version of the bullet journal requires only 2 things:
A bullet journal. Although the original bullet journal was designed around a grid-paper notebook, most people use dotted notebooks for their bullet journals. Of course, once you are familiar with the system, any notebook can be used – even regular lined notebooks. We recommend this notebook from Amazon, as it's relatively cheap but still good quality:


A pen. Yes, any pen, although preferably one that does not bleed through your pages
So, how do I get started?
Starting a bullet journal is simple, the hard bit is keeping it up. Although the bullet journal system only works if you make writing in your journal a habit, Keeping up this habit can literally change your life!
It may seem daunting at first that to create your bullet journal, you need to buy a completely empty notebook. If you're used to organisers and planners that have everything set up for you, this could take some getting used to. After all, how can you organise your life with a blank paged journal? Well, that's the beauty of it! You have complete control over what goes inside. Although there is a basic layout to the bullet journal system, even this can be tweaked to your liking, giving you the perfect level of flexibility and creativity. Below, you cam look at some beautiful and creative bullet journal spreads from Pinterest:
Learning the bullet system
Firstly, you'll need to learn the bullet system. The system is really easy and can be modified to your liking. This system will help you understand what category each entry comes under in just a glance.
Here is the original bullet system:
A bullet like this signifies a task – something you have to do
– A dash like this should be used to jot down a note

o Finally, a circle like this is used to record an event


Task bullets can be changed as per how we have dealt with them:
A task that needs to be done
x A completed task

> A task that has been migrated (moved to a different area)

< A task that has been scheduled in the future log
You can read more about the bullet system and how it can be used in practice here: https://bulletjournal.com/pages/learn
Starting your bullet journal in practice
Once you've mastered the bullet journal system, it's time to put it in practice. (Keep in mind that the standard 200-page bullet journal typically spans over a 6-month period). Here, we've put together a short glossary some terms you might come across:
| | |
| --- | --- |
| Spread | 2 adjacent pages of a bullet journal |
| Index | This is generally located on the first 1-3 pages of your bullet journal. It is the table of contents that tells you what is on each page of your journal. |
| Future Log | A future log gives you a bird's eye view of the year (watch the video below for more info). This is usually located on the spread after your index. |
You can set up a basic bullet journal in 4 steps:
Step 1: The index
The first thing you need to do when you get your shiny new journal is set up your index. Some advanced bullet journals will come with a printed index page, but even if it doesn't an index is easy to set up. All you need to do is separate each page of your Index into 2 columns: Page # and Description. Here, you will record what is on every page of your bullet journal.
Don't forget to add page numbers as you progress through the journal so you can find pages easily using your index. You should leave 1-3 of your first pages for your index.
Step 2: Future Log
The next part of your bullet journal will be the future log. This is a bird's eye view of what is going on for the next 6 months of your life. Here, you will record events that are unlikely to change (such as Birthdays, holiday-related events etc.) You can see how to set up your future log in the video below.
Step 3: Monthly spreads
Once you finalise the index and future log, you can start on your first monthly spread. This is a monthly calendar that helps you to organise your month. You can see how to set up a monthly spread in the video below.
Step 4: Weekly spreads
The weekly spreads are what you will be editing daily – adding tasks, events and planning your week accordingly. You can see how to set up a weekly spread in the video below.
Once you have mastered these 4 steps, you will need to repeat Steps 3 and 4 for every month you use your journal. At any period, you can look back and see a log of all your activity from a detailed daily version to a monthly and then bi-annual view (future log).
That's it for the basics of bullet journaling. So, if you are looking for a simple way to manage your life without tripping over yourself, a simple bullet journal as detailed above can be a great solution.
Bujo Inspiration: Creative Ideas for Bullet Journaling
The beauty of bullet journaling is that it can be suited to match your needs, whoever you are. So, if you are more creative and really want to use bullet journaling to test your creativity, a bullet journal can be the perfect outlet for all of that. Below, we've put together some ideas on how to make a bullet journal more fun and creative:
Colours!! Aside from the basic bullet system, using different colours to signify different things is a fun way to spice up your bullet journal. For example, you can have one colour for work-related stuff, one colour for personal stuff etc.
Stencils and stickers. Want to decorate your journal, but are not such a good artist? You can buy stickers or buy stencils to help you decorate the pages and/or outside of your bullet journal! This is a fun way to add your own personal splash to your bullet journal
A title page. Title pages can be a lot of fun to design colour and make. You can have one just at the front of your journal, but you can also make one at the front of each new month, with a monthly inspirational quote for example.
A collection is a page or set of pages that you create to match a specific need. For example, if you want to make a list of all the upcoming movies you want to watch, for example, you can write it down on a blank page and write where you've put it in your index. Some people place their collections between monthly or weekly spreads, while others have their collections at the back of their journals. It's up to you, but collections can save you from having to-do lists and wish lists scattered on pieces of paper throughout your home. Here are some ideas for bullet journal collections:

Trackers! These are a fun and experimental way to use your bullet journal. With them, you can track different things in your life, for example:

Weight trackers
Exercise trackers
Budget tracking
Credit Tracker. You can use this to track how much credit you use on a monthly basis. Keeping track of your credit, such as credit cards and short-term loans can help you to stay within your budget and not overspend.

As you progress, you will notice which trackers you enjoy using and which have become obsolete… Therefore, for your next journal, you can include your successful trackers and leave out the ones which you didn't like.

You can even combine several trackers as this person has done:




Brain dump. As the name suggests, you can dedicate a section of your journal for good old-fashioned brain dump journaling. However, it might be a good idea to limit yourself to a few lines a day so that you don't waste precious journal space. Or, if you still want to do full-blown journaling daily, you might want to consider a separate journal.
Summary
In summary, bullet journaling is a simple and easy way to organise your time and your life, and can help you keep track of the areas where you want to see improvement. The ideas that you can incorporate into your journal are endless! For more inspiration, check out Instagram and Pinterest!