The paramedic salary is £21,000 – £35,000 per year depending on the experience of the paramedic. Cashfloat takes a look at the salaries for paramedics and their jobs.
The average salary for a paramedic is £25,412 per year.

Different Professions & Payday Loans
– Chapter 3
Are you thinking of becoming a paramedic? Training to be a paramedic does take time. However it is a very satisfying and rewarding job. Cashfloat, a direct lender has looked at different jobs and their salaries. In this article you will learn about being a paramedic.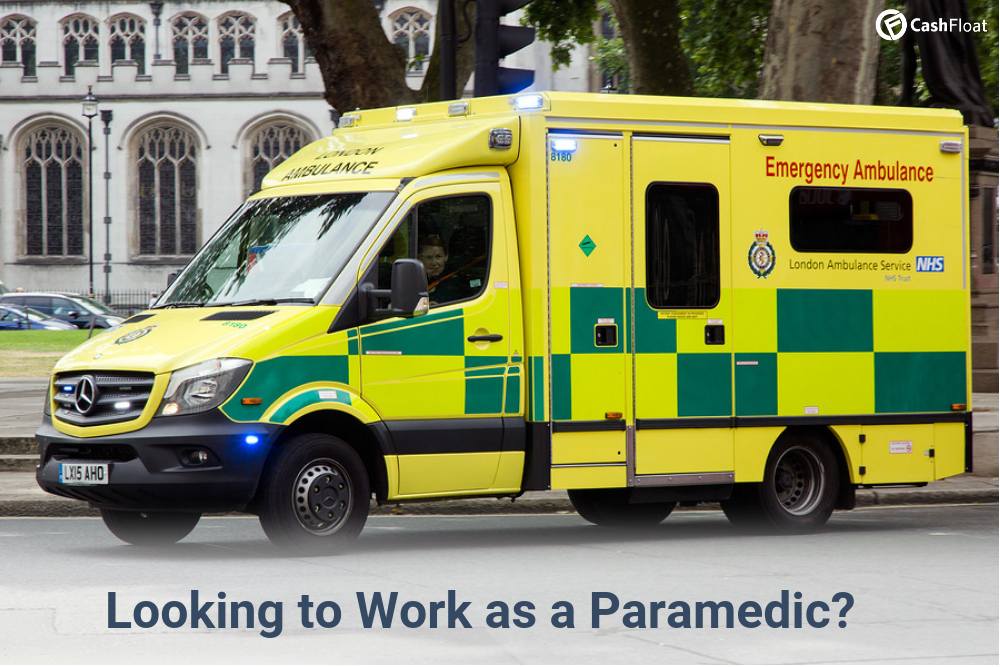 How to Become a Paramedic
There are different routes you can take to become a paramedic. You can:
take a full-time qualification in paramedic science, and then apply to an ambulance service.
become a training paramedic with an ambulance service and study while working
do a degree standard apprenticeship in paramedic science with an ambulance service
Full-time route
In order to go the full-time route, you need to have two or three A levels, with one of them being science, along with 5 (grades A-C) GCSEs with 3 of them being Engish, Maths and Science.
Having some experience in the healthcare field, whether paid or voluntary, will certainly help towards being accepted in the university of your choice. Courses can take between 2 and 4 years, full-time.
Student paramedic route
Ambulance services usually have their own set of requirements for students. They typically require students to have at least 5 GCSEs (grades A-C) or an equivalent academic qualification. Ambulance services also look for driving experience and a good level of fitness. To be accepted on a scheme, you may also be required to do some assessments.
Degree apprenticeship on paramedic science
To get onto a degree apprenticeship, you need to apply for an apprenticeship position with a healthcare provider. You can look here to find an apprenticeship.

Role of a Paramedic
A paramedic is often the first professional to arrive at an accident scene. They might work as a 2-person ambulance crew, or on their own in an emergency response car a motorbike. A paramedic may also provide vital health advice over the phone from a control center. They will need to make critical life-saving decisions about a patients care and decide whether a patient should be treated at a scene or should be taken immediately to a hospital.
Skills a paramedic should have
A paramedic should have:
good communication skills
excellent driving skills
great listening skills
the ability to use medical equipment and machinery
good physical fitness
Paramedics speak about their jobs
Sophia* is a paramedic who works in an ambulance. She undertakes detailed assessments of the patient and carries out life-saving treatment where necessary. Sophia says there's a lot of room for career advancement in this role, for example, to become an emergency care practitioner. She loves the feeling she gets when helping people when they need it most.
James* is a paramedic who doesn't work in an ambulance, he works behind the phone dealing with the less-urgent 999 calls. When a call comes in, James takes the patients medical history and asks other relevant questions before deciding what the next step will be. He decides if a patient needs an emergency ambulance, an ambulance at normal speed, whether they just need to see their GP or visit the A&E. James is also used by ambulance crew calling in for advice.
Nadiya* has worked in care since she was 16 years old. She says there's no such thing as a typical day in the ambulance service. She prefers dealing with life-threatening emergencies as opposed to non-life-threatening emergencies. The best part of the job says Nadiya is when she can start the patient's treatment before they even arrive in hospital and make them feel better. She also explains that the job can be physically and mentally draining so you should discuss the cases with other colleagues and do self-reflection for your personal and professional development.
*Names have been changed to protect privacy.
Conclusion – Is the Paramedic Salary Sufficient?
Working as a paramedic seems to be a very satisfying job. It can also be physically and emotionally draining, therefore having the right support while on the job is vital. A paramedic who is turning to quick payday loans to help them with their day to day expenses must sort out other ways of income. The paramedic salary should prove to be sufficient enough to live off and you should also be able to save money for emergency expenses.