Shopping is king! We live in a consumer society where branding affects our opinions about products and seduces us into buying certain brands. Read on to understand branding with Cashfloat. It will help you get control over your shopping and save you lots of money…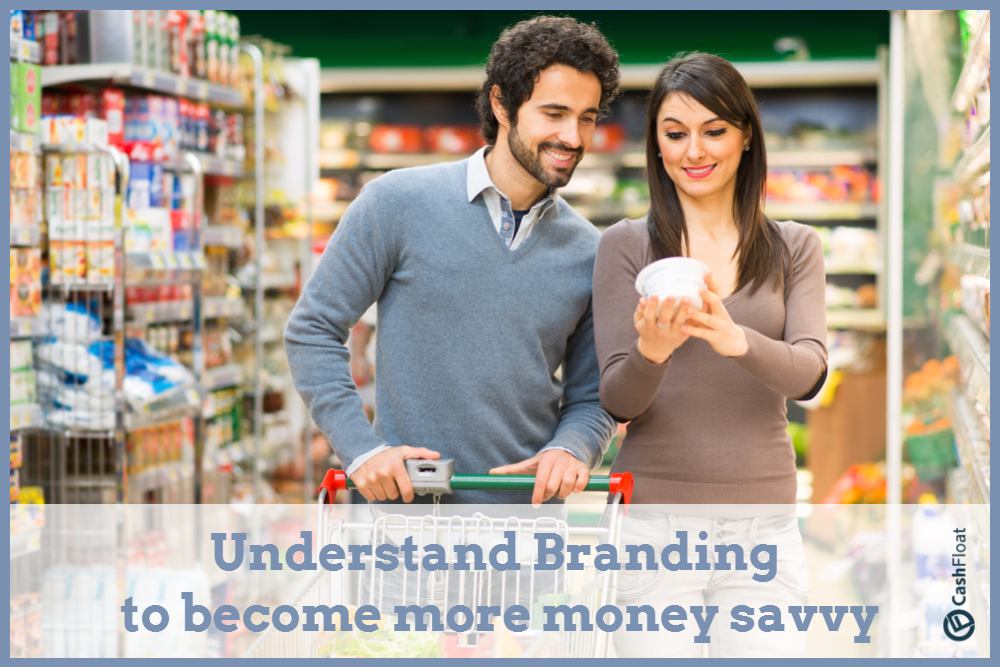 In the article below we shall be looking at:
Firstly, how to understand branding
Secondly, the history of marketing
Thirdly, how branding affects prices
Next, is the big brand the best product?
Then, how do brands become best sellers?
Eventually, what happens when brands become icons
After that, the psychology to understand branding
Then, the new reality – the decline of brands
Next, big brands versus own label products
Finally, how to avoid payday loans and debt with savvy shopping
Story highlights
An advert on ITV can cost up to £30,000 on a regular day
Many supermarket own lables will be just as good as the brand producut
Some brands have beome icons and part of our daily language
Do you struggle to keep your spending under control? Do you find it difficult to save and find the temptation to resort to credit cards? Is expensive payday loans UK needed to get you through? In this article, we look at ways to slash unnecessary spending. We will learn how to avoid being seduced by the tricks of branding. Read on to learn how to shop smart and buy what you need to make life good without wasting your hard-earned money.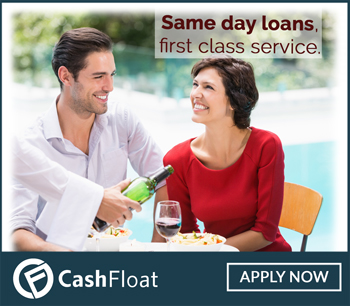 What is branding?
Understand branding is a marketing device used to make a product or service memorable to the target customer. Remember the term target: the marketing professionals and advertising executives are communicating their brand to you. They may as well be holding a rifle with you in their gun-sight! Branding is far more than attaching a name to a product, although getting you to remember and desire that name is a major target. Marketers put a lot of time, money, research and effort to try to make their product or service appeal to their target market. Branding involves devising a personality for a product which you will associate with the product and which you find personally appealing. This brand personality varies depending upon what market sector is appropriate for the product.

A product like Coca cola or Pepsi has a brand design to appeal to qualities in the intended consumers such as youth, fun and enjoyment. They achieve this by using bright colours and bold designs on the packaging. They then link this to PR (public relations) campaigns along with print and TV media adverts. Nowadays the brand personality is often enhanced by the use of online advertising. It is also enhanced by sponsorship on search engines, especially Google, and a significant presence on social media including Facebook, Twitter and Instagram.
Supermarket branding
Branding is not just limited to products you buy such as Persil versus Ariel in laundry products. The supermarket, including discounters Aldi and Lidl, also has branding of its own. They want to project their own personality and "brand value" to attract particular types of shoppers to their stores. Waitrose and Marks & Spencer are regarded as high-quality aspirational stores and design their branding and advertising to try to persuade us of that. The Co-op wants to appeal to environmentally aware consumers and customers appreciating or needing, convenience. They emphasise this in their branding, not the higher prices they may charge than some competitors. Purchasing supermarket branded products can save you lots of money and may help you avoid having to take out high acceptance cheap loans in the future.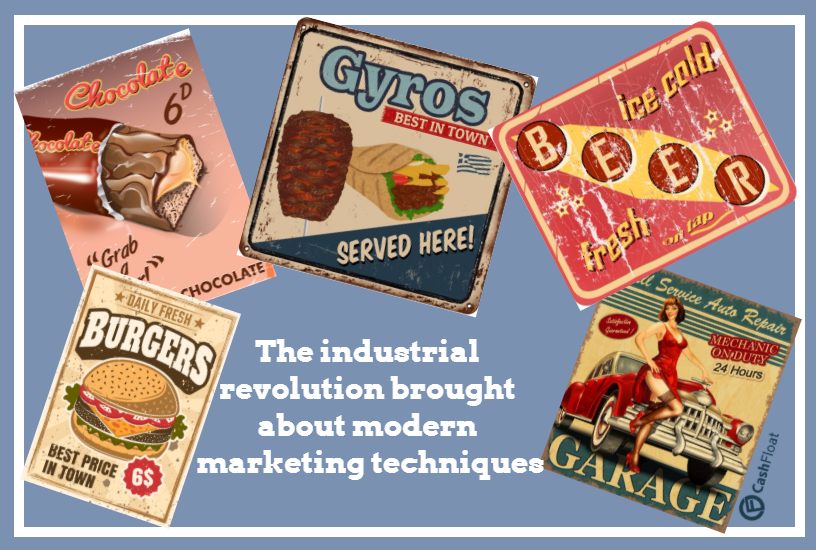 History of brand marketing
Marketing has probably existed as long as humanity has been moving from the hunter-gatherer period to live in towns and cities. The marketplaces of ancient Greece and Rome were full of stallholders and merchants marketing their wares and produce. They set their prices and shouted out the reasons shoppers should buy their products rather than their competitor's – an early variety of branding. Just think of modern day markets, stallholders shouting out "Juicy sweet strawberries – 99p a punnet" to get the idea.
The industrial revolution and the arrival of automation and manufacturing probably stimulated the invention of modern marketing techniques. With branding and advertising coming to the fore. To take advantage of mass production and justify the high investment needed to build big factories, manufacturers needed to sell big volumes of product. They couldn't rely on local reputations or support. They needed people all over the country to be persuaded to buy their products. As well as using branding and advertising they worked with their distribution networks, wholesalers and retailers, to maximise sales. Until recently this would often involve paying bribes to get products at eye level. It could be in special displays to make customers buy. An old adage in retail is "eye level is buy level". So watch out, if it's at eye level they probably make more selling it, so what you receive is of lesser value.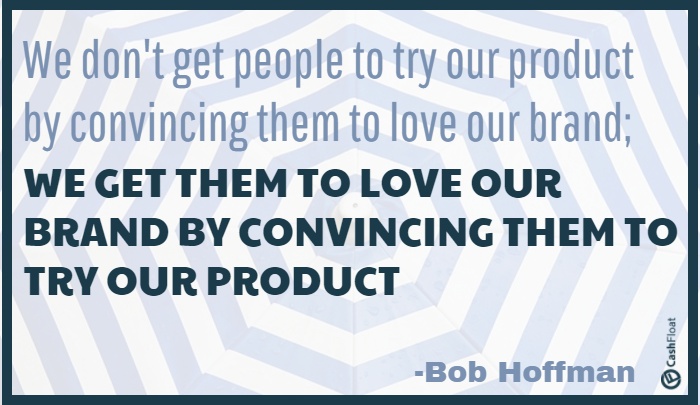 How branding affects prices
Understand branding costs money, and guess what, you are going to pay for it. Many smaller and niche products probably do not have big marketing and advertising budget. However, what we are talking about here for most people are the mass market products, which you are going to be tempted to buy every week. If you choose to purchase brands in your weekly shopping from a supermarket because their TV adverts make you think they are the best, then you are paying more than you need to.
Each 30 second advert on ITV costs from £3000 at breakfast time. It rises through the day to levels of between £10,000 to £30, 000 in the evenings. At peak times the advertising rates can be even higher. At times approaching Christmas or other peak buying periods such as Easter and public holidays. Companies pay the highest prices when most viewers are watching. So if an advert tempts you during Coronation Street or Britain's got talent you will end up paying a contribution to ITV's profits. Ultimately a proportion of what you paid for the product goes into making the product.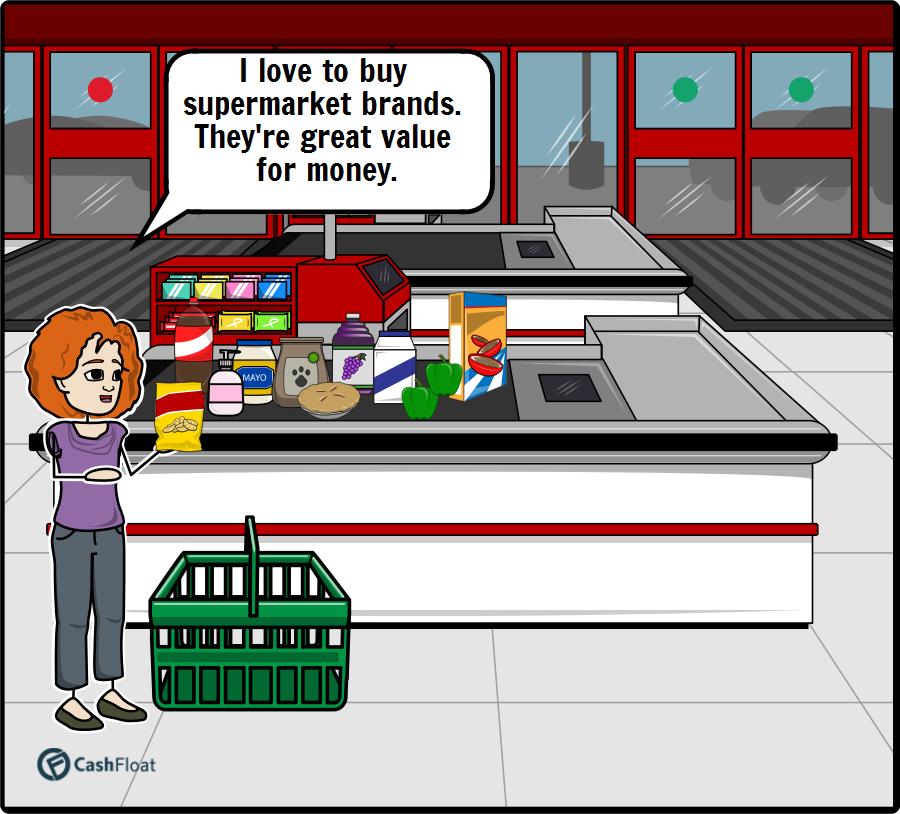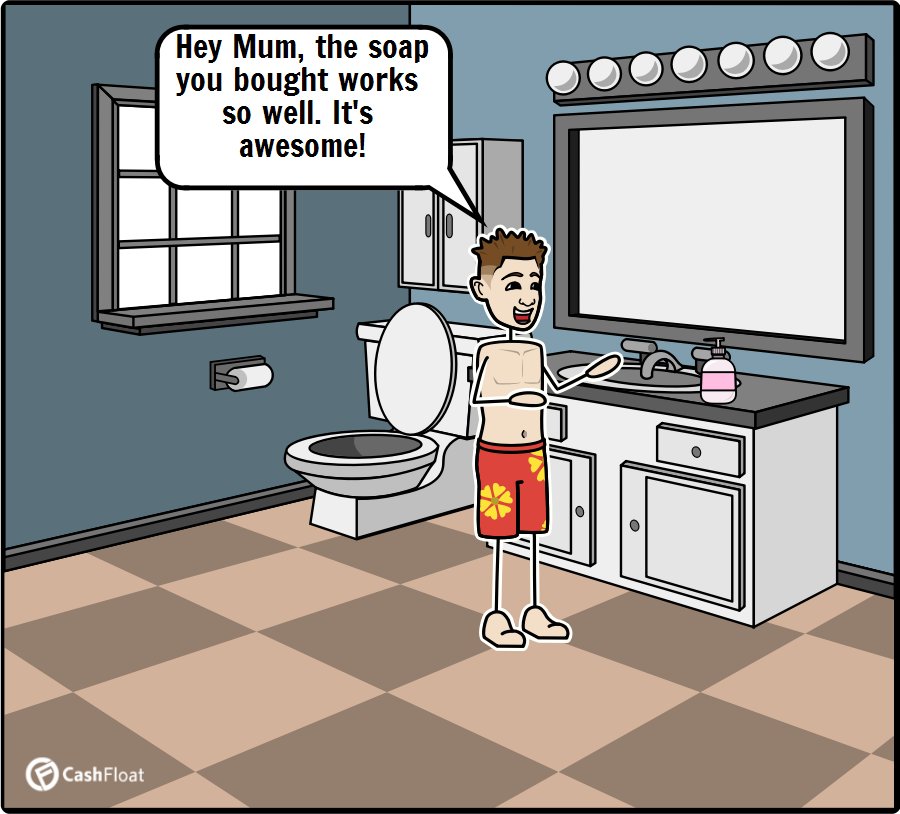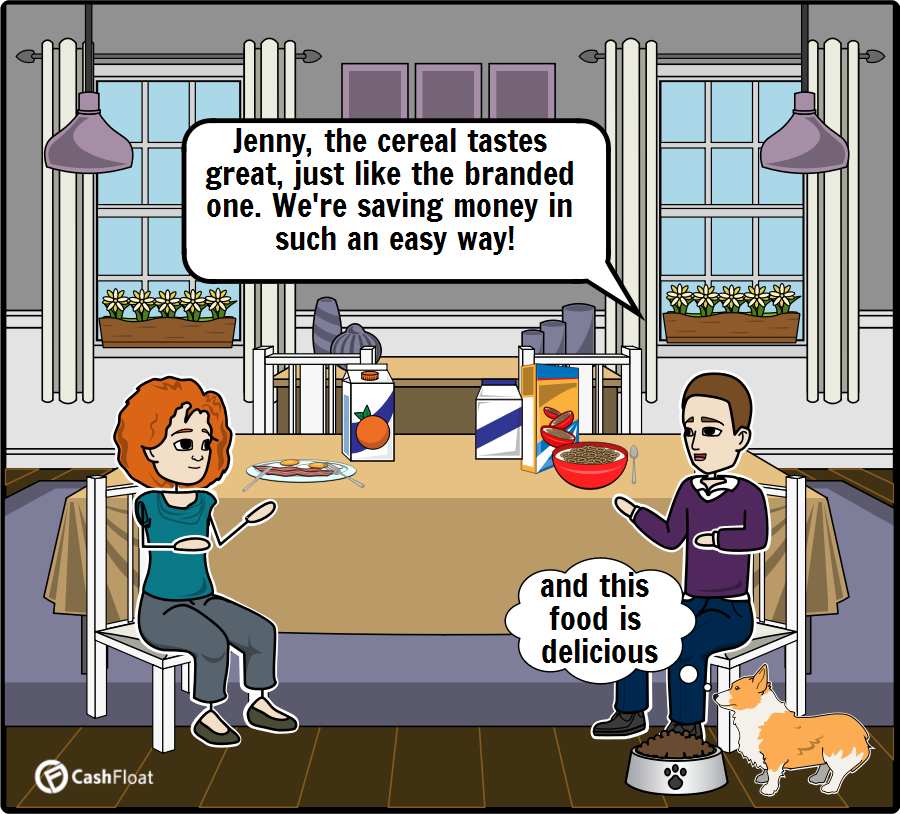 Does big brand equal best product?
Not necessarily. Many supermarkets own labels and products sold by the discounters Aldi and Lidl often feature as "best buys" in research and testing. Many magazines, newspapers and websites carry reviews of products, including consumer reviews. However, the best source of unbiased information for you to consult, comes from respected sources such as Which? (Consumers Association) and the Good Housekeeping Institute.
The good housekeeping website carries reviews in all the following categories to help you decide on which brand to buy in their "Tried and Tested" product reviews: Household appliances, health and beauty products, clothing, cooking tools, electronics, fashion and beauty, health and leisure plus house & garden. Good Housekeeping taste tests compare foods and drinks to find the best tasting and best value products.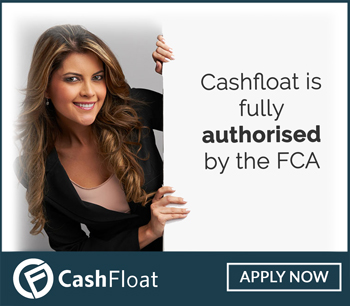 Famous brands versus generic brands
A recent example found that brand leader Weetabix only scored 74/100 on taste at an indicated price of £2.39 for 24 biscuits. Own label products equalled or beat Weetabix in blind taste tests. Marks and Spencer got the top score of 80/100 at only £1.50 for 24. A saving of 89p versus the brand leader. Would you have guessed that? Most people associate Marks and Spencer with high prices for food.
Tesco came next with a score of 76/100 at an even lower price of £1.29. Waitrose was next scoring 75/100 priced at £1.50. Asda at the same score charging just £2.47 for a pack twice as big containing 48 biscuits – virtually half the price of Weetabix. Lidl's own label offering matched Weetabix on a score of 74/100 but at the much better value price of £1.89 for 36 (equal to only £1.26 for 24). It's definately not worth needing some unsecured quick quid in order to buy the brand products.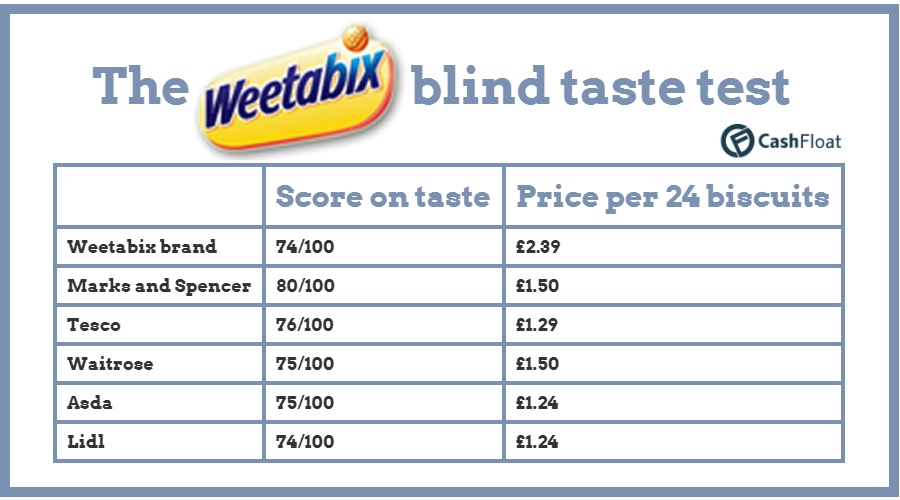 This is just one example from goodhousekeeping of how supermarket own label products can be a better buy than big recognised brands. Not only in quality and taste but at far lower prices. Most consumers recognise that by replacing the big advertised brands from your shopping basket and replacing them with own label or discount retailers brands can easily save you over 30% on your weekly shopping bill. With many households spending £100 on a weekly shop, that's £30 you could be keeping in your pocket by smart switching – a saving of over £1,500 every year!
Products are made in the factory but brands are created in the mind
Click To Tweet
How do brands become best sellers?
Some brands have become best-sellers after may years of being on our shopping lists. Our mums and dads or grandparents were buying them when they were the only choice available. They became big products because of a lack of competition. When own label products started to appear 50 years ago, the big brands invested in improving their products. They tried to offer better quality than the cheaper own label products. They invested heavily in advertising to keep the public buying their brand instead of cheaper alternatives.

Brands becoming icons
This is when manufacturers and brand owners hit the jackpot. Through good design, mass advertising and dominating their market sector some brands become iconic. It's a bit like running a downhill race. When you reach a certain speed, the momentum keeps you running. The same applies to brands, they become so popular or easily recognised that they attract attention and extra sales. This is even without additional help from marketing and advertising spends. Sometimes a brand becomes so iconic it becomes a part of everyday language. This happened with Hoover vacuum cleaners. How many people use this brand name as a verb instead of using "vacuum", regardless of the brand of cleaner they use? Do you ask for a "Coke" when you order a drink? It is more than likely you do. Hardly ever will you hear someone ask for a JD and cola or a vodka and cola.
Other brands reaching iconic status also gain cachet. You will often hear something very good being referred to as the Rolls Royce of whatever. This is in deference to the iconic luxury car brand Rolls Royce.
Brands are designed to appeal on an emotional level to buyers. When designing a brand and its marketing, a lot of thought goes into thinking about how the consumer will feel about the product. In the case of a brand like Apple, the appeal is seen to be cutting edge technology and stylish design. The price of the product is at the top end of the market, part of the appeal is to make buyers believe they are superior to people buying lesser or cheaper brands.
An example, perhaps somewhat tongue in cheek, is that wealthier shoppers from socio-demographic groups A B and C1 are now increasingly shopping at Aldi and Lidl, but place their purchases into Waitrose or M&S bags. They want the benefit of shopping at the discounters, good quality products at low prices, but they want people to think they are higher net worth individuals who shop at "quality" or aspirational outlets such as Waitrose and M&S
Developments in recent years are making life more difficult for the big product brands. As supermarkets have become more dominant in the market, their buying power can make or break brands. Their market dominance has enabled them to develop much better quality own label products which compete on quality with the big brands. They offer the consumer much lower prices while allowing the retailer to make higher profits. The retailers are developing their own brand personalities and identities which then rub off on their own label products – effectively sharing their advertising spend across the thousands of own label products they sell. This means that the big brand is having to spend a larger share of its product price on advertising and marketing to get its message across.
TV shows like the BBC's Eat Well for Less? Has Chris Bavin and Gregg Wallace visiting families to find out how to eat well for less. This often involves getting families to give up their addiction to buying expensive brands. The presenters replace many of the expensive brands in the fridge and cupboards with cheaper brands or own labels all presented in plain packaging so that the family does not know whether they are consuming their usual or a different brand. This type of blind tasting removes the temptation to prefer a product because of its packaging or brand perception. By changing family shopping habits, often including getting participants to prefer up to 90% of the cheaper own label products to what they usually buy, they achieve massive savings on the weekly shopping bill
Payday loans and savvy shopping
You don't need to go on TV to be trained to become a savvy shopper. Consult product reviews, and take the plunge. Try shopping at a discounter like Aldi or Lidl and select own label products from your favourite supermarket instead of the big brand. You will know it's an own label or discounted product because you bought it and can see the packaging, but try to be objective, you may be surprised to find it is as good as, or better, than what you usually buy. Remember you can easily save 30% or more on your weekly shop by becoming a savvy shopper. Saving £30 or more every week could help you avoid overspending every month, and do away with resorting to expensive same day loans UK or getting into debt. Give it a go; you will thank yourself when you find spare money in your pocket or wallet.
In summary
With all the supermarket brands that are available today, our money can go a lot further. We therefore are less likely to need loans with no guarantor. Cashfloat, who are authorised by the FCA are here every step with you to help you stretch your well earned money as far as it can go.