Story highlights
Cashfloat happy to provide payday loans for architects who need it to overcome a temporary money problem
38% of architects said they believed they would never be able to pay off their student debt on their architect salary
Professions & Payday Loans
– Chapter 13
In August 2018 there was a shocking article in the Architects' Journal. It stated that 1 in every 3 architect students had stress-related mental health problems! The reasons given for this worrying trend were growing student debt and not enough architect salary to pay it off. It was also the widely accepted culture of working excessive hours and the fears that their course was not preparing them adequately for their chosen profession.
In this article about working as an architect we will discuss the architect salary and all the aspects of working as an architect.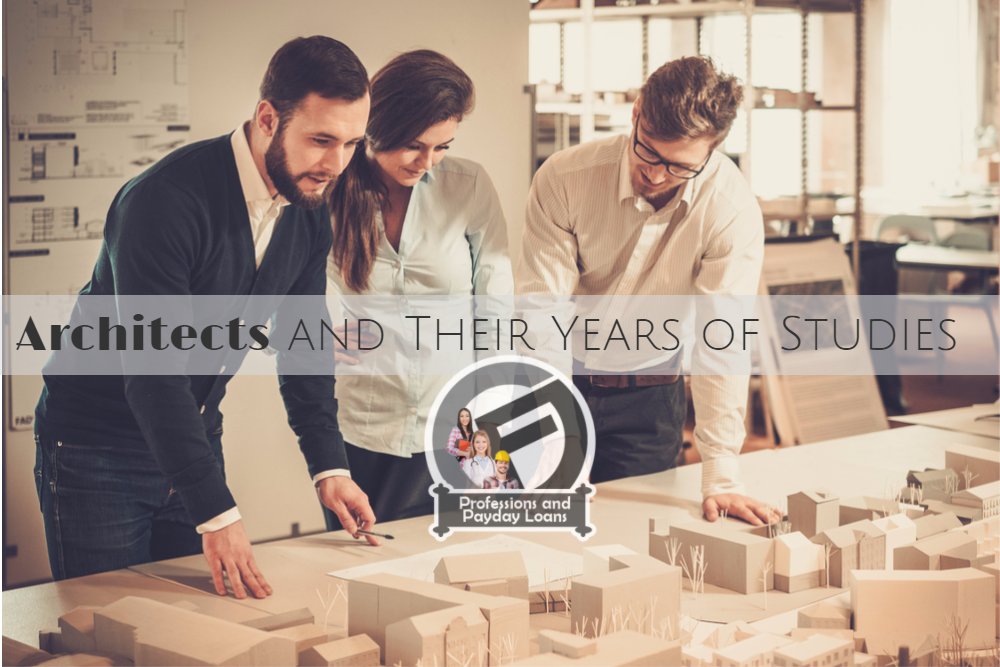 How much does an architect earn?

Part 1 architectural assistant
£18,000 to £22,000
For Part 2 architectural assistant
£24,000 to £35,000
Newly-qualified architect
£32,000 to £45,000
A senior associate, partner or director
£45,000 to £70,000
The nature of a qualification in Architecture means that students generally do two years of supervised professional work experience (on top of their years of study) before they can qualify. In a profession which we assume to be one of the highest-paying, why are so many pre-qualified architects having such difficulties in getting by? Also, why are so many applying with lenders offering payday loans for architects to subsidise their salaries? In terms of future expected earnings, are the seven years of architectural studies really worth it?
How To Become an Architect
Entry to the profession is at degree level only. There are about 40 institutions in the UK which run courses in architecture and entrance is highly competitive. The seven years of training is broken down into some stages requiring academic work as well as practical experience. In Part 1 students do a 3- or 4- year degree course followed by 12 months of a recorded and supervised work placement. Part 2 is a further two years of study and possibly a Masters degree and is consolidated by another 12 months of work experience. Finally, Part 3 consists of a written and oral exams in professional and practical management and includes an assessment of their recorded work placements.
For those who have worked at as architectural technicians for at least three years, there is a RIBA (Royal Institute of British Architects) exam for office-based candidates, which takes them up to Part 1.
FAQ's about working as an architect
Architects design all kinds of buildings from large towers to schools to city homes. An architect draws the plan of the building and will sometimes create a model buiding out of cardboard or plastic. Architects will have to think about many things before they draw up plans for a building, eg. plumbing, room size and a safe design.
The architects work hours can vary greatly depending on many factors. If the architect is self-employed they can set their own hours. Architects who are working under a firm usually work 35 – 40 hours a week, although they may be required to do some travelling to building sites which are not included in the hours.
Most architects do some travelling depending on where there clients are based. If you firm only takes clients from your city then you will not have to travel too much. However if you are working from a larger firm with clients and projects outside your city, you will be expected to do some travelling.
There are many factors which will make an architect successful. Here are a few;
Hard working. Being dedicated towards your job is important, even if it means doing longer hours or ensuring perfection until 2am!
Problem solver. When you are designing a building you will have to meet your clients needs and you will constantly come across problems which may involve design or structural issues.
Social skills.A good architect must be able to communicate well with their clients and co-workers. You also may be required to present your ideas and visions for a particular project. If you have good communication skills, you will get a lot further in your career.
Strive for the best.An architect who always uses the best materials and only reaches for the stars will do really well intheir job
What happens after the Architect is qualified?
After their qualification, architects need to register with the Architects Registration Board (ARB). This is a statutory body which has the right to take legal action if someone wrongly calls themselves an architect. On the other hand, membership of RIBA is not a legal requirement. However, if they choose to join, they have Chartered Architect status. This is on the condition that they complete 35 hours of CPD (Continuing Professional Development) annually. 20 of those hours must be from the 10 Core Curricular modules.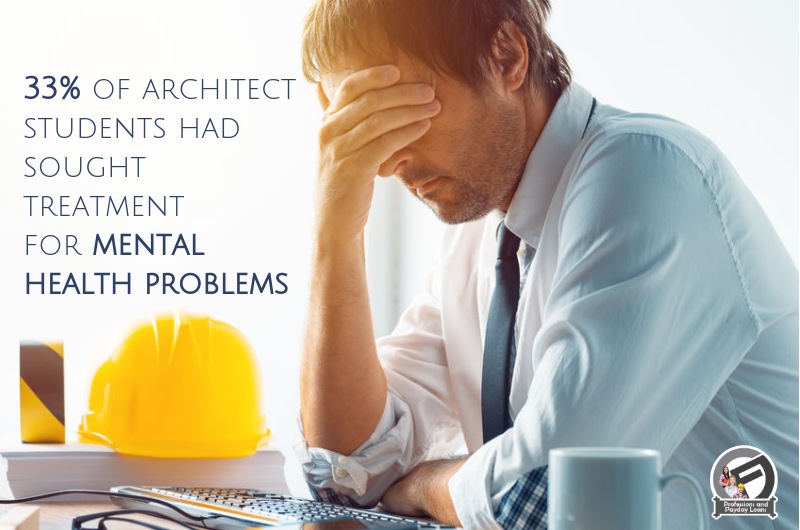 Where do Architects Work?
In the Architects' Registration Board Annual Report for 2014, it said there are 35,000 registered architects. 23,000 of them work full-time. Of these, many work in private practice. There are also job vacancies in central or local government, construction companies and in commercial or industrial organisations. Some architects prefer to work freelance and become self-employed. Although this tends to be those who have more years of experience. According to a 2015 survey in the RIBA Journal, 16% are sole principals of a firm, 34% are partners, and 36% are salaried architects.
Architects' Working Hours
Architects supposedly work office hours from 9am-5pm, Monday-Friday. However, they might also have to work longer hours in the evenings and at the weekends if the project demands it. They may have to visit sites for purposes of supervision or inspection. Often these hours and the travelling time are not part of their official working hours.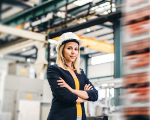 Perks of Being an Architect
Because of the necessity of making visits to construction sites, architects in larger practices with some experience might be given the use of a company car. If this is not possible, they are usually paid some mileage to pay the petrol for such visits.
Architects' Grievances
One of the major problems facing pre-qualified architects is the issue of working hours. This is not only on their course but also doing their Parts1/2 placements. In the survey reported in the Architects' Journal (July 2016), 91% said that they had had to work all night in an effort to catch up with work while a third said it was something that they regularly did.
The other issue was the question of money. The architect salary did not include pay for overtime. 31% claimed that they were asked to work for free by architectural practices.
Pre-qualified Architects in Debt
Since the introduction of university tuition fees and student loans, the issue of student debt is nothing new. However, the situation of pre-qualified architects is in some ways unique. As students, they have some additional expenses which others do not have. These include printing, travel for site visits, field trips, and materials. Students can borrow books from the library and research done on the Internet. On the other hand, pre-qualified architects are expected to buy a range of drawing instruments, tools and modelling equipment as well.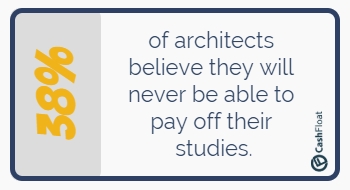 The structuring of their path towards qualification presents another problem. Whilst students in other disciplines are able to use their work placement as a way to reduce their debts, architects' length of study and the fact that most work experience positions are in big cities mean they often find themselves incurring more debt. An architect salary of £18,000-£27,000 is barely enough to pay their living expenses, let alone pay off the money they owe.
According to the article in the Architects' Journal, their average debt is from £30,000-£50,000 by the end of their course. 38% said they believed they would never be able to pay it off.
The RIBA and Pre-qualified Student Debt
The RIBA are sympathetic to the problem of pre-qualified student debt. They offer some bursaries (Trust Awards) and scholarships although they are limited in number. As a result, they started an Education Fund with voluntary donations from its membership. This Fund has already distributed £450,000, but it said applications for assistance have increased by 300%.
Payday Loans for Architects
Cashfloat noticed many applications for payday loans for architects coming through their online website during a research into who takes payday loans. The question is; Why do they need loans each month? Entering a profession at a 27,000-pound starting architect salary on average after seven years of study must make some architects wonder if it was all worth it. However, the answer would seem to be 'yes' as the RIBA's annual report of 2016 stated that 80% of qualified architects were in employment and few had dropped out.
The main reasons why architects face financial problems is they might often have to wait years to see the economic benefits of their years of study. More than any other profession, there are a limited number of job opportunities outside the major cities. Therefore, they often have to relocate and do not have the choice of living with parents in the initial years to save some money.
They also have the problems of finding money to pay for accommodation and the daily expenses of food and utility bills. On top of this, they have the burden of many years of student debt which they have to use their architect salary to pay off.
Their profession means that they must possess a car and as it is unlikely their boss will given them a company one in their first years of work. They must also find the money to run the vehicle. Although they will probably get a petrol allowance by their firm, they must find the money to pay for all the other expenses of private vehicles such as the MOT, insurance, and maintenance.

Considering all these additional outgoings, it should come as no surprise that many have to resort to finding a payday lender that provides payday loans for architects as a way to cover their monthly expenditure.
Conclusion – Architect Salary
On the positive side, in the 2015 survey in the RIBA Journal, only 1% of architects did not have a job. However, it reported that salaries are a problem; employees in architectural practices reported that their earnings had remained static. While those employed by central government had seen a 9% drop. Only local government architects had received a raise of 7%.
Underemployment has always been a problem for self-employed architects (sole principals). However, we have seeen a reduction in this phenomenon from 29% to 13%. This could reflect a growing sense of optimism in the construction industry. It could be because people are less likely to employ an architect when they feel that the additional 8%-15% fee is not worth it.
Pre-qualified and newly-qualified architects do have pressing financial problems when they first enter the workforce, which means they need the help of a company providing short-term unsecured loans or payday loans for architects. However, this situation is temporary since they do possess a skill which is in demand. Therefore, they just have to be patient before they reap the benefits of their hard work. Cashfloat is more than happy to provide payday loans for architects who need it to overcome a temporary money problem.