Want to know all about the civil service compensation scheme and how it works? Cashfloat explains all you need to know including planned reforms to the system. Read on….
Lost Your Job? What Can You Do? – Chapter Five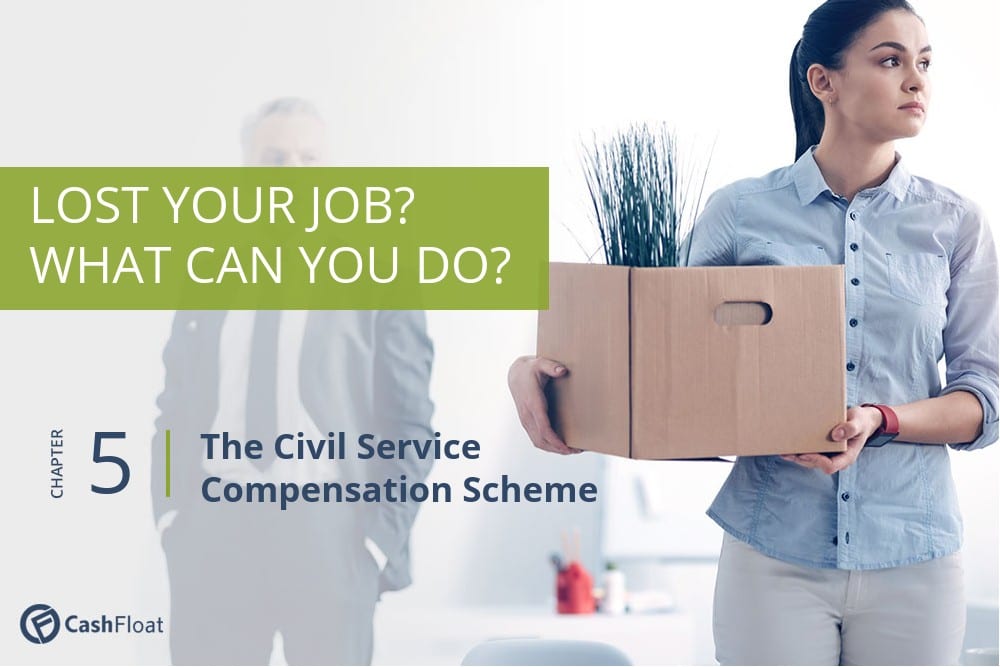 People who work for the government in the civil service have a special deal for compensation when it comes to redundancy. This scheme, called the Civil Service Compensation Scheme, applies to all those who work in local government as well as at the top levels in Whitehall. This article explores into how the system works and guides readers to making a claim.
The article will also look at the plans that the government is proposing to shake up the Civil Service Compensation Scheme and to reduce the amount of civil service compensation that is payable if an employee takes part in the early release scheme.
Civil Service Compensation Scheme
Many people who are civil service agents receive a lower salary than those in the private sector. Consequently, job loss can be even more devastating, leaving many with no choice but to take short term loans from direct lenders to cover day to day expenses. Cashfloat looks at the Civil Service Compensation Scheme and the compensation available for those in the public sector who are suffering from job loss.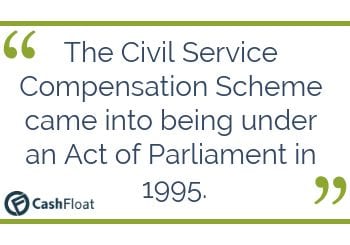 Origins of the Civil Service Compensation Scheme
The Civil Service Compensation Scheme came into being under an Act of Parliament in 1995. This Act changed rules that had been in place since 1972. It covered a host of amendments to the scheme regarding voluntary and compulsory redundancy, early retirement, early severance and many other factors. There have been further changes in 2010 and 2016, and more reforms are under consideration.
Reforms Made to the Civil Service Scheme in 2010
Following the election of the Coalition government in 2010, the new government proposed improvements to the Civil Service Compensation Scheme. These were under question for a few reasons. Firstly, because the system was not fit for purpose, and also because it was unaffordable. It was also found to be out of line with schemes that operate in the private sector. Thirdly, it was unfair, as those with the lowest pay and shortest service did not get adequate compensation for their job loss.
The proposals included caps to the amount of compensation, although the government stressed that the preferred outcome would be a negotiated settlement. Looking to create a scheme that was affordable, fair and sustainable was the object of this particular exercise. It was also put in place to help provide protection for the lowest paid and those who were close to retirement.
Reasons for the Reforms
Civil service pay has always been less than the equivalent job in the private sector. Civil service employees who lost their job were vulnerable to debt such as taking out payday loans online. It was deemed necessary to put in place a better scheme so that those on the lowest pay did not miss out on a decent amount of redundancy payout in the case of job loss.
Following the cuts to the public sector jobs, the civil service compensation scheme applied to those employees who left under a voluntary exit scheme. Anyone who leaves their job under this plan should follow a step by step process. The following is a look at what can take place.
Civil Service Redundancies: Exit Schemes
The government has offered a Civil Service Compensation Scheme Exit plan to many public sector workers. For those who have chose to take part, there is a set series of steps that will occur:
Quotation
The application is passed to the Civil Service Pensions so that they can provide quotations for a pension. When you receive the quote, you need to decide if you are happy with it. At this point you can decide to pull out of the scheme.


Application
If you then decide that the quote is acceptable and to go ahead, the application is forwarded. It must be received by the deadline already cited.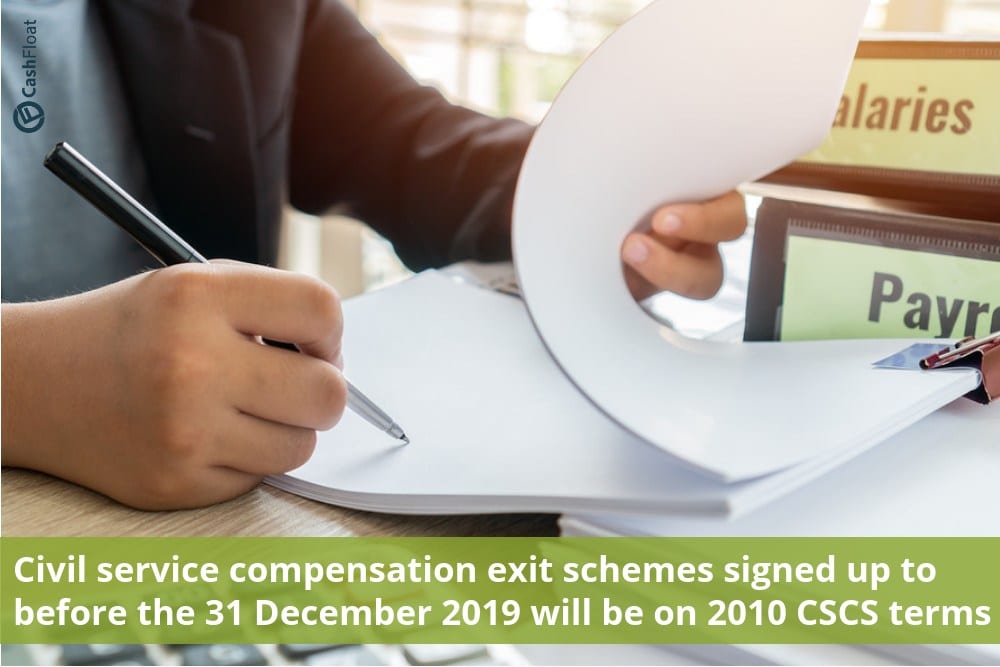 What Happens To Pensions Under an Exit Scheme?
For employees who are under the age for a pension, it will be preserved and can be claimed at the designated age. When you leave your job, you will receive a lump sum. If you have reached the designated pension age, then you will get your lump sum and start receiving your pension immediately after you leave.
Civil Service Redundancy Pay
If a civil service employer decides to offer voluntary redundancy, there is no obligation to apply. If you do apply and do not like the terms, you do not have to accept. Nevertheless, you could be chosen for compulsory redundancy at a later stage. Accepting voluntary redundancy means a cash lump sum. You can add this to a pension scheme. Compensation is worked out on a number of different factors. These include the salary, the tariff under the rules of the scheme and the years of service.
For those under pension age, the tariff is one month's pay for every year of service, up to twenty one months. For those over pension age, the tariff is one month for every year of service up to six months.
Fixed Term Contracts
An employee on a fixed term contract is treated the same as a permanent employee. Those working part time are treated on a pro rate basis. Three months notice is given, and the employee and employer will agree on the actual departure date.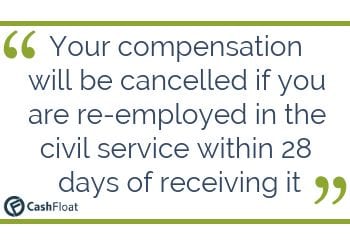 Re-Employment In The Civil Service
Should you become re-employed in any part of the civil service within 28 days of receiving compensation, this will be cancelled, and your service will resume as though there had been no break.
More Reforms To The Civil Service Compensation Scheme
In March 2016, there were some more changes suggested to the Civil Service Compensation Scheme. These involved cuts in payments that could affect all civil servants at all levels. The reform included the following proponents:
Lowering the cap on payments to £95,000 for an individual.
Removing the right to an offer of voluntary redundancy before introducing compulsory redundancies.
Reducing the cap for voluntary redundancy to 18 months; OR
Reducing the cap for voluntary redundancy to 12 months or possibly nine months.
The government also made changes to pensions and other benefits that have been in place for civil servants. These changes were to compensate them for their lower wages.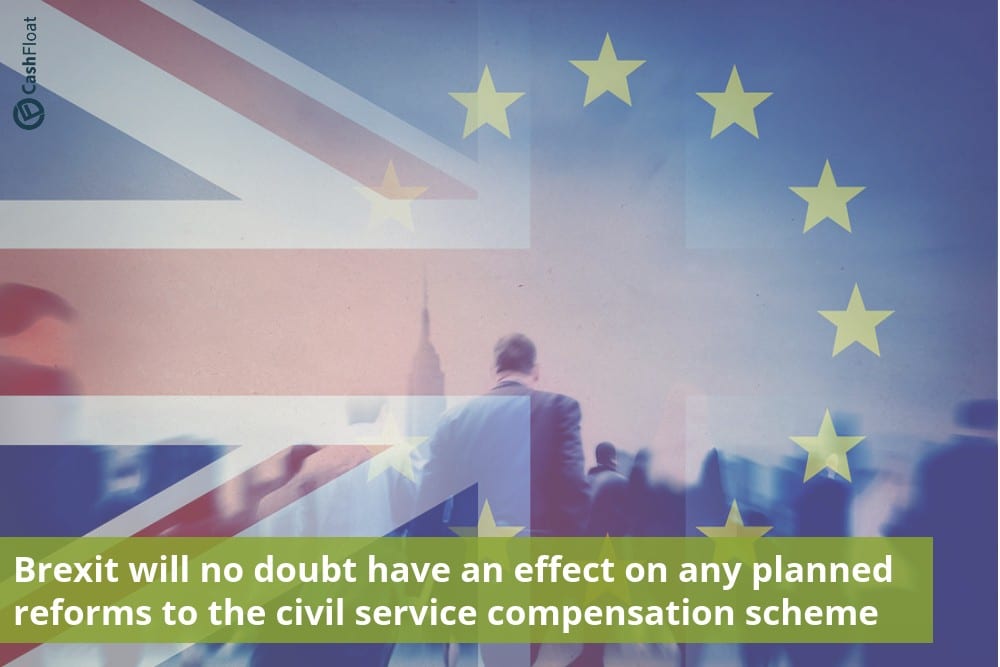 Protests From the Unions
The PCSU, Public and Commercial Services Union which represents civil servants has condemned these broad, sweeping proposals for change. They are currently making plans for union action to prevent an unacceptable outcome of the proposals. The uncertain future following the vote to leave the European Union will no doubt have far reaching effects on government plans. It will be interesting to see if the proposals actually come into place.
Conclusion
What is certain it is that government employees do need a redundancy scheme that is designed to help compensate. Wages in the public service are always lower than those in the private sector, leaving civil service agents more likely to need personal loans. In fact, many public sector wages are so low that employees don't have any way of paying for emergency expenses that crop up. In those months that there is something extra to pay for, the wages simply don't stretch far enough and many public servants end up taking cash loans UK to help get through to the end of the month. Something needs to be done.