Full Guide to Managing Family Finances
– Chapter 13
Ever read some statistics about home budget and spending and wondered what on earth it was going on about? We hear that the household expenditure has risen and inflation has dropped, but what does this mean in real terms. Is it good for the economy or bad? And what does it mean for the average British household.
This article explores in detail the meaning of the statistics about consumer spending. We also discuss how accurately – or not – they describe the actual spending of different households.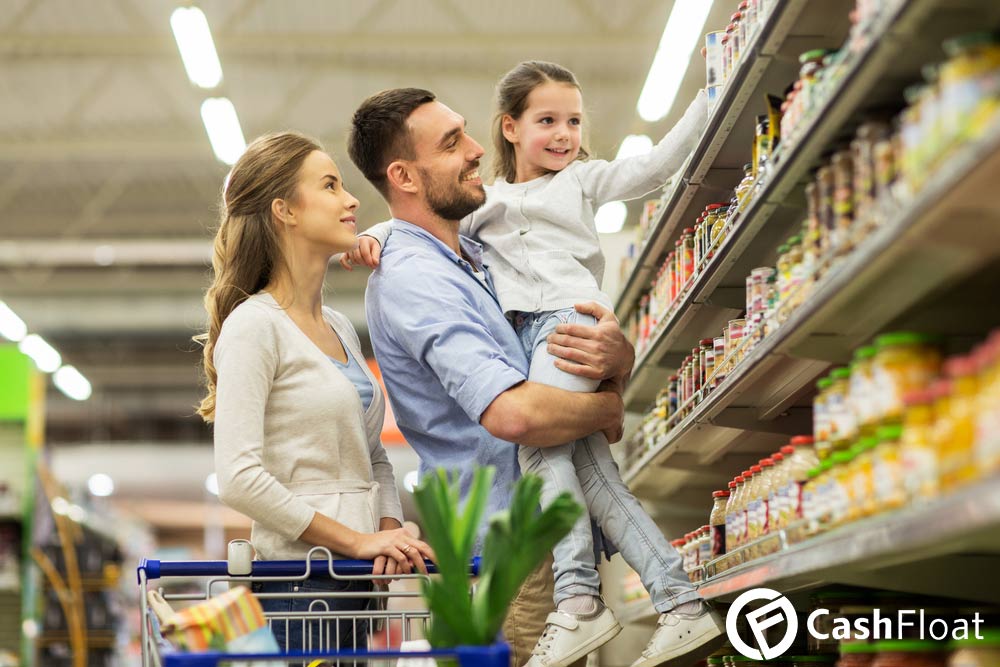 Has Your Home Budget Grown?
Statistics show that the average home budget has grown. Figures released in April 2017 reveal that there has been an increase in household expenditure to £554.20 weekly. Families are spending more on meals out and leisure activities, buying clothes, than alchohol and education. Families spent an average of £79 on transport in 2017, an increase from previous years.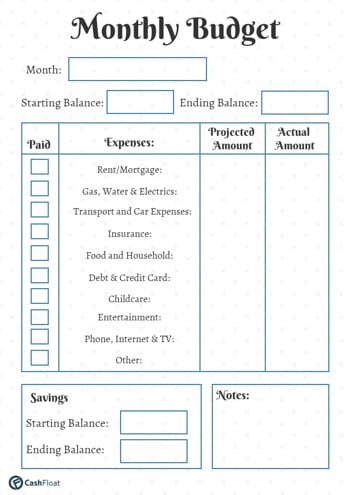 These increases have been attributed to the more positive economic outlook. Unemployment figures are at record high. Combining these facts with low inflation means means that wages in real terms have increased. Some families are enjoying a small surge in spending power. However, there is more borrowing going on now then there was following the financial crash. This could cause a reduction in the amount of households with money left over at the end of the month, increasing the need for cash advance loans.
How Much of Our Household Budget is Spent on Food
The last figures available for the home budget for food were published in 2018. The average household spent 0.3 per cent more on food in 2016/17 than in 2014, when prices were at their highest during the last 10 years. Groceries prices in United Kingdom are 1.43% lower than in Germany. However, all other food consumerism is more expensive. Compared to Ireland, the UK food industry costs less. Of course averages will always throw up anomalies so these figures will not apply to every family.
In spite of the high costs for fresh foods, many families generate a huge amount of wasted food. There is a surprising statistic that shows the average family loses around £470 per year just on food that is thrown away. In addition to this waste there has also been a fall in the consumption of fruit and vegetables. This is despite the government's program to get people to eat their five-a-day portions.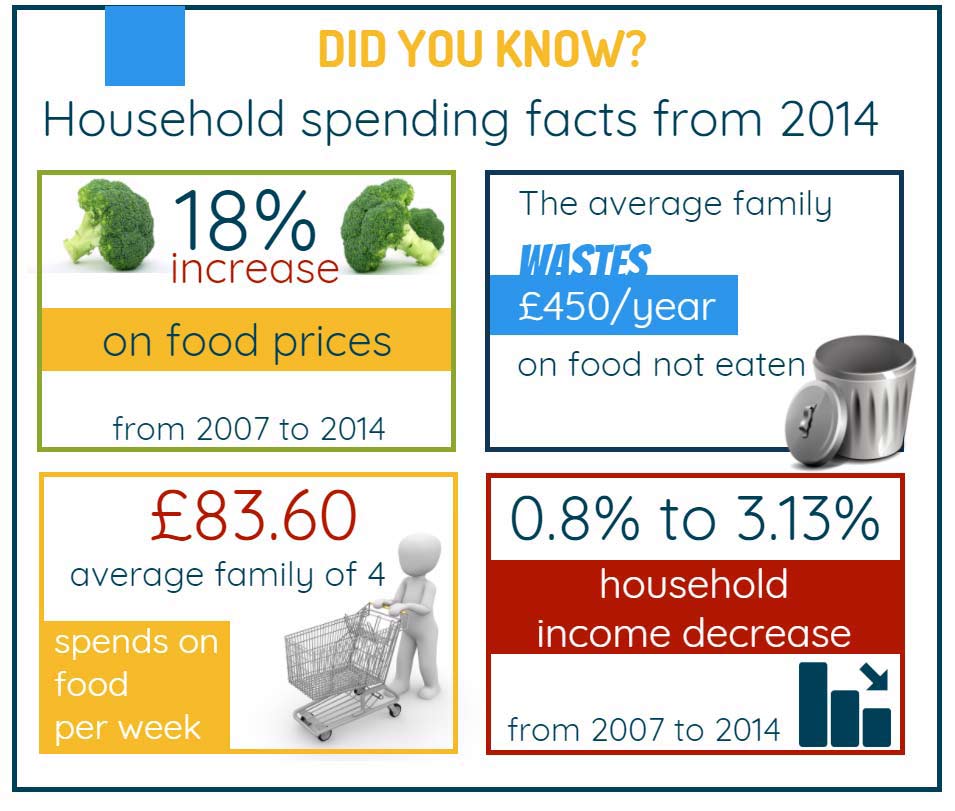 What influences how we spend on food?
The price of food is the driving factor behind what people buy. 41% of those interviewed named price as the most important influence on their food spending habits. Promotional products and sell buy dates are two other factors that influence spending on foodstuffs. Some families still put ethical products at the top of their list of priorities. Alcohol in the UK is priced higher than in EU countries but is still one of the products that people buy on a regular basis.
What does the average family spend on food per week?
The average weekly spend on food and drink is £91 for a family of four up 3% since 2017. But, with a too high proportion of fresh goods being thrown away there are some measures that families can take to prevent waste and make their money go further. Experts have estimated that it is perfectly possible for a family of four to spend as little as £40 per week on food and drink. This is without compromising on quality and still having a healthy diet.
Consumer Spending on Transport
The amount of money spent on transport takes up a high percentage of the average household spending for families in the UK. The figures show an average of 14% of income. However, this applies mainly to higher income families. The figures actually show different spending patterns for different income groups. Low income families spend more on fuel for energy as well as housing and food. So figures for transportation costs are confusing. One survey shows that motoring costs have doubled in the last three decades. But, as fewer households now have cars this can also make the figures misleading.

There is no doubt that costs for transport to and from work have increased. Figures for 2013 show this annual bill as second only to housing and energy costs. There are also regional variations in the home budget for transport. Households in London and the South East spend more than families who live in other regions of the UK. The high cost of oil made a difference to spending on transport. There have been increases in fares for buses, trains and London Underground. Prices for oil have now fallen, but costs for transport have not. In fact, rail fares have again shot up in 2015.
How Household Expenses has Changed
In 2017, household spending returned to pre-financial crisis levels from 2003. However, this could also be because of rising food prices. Families in some parts of the UK are spending more than others. For exaple, England spend on their household more then any other UK nation. There is also a marked difference between single parent families and big families and between older adults and younger adults.

Home Budget for Housing
As always London has the highest spending per household, which is probably due to the higher cost of housing, and the North East area has the lowest average. Housing has taken over from transport as the biggest item of expense although the figures are based on rents, repairs and maintenance and do not include mortgage costs. Transport comes second now with costs for driving lessons, air fares and running a vehicle also included in the figures.
Surprisingly enough the third sector to eat up household spending is recreational activities and culture. These include things like cinema tickets, books, newspapers and meals out and even include the cost of buying and keeping a pet. While we all need recreational activities, the fact that this expense is so high on the list may mean that those families relying on personal loans and credit cards may need to cut back on recreation. So what can we extrapolate from these trends?
Household Finance – The Regional Divide
As usual there is a great divide between the South East and the rest of the UK and the figures do not represent reality for many low income families who would love to be able to spend the £43.85 per week per person for food that is shown in the national statistics. Most low income families cannot afford to eat out so do not spend the £12.31 per person per week that is also quoted and many are struggling to make payments for household bills – often taking out online loans to be able to pay them – that do not come anywhere near the figures also quoted.
This shows that national averages actually mean nothing to the ordinary family. The Office of National Statistics regularly releases figures to show household spending trends. But,they do not give a real indication of what it takes to keep a househols running without having to take payday loans at the end of the month. If you need help with planning your home budget, download our household budget plan above.