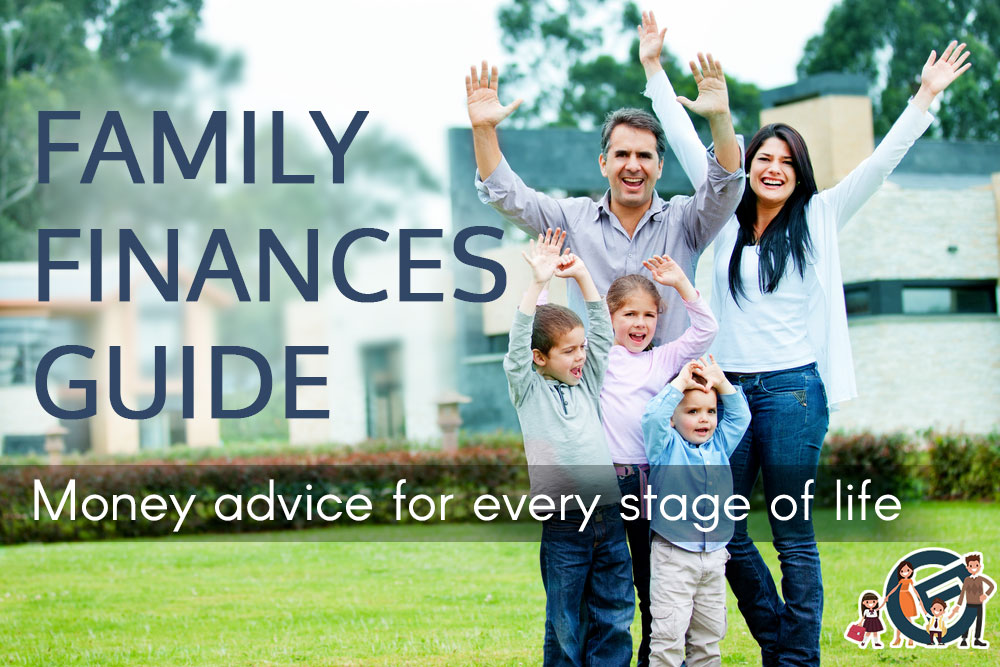 Learn how to manage an effective family budget and get in control of your finances. In this guide you will find essential financial information for every stage of life.
Doesn't it sound great to be in control of your family's finances? You know how much is coming in, where it's being spent, how much you're saving each month and what for. You're prepared for whatever surprise expenses the next day might throw at you and you never have to take out a short term loan to cover emergencies. Sounds like a dream? Well, Cashfloat.co.uk has prepared a clear and in-depth Family Finance Guide, available free of charge, to make this dream become reality for you.
Family Finances – Table of Contents

Family finances can be a difficult path to tread. There is a wealth of advice and information available on the Internet and from financial institutions and advisors. But, the fact is that no two families are alike. There is no one-size-fits-all approach for family financial affordability. Families are no longer the two adults, two children unit that is the past was a model for family financial planning. Some families are single parents with a child or children. Many families now have to consider ageing parents as well as teenagers who may want to go to university. There are a lot of variables when we talk about family financial affordability.
Home & Family Finance
It is an unfortunate fact that most ordinary families in the UK do not think long term when arranging their finances. This is very understandable as most people have not received any tuition about how to handle financial matters and they generally rely on the advice of their bank when taking out mortgages and investments.
Additionally, many families live from one payday to the next with little money to spare for savings. If only a 'stress test' like that applied to banks could be applied to the family finances it would highlight the need for forward planning so that the danger of living just one payday away from bankruptcy could be avoided. This is something that could be addressed by the school curriculum and it would be a far better option that teaching media studies or some of the other spurious subjects that are of little benefit in the real world.
Although some families do live within their means without relying on credit cards or personal loans there are many more who have come to financial grief purely because they do not understand how to manage monthly income. Sometimes they are unaware that they can claim benefits from the government. Careful financial planning could help prevent many families from getting into debt which can have catastrophic results for all members of the family.
| | |
| --- | --- |
| | Welfare State and the Family Budget Planner |
The welfare state was originally designed to look after families from the cradle to the grave but this no longer happens. Medicines, care for the elderly and education are just three of the costs that now have to be born to some extent by families. So, although there is free schooling until the age of 18, after that point anyone who wants to go to university needs to pay tuition fees and living expenses. This is one area which should be looked at for families with children who want to experience a university education and it needs long term planning from almost the day that the child is born.
Once a part of the pride of the National Health Service, free medicines no longer exist unless you are a child under 18 or a pensioner. The cost for a single prescription is now £8.25 per item so anyone with an acute illness who needs constant medication will have to pay considerable amounts of money each month. Even though there are some prepaid options this is still a hefty charge for many families. Likewise hospitals now charge for visitor parking and the possibility of charging for food has been raised although it is not operational yet.
| | |
| --- | --- |
| | Need for Financial Information |
With everyone living to a greater age there should be more information and help so that people gain an understanding that the state will not pay for care fees if the person has their own home. In Scotland, care fees are covered by the local government. But, in the UK the person needing care has to sell their home that they have worked hard to buy to pay for care fees. When they have reached an age where they suffer from a long term illness or just old age this is the only option. It is therefore a family financial issue that needs addressing sooner rather than later. If more parents were aware that they could put their family home into their children's names while they are still fit and well, it could save much heartache later on.
These are just three of the many different life costs that families should be aware of and along with the price for school uniforms and annual school trips to name but a few, the costs of bringing up a family can be very expensive. It is becoming clear that family finances are a very personal subject and each family has different priorities whether that is finding the money for private school fees or extra tuition, paying for university costs or looking after a disabled child. Therefore, the matter of family financial affordability is a difficult subject to cover.
Financial Management – As a Family
The question about how families can make the best of their incoming funds will depend upon many factors. These include whether or not they can afford to save any money at all or whether every penny is eaten up by the time the next payday arrives. There are many small ways that families can save money on utility bills and other essentials but these are covered in other articles. Making the best of their monthly incomes, some families will put paying the bills as a first priority whilst other will try to manage several credit cards to keep on top of financial matters.
The most important fact to comprehend when dealing with financial affordability is that it is far better to cut down on non essential items and to try to save some money each month. However, as different members of the family may have different spending habits this may not be as easy as it sounds.
| | |
| --- | --- |
| | Managing a Budget Plan – Together |
So, a joint approach to family saving and spending is one way that money can be managed in a better fashion. If this happens there is less chance of divisive arguments about who has spent the most and this means less stress all round. Even the most well balanced couples can hide secrets about spending money if they do not share the same values as their partner.
When making a commitment to the family it would be a good idea for everyone to be on the same page about family finances. But unfortunately, this is the one aspect of a relationship that often gets left behind when people begin to live together. Just like the idea of a pre-nuptial agreement is considered to be too materialistic, having an in depth discussion about money may feel like it takes the romance out of life. However, if people did sit down and think about how they would manage their finances when they start a family or when an emergency arises they would be far more prepared when that eventuality happens.
| | |
| --- | --- |
| | Family Finances in the Past |
In the not too distant past there was a definitive line. Men earned the majority of money coming into the home. But, these days it is usual for women as well as men to provide for the family. Studies show that there is usually one partner who deals with the finances for the family. This is one trait that should be avoided at all costs.
It is very important for to involve all family members in making the best of the incoming money. And, this should also include children once they are old enough to understand how finances work. Parents and educators should teach children the value of money and how important it is to make the best of what is available. This approach leads to children and teens who grow up with an independent outlook. When they leave home they can manage money in a much better manner.
Making the most of the money available to the family means keeping tabs on all income and expenditure. If possible, keep the former ahead of the latter. Reaching the end of the year with just a little extra savings prevents the misery of debts that can easily pile up. Unfortunately, in this age of almost limitless credit this rarely happens.
| | |
| --- | --- |
| | What Financial Planning For a Family Includes |
The ideal financial planning for a family should include a budget for monthly expenses, plus a set amount to be put away each month in an emergency account. These savings should be kept to pay for unexpected occurrences like car repairs or replacing appliances. In addition, long term planning should include some provision for the children's education. It is important to set aside some money even if it is only to pay for school uniforms or school trips. In the long term, families should try to look far enough ahead to cover the possibility of redundancy or long term illness.
Of course, there are some families who are unable to make financial plans. They simply do not have enough income to cover daily expenses or they are on government benefits. However, perhpas the answer is to teach financial planning from a young age. Then, even those with special circumstances would not feel that they had no control over their financial situation.
| | |
| --- | --- |
| | Family Budget Planner – Summarised |
So far, we have made a brief mention of the many different aspects of family finance. We have a wide range of articles covering every topic in much more depth. For your convenience, they are all just one click away. Look through the following titles, pick an article, and enjoy!
Understanding how to plan for family finances is a complex subject. Sit down with a pen and paper and discus the current situation with other family members. Make sure everyone can make some inroads into having a say about what the future holds. You don't have to just accept that there can be no changes and that everything is left to chance.