Full Guide to Managing Family Finances – Chapter 34
Are you concerned that your parents are getting forgetful and might not be paying their bills? Or that they need assistance with managing their savings? Either way, stepping in to help may prevent them from making costly errors of being subject to fraud. Learn how to do it within the bank's T&Cs.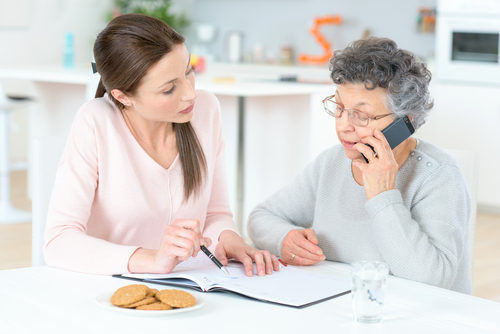 Managing the Financial Affairs of Ageing Parents As people are living much longer than in previous generations there are now many families who find themselves in the position of looking after ageing parents as well as the rest of the family. This in itself is a difficult situation but when you add in the fact that some older people may also need help with paying bills or assistance with other financial matters it is useful to understand what you can and can't do regarding other people's money. If you are concerned that one of your elderly parents is getting forgetful or is otherwise having trouble managing day to day finances, that is the time to step in and help so that they do not make any costly errors including forgetting about any short term loans they may have taken out, become subject to any fraudulent transactions or get duped by strangers into giving away their money.
Situations where help may be required There is also the situation where your relative may suffer from physical problems which means they are unable to get to the bank to settle their bills or draw out money. Additionally, many older people get confused when confronted by too many options for savings or they may have their money invested in an old account that pays no interest and are missing out. In any of these situations there could be good reason to offer help with your parents' financial affairs but as long as they are mentally capable your role at this point will be to offer advice only. Another situation that could arise when elderly parents may need help with money is when they are in hospital or recovering from an illness. Day to day help could involve paying bills, collecting a pension payment or organising paid home help. So, how do you approach these problems?
Dealing with Banks, Benefits and Allowances
The most important point about dealing with banks is that if your relative gives you a PIN and asks you to withdraw money on their behalf they will be in breach of the terms and conditions of the account. Likewise if you operate Internet banking transactions on their behalf it is technically a breach of contract. However, there are a number of other ways you can help to take away the burden of dealing with finances. The first option is for your parent to ask the bank to allow you to operate an account with a third party mandate. Once this document has been signed you can ring the bank and ask questions about the account, make enquiries about statements and generally operate the account as if you were the owner. The alternative is to set up a joint account with your parent so that regular bills can be paid and this will allow you to manage the money online which can save you a lot of time. One thing to bear in mind, however, is the implication for tax if there is a large amount of money in the account.
Having Discussions One of the smartest ways to help with money problems is to make a date once a year to sit down and discuss financial matters with your parent. In this way you can help them to get the best deals for interest on savings and ensure that they are not paying unnecessary bank charges. Investments should be regularly reviewed and many elderly parents forget this and keep money in bonds that are not giving a good return. If this is the case you can make an appointment with an independent financial advisor who will be able to suggest alternative options. Instead of queuing up for a pension every week or month, the better option for older people is to have their state pension or other benefits paid directly into a bank account. This means that direct debits can be set up for all the utility and other bills that are paid on a regular basis so that no one has to stand in line at the Post Office or bank to pay the bills. Some utility companies will allow a third party to speak for the account holder and when this is set up you can ensure that they are getting the best deal for telephone, gas and electric services. If it appears that switching to another provider will give a better deal your relative will need to agree to the swap and to sign for this themselves.
Elizabeth Redfern is a born and bred Londoner who loves the city life. She is a proud chocoholic who enjoys reading, jogging and eating – especially chocolate! Elizabeth attained a first class degree in Mathematics but chose to make a career out of her real passion, writing. She has published many poems and short stories, but decided to join the Cashfloat educational channel writing team because she is passionate about helping people take care of their finances leaving them free to enjoy the finer points of life – most notably (in her opinion), chocolate!