If you have a bad credit history and need funds, two popular options are taking out either subprime credit cards or payday loans for bad credit. The question is – which debt is better?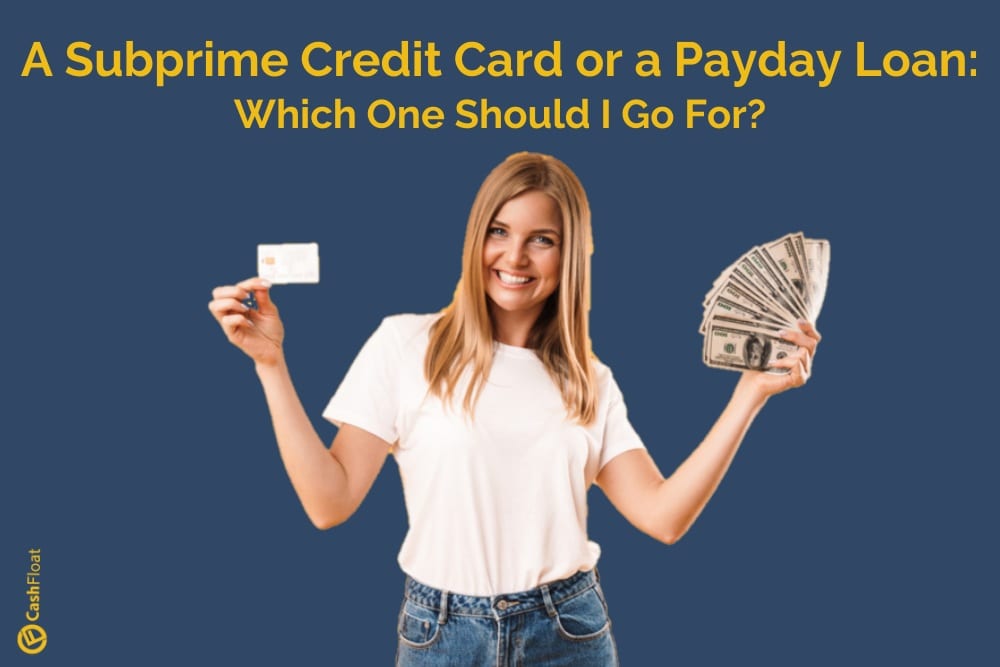 Bad Credit: Subprime Credit Cards vs Payday Loans
Payday loans have the worst reputation of all financing options – a reputation they deserved until they became FCA regulated a few years ago. Now StepChange has highlighted another bad credit funding option that has been skulking in the shadows until now: subprime credit cards. Around 4 million people in the UK have subprime credit cards which StepChange says only make the situation worse for four of every five of its clients (79%).
Marketed as 'Credit Building Cards' these credit cards offer credit with high APRs and uncapped lending limits. Subprime credit cards are a debt spiral for people. Perhaps it is better to take out an FCA regulated short term loan instead of using a subprime credit card?
What is a Payday Loan?
A payday loan – also known as a wage day advance – is a short term unsecured loan. It provides emergency funds to people – even those with a poor credit history. Favoured by people with bad credit, payday loans come with a high APR. This shouldn't be a problem if the borrower pays back the loan quickly. The FCA regulates the payday loan industry and they ensure that only responsible lending takes place. One cannot rollback debt or take out a new loan until they repay their previous loan.
What is a Subprime Credit Card?
A subprime credit card – also marketed at a credit builder card – is a form of credit card. It is used by people who cannot use regular credit cards due to bad credit history. It is marketed as a way to build a good credit history. However, most people use it for day to day needs. Intended for short term borrowing it comes with a high APR, yet many people opt for minimum payments and pay it over many years. Lenders raise credit limits, and people can access credit before paying off previous debt. This allows debt to accumulate.
Increased Credit limit
Payday lenders offer a fixed amount, while subprime credit card lenders offer a credit line which often increases unsolicitedly.
Spot is a guard dog on a 10-metre leash. One day Spot noticed that more rope was added to his leash. He was now able to explore further and further! He ran to the horizon, slowing down as he began to tire – yet the leash kept going. Spot was so excited about the freedom. He wanted to get to the end of the rope – to see as far as he could see. So he walked, and he walked. Soon he got exhausted. He realised that he was very far from his post. Kilometres and Kilometers from his guard post. He panicked – would he now be accountable for guarding this large area?
An increased credit limit is like a longer leash. You can explore further but you have more debt to cover each month.
Allison, a former subprime credit card borrower related to The Sun that although she started with a £500 limit, the lenders automatically extended it to £2000. At first, Alison was delighted. She needed the funds. However, it is quite possible she used more than she needed. Alison says: "I know it's stupid, but because the money was there, I just kept using it to help me with everyday spending." She is not alone. Two-thirds of StepChange clients with subprime cards said they had used more credit than they planned, driven primarily by "desperation credit".

Subprime Credit card lenders are notorious for raising credit card limits on people that are desperate for it even though it's more than they can afford. StepChange wants the Financial Conduct Authority (FCA) to put an end to companies offering unsolicited credit limit increases.
When You Can't Aford a Repayment: Subprime Credit Cards vs Payday Loans
Many people who take out payday loans and subprime credit cards are financially stretched, so it's not surprising that sometimes people can't afford payments. This is particularly the case with subprime credit cards which have lower standards act affordability checks. The 2019 report by StepChange reveals that Two-thirds (67%) of their clients missed at least one monthly repayment on their subprime credit card, while half (52%) missed a payment for three or more months each year. For some people, repayment is even more difficult – 17% missed repayments six or more months each year.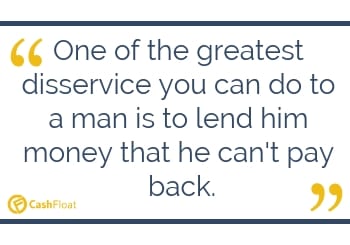 Subprime credit cards are not as easy on lenders that don't pay. Alison Cairns told the Sun that of the 5 credit card companies she contacted asking for a reprieve – only one responded and gave her a six week payment holidays. In the end, Allison used StepChange to clear her after amassing £12,000 debt from subprime credit cards over 2 years!
How Credit Card Companies Should Deal with Persistent Debt
The FCA introduced a new rule which requires credit card lenders to contact struggling borrowers with 'persistent debt'. Persistent debt' is when what the borrower pays in interest and fees totals more than the amount borrowed.
After 18 months of persistent debt, the lender should explain to the borrower the benefits of higher monthly repayments and ask them to consider upping the amount they repay each month.
At the 27th month mark, if the lender sees that the borrower will be in persistent debt at 36 months, the lender reminds the borrower about the benefits of larger minimum repayments and thus faster a shorter repayment period.
If the borrower is still in persistent debt after 36 months, the lender should offer a reasonable way for the borrower to pay off the debt over 3-4 years.
If the borrower still can't pay that – lenders may reduce, waive or cancel interest fees or charges.
The payday loan company can provide up to 2 rollovers if you can't afford to pay back your payday loan. They cannot charge more than the amount of the original loan in interest, and even the late fees have a cap of £15.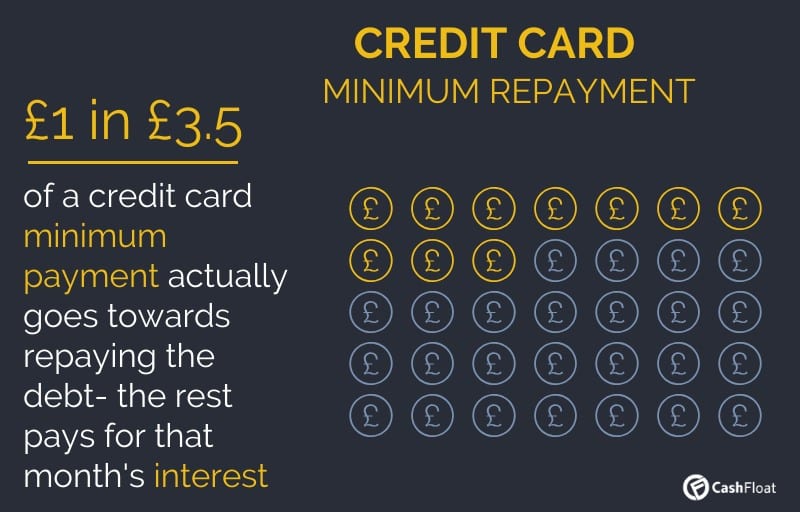 What Are the Monthly Payments on a Subprime Credit Cards vs a Payday Loan
People with subprime credit card like the low minimum repayment option that subprime credit cards provide. Having a low minimum payment means they have to pay off less of their bill a month and instead can pay off the credit card over many years. This means that some months when they cannot afford to pay the full credit card bill, they can pay a low minimum cost and not have to miss a payment. StepChange reports that two in three of its clients say they only make the minimum payments.
Why Are Low Minimum Repayments on Subprime Credit Cards Bad?
Picture your loan repayments as a physical item that you need to deliver. For every delivery, you need to pay for petrol. Wouldn't you want to put as much in each delivery as possible so you will need to make fewer trips and thus pay less petrol? So too, every loan repayment is a delivery, the interest and fees are the petrol cost. You want to send as much of the initial debt as possible in each repayment as the fewer repayments mean fewer times you pay interest.
Every time you make a minimum payment, the amount you pay generally covers interests and fees you accumulated over the previous month plus a little bit of debt repayment. When you increase your minimum repayment, you will be paying off more debt each month.
The longer it takes for a person to pay off their credit card debt, the more they will be affected by credit card rate increases. Credit card companies really 'borrow' money from other sources, when there is inflation, it costs more to borrow money, and the credit card company passes on the additional cost to their clients in the form of an increased credit rate. This means that you will be paying more on interest on your credit card as the years march on. The quicker you pay off your debts, the less you will be affected by hikes in the future.
Payday loans suffer neither of these problems. The interest on a payday loan is capped at 0.8% – it will not go up with inflation. Furthermore, payday loans are to be paid off within a month, and if they are rolled over, they can only be rolled over twice. Even if they are rolled over, one cannot pay more than the sum of the original loan on interest and fees.
Conclusion
Subprime card users often have little choice, but long-term repayment and the cumulative cost of borrowing becomes high. As they are regulated, payday lenders are a safer choice. Easier access to credit might just mean a deeper dig into depth. Cashfloat payday loans customers are forced to repay in full before borrowing again, a measure that might be seen as cruel at the time. However, while subprime credit card lenders and other lenders are offering to roll over your balance – perhaps indefinitely – you will be getting a much higher interest rate that accumulates in great debt. The balance can be rolled over indefinitely with much higher interest as a result.