A Guide to Credit Cards in the UK
– Chapter 9
Does having a Vanquis credit card tempt you? In this chapter, read about how Vanquis cards work and how you might benefit from having one.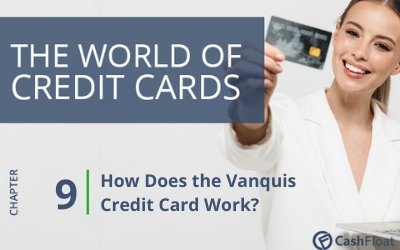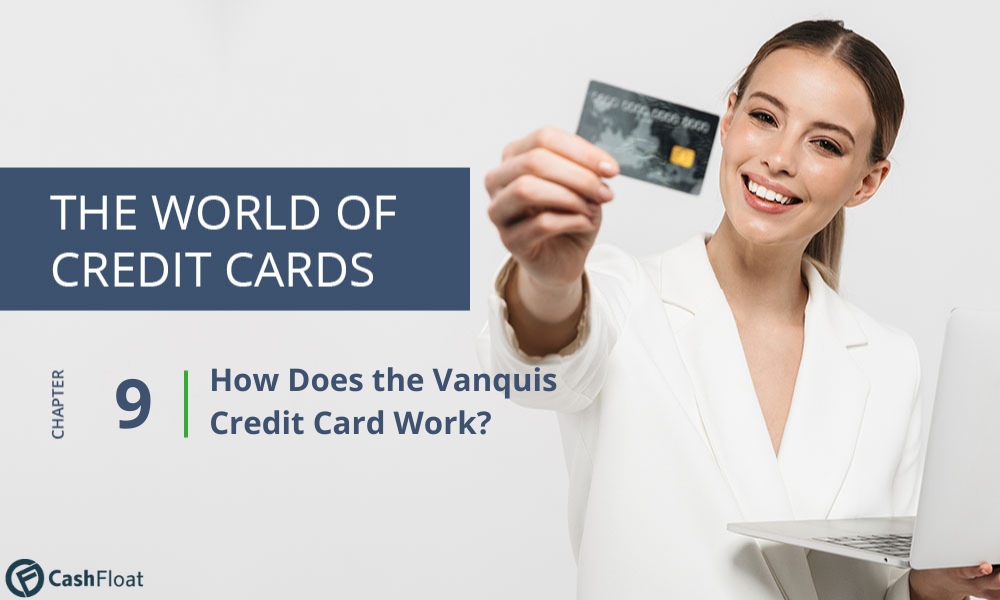 Article highlights
Credit limits on the Vanquis credit card vary between £150 and £4000
Cash withdrawal on a credit card can cost you a lot of money
Vanquis Bank offer one main type of credit card and it is one of the most well known 'credit builder' credit cards in the UK. Vanquis credit cards are available to people with a poor credit rating or no credit history and allow these people to, both, have access to credit and to build their credit score.
This article by Cashfloat, takes a look at how Vanquis credit cards work as how to improve a credit score using any credit card.


Applying for a Vanquis Credit Card
Applying for a Vanquis credit card is easy. First, you have to complete a 4 step process to check your eligibility. If you find out you are eligible, you can then apply for a Vanquis card. Eligibility responses are given within 60 seconds. After application, credit cards usually arrive within 2 weeks and can then be used in the same way as any credit card.
The important thing about Vanquis is that they accept people with a bad credit history or no credit history. In order to allow these people to be able to have credit, limits begin at a low level. Credit limits for new customers are set at a maximum of £1000 and can be as low as £150. Over time, if they prove that they are a responsible borrower, card users are able to increase their credit limit to a maximum of £4000. The aim, with a Vanquis card, is that users are able to develop responsible borrowing habits and to improve their credit rating and to gain access to more credit over time.
In order to be eligible for credit increases, cardholders must use their card sensibly. They must keep within their credit limit, pay their monthly minimum payments on time and not use all of their credit.
Vanquis cards offer a good place to start for people who have no credit history, such as young people, or for people who have a poor credit rating. The low early credit limits and structured pattern encourage users to develop responsible spending habits and can help them to earn a good credit rating. The downside to a Vanquis card is that, as a credit builder card, they come with a high APR of 39.9% (representative).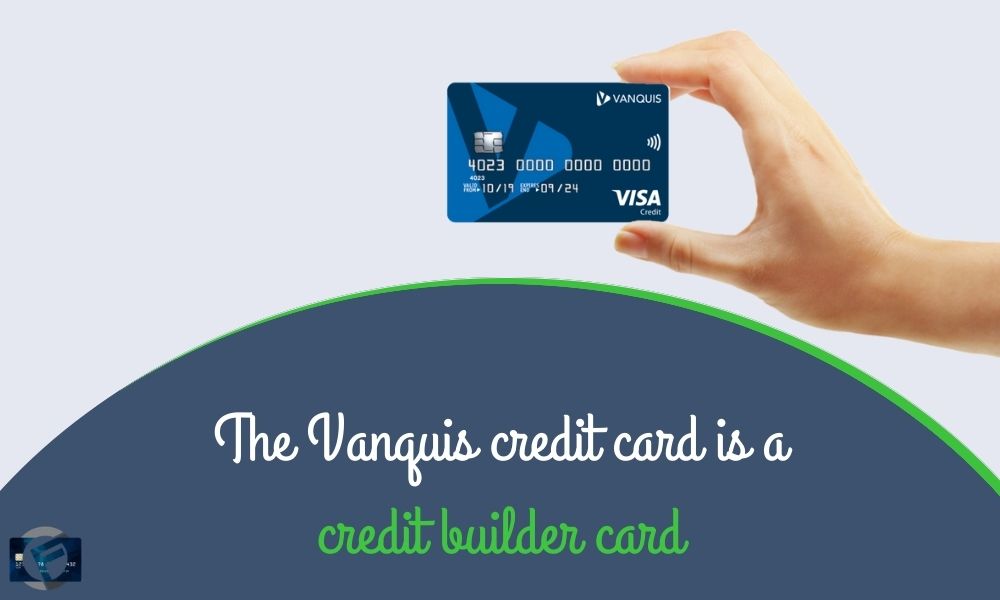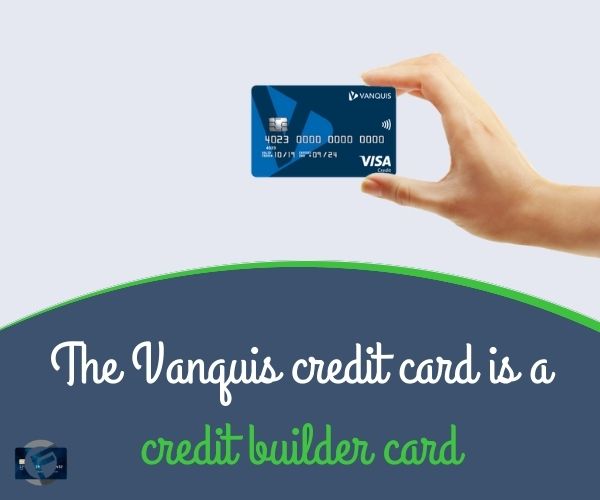 Subprime Credit Cards Advertised as Credit Builder Cards
It is worth noting that there have been recent reports about credit builder credit cards causing people financial difficulty. While many credit card providers are responsible, some are not. Some cards which are marketed as credit builder credit cards, actually come with overly high credit limits and high rates of interest which encourage debt. Some credit card companies make a large amount of money by targeting customers with a low credit rating and encouraging them to get into debt. It is important to approach all credit builder credit cards with caution. Read more about this issue in Chapter 17 of this guide.
About Vanquis Bank
Vanquis Bank is part of the Provident Financial Group. The bank was established in 2002 and received authorisation from the FSA in 2003. It became the credit card issuing arm of Provident Financial Group and they have branches in Bradford, London and Chatham.
How Can You Build Your Credit Rating with a Credit Card?
Having a Vanquis credit card offers you a structured way to improve your credit rating. If you take out a Vanquis card and you follow their guidance, over time your credit score will improve. Even if you choose not to take out a Vanquis card, you can build your credit score using another credit card in the same way. Here's what to do:
Don't apply for too many credit cards or loans at first.
Budget your incoming and outgoings
Make all your credit payments on time
Make at least the minimum payment
Stay within your credit limit
Be patient and allow a good credit history to build
Watch this video for some more great tips on how to build your credit rating with a Vanquis credit card:
Vanquis Loans
Vanquis also offer loans. To be eligible for a Vanquis loan, you must already be a Vanquis customer. This means that Vanquis credit card holders may become eligible for a loan after they become a card holder. Loans of between £1000 and £5000 are available and they are repayable over 1-3 years with a representative APR of 39.9%. While loans can be useful, it is important to note that missing payments on loans can have severe consequences and may make it more difficult to obtain credit in the future.
Comparing Cashfloat Loans to a Vanquis Credit Card
Vanquis credit cards aren't the only form of credit available. Always compare the credit options available to you. For example, here is a comparison between a Cashfloat payday loan and a Vanquis credit card:
| | | Vanquis Card |
| --- | --- | --- |
| Early repayment fees | No | No |
| Funding time | Up to 1 hour after approval | 10-14 days to receive card (a decision can take up to 28 days) |
| Credit limit (new customers) | n/a | £150 – £1000 |
| Bad credit | Yes | Yes |
| | | |
FAQs about Vanquis Credit Cards
---
Is Vanquis bank safe?
Vanquis bank is authorised by the Prudential Regulation Authority and regulated by the Financial Conduct Authority. All the information you give on the website is kept secure and your financial details are safe.
How can I check my Vanquis balance?
You can check your account balance by logging in anytime to your Vanquis bank account.
How do I pay my credit card bill?
Go to the Vanquis payment page.
Click on the blue button "login and pay now" at the bottom of the page
Login as usual
Under "Make a Payment" choose your payment method and make a payment
Can I transfer money from a Vanquis card to a bank account?
Vanquis bank may charge you fees for doing this. You should call Vanquis on 0330 099 3000 to find out if fees will be charged before you do this.
How can I cancel my credit card?
After you have made your credit card agreement, you can cancel it within 15 days. This will cancel the credit agreement and you shouldn't have to pay any additional costs, but you will have to pay off any money you owe within 30 days . At any time after that, you can still ask Vanquis to cancel your account. Before closing it, you must pay off any credit, interest or unpaid fees outstanding on your account. In some circumstances there can be costs involved in doing so.
How can I increase my credit limit?
To increase your credit limit, you should make use of your credit without going over your limit, make payments on time and pay at least the minimum amount.
For more FAQs, visit the Vanquis website.
Withdrawing Cash from a Credit Card
Many people who take out a Vanquis card are new to credit cards and so we thought we'd go back over the issue of making cash withdrawals with them. If you haven't read the rest of our guide, you might not be aware that cash withdrawals made with a credit card can cost a lot of money.
One of the worst ways to access cash is to use a credit card. When cards were first introduced in the UK, many people used them to fund nights out. Often cash was needed and the ease of access was too tempting. It was only when the statements arrived with the accumulated fees for cash withdrawals that it became clear that this was an expensive way to borrow cash.
Credit card providers make charges for cash withdrawals. Usually cardholders are immediately charged interest on the money they borrow and pay a fee for making the withdrawal. The fee is usually either a percentage, around 3%, or it can be a fixed fee, such as £10. Often the interest charged for cash withdrawals is higher than that for payments which are made when buying goods by card.Using a credit card is not a good way to take out cash.


Summary: How Vanquis Cards Work
Vanquis credit cards are a well known option for people who have no credit history or a poor one. Using one is a good way to repair a damaged credit score or to get used to borrowing money on credit if you have never done so. As with all credit cards, they are only good when used sensibly. The major catch with Vanquis credit cards is the high rate of APR at 39.9%.
In the next chapter we'll be looking at credit card fraud. We will explore what the main types of fraud that exist are and what people can do to avoid being scammed.
Vanquis contact number: 0330 099 3000. Opening times: 8am – 8pm Monday to Friday, 9am -5:30pm on Saturday.