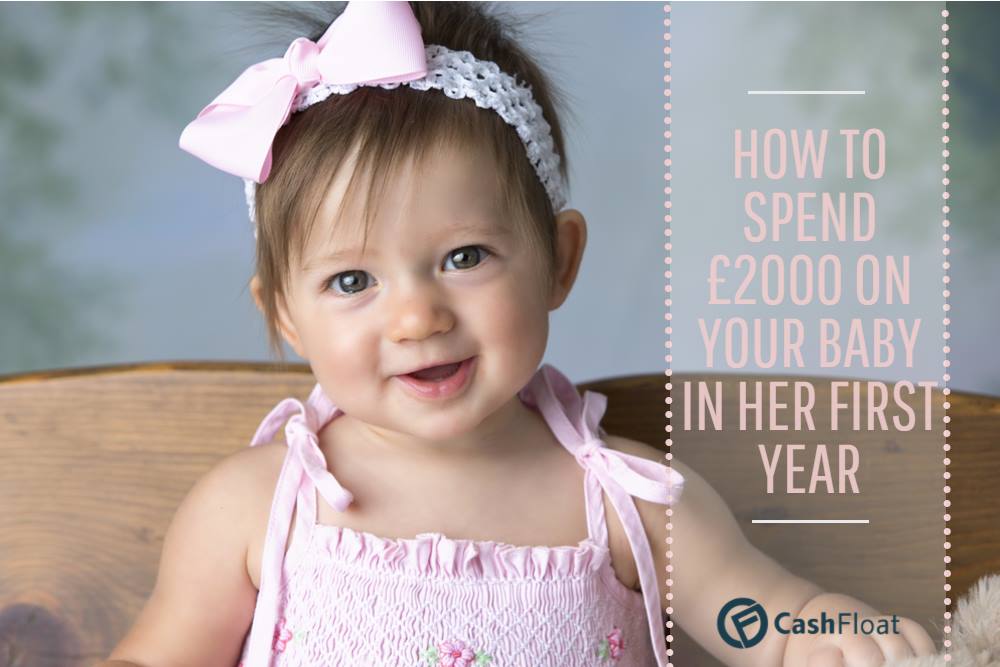 Story highlights
Cashfloat discovers that babies aren't that expensive after all.
Learn how to spend as little as £2000 in your baby's first year.
Read a super infographic to help you budget for your baby.
I anticipated the birth of my first child long before I became pregnant. Lo and behold, I was not let down. Holding Shelly with my own two hands was a sensational and moving experience, even though I felt so far removed from the strange little thing.
I can spend £2000 and no more? How?
A year has passed since then, and I'm wondering why I still have money in my account, don't babies cost a fortune? The Money Helper website estimate that people spend about £4k on their baby in the 1st year only. Well, with your permission, I will share some valuable secrets on how to save yourself pay-day loans and spend £2000 in the first 365 days of your baby's life.
Pram and car seat
You'll learn during the course of this handy guide, that I am an ever practical person.Choosing the right pram called for a practical decision. For starters, how often was I going to use it? My partner has a company car, and it takes us everywhere. Was I going to spend a fortune on a pram that I was hardly going to use? Not me. I did plenty of research trying to find the perfect pram. It had to be lightweight, come with a car seat, be easy to fold and comfortable to push. When I was confident with my decision, I found a preloved one in almost perfect condition, for £145 (which I bargained down from £190) – less than half the original selling price.
As for a changing bag, I had a hard time deciding between a very pretty one for £40, and a plain one reduced to £12. Being adamant to spend £2000 and not more, I got the £12 one, and I'm happy with my decision. Between you and me, how much do I use it anyway? It's not a fashion accessory, but it's all I need, easily washable and has a matching changing mat.
Entertainment
Although not absolutely necessary, you may find a baby bouncer helpful once your baby can support her head. I'm referring to the simple, non-electric bouncers, not the overpriced little padded thrones with on board entertainment that you'll see advertised. I received one as a gift, but it won't cost much to buy. That said, my friend tells me her baby is perfectly content in his car seat, and she didn't feel it a necessary purchase.
As your baby's motor skills start developing, and they grasp onto objects, you'll want some toys for them to hold. If you ask me, I'm all for home-made toys. I found that kitchen utensils and household items made the best toys. A toothpick holder as a rattle, a hand whisk, plastic ice cube tray, kitchen rolls, pots and pans – you name it! I even made my own simple mobile to hang over my baby's cot! I did buy a bunch of toys from the car boot sale before she was born too, and they came into great use. A play mat, toys that make music, soft and squeaky toys, books, etc. were our best buys. I spent a total of £14, and haven't bought another toy since. Car boot sales are the ideal place to buy second-hand toys. If you go at the right time, you'll find tens of top brand educational toys in great condition. An important word of caution: Do make sure that any electronic toys work. If some buttons don't work, or the sound isn't perfect, the likelihood is that it's a goner – in which case it's not worth your while. (If the game works as a fabulous educational game without electronics, bargain a little, and go for it!)
Save on a short term loan and read more on how to budget correctly and spend £2000 on your baby's first year in Part 2.
Here's a fabulous infographic to help you to focus on managing your budget when the baby comes.