Open banking technology is changing the world of UK payday loans, just like it changed the world of banking and personal finance. This revolutionary tool can help you to view and manage your finances in a new way. It allows you to access credit, personalised deals, and rewards.
Consider today's article your personal open banking guide.
What Is Open Banking?
Open banking is a service that connects banks to third parties and technology providers. This connection enables third parties and technology providers to access a consumer's financial data such as account details, transactions and other banking information.
In the traditional banking system, you and your bank are the only ones with access to your data. But, open banking is changing all of that. Now, you can share your data with another bank or third-party vendor. These third parties could be a wide variety of financial apps or services. You can find a list of companies that are authorised to provide secure open banking-enabled services on Open Banking's official directory.
Watch this video for a visual explanation of open banking:
As you can see in the video, sharing your accout data happens the same way as sharing your location or allowing an app to use your camera on your smartphone. The services open banking gives you access to can provide access to credit and allow you to handle your financial transactions with seamless interactions.
Why do we need Open Banking?
In 2016, the UK government's Competition and Markets Authority published a report that said that leading banks were monopolising the banking sector, and newer challenger banks were finding it hard to break into the market and get new customers. Open banking – the solution that was born – aims to re-energize banking and reintroduce healthy competition that can result in better rates for customers.
Open banking gives you an easy way to share your bank account data with anyone you want without dealing with bureaucratic processes from your bank. All it takes is a few button clicks. Sharing this data – which was previously only accessible to your bank – can give you access to revolutionary financial service experiences. Open banking essentially puts your financial account data back in your control.
How Does Open Banking Work?
Open banking platforms utilise bank-grade security and APIs to connect with your bank and retrieve account data safely. APIs are software applications that allow one platform to "plug into" the data from another. This connection happens in real-time and can be cancelled in real-time, as well.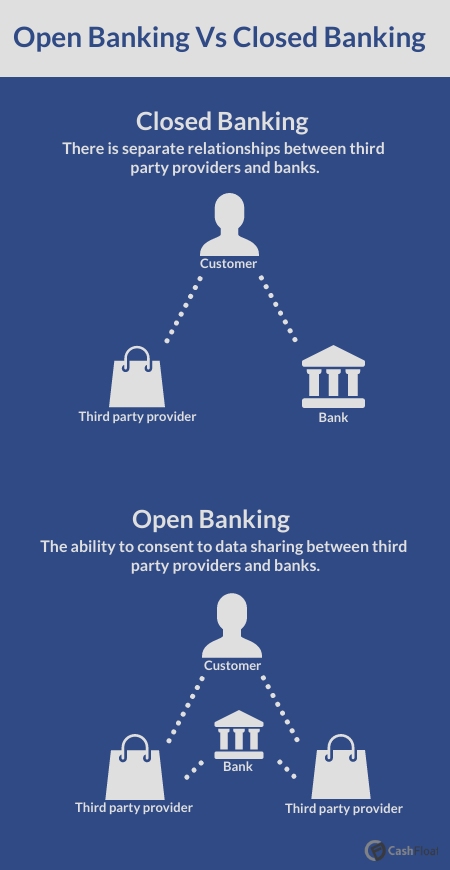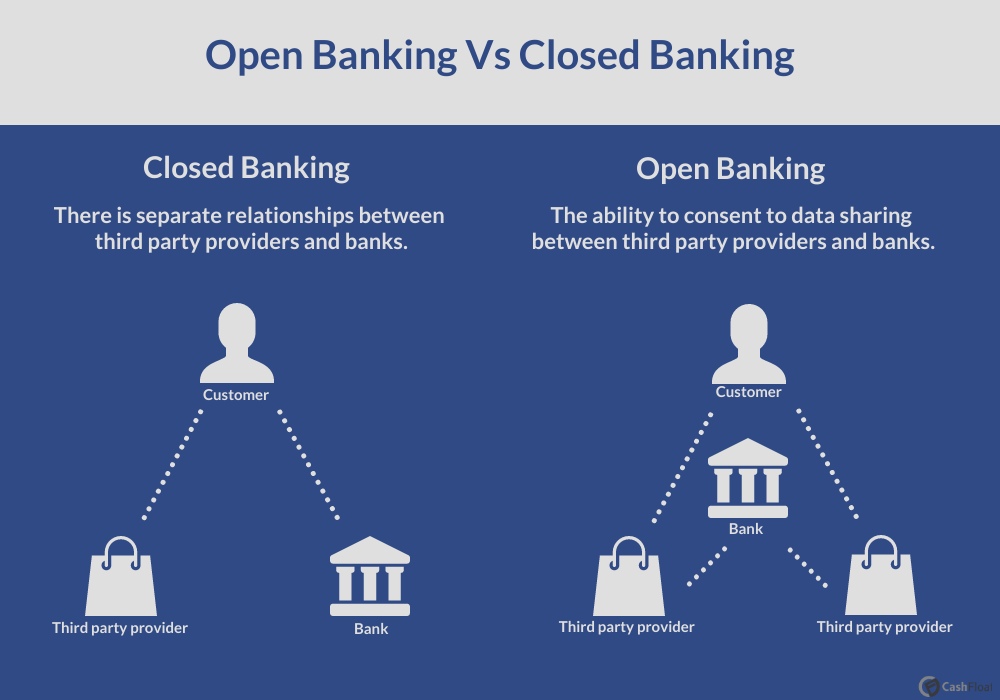 A lot of software applications are also moving toward "tokenised" access. This is another layer of protection for your financial data. Apps will ask for a username and password or other coded alternatives to your bank information.
All of this means more security for you as you continue to leverage the flexibility and functionality of open banking solutions.
Is Open Banking Safe?
When they hear about open banking, the first thing people ask is, "Well, is it safe?" which is a completely normal concern, especially when you think about your financial information being shared across apps.
But, open banking is completely safe. This is because you can pick and choose which aspects of your financial data you share.
If you decide you no longer want to use an app or work with a third-party provider, you can cancel your consent to share data with them at any time. Usually, if you don't cancel the consent, it expires after 90 days anyway.
⚠
The one thing to be more aware of is new forms of phishing emails where scammers pretend to be your bank asking you to log in and provide Open Banking access. Never click through to your bank from an email. Always go into your browser and access your bank's website directly – making sure you see the padlock in the URL bar, which means your connection is secure.
Open Banking is Changing the Way Payday Loans Work
Just two years ago, no payday lenders used Open Banking. In fact, Cashfloat was one of the first companies to start using Open Banking in early 2020 – almost as soon as it became available to us. Today, over 90% of payday lenders include some form of Open Banking in their loan application process.
Payday lenders use Open Banking technology to:
Confirm customers' identities
Calculate customer affordability
Speed up the process and fund more online loans same day
Assess the debt profile of their customers
Make informed payday lending decisions
Let's take a look at some of the ways open banking loans are beginning to revolutionise the industry.
Faster Applications

One of the main benefits of open banking loans in the payday loan industry is application speed. Applicants no longer have to wait days or weeks to receive the results of their application. Open banking applications provide lenders access to an unprecedented amount of information.

Thanks to open banking, lenders can easily see borrowers' full financial picture across all of their accounts. This allows lenders to make more informed decisions.

Responsible Lending

There are a growing number of complaints against payday loan companies. These complaints come from applicants who felt that payday lenders took advantage of them. They feel like they were given a loan they couldn't afford or denied a loan they desperately needed.

Open banking gives payday lenders a chance to change that reputation. Lenders can make their decision based on real-time affordability data without relying only on customers' own affordability assessment. This is a huge step forward in changing the landscape of payday lending.

Some payday lenders are guilty of irresponsible lending. Having this affordability data quickly and easily available will prevent issues like this in the future. Now, all payday lenders have a system that holds them accountable.

Loan Accuracy

Open banking solutions also provide payday lenders with enough data to increase loan accuracy. Open banking apps and third-party vendors allow lenders to break down a borrower's expenses to see how much is being spent in a particular category.

For example, Borrower A may be spending a lot of money every month, but it's mostly on food, shelter, and utilities. Borrower B may be spending the same amount of money, but most goes to recreational activities.

Which borrower do you think is more likely to get a loan? Being able to prioritise expenses allows payday lenders to get money to the people who genuinely need it.

This increased level of accuracy also prevents customers from getting into an unaffordable loan.
Cashfloat Offers Open Banking Loans
Cashfloat is the UK's leading lender of unsecured credit. We use open banking to provide our customers with the best experience possible. We offer quick, online decisions to help you get the money you need when you need it.
Cashfloat has helped over 500,000 customers throughout the UK. Our direct lender payday loans can provide you with same-day funding on loans from 300 to 2500 pounds.
Our customers use these loans for a wide variety of emergency purposes. You can use them for unexpected bills, to urgently fix appliances, or to fix your car quickly.
We use Open banking to make our loan process safer and more reliable. Here's how it works:
How it works with Cashfloat:
1. After you have submitted your application and confirmed your mobile number, you will usually be asked to connect Cashfloat with your bank account via consents.online. (Sometimes, we may manually request it later). This screenshot should appear:
2. Once you have ticked the boxes and consented, this screenshot will appear while consents.online connects with your bank:
3.Once consents.online connects with your bank, you will have to log in to your online banking, which will connect us with your bank.
1. After you have submitted your application and confirmed your mobile number, you will usually be asked to connect Cashfloat with your bank account via consents.online. (Sometimes, we may manually request it later). This screenshot should appear: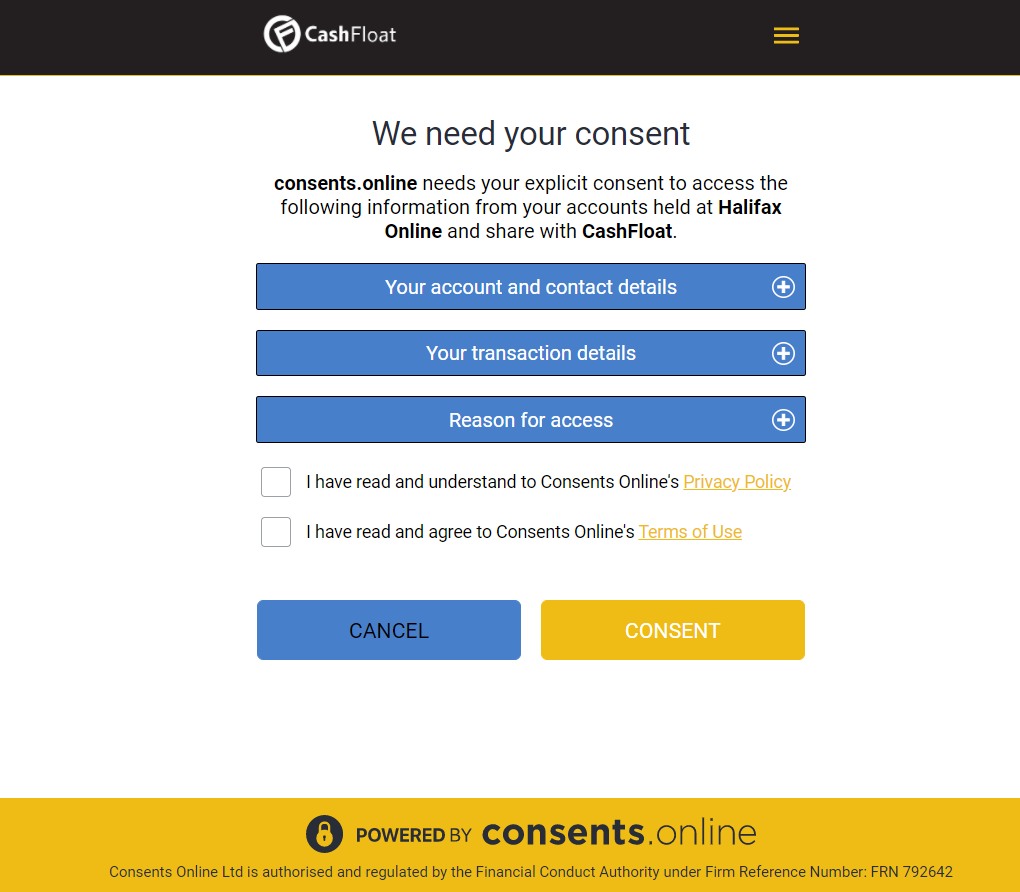 2. Once you have ticked the boxes and consented, this screenshot will appear while consents.online connects with your bank: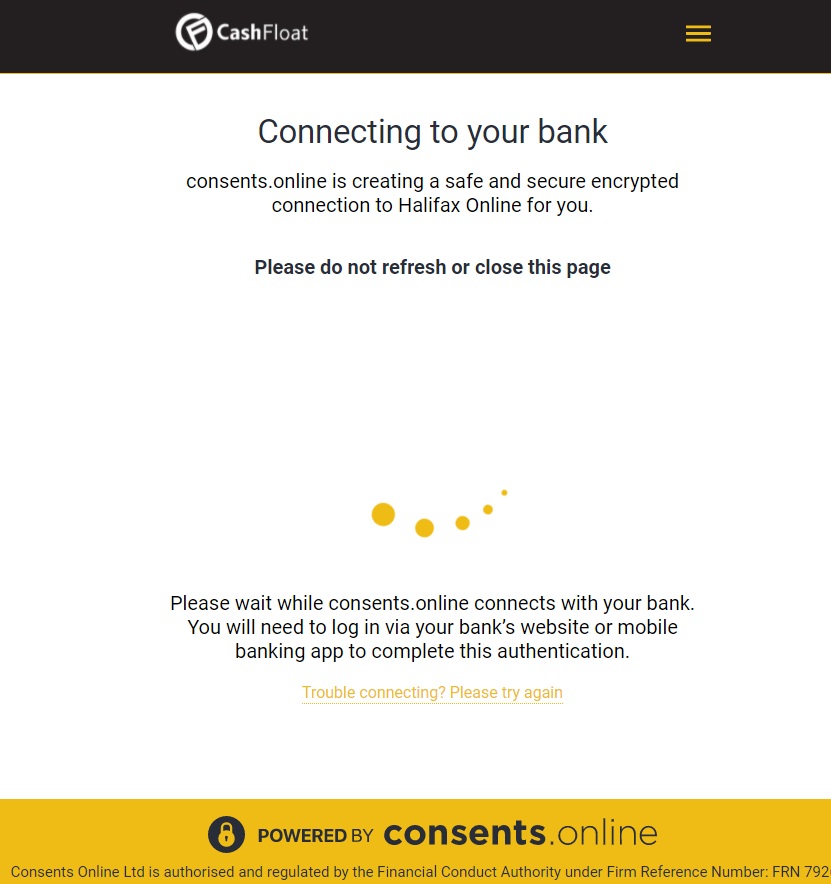 3. Once consents.online connects with your bank, you will have to log in to your online banking, which will connect us with your bank.
Everybody gets into a tight spot now and again. Cashfloat is here to help. If you have further questions about our open banking loans, click here to read our open banking FAQs.
LOOKING FOR AN OPEN BANKING LOAN? APPLY HERE!
Examples of Open Banking Services
You may already be using open banking in your life and just not know it. Established banks like Barclays and Allied Irish Bank are turning to open banking to serve their customers better.
These banks are two of the pioneering institutions for open banking mortgages in the EU.
Open banking will allow potential homeowners to apply for a mortgage during their home buying process quickly. The application can be made in seconds right from a user's smartphone or the banks' online portals. This is how open banking loans are beginning to change the financial landscape.
Loans usually require paperwork. Lots of it. That's why applying for financing can be the most dreaded part of the home buying process for some people, but open banking is changing that.
Revolutionising Banking
In addition to revolutionising the mortgage application process, open banking is changing banking itself.
Do you have multiple accounts at multiple institutions? Most of us do. It can be a hassle to log in to each individual dashboard to monitor your finances.
Fortunately for us, open banking is changing all of that. Open banking applications allow you to migrate all of your accounts to one seamless dashboard. Some of these open banking apps may even make your money smarter.
Certain financial services apps will do more than put all of your accounts together in one dashboard. Once they have your account data, these apps will put Artificial Intelligence to work for you. These apps can view your accounts and give you insights into how to manage your money better.
Some apps can even provide you with a budget personalised just for you.
Apps that use open banking to help customers manage their money better

Price
Key Features
Free for ChipLite
£1.50 every 28 days for ChipAI
£3 every 28 days for ChipX
It analyses your spending and calculates how much you can afford to save. It then moves small amounts of money into your chip savings account until you reach a financial goal.
Free
Emma Pro costs ££59.99 / year
It offers cashback rewards for when you spend money.
Free
Also available as a web app for use on PCs.
£0.99 / month
Prompts you to help you stay on track with your budget. The guidance will change depending on your spending behaviour and how long is left until payday.
Free
Plum Plus and Pro costs from £1 / month
Every few days, it calculates how much you can save. Spending is split into categories.
Free. If Snoop makes you a big saving, you're asked to give a 'tip'.
Tracks your regular bills and flags them when they're higher than usual.
No Credit? No Problem
Financial institutions need to see your history as a borrower before giving you a credit rating. You're not just assigned a credit rating. Establishing credit is a process that happens over time.
Therefore, the banks won't have much to go on if you haven't bought a house, financed a car, or paid off a credit card bill yet. Borrowers who haven't established credit yet are sometimes referred to as "thin-file borrowers."
If you don't have any track record as a borrower, banks will hesitate to give you credit. It's not that you're a risk to them. You just have no track record.
Fortunately for you, open banking solves this problem. Because of the access to data, the open banking loan process can focus more on affordability. This is different from the traditional loan process that focuses on a credit check.
Now, open banking financial institutions can evaluate your loan on real-time data. They don't have to rely on what some third-party credit bureau says about you.
The result is that you're more likely to get an approval on your payday, short-term or auto loan. And, it's a win-win because by being approved for the loan and paying it back, you'll be able to begin to start to repair your credit score for future loan applications.
Talk about things coming full circle!
The Future of Finance
Open banking loans are leading us into the future of finance. Allowing people to share their information across apps and third-party vendors is revolutionising the way people handle money.
Going into a bank, applying for a loan, and getting approved for a loan you can't afford are all things of the past. Open banking makes banking and personal finance more responsible. Plain and simple.
If you're looking to apply for a loan, why not complete an application form today? You can always contact us and we're more than happy to discuss our products and get you into a loan that is just right for you.
We hope you enjoyed this guide and we look forward to helping you on your journey.