Different Professions & Payday Loans
– Chapter 9
First of all there is no national pay scale for paralegals unlike NHS workers or other government workers. Therefore your paralegal salary may be based on things like:
The area you practice in; it may be intellectual property law, real estate or corporate law
Location – you will probably receive a higher paralegal salary in London and inner city firms
Size of employer you are working for; it may be a small firm, multinational firm or legal aid firm
Your level of responsibility, your experince and your education
| | |
| --- | --- |
| Experience | Salary |
| Junior paralegal at non-graduate entry level | £14,000 to £22,000 |
| Junior paralegal at graduate-entry level | £18,000 to £25,000 |
| Paralegal with 3 – 5 years' experience | £20,000 to £25,000 |
| Paralegal with 3 – 5 years' experience (London area) | £25,000 to £40,000 |
| Experienced senior paralegals | £40,000+ |
| | Source: prospects.ac.uk |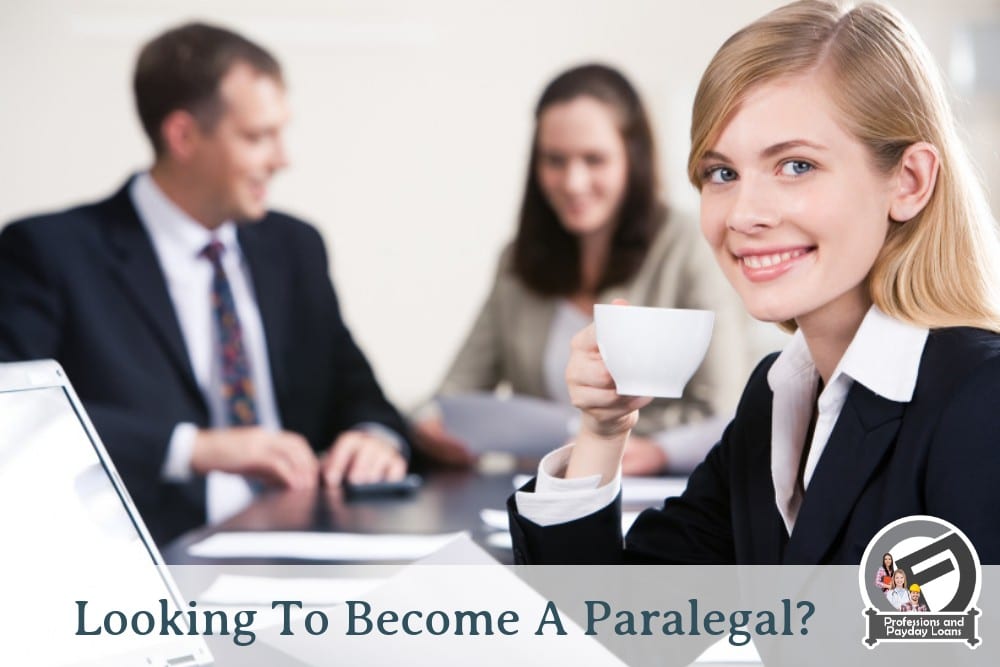 How to become a paralegal
There are no entry requirements to becoming a paralegal, and people can begin the profession from school leavers up to graduate level. Many organisations offer an apprenticeship where paralegals can gain qualifications, often with an element of self-study, while still working. The best courses are those which are recognised by the government and which include practice. The applicants can reach Level 7, which leads to a Diploma in Paralegal Practice or PPC. However, there is as yet no regulatory body to insist on some degree of competence and, some employers are more concerned with hands-on experience.
Surprisingly, a large proportion of paralegals in recent years have a degree in law but are unwilling or cannot afford to do their LPC (Legal Practice Course). Others might not have been able to obtain a training contract with a law firm.
Professional Organisations for Paralegals
The Chartered Institute of Legal Executives (CILEx) is an approved regulator and expects its members to abide by a code of conduct. It is the only organisation to provide a programmed route to lawyer status. Since 1996, in conjunction with the City and Guilds, 20,000 paralegals have taken recognised qualifications.
Established in 1987, NALP ( National Association of Licensed Paralegals) offers some training levels, which have been recognised by Ofqual. It campaigned for the creation of a register of paralegals, which could help both solicitors and consumers alike and this was achieved in 2015.
Set up in 2003, the IOP (Institute of Paralegals) sets and administers Competency Standards for paralegals as a nationally recognised career path.
What is a paralegal?
A paralegal is a person who is employed or retained by a lawyer, law office or government agency. They will assist a lawyer or agency by investigating a case or performing legal research. In simple language, they are the assistant to the lawyer.
What is a legal assistant vs a paralegal?
Many people ask, "What is the difference between a legal assistant and a paralegal?" The jobs are often confused. However it is important to remember that they are 2 distinct jobs. A legal assistant is mostly an administrative role and doesn't require any formal education or training. They will answer the phone, provide customer service and do basic secretarial work. The job as a paralegal is a lot more complicated and they are more involved in the legal process. Paralegals may be tasked with performing research on laws and may even conduct client and witness interviews. A paralegal needs to have a full understanding of the law. Due to the nature of the paralegal job, a paralegal salary will be a lot higher.
Here are the top skills employers are seeking from each position.
| | |
| --- | --- |
| Top skills for a paralegal | Top skills for a legal assistant |
| Litigation | Administrative Support |
| Legal Research | Scheduling |
| Legal Documentation | Data entry |
| Legal Document Composition | Legal Support |
| Microsoft Office | Microsoft Office |
Can paralegals work from home?
Some small to medium size law firms are giving out their jobs to virtual paralegals who are working from home or in another remote location. Being a virtual paralegal has its many pros. Click here to learn about the pros of working remotely.
Are Paralegals Managing Financially?
Following an inspection report into which professions take payday loans most frequently, Cashfloat found that small payday loans for paralegals were in high demand. The question is; Why? Considering the starting paralegal salary, it is not surprising that many find it tough to make ends meet. Like other employees, they must face the rising costs of rents, public transport fares as well as basic foodstuffs and amenities. For those who work in areas like the probation service, a car might be essential, and this would add considerably to their monthly expenses in order to pay for petrol and all the additional running costs of a private vehicle.
Unlike some other professions, paralegals are not provided with a uniform, and yet, court appearances mean that they mucy abide a particular dress code while law offices tend to have a conservative style of clothing. In other words, they need to look like a lawyer without the lawyer's salary. It is evident that they might have to resort to payday loans as a way to cover their expenses to the end of the month.
Being a freelance paralegal with its higher daily rates, might seem attractive to some but like any other self-employed person, there are certain risks that have to be taken into account. Freelance work does not offer the same security as being an employee especially when it comes to unexpected illnesses.
Another difficulty which affects all self-employed people is that there could be a cash flow problem because clients might be late in paying for their services. Theoretically, they are doing well but have no money on hand to pay bills. In this case, short term loans might be a lifesaver as a short-term solution until they are paid what they are owed.
Conclusion – The paralegal salary
Working as a paralegal has its ups and downs. It's a job which can be relied upon for a good income. However, the first few years of working as a paralegal can be financially difficult because the starting paralegal salary can be low. Cashfloat is happy to provide payday loans for paralegals struggling with a short term money problem!