Full Guide to Managing Family Finances – Chapter 35
Although it is not a pleasant thought, many older people will eventually suffer from dementia or Alzheimer's disease. If this situation arises they will not be able to deal with financial matters therefore it is essential to think about this now. Find out exactly what must be done in order to be prepared when the time comes.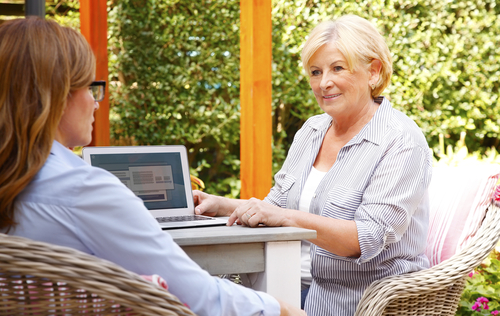 Whilst you do not want to take away any independence from your parents, having 'the talk' about the future while they are still capable of dealing with financial matters can help to prevent problems later on. This is especially the case if your parent has a debilitating and progressive disease that is only going to get worse.
What These 'Preparations' Should Consist of The first thing to do is to make a list of all the banks, building societies and other organisations that they deal with and write down account numbers and customer reference numbers. You should know about any outstanding short term loans as well as any long term financial commitments. Make sure that you know where paperwork is kept and that you have a full understanding about their wishes regarding savings and investments.
Power of Attorney Although most people do not want to dwell on a time when they may be unable to cope with money matters, it is a good idea to ask your parent to consider setting up a Lasting Power of Attorney. This is a document that can be registered for financial and property matters or for health and welfare. If you are registered as the Power Of Attorney for your parents affairs and they become mentally incapacitated you can deal with banks and any other financial organisations on their behalf. However, it is important to understand that this will only be allowed to be activated if the person does not have mental capacity. Therefore, even if you parent is in hospital, or is blind and housebound, as long as they know what is going on you cannot activate the POA. A Power Of Attorney document can have more than one attorney registered to deal with financial and welfare affairs. Once activated the appointed attorney can manage day to day financial matters, pay debts, apply for benefits and buy or sell property on behalf of the donor. If there is a point when your parent is incapacitated for a limited period of time an ordinary Power of Attorney can be set up. This can be revoked at any time but can be helpful if the parent is in hospital after an accident and cannot get around until recovery is complete or it can be useful if they go abroad for a long period.
Formal or Informal Financial Help for Parents
The choice between giving formal help or informal help with financial matters for parents will be down to both your and their estimation of how capable they are feeling. For a parent who is suffering financial problems due to unpaid bills or large debts, informal help may be the answer to get them back on track. In these circumstances the third party mandate may be a good option or a joint account that has been set up purely to pay the bills. If pensions are paid into the special Post Office account it is possible to have a separate card for a named person who can then withdraw money from the cashpoint and check the balance. Informal help could also consist of the Ordinary Power of Attorney which can be revoked at any time. Informal help with finances is designed for those who need help for a short period of time and it is not a long term solution.
Formal Help Formal help with finances for parents who need long term assistance to manage their money is often the best option. But, remember that a Lasting Power of Attorney does not come into play unless the donor has absolutely no mental capacity. So, think about setting up a joint account, set up direct debits for bills and regularly review their options for savings. Looking after the finances of an ageing parent or relative is a great responsibility. But if it prevents your parents from being exploited by fraudsters, becoming heavily indebted or losing out on investments, it is a step that should be seriously considered sooner rather than later.
Elizabeth Redfern is a born and bred Londoner who loves the city life. She is a proud chocoholic who enjoys reading, jogging and eating – especially chocolate! Elizabeth attained a first class degree in Mathematics but chose to make a career out of her real passion, writing. She has published many poems and short stories, but decided to join the Cashfloat educational channel writing team because she is passionate about helping people take care of their finances leaving them free to enjoy the finer points of life – most notably (in her opinion), chocolate!