How To Save Money On Fixing Home Appliances
– Chapter Six
Your dishwasher is broken? You don't need to start washing up by hand. Here is a list of easy DIY dishwasher repairs. Can't fix the problem yourself? Cashfloat helps you find a local engineer…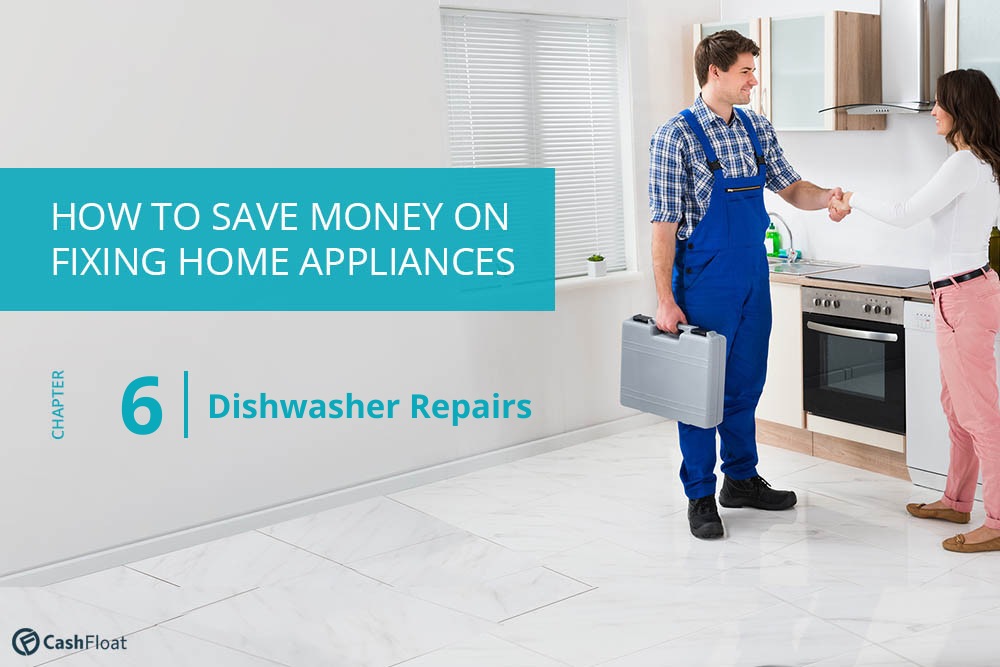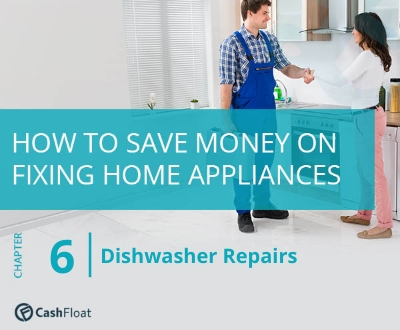 Dishwasher Repairs
Your dishwasher's broken and dishes are piling up in the sink? Don't have the spare cash right now to pay for dishwasher repairs? You might be able to fix it yourself and save a small fortune. Cashfloat have a full list of DIY dishwasher repairs that are easy and safe to do. If you can't figure out the problem yourself, we have tips on how to find a suitable engineer. Always be careful. Make sure your dishwasher is disconnected from the power before you attempt any repairs.
Do It Yourself Dishwasher Repair
The first worry when your dishwasher breaks is how much the repairs are going to cost. The following tips will help you identify simple problems and fix them yourself, for free, without needing a short term loan to pay for the repairs.
Power and connections
Double check that the dishwasher is plugged in and that there is power to the wall socket. To check that the wall socket works correctly, find an appliance which works and plug it into the socket and see if it works. If the socket works correctly, then you should try changing the fuse in the plug. Find out more on how to change a plug fuse here.
Also, make sure that the appliance is not connected using an extension lead. A powerful appliance like a dishwasher must be connected directly to the mains supply. Extension leads can overheat and are the cause of many household fires.
If that is not the problem, you will have to call in an electrician. Always remember that electric shocks can and do kill so do not attempt home dishwasher repairs without totally disconnecting the appliance from the power mains.
Close the door
If the dishwasher does not start the program, first check that the door is closed correctly. You will hear a distinctive click when the door is fully shut. Cutlery baskets or a large item like a saucepan can stop the door from closing fully.
Next, check that there is nothing in the way of the door latch. The machine is only activated once the door latch clicks shut. You can usually find the latch on the top inner side of the door. Once you are sure the door is closing properly, look at the selector switch to see if you have chosen the right program, and also check that the start switch has been engaged.
Delayed programming
There will usually be a slight delay after you press the start button. You may hear a slight buzzing sound before the washer starts to fill up. This is normal. If there is a longer delay, then check that the water supply is OK. Try turning on a tap at the sink to check that your whole mains water supply has not been interrupted. Also, check that the inlet pipe is properly connected and is not twisted or blocked.
The inlet pipe will usually be located at the back of your machine or underneath your sink. Check that there are no breaks, kinks or obvious blockages. It is also worth checking that the valve hasn't accidentally been turned off. To open the valve turn the handle anti-clockwise and to close it, turn it clockwise. The handle of the valve should run parallel with the pipe.
Dishwasher timers
If the dishwasher has a timer setting, then check that you have not mistakenly activated it. A timer can have settings that delay the program for between 3 and 12 hours. Manufacturers recommend that dishwashers should always be monitored when it is turned on.
Child lock function
Most modern appliances incorporate a child lock as standard. This feature prevents a child from switching the program around once it has started. Check that you did not select this feature.
As always, it is a good idea to look at the user manual supplied with your machine for troubleshooting tips. If none of these actions have worked then the best option is to call an engineer to diagnose the fault.
Correct doses of dishwasher soap
Using the right amount of powder or the right tablet for your machine is essential when using a dishwasher. Excessive amounts of powder can create too much foam, resulting in more noise. It will also mean reduced performance for cleaning dishes. The dishwasher will have a maximum powder fill level so always stick to the recommended dose.
Obstructions in the machine
Excessive noise can also be due to pots and pans obstructing the spray arms of the dishwasher. If the noise is very loud, then switch off the machine and open the door (making sure you do not burn yourself on the steam or hot water). It's best to leave the machine for some time, so that it cools down before you open it and inspect it.
Check the spray arms for obstructions. You can easily see whether anything is obstructing the arms by gently turning them around. Make sure that the machine has been loaded correctly in line with the manufacturer's instructions and you will be able to stop the excessive noise.
Unbalanced items on the shelves of the dishwasher can also move around and create noise. Check that everything has been correctly placed on the shelves before you start a cycle.
Cleaning the filters
The first thing to check is that the filters are clean. You should do this regularly. The user manual will show you how to clean the filters. They are usually located underneath the baskets at the bottom of the machine. Here's a quick guide on cleaning dishwasher filters.
Check the drain hose
At the rear of the machine, you will find the drain hose. Check to ensure that it is not bent, kinked or blocked. This will restrict the flow of water and could prevent the machine from emptying . It can be hard to tell whether the drain hose is blocked. If the filters are clean and there are no obvious bends or kinks in the pipe, but water still won't drain away, then it is likely that the hose is blocked.
Sometimes cleaning products or homemade solutions of vinegar and baking soda can be used to unblock a drain hose. Also, occasionally people are able to carry out basic plumbing jobs at home in order to unblock the hose. Here is a quick guide on the ways to unblock a blocked dishwasher drain hose. Remember to disconnect the appliance from the mains before you attempt any repairs and to call in a professional if you are not sure.
If you recently moved your dishwasher, the drain hose might have become stuck. You can free it up, and the appliance should start working normally again. If the drain hose is ok, you will have to call an expert to take a look at the machine and diagnose the reason why it will not drain correctly.
Hard water areas
In areas where there is hard water, you might see a white film on glasses after cleaning. This is caused by limescale. You can avoid limescale by using the recommended dose of dishwasher salt. Dishwasher salt helps to clean the water as well as the dishes.
Salt reservoirs should be checked and regularly topped up to ensure good results. The user manual will give advice about how to top up the salt tank.
Remnants of food on the dishes
If the filters on your machine are clean, then you should be getting good results. If you are getting food left on the dishes, the first thing to check is the filters of your machine. If they are in need of a clean, then this will probably be why you're getting food left on the dishes.
One important point to remember is that dishwashers can only really cope with small food particles. Make sure to rinse large pieces of food off the plates before you put them in the appliance.
Streaks on glassware
If your glasses are coming out of the dishwasher with streaks on them, you may need to adjust the amount of rinse aid that is being dispensed in the final part of the cycle. Once again check your user manual for instructions on how to do this small job. Or, look on YouTube for a video tutorial.
Blockages in the spray arms
The sprays arms are the most important feature of a dishwasher. They emit pressured water, which cleans the dishes. If the small holes in the spray arms become blocked, it will compromise the cleaning performance.
Spray holes can become blocked with small food particles or mineral deposits from hard water. You can clean the holes with a small cocktail stick and then run the dishwasher to give them a basic cleaning. For the best cleaning though, you should remove the spray arms and clean them outside of the machine. Usually soaking them in white vinegar will give the best results.
Door seals and blockages
If the dishwasher is leaking the first thing to check is that the door is correctly closed and has not been prevented from shutting properly by pressure from dishes or pots and pans that have been incorrectly loaded. If this is the case, just reload your dishwasher.
Also, you can check the door seals for wear and tear or any debris which is stopping them from working properly. It is possible that if the water supply is hard, that there could be a build-up of mineral deposit on the seals. Also, food debris can also prevent the seal from working correctly so check for both of these things. If you find any debris obstructions, then remove them and you should be okay.
If you find that the door seal is damaged, then it will need to be replaced. Depending on the machine that you have, this is often something that you can do yourself. Click here for a quick guide on how to do it. Make sure that you buy the correct door seal for your make and model.
If you have puddles underneath your dishwasher, they are probably coming from the back of the machine. This could be due to a damaged inlet or outlet hose. Have a look at the back of your machine and try to locate the inlet and outlet hoses. Look for any obvious signs of damage and to see if they have become disconnected from the machine. Damaged hoses will need to be replaced and detached hoses will need to be reattached. Some people attempt to carry out these repairs themselves. If you decide to do this, then make sure you disconnect the appliance from the power supply before doing so. If the hoses at the back of your machine are intact, then the fault is probably more complicated. In this case, you will need to call an engineer.
Should I Repair or Replace my Dishwasher?
If you can't fix your dishwasher yourself, you might have to call in a repairman. However, sometimes it works out so expensive to call a repairman that it might not be worthwhile. Read on to find out when it is cost efficient to call in the dishwasher repairs service.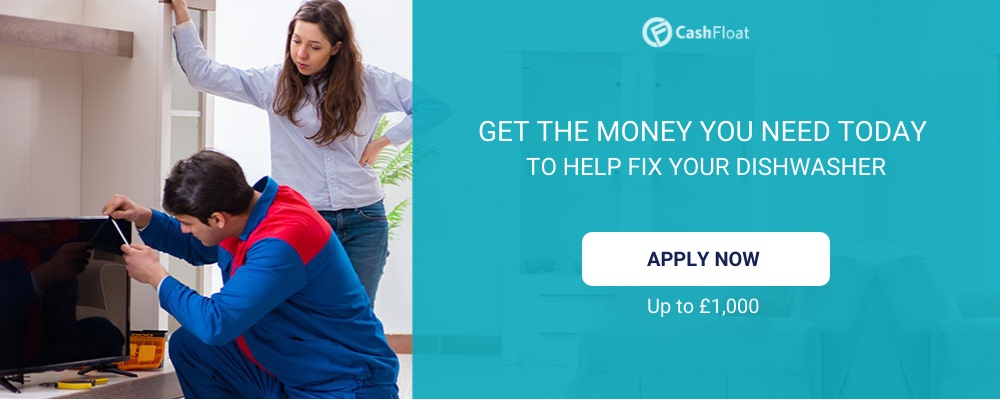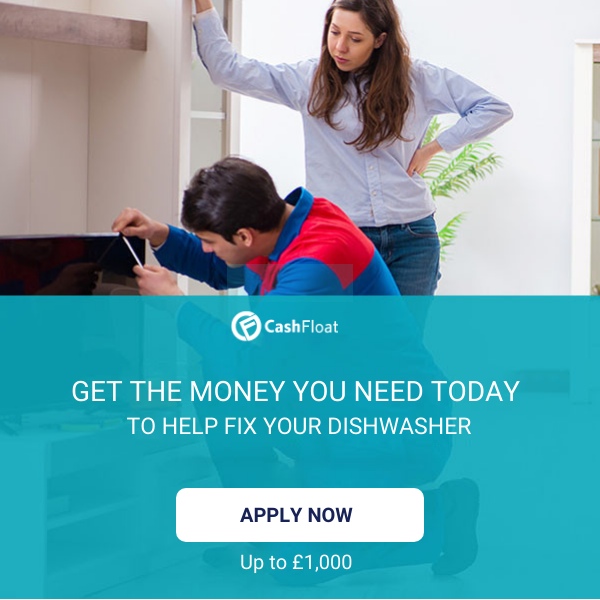 Finding Dishwasher Repair Near Me
Below is a list of the most popular dishwasher brands. If you have one of these models, it's worth having one of their engineers come to fix your machine. They have workers countrywide, so they should be able to send you out a local engineer within a short amount of time. If your dishwasher is still under warranty, you may also be entitled to a free call out as well as a free repair.
If your dishwasher isn't one of the popular brands listed above, there are plenty of other ways to find a local dishwasher repairman. You can ask around friends and family and you can search online, in local newspapers or in the local press.
Dishwasher Repair Costs
To help you in your decision about whether to repair or replace your dishwasher, we have provided guidelines of approximately how much your repairs will cost.
| Dishwasher Repair | Average Cost |
| --- | --- |
| Supply and Fit New Pump | £80 – £120 |
| Supply and Fit New Heating Element | £100 – £180 |
| Supply and Fit New Motor | £100 – £180. |
We understand that repairing a dishwasher can be a financial strain on your already tight budget. A dishwasher is an essential household appliance and it will be challenging to manage without one. If you can't wait until payday to make the repair, click here to apply for affordable credit with Cashfloat, a leading payday loans direct lender in the UK.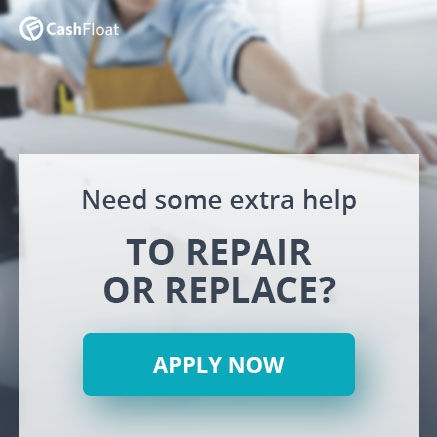 Decided to Replace your Dishwasher?
Any dishwasher that is over eight years of age is probably not worth repairing. Not only will it be difficult to get someone to do the repair and obtain the necessary parts, but it will never be as efficient or economical to run as a new model. If the dishwasher is still under warranty, then you have no problem. The repairs can be done under the contract and should cost you nothing unless there are exclusion clauses.
You can buy a new 12 place setting dishwasher from £229. A larger model can cost up to £1000. Models are available with very economical running costs, which vary in price. The price of a new machine depends on several criteria, including water consumption, noise levels and the energy rating.
If you decide to replace your dishwasher make sure you consider all the relevant features such as water consumption, energy rating and running costs. You can hand over the tedious task of washing dishes to a more efficient dishwasher, and you won't need to spend your precious time standing at the kitchen sink doing the job by hand.