How To Save Money On Fixing Home Appliances
– Chapter Seven
Did your cooker just break down? Not sure what to do next? Explore easy DIY cooker repairs with Cashfloat, and find out when it's more worthwhile to replace your cooker.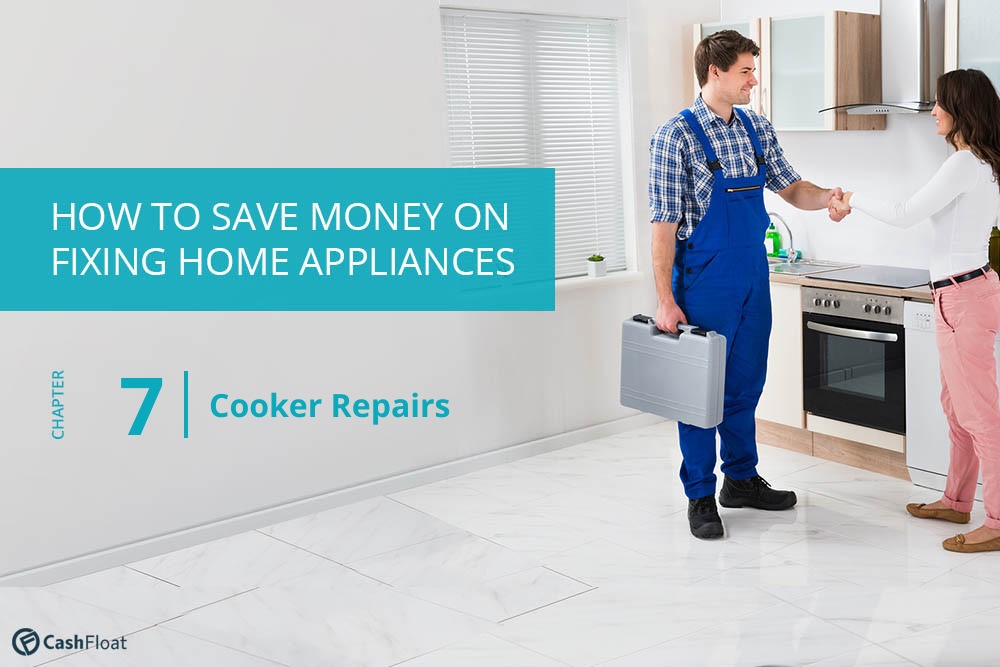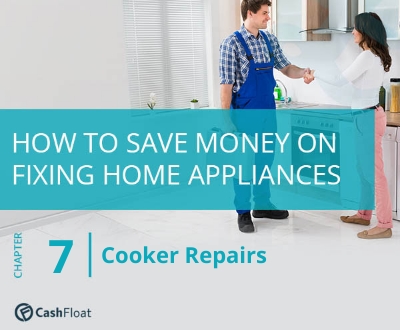 Cooker repairs
All families need the basic facilities to cook, so it's essential to have a reliable and fully working cooker. Of course, if your cooker breaks down then you can always fall back on the microwave, but if you want to enjoy healthy and nutritious meals, you will need to fix your broken cooker as soon as possible. There are many types of electric cookers. Some are free standing and include a hob, a grill and a large oven and can be moved easily from one location to another. Others come built into a fitted kitchen with a separate oven, an eye level grill and a hob.
The more sophisticated the cooker, the more that can go wrong. Having an engineer come out to fix the problem can be costly. So, before you call out a repairman or decide to buy a new appliance, take a look at some of the most common cooker repairs which you may be able to do easily yourself at no cost at all.
Do it yourself cooker repairs
Always be careful. Repairing ovens can be dangerous. We recommend that you only carry out basic repairs to ovens and don't carry out any repairs which could cause you to come into contact with the electrics, oil or gas connections of an oven. Always leave your oven to cool down before attempting any repairs.
If your cooker is not working, the first thing to do is to look at the manual which will have a list of troubleshooting points to go through. If you don't have a book, then the first step is to check the power.
Cookers are connected directly to the power and do not have a plug, so all you can do is check the fuse box to make sure that the power has not tripped out. If the fuse has tripped out, then reset it. Here is a quick guide to resetting a fuse switch. After you have reset the fuse, try using your oven again and see if the fuse trips again. If it does trip again, then there is most likely an electrical fault in the oven and you should call out a repairman.
If the fuse has not tripped out, then you can check the timer. Most modern ovens have a timer programme, and if you have selected this, even by accident, the cooker will not work until the designated time set. You cannot manually turn on a cooker if the timer switch is activated, so just turn this setting off and try using your oven again.
Some cooker models have a separate top and bottom oven, often with a grill feature in the top oven. If this is not working and you have eliminated the timer function as a problem, check the temperature setting. There are usually two knobs to control settings:
The selector which chooses the grill feature.
The thermostat which controls the temperature.
A grill may only start to work after a minimum temperature has been set.
Many top oven grills have a built-in safety feature which means that they will not function unless you open the oven door. Some appliances have a special plate that is fitted over the top of the door when the grill is in use. This plate prevents damage to cooker knobs. Make sure that the door is open wide enough, and the grill should then work normally.
The element in the grill should automatically turn up and down to reach and then stay at the required temperature. It can take a while to get to the maximum temperature. If there is no sign of heat, then it may be time to call an engineer. Electrical appliances like cookers carry a high voltage, and you shouldn't take any risks. So, if in doubt, always call for an expert.
If you can feel a flow of air coming from your cooker in the vicinity of the control panel, this is quite normal. Modern appliances incorporate a cooling fan designed to get rid of the built up hot air. This may continue to run even after you switch the cooker off.
Modern cooker appliances usually have a fan in the oven. The fan can cause unexpected noises, even when the cooker is operating normally. Check that the shelves are in the correct position and that cooking trays or pots are not touching the rear of the oven where the fan is situated. You may need to move the shelves around to incorporate the types of tray you are using.
You can also check that the fan cover is correctly fitted and has not come loose. If the cover is too close to the fan, it can cause it to catch and become noisy. If you are able to do it safely, then you can reattach the fan cover. If a cooking tray has pushed the cover too close to the fan, you can easily rectify this by moving the tray. Any other noises that occur in your cooker may indicate a more complex problem and you should consult an engineer.
You may be experiencing temperatures in the oven that are too hot or too cold. If so, there are some simple adjustments that you can make to correct the problem.
Remember that most thermostats are not exact. Oven heats can vary by up to 10% from the temperature that you have selected. This varies for different manufacturers. If you need to know the exact heat in the oven, then you can buy an oven thermometer. This will allow you to calculate the overall average temperature of a cooking cycle and how much your oven varies from the selected temperature.
Using large oven trays may also affect the temperature as they restrict air flow inside the oven. This can result in hot or cold spots occurring. With a fan oven, the cooking temperatures should be even throughout, but with an electric oven, the hottest area will be at the top. Don't overload a fan oven as this will prevent air from circulating properly. An oven that is only hot at the top or the bottom could have a faulty element. You will need to get an engineer to replace a faulty element.
Sticking oven door
A sticking oven door may be a sign that your cooker is unlevel. Check the top of your oven with a spirit level and adjust the feet so that the cooker balances correctly.
Adjusting the feet of an oven is usually a relatively simple task. Click here for a quick guide.
If you don't have a spirit level there are other ways to see if your oven is level. One way which might work is to place a wide tray of water on top of the oven and see if it appears to be deeper at one end than the other. If your oven is level, then it may be that something is stuck in the door latch. Often food or other objects become stuck in the latch, making the door stick. Just remove whatever is doing this and carry on.
Lights aren't working
If the oven and grill indicator lights do not work, there is probably a faulty bulb which you just need to replace. The same applies to an oven light. The cooker manual will provide instructions on how to complete these jobs. Usually for an oven light you will need to remove the bulb cover before you replace the bulb. Indicator lights can be more complicated. Have a look in your manual and see if it's possible to replace your indicator lights.
It's not wise to attempt complicated DIY repairs to a broken cooker even though there are some tutorials on the Internet. Always remember that an electric shock can kill so if in doubt call out an expert to fix a faulty electric cooker. Gas and oil connections can also pose a hazard and you should not attempt to fix any oil or gas connections in an oven as well.
How much will it cost to repair an electric cooker?
This question is not a simple one as it will depend on what the fault is. If you have gone through the checklist of simple faults, and your broken cooker is still not working correctly, it's time to ring an engineer. It is always worthwhile obtaining more than one quotation for appliance repairs. Some businesses will offer a fixed price and others will offer a quote depending on the make and age of the broken cooker and the specific repair job. A great way to find a reliable repairman is to use Which Trusted Traders.
The cost of supplying and fitting a new thermostat to a fan oven ranges from £89 to £104, and it takes approximately one hour. For a new element in a fan oven, you can expect to pay between £83 and £93. Check whether the quotation you receive includes labour costs and has a warranty.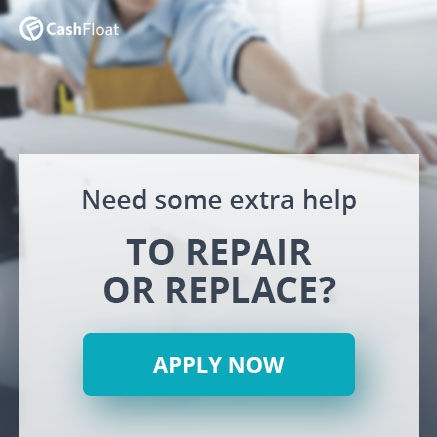 One other factor to consider when choosing an engineer is whether an independent technician will be able to make the repair needed. Some manufacturers only give out the necessary technical information to their specially chosen repair companies.
Finding cooker repairs near me
Using a local engineer is a good idea, because if you are not happy with the repair, the engineer will be able to return to your house easily. You can find someone local by searching on the internet. Just make sure they have a good rating and positive reviews. Alternatively you can look in local newspapers, where engineers often advertise. You can also ask around family and friends that live nearby. Perhaps they can recommend a reliable repairman that they have used in the past.
What is the life expectancy of cookers?
The life expectancy of a cooker depends on the type of fuel that powers it. Electric cookers generally last a shorter amount of time, approximately 13 years, as some of their heating parts are under a lot of stress and break down more rapidly. On the other hand, gas cookers are more durable as the ignition is simpler and easier on parts. Gas cookers often last around 15 Years.
In this table below we show you the chance of your cooker needing repair after…
| Type | 3 Years | 5 Years | 10 Years |
| --- | --- | --- | --- |
| Hob repairs | 8% | 10% | 12% |
| Freestanding electric cooker repairs | 25% | 31% | 35% |
| Range master cooker repairs | 29% | 37% | 42% |
| Built in ovens – gas cooker repairs | 17% | 23% | 26% |
Is it worth fixing an old cooker?
Is it worth spending a relatively large sum of money on repairing an older cooking appliance or is it best to buy a new one? Modern appliances are more environmentally friendly and more energy efficient. Therefore, if the cooker is over ten years old it is usually best to go for a replacement.
You will save on energy bills and have a new appliance that is safer and less likely to break down in the future. Look at the pros and cons of a freestanding oven against a built in model. Also, make a decision about whether you need the expensive extras like self-cleaning and complex timers.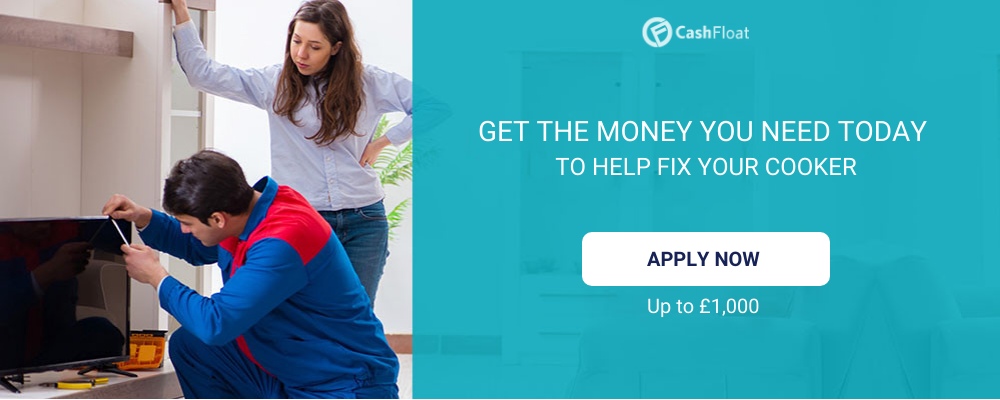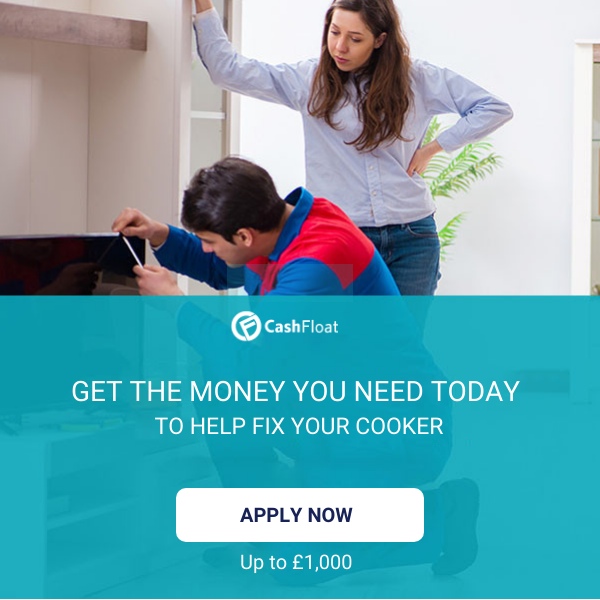 You can purchase a new free standing electric cooker from as little as £209. If you want a ceramic hob, it costs a bit more, and if you need a dual fuel model i.e. gas hob and electric oven, it will also cost more.
Shop around for a cooker
Even if you have a broken cooker and you feel desperate, you shouldn't just buy the first appliance that you see. There is a huge choice of cookers even for those families who are on a budget. If you use your cooker a lot, then you may want a double oven. Or, a cheaper combined oven and grill may suit your needs.
Choose a reputable supplier and ensure that the new cooker has a good guarantee period. Buying local may be easier than going to a large outlet out of town and a local supplier will be on hand should something go wrong in the immediate future.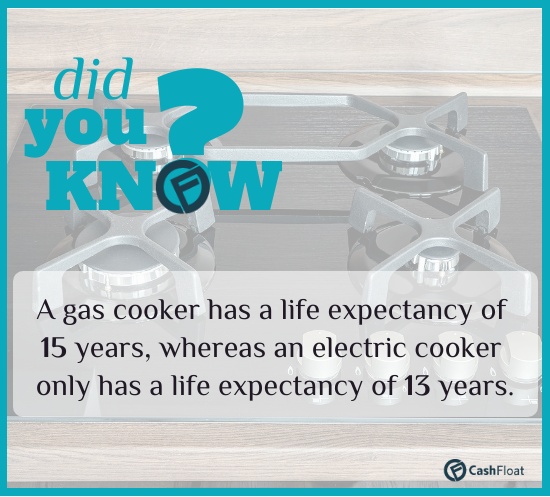 Energy efficient cookers
All electrical appliances are ranked according to their energy efficiency. Even though you may feel the expense when you buy a new energy efficient cooker, it will operate more efficiently than your old appliance.
It is easy to find a cooker buying guide online, and this will show you how much a new cooker costs to run per year. Energy efficiency ratings start at 'G' which is the least efficient and go up to 'A' which is the most efficient.
Choosing the best possible energy efficient cooker will help to cut electricity bills. Newer energy efficient appliances can make a huge difference to your monthly expenses, and sometimes even save you from taking a UK short-term loan. Plus, you also do your bit for the planet and help to reduce your carbon footprint.