How To Save Money On Fixing Home Appliances
– Chapter Eighteen
What could be worse than your small kitchen appliances breaking down on you? Learn how to do simple kitchen appliance repairs with Cashfloat to get your them up and running again.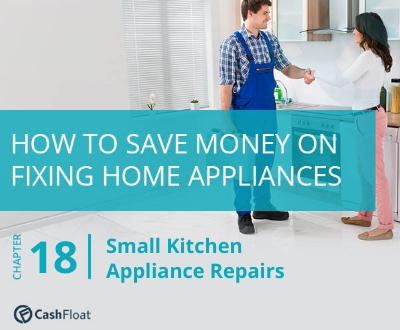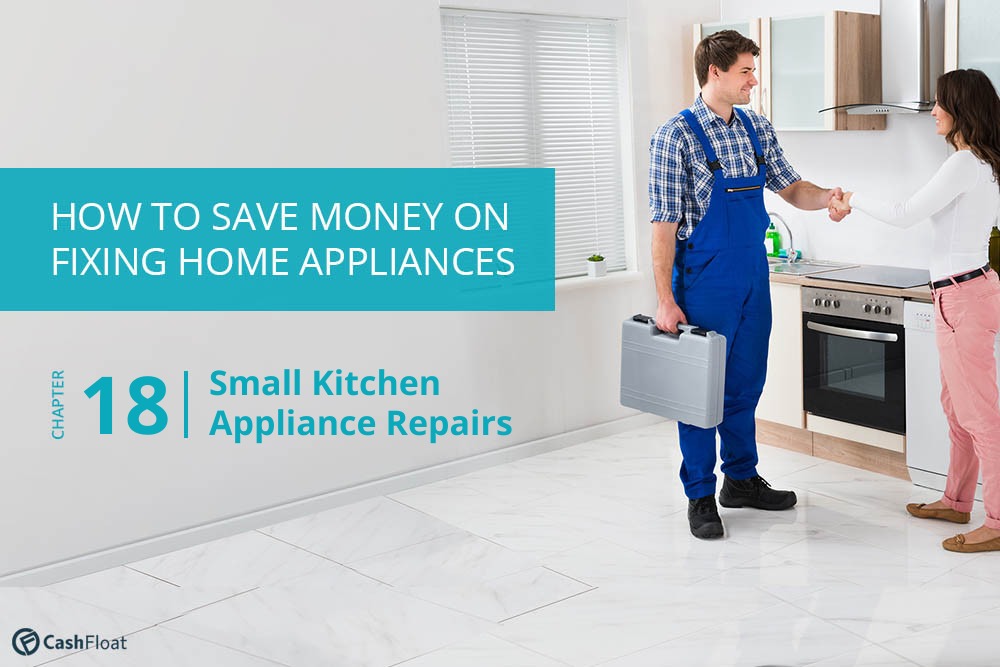 Story highlights
Understanding how your small kitchen appliances work is the key to easy fixing.
If the wires in your small kitchen appliances have gone, you can do an easy fix.
Homes in the UK are full of small appliances. Many of them get thrown away when they break. This article will give you some pointers about small kitchen appliance repairs so that they have a longer lifespan and to help you save some money.
Small kitchen appliances fall into three different types. Appliances like toasters and kettles work by heating. Models like vacuum cleaners and food processors move things around. Some small kitchen appliances such as bread makers do both of these things.
Small Kitchen Appliances – How to Extend their Life
Electricity is the power that drives most home appliances. It is critical to treat this power with care. Never try to take apart home appliances while they are plugged in. If you are in any doubt always call out an experienced electrician or get rid of the broken machine. It is always better to err on the side of caution than to risk your life taking apart a broken electrical device.
Small home appliances that provide heat
Many small home appliances provide heat. These work by converting electricity to heat. Heating devices contain an element which passes an electrical current through. This causes the element to get hot.
Heating appliances all work on this same principle. It doesn't matter whether you want to fix a kettle, a toaster, an electric frying pan or an espresso machine, they all work the same. Once you learn about the principles, you can apply the lessons to all heating appliances.
Small home appliances that drive a motor
These kinds of small appliances convert electricity into movement. Appliances like food processors, electric can openers and vacuum cleaners work on this principle. The electricity drives a motor which rotates a shaft. At the end of the shaft, there will be a blade or perhaps a brush depending upon what appliance it is.
Combination small home appliances
Some small appliances combine the two principles. So, for example, a hair dryer provides both heat and a blowing action. A bread maker mixes the ingredients and then bakes the bread. These types of appliances are more difficult to repair and are usually best left to the experts.
Common problems with all small appliances
The most common problem that occurs with small appliances is the loss of power.i.e. no electricity getting through. Another common failure is the circuit breaker which can cause an appliance to stop working. If you are always getting a fuse tripped out in the fuse box, then the appliance has almost certainly got some fault and should be investigated.
One of the most common causes of failure of a small appliance is worn wiring or cable. Different types of appliances use different types of wiring. Small appliances in the home use safety cord wires that have copper strands and an insulation of plastic covering the wire.
Small appliances like table lamps have two strands of wire in the cord while those that provide heat will have three strands.
Plugs in modern appliances
Modern appliances manufacturers often mould the plugs onto the cable so they are impossible to change. If the socket is faulty, you will need to buy a whole new cord and plug combination. But still, it is cheaper than buying a new appliance and you won't need to take out a payday loan to finance your plug!
At the point where the wire goes into the appliance, there will be a switch or connector. Wires will either be soldered on or fixed with small screws.
Damaged wires and cables can be easily tested. Remove the plug from the mains and then use a multimeter to check for power. If there is a break in the cord inside the insulation material, it will show up with intermittent power surges.
Inside all appliances there is a controller which operates the on/off power and if the appliance is one that heats up it will control the temperature. There may also be a timer as well as a thermostat inside the appliance. More sophisticated appliances might have a rheostat. This provides a variable amount of current to the unit.
You can use a multimeter or continuity tester to see if there is a problem with the control in your appliance. If this shows a problem, then the control part can be replaced. A quick look through the user manual will determine where to get the parts. You will be able to judge whether or not you can undertake the repair.
Finding faults in common kitchen appliances
Toasters – A heating appliance
Most modern toasters have been built as throwaway appliances. But there are some simple faults that you can fix before you decide to buy a replacement. Toasters have heating elements, a timer and a lever which is used to move the bread down into the slot where it is toasted. When the appropriate amount of time has finished, the toast pops up.
Most toasters have problems due to bread crumbs which can interfere with the smooth operation of the appliance. A toaster may also stop working because of a faulty heating element or a damaged power cable.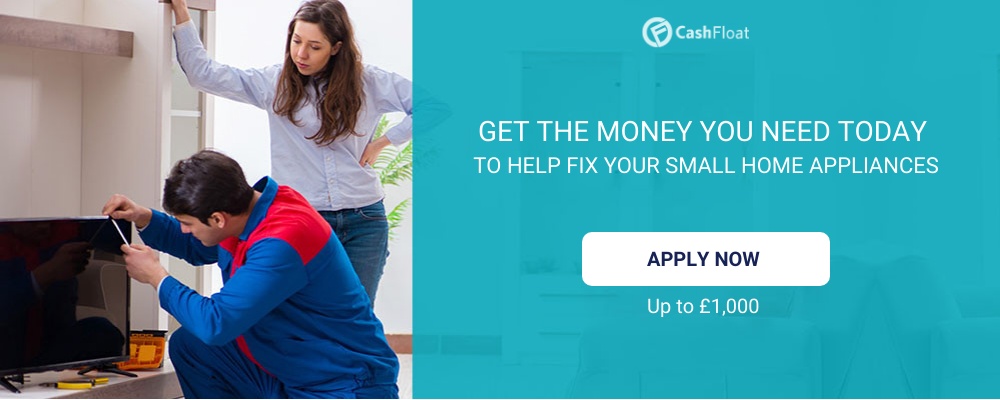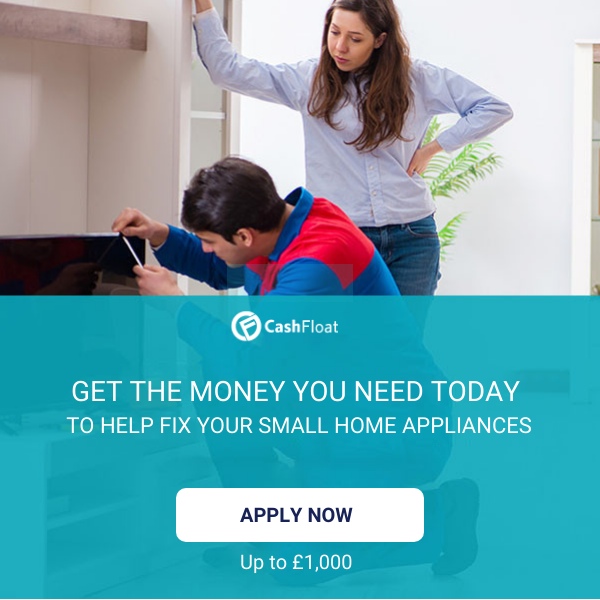 Toaster Repairs
If the toaster will not switch on, it is probably an electrical problem. You can check the electricity source and the cable for faults.
When the bread does not go down into the slot, there could be particles of food stopping it. A toaster that only toasts the bread on one side has probably got one damaged element. If the toast does not pop up in time and results in burned toast, there could be a problem with the thermostat or the timer.
Given the cost of a new toaster is very cheap many people won't bother to fix a faulty toaster but if you are an avid DIY fan and are confident of your ability with electrical appliances you can easily take it apart and fit a new thermostat, timer or solenoid switch.
Food processors – Movement appliances
Food processors are essentially small motorised appliances. This makes the motor the most important part of the device. A motor will have gears so that you can set the movement to slow, medium or fast. They will also have a controller in the processor that provides a different electrical current to make this work.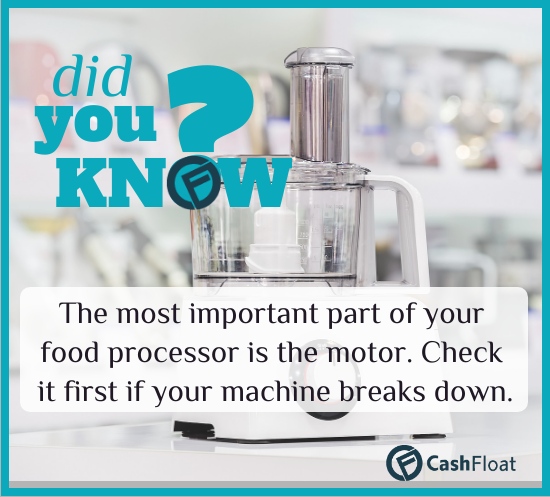 Common faults with food processors
Faults that commonly occur in food processors are:
Faulty switches
Faulty speed control
Broken gears
You can diagnose a faulty switch by using a multimeter or continuity tester. If the switch is fully attached at the terminals and proves to be faulty, you can easily replace it. Once again check the user manual for a list of spares suppliers. You can usually only solve problems with the speed controller by replacing the control unit. If the gears are at fault, then you need the check them again. If there is no damage, you should apply some thin oil for lubrication.
You can also replace a motor in a food processor. If the appliance is an expensive model, this is worthwhile. A new appliance of this quality might cost a lot and you might need to finance it with a small loan. But, if it is a cheap model then it is probably better to buy a new one.
If you can't wait until payday to make the repair or to finance the replacement, click here to apply for an affordable loan with Cashfloat, a leading lender in the UK.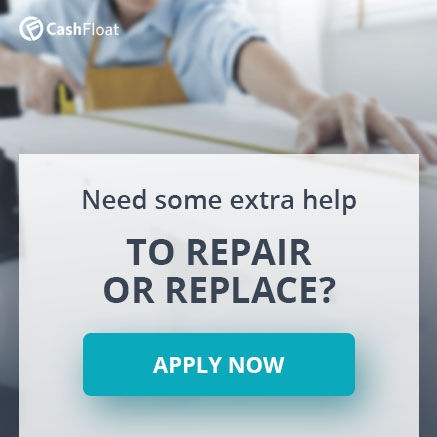 Hair dryers – Combination appliances
A hair dryer contains both a heating element and a fan to blow the hot air. Unless you have a very expensive hair dryer, it is almost certainly more cost effective to throw away a broken one than to try a repair. However, if the hair dryer is not a sealed unit you can apply the same tests as for other small appliances to the switch, the element and the fan. Hair dryers also have a cut out which prevent overheating.
Test the switch using a multi meter or continuity tester and you can also use these devices to check the fan and the element. A build up of hair, lint from clothing or dust can cause problems with the fan. When you clean this away, it should work again.
Using a hair dryer in a humid atmosphere is never a good idea because it causes problems with the electrical components. You can replace the element using the spare parts. If the problem lies with the thermal cut out, you might need to clean this too.
Testing and fixing small kitchen appliances
These are just a few of the small kitchen appliances that you can test for faults, and some repairs are very simple. There is a huge amount of information about how to perform small repairs. In fact, the Internet is a mine of information with detailed drawings of how small kitchen appliances look when they are taken apart and step by step instructions for simple repairs.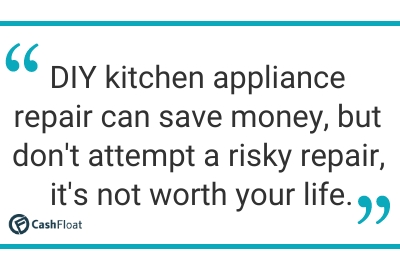 Finally, don't forget that tutorials via video are available online and these can be used as a back up to any other instructions that you may have at your disposal.
Are small kitchen appliance repairs cost effective?
Most engineers will not undertake small kitchen appliance repairs simply because it is not worthwhile for them or for the consumer. If the cost of fitting a new element plus labour charges is going to be much higher than the cost of a new appliance it is easy to understand why this is so.
The reliability of small kitchen appliances has been called into question. As the government is now promoting repairs instead of replacements you may decide that you can complete a successful repair yourself. Plus you will save yourself the expense of buying new appliances.
Only you can decide whether trying to fix a small home appliance is worthwhile. If you do decide to replace your small appliance and don't have the funds to do so, you can always borrow money from Cashfloat, a premium direct lender offering short term loans in the UK.