Unless you are lucky enough to work within walking distance of your home, or you actually work from home, travel costs can become a large part of your monthly outgoings. With the rise in petrol prices and large increases in rail fares that happen every year travel costs can spiral out of control and before you know it you are wondering whether it is worth while actually going to work. However, there are some useful strategies that you can apply to help cut down on travel costs and prevent you from spending a large part of your hard earned salary every month on just getting to and from work. Figures show that many employees spend an hour of their working day, just to cover travel costs, so it is very worthwhile looking at the various ways costs can be reduced to keep you out of debt.
The daily commute to the city can add a couple of hours onto your working day and can also have an effect on the amount of money you have to spare at the end of the week. So, first of all think about if there are any simple solutions to the problem of travelling at peak times when the fares are most expensive.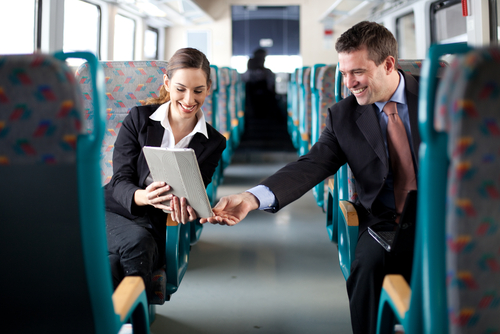 Flexible Working Hours
You can ask your employer about flexible working hours. These days most employers are happy to allow employees to arrange some of their working hours to suit family life and it is worthwhile looking into whether you could fit your working week into 4 days instead of 5. This would allow you to travel at off- peak times which are cheaper and you would save on a whole day's travel costs. Most rail fares are cheaper at the quietest times of the day so by going to work very early and returning home later after the tea time rush you could make some considerable savings.
You can get cheap train tickets by simply booking train tickets in advance using the online booking service. You can choose a specific train and time, and this is much cheaper than buying an any-time ticket. Of course, if you miss the train you lose the money but if you are organised, you can save quite an amount by planning ahead for all your journeys. Annual season rail cards give greater discounts than monthly, weekly or daily rail cards. Statistics show that an annual card means that you are paying for 40 weeks travel and not 52. This is a substantial discount by anyone's reckoning. If you cannot afford the large amount needed to buy an annual card you could ask your employer to buy it and then pay back the sum over a longer period of time.
There is another trick that could save you money when travelling by a commuter train. Look at the fares and you may find that getting off at a station a little further out of the city could work out cheaper. Getting a bus or walking the extra couple of miles may cut down the costs. Some out of town stations have special mini buses to ferry passengers to the heart of the city and often this is a free service. Explore the different ways of getting to your office or shop and you can always find ways to cut down on travel expenses.
Travelling by Car and Coach
Making your work journey by car can be fraught with stress especially if you work in the heart of the city or town. In addition, the costs of travelling by car can be substantial especially when you take into account the amounts needed for expenses like petrol, insurance, car tax and annual maintenance. Commuting by car will inevitably take longer due to the gridlock of traffic but there are a number of tips that can help you if you choose this option.
Park and Ride is a great scheme that lets you park well outside the town or city and then get a free bus to the centre. This means less stress as you will not be driving through busy traffic jams. Buses get exclusive use of a bus lane which makes the journey shorter and you will arrive at work more relaxed. When thinking about using your car for work you should also think about the cost of parking and possible parking fines. Even if you can find a space close enough to your work you could end up having to move the car after 4 hours or risk the expensive fines that many councils now implement.
Sharing is Caring, and Saving
Why not think about car sharing with another work colleague or someone who works close by? You can take it in turns on a weekly basis to drive which helps to lower the stressful city commute and the costs for travelling are immediately halved which is a great saving. There are a number of social media sites where you can make contact with others who work in your area, and who want to take part in a car sharing scheme. Figures show that as much as 42% of people would consider car sharing but only 2% actually take part. This may be due to the retiring nature of the British who don't want to share with someone they don't know. However, in large companies there is a greater chance of participating in a car share so don't write it off without having tried it. Put an ad on the company noticeboard or ask whether there is an official car sharing scheme in operation.
Reducing the Cost of Owning a Car
Travelling by car to work is one thing but using a car for leisure is another matter. Do you really need a car? If you have good transport links for travelling to work and just use your car for holidays or shopping you may want to consider whether or not it is a viable proposition over the course of the year. Car hire is relatively cheap and if you only want a car for a few weeks each year it is worth thinking about. If you go abroad on your holiday you can get a minibus or taxi to the airport and while it may seem expensive if you live some way from the terminal, just think about the annual costs of running and maintaining a car. Add up the insurance, annual car tax, servicing and insurance costs plus petrol and that one off payment to get you to the airport does not seem so expensive. Or, you can travel to the hub by coach. National Express have an extensive service throughout the UK and the cost from the Midlands to Manchester is as low as £9 for a single ticket.
If you must have a car there are some steps you can take to reduce the amount you spend every year. Petrol is usually cheaper at the large supermarket outlets which are based out of town so it is worthwhile filling up at these venues. Car breakdown cover is cheaper when purchased from the less well known companies and can be just as efficient. The motoring organisations have calculated that by driving in a slightly different manner you can save on the amount of petrol that you use so take a quick look at how this can be achieved.
Driving Tips that can Save you Money
Don't over-rev your car. Allowing the revs to go too high can increase the amount of fuel that you use so listen to the engine to change gear. Drive smoothly without any fierce acceleration or intermittent stamping on the brakes. Try to maintain a steady cruising speed which will maximise the amount of fuel consumption. Very high speeds will also use more fuel so keep the speed to around 55mph to 60mph. Checking that your tyres are at the correct pressure will help as well, and whilst a fully loaded roof rack can cost money, an empty one does not impair the car's fuel consumption. If you have air conditioning and use it when driving around the town it can add to the cost so just open the window instead. Finally, look at the running costs of petrol and diesel cars before deciding which one will be the most cost effective for your needs.
Cycling and Walking
Over the last 10 years there has been a large rise in the number of people cycling to work as well as cycling for leisure. Boris Bikes were introduced into the city of London and have been a great success and other towns are now following suit. You can buy access to the bikes for 24 hours, a week or a year. Just £3 will buy you a key that is provided to unlock the bike and after use it is returned to the docking station. Using a bike to get around the busy town or city makes for a faster and cheaper journey.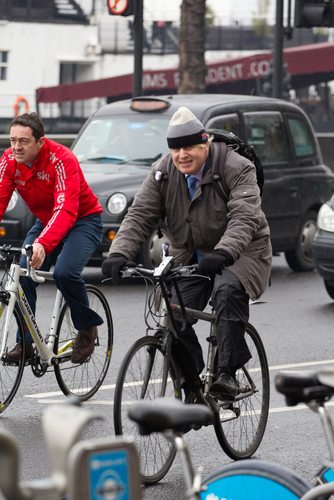 If your workplace is within a reasonable distance from your home you can use your bike to commute and get fit at the same time. Many companies have now implemented the Ride to Work scheme for their employees. This is a fantastic scheme that allows you to buy a bike using a loan and you get a discount off the price. The loan is then deducted from your salary but the amount is tax free. When the loan is paid off you can either buy the bike at a low price or extend the hire period. Some companies just give you the bike at the end of the term. But, if you leave their employ you will need to pay off what is left of the loan or buy the bike from the company. If your journey is too long to go by bike you can cycle part of the way and go the rest of the way by train. In this instance a fold up bike is needed.
Motorbikes and mopeds are other methods of travel that are less costly than cars. Both tax and insurance costs are lower and a 125 cc motorbike will give you around 70 mile per gallon which is very good value. In addition, parking a motorbike is less of a hassle than trying to park a car and in some places there is free parking for bikes.
Walking: A Healthy Alternative
Although walking to work may not seem like a viable option there are some people for whom it could work out. And, this is the cheapest option of all. Instead of paying for an expensive gym membership, you could think about building up to walking to work every day if you live within a reasonable distance. Many people regularly run or walk 5 or 10 miles on a treadmill so why not combine cutting travel costs with getting fit. Most large companies now have showers and changing facilities so you do not have to arrive at your desk in a disheveled state if you do decide to opt for walking to work. Alternatively, you could walk one way and then get a train or bus home at the end of the day. This will halve the cost and you will be much more active and fitter.
If you are fortunate enough to work from home, you may have zero travel costs but the majority of people will have to pay something. By using some of these options to cut down on travel costs you will save money on your monthly outgoings and will not have to rely on topping up your income with an expensive loan just to cover increasing travel costs. Planning ahead is the key to success when it comes to cutting down on travel costs and if you look at all the options and find the one that suits you best you can look forward to a healthy amount of money left over each month. This way, you will never even need to consider a high interest short term loan, unless it is just for a temporary shortfall. Obviously, payday loans must never be used as a long term solution to financial problems.
To read about "Should the Uber taxi be banned in London", click here.