Are you a low earner looking to create a budget in 2023? You have come to the right place. In this article from Cashfloat we give you 5 budgeting tips for low income earners. Read on…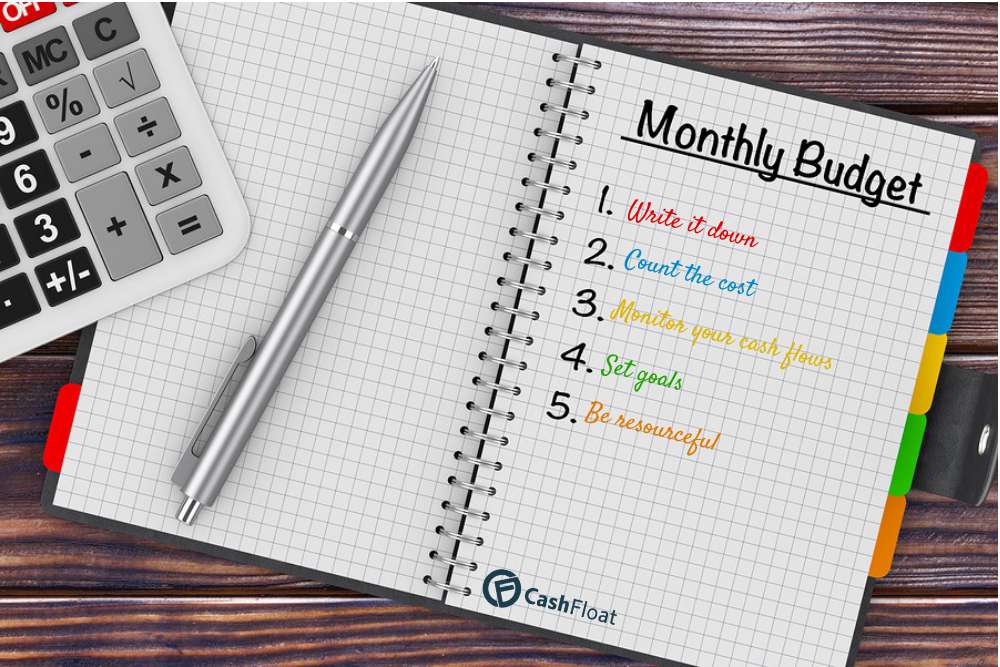 In this article about budgeting tips we shall learn about:
Budgeting tips for low income earners including:
Getting your budgeting in writing
Budgeting what you spend
Monitor your weekly and monthly cash flows
Setting financial goals
Learning how to make do with less
Budgeting tips for low income earners
Whether you come from the low-income earners category or even a high-income bracket, there is no reason to shy away from learning how you can still make money work for you. Cashfloat provide 5 budgeting tips for low income earners. (NB: If you are a high earner, these tips will still be useful.)
Much has been said about living within one's means, and that is not just for those who have less to spend either. Sometimes, the adage could mean different things to different people. But it is for everyone to understand that priorities must be made. Financial health is an important aspect of one's life, and one must tend to it.
Here you will read about 5 budgeting tips for low income earners that can help you manage your money, but any earner can find them useful.
Get your budget in writing

It does not matter whether you do it manually with a piece of paper and a pen, or virtually using a budgeting spreadsheet or Evernote. What does matter is the act of documenting your monthly income and expenditure, as this will give you an overview of your money flow within the next 30 days. Do not just do a mental math. Write down the items using the various apps available online, or in your trusty little notebook.

What are the things you need to remember? Household bills such as electricity and gas. Living allowances such as food and clothing. Financial products and liabilities such as mortgage or stock investments, needs of family and friends, travel and entertainment.

Put all the paperwork in one place, such as a storage box for receipts, bank statements, credit card statements, and your bad credit payday loan contracts. The mobile or browser apps usually have templates for budget planning, which can make things easier for you. Just pick one according to your preferences.

Budget your spending

Know how much each of the items you listed down is costing you every month. Do not let the minor details escape you, such as your fascination for buying certain magazines off the rack, or your family's fondness for eating out for no obvious reason.

Keeping all the receipts you get from restaurants will not help, but an estimate of how much your family is spending on dining out will give you an idea on what to slash off from the budget. Sometimes, there are those that can slip your mind because they have become an indelible part of your daily routine, such as using the heater, leaving the television on right before sleeping, and driving the car almost every day to work.

Account for the use of each item. Know what you can do to save energy. Take an alternative solution for going to work, such as walking on some days. Be creative about your alternative solutions. They may not always work for everybody, so choose which technique will work best for you. Sometimes, the best part is when you know that everything else has been exhausted and yes, you are still moving on. Remember you are on a low income so splashing out can't be a common occurance.




Monitor your weekly and monthly cash flows

As much as possible, you should watch out for your spending habits. Do not be blinded by your capacity to snag money to pay off your debt. No debt is better than with debt. Keep borrowing money out of your options.

Journaling how you spend can also help you see a pattern or an erratic habit, which will stick out like a sore thumb. It is a learning experience through and through. Remember that you cannot be perfect, but you can keep getting better at it as time goes by. If you work hard on something, someday you will harvest a reward—and develop a better, more disciplined you. So use the spending journal to measure your progress.

Set realistic financial goals

Another common problem with managing budgets is when setting up a budget people can sometimes become too enthusiastic about cutting their spending. Of course, you can cut all your spending to the absolute minimum to reach your goal all the faster, but you're also much more likely to abandon your budget after a few months. This is because psychologically you've cut out everything in your life which gives you immediate enjoyment. Cut down on nights in the pub by all means. However, if you're staying at home every night and never go out, you'll get bored. The reaction would be to go the other way overspending on something you later will regret.

Keep setting goals for yourself. For example, you want to pay up certain liabilities within three months. Take one step every day towards your aim. Slash off a movie plan over the weekend. Next week, try preparing your own meals and taking them to work. Next, alternately walk and drive to your office and save on travel costs. You can also start an activity at home where you teach your children the value of conserving energy. Tell them to turn off the television when they are not really interested in any of the shows currently on. You can also refrain from using the heater every day. When your family is itching to go out, why not set up the table in the backyard and eat dinner with everybody al fresco?

Be creative and positive about the outcome of your ideas. Enjoining the whole family will also make it an enjoyable ride for everyone.




Learn how to make do with less

You are going to cut down on costs, for sure. Ultimately, this will entail sacrifice. Remember that sacrifice is different from compromise. You can sacrifice eating out but not your children's health. You can sacrifice the comfort of going to the workplace in your car but not your arrival to important meetings. Money management is part of a complete lifestyle change. It is not an overnight event, but the effects will last a lifetime.

Now if you think you want to expand your lifestyle, you will have to work overtime or double time with a side job. A side job need not be taking a lot of your time. It can be as fun as cooking or baking at home with your children, and selling your output to neighbours. If you have currently dormant talents and skills, leverage them by fusing those interests with an enterprising spirit.
Pay back what you owe
Finally, part of managing your finances is clearing up your liabilities. Include debts in your budgeting, but know how to prioritise. Settle the high-risk secured borrowings first and then move down to the unsecured ones, like any wage day advance loans you may have taken.
Why is it so hard to stick to a budget?
There is no question that budgeting is a MUST for low-income earners to stay within their means. Even budgeting for 1 month can give you the self-awareness to make changes that will have an impact on your financial health. But the word 'budget' has a negative feeling around it in the same way as 'being on a diet'. No one likes to feel restricted, let alone in spending money. It might help to work on how you view budgeting: Not as a restriction designed to punish you, but as a tool that helps you weed out unnecessary expenses and attain financial stability. Some mistakes to avoid are:
Giving up Too Soon

It might take a while to ensure your budget is working for you. Don't give up at the first hurdle and don't expect miracles overnight. If it's taken you a couple of years to get yourself into a financial mess, you owe it to yourself to have the patience and the persistence to give your budget a chance to work. It might be a slow process, but in the end, you'll see the light at the end of the tunnel.

If you are ready to start budgeting, you could always create your budget online, or use your mobile phone as there are any useful budgeting apps for smartphones.

Not Including Short-term Goals

Apart from long-term goals, you should also incorporate some short-term goals into your budget to reward yourself. Allocate some money to treat yourself occasionally. Having some money to spend as you wish can give you a boost. Whether it's for a weekend away or spending some money in the sales, these small pleasures won't delay your long-term plans by much. However, they will make a difference to how you feel about your budget. It will help you keep on track to achieve your goal.

Seasonal Expenses not Included

Sometimes we forget about the costs associated with special occasions like Christmas or birthdays. Nothing can blow a budget faster than trying to do all your Christmas shopping from one month's salary. Of course, the solution of using a credit card or borrowing can have an impact on your financial situation well into the new year. It is far better to allocate money for these occasions during the whole year, so that you're prepared and can pay for them gradually.

Partner or Family not Involved

Another common pitfall is that if you have a partner; they must be part of the budgeting process. It's no good trying your best to manage your income and expenditure if your partner blows a lot of money on purchases that you feel are unnecessary. Which culd mean you would end up bailing them out by paying more than your share of the bills, etc. If you're in a relationship, then your partner must be with you every step of the way.

The same is true of any children you have. You should talk to them about money so they understand the limitations of your budget, and what you can and can't afford to buy for them. Don't think you're depriving your kids of anything. If the child waits for the toy or electronic device they want, you're giving them a valuable lesson about life. It will shape their attitudes to money.

No Budgeting for Emergencies

Another reason why budgets can get derailed is that you may have made the mistake of not budgeting for emergencies. Ideally, you should have 3-6 months' salary put by in an emergency fund. This money should be in a separate account from the ones you use for paying the bills, shopping, etc. Think of this money as your own personal 'insurance policy' for unexpected problems caused by events beyond your control. This can be of great help to you as it means that not only will your budget stay on track but you won't have to borrow money, and to pay interest on the amount.
Conclusion
There are a lot of steps you can take to manage your money, these were just 5 budgeting tips for low income earners. In the end, though, it is really up to you to persevere, be disciplined, learn self-control, and never lose hope.