How Much Does It Cost To Fix Home Appliances?
– Chapter 7
Story highlights
There was a huge tumble dryer recall recently. Find out if yours is a dangerous model.
Find out if you can fix your tumble dryer yourself, and how.
Find how much your repairs should cost and whether it is worth repairing or replacing.
Upscaling your home?
The redecorating part is fun, but you'll also want to check that all your appliances are working. If you're going for a home improvement loan, you'll want to cut back on expenses as much as possible, so Cashfloat's quick and easy tips to keep your appliances in tip top condition will be a big help.
On the face of it, a tumble dryer would appear to be a simple appliance. You put your wet clothes into a drum which turns round and heats the clothes to dry them. However, just a few months ago there was a huge tumble dryer recall. The dryers were deemed to be too dangerous to use as they were catching fire.
At one point firefighters were going out to three fires a day caused by faulty tumble dryers. There was an alert sent out throughout the UK warning families not to use specific brand machines. Whirlpool was one company that recalled defective tumble dryers. They were not only causing thousands of pounds worth of damage but were putting lives at risk too.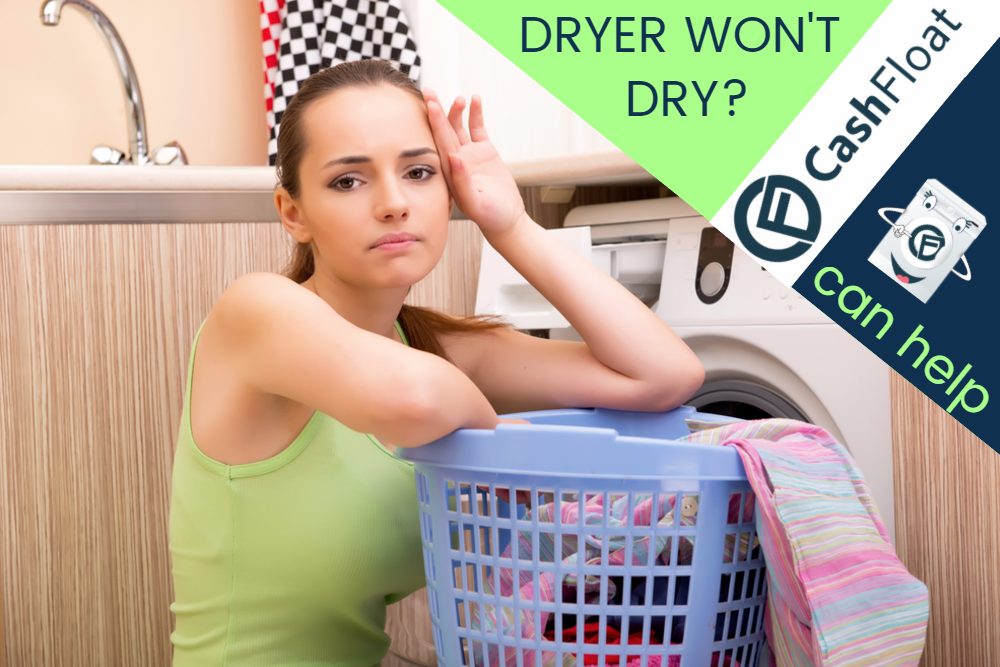 What Tumble Dryers are Being Recalled?
The dryers that are prone to fires include Hotpoint, Creda and Indesit tumble dryers made between April 2004 and September 2015. If you have one of these models, list your appliance on RegisterMyAppliance.org.uk to find out if yours is a dangerous model.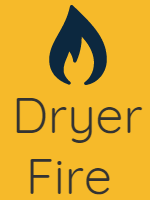 Find out if your dryer has been recalled.
Sign up to Register My Appliance to find details on recalled appliances
Which Tumble Dryers are Dangerous?
Unfortunately, there are no warning signs to watch out for in a faulty tumble dryer. You can switch on your machine, go away and then later be confronted with a tumble dryer fire of devastating consequences. So, make sure to check with register my appliance to see if you have a faulty model. If your dryer is one of those that were part of the tumble dryer recall, so, switch off your dryer and do not use until you get it repaired.
Do It Yourself Tumble Dryer Repairs
Some tumble dryer repairs are very easy to resolve yourself. Save yourself the cost and headache of calling out an appliance repairman. Fill in the quiz below to find out what is wrong with your dryer.
Still not sure what is wrong with your machine? Check one of these options for more detail on tumble dryer repairs.
Tumble Dryer Won't Switch On
A clothes dryer which will not switch on may have no power supply. Check that the plug is securely in the power socket and that the socket is switched on. You can also check the fuse box to see whether the switch has tripped out. If it is, then something is wrong with the appliance.
Checking the power socket itself is another easy way to establish whether the machine has a supply problem. Plug in a separate device that you know is working and see whether power is reaching the socket.
Like all main appliances, a clothes dryer should never be plugged in using an extension lead which can cause overheating. Safety experts are always warning that multi adaptors are one of the main causes of house fires in the UK.
Modern dryers will not start unless the door is fully closed. So first check that the door is closed properly. The door will close with an emphatic click so look for items of clothing that could be stopping the door from clicking. Also, check that the drum is not overloaded as this can also prevent the door from correctly shutting.
Check that you have selected the right program which will activate the start cycle. Try another program to see whether the selector switch is faulty. If this does not work, you may need to call an engineer. However, there are also some more checks you can do before you reach that point.
The programs on clothes dryers sometimes have a slight delay before they start up, so wait for a minute to see if it starts. Also, some models have a timer on the selector switch that allows a program to start later in the day. The instruction manual will show you if this is an option and also how to deactivate the feature.
Manufacturers are clear that you should not set a program to start when you are away from the house or when you are in bed. There is always a risk of a tumble dryer fire, so you need to be around to check on the machine while it is running.
If the machine has a child lock fitted, this function can stop a program from starting. Check whether this feature has been activated by mistake. Once again the user manual will give you all the help you need.
A condenser tumble dryer has a container that collects the moisture from the wet clothes. If this tank is full, it can prevent the next program from starting. There is usually a warning light, but if the bulb is gone, you may not notice until the machine refuses to start. Make sure that you regularly empty the container of water.
Tumble dryer not drying properly, or taking too long
Every tumble dryer has a lint filter which collects all the dust that come off clothes. Making sure that this filter is clear will give you optimum results from the drying process. Also, it greatly reduces the risk of tumble dryer fire. The lint filter is usually found in the door of the clothes dryer. If you can't find it, look in the instruction manual.
Check what heat setting you have selected. Some clothes and fabrics take longer to dry than others. Some require higher heat settings. Choosing a low heat for clothes that are very water absorbent will mean that they take longer to dry. Cotton clothes absorb lots of water so you will need a higher heat setting. Synthetics and wool need a lower heat.
Use the guide in the manual to make sure that you set the right heat setting for optimum results.
An exhaust hose that is damaged or kinked will not allow the air to flow from the appliance easily. Additionally, the hose could have a blockage due to excess lint or and obstruction. If you want your machine to work at its best, make sure the hose is completely clear. And, this will also reduce the risk of the engine overheating.
For condenser tumble dryers check that the moisture container is not overfull and is collecting the water properly.
This is a simple mistake that can be the cause of poor performance in a tumble dryer. Air is needed to flow around the clothes so never put in too much at one go. The usual recommendation is to fill the machine half way up. But, you can also refer to the manual to see what the manufacturer recommends.
A faulty machine that gives out no heat may need an engineer to assess what is wrong. The element in the machine could be broken. In this case, you will need an expert.
If you can feel the heat, but the machine is still taking a long time to dry the clothes the problem could be more complicated.
A Noisy Tumble Dryer
Excessive noise from a tumble dryer could indicate that there is something foreign in the drum. The usual suspects are coins that have been left in pockets. So it is always worthwhile checking all items of clothing before starting the drying program.
If you are using drying balls in your tumble dryer, you may experience a higher level of noise than usual. Dryer balls can help to separate clothes and are an effective way to increase the performance of the machine. But, there is nothing that can be done to stop the higher noise levels. So, it is up to you to assess whether the drying balls are worth the extra noise.
Like all household appliances, tumble dryers work best when they are completely level on the floor. Extra noise can be caused by an unlevel appliance. But, too much noise could indicate a more serious problem. If you are worried about the noise level, consult with an appliance repairman.
Professional Tumble Dryer Repairs
Don't Take Risks With Tumble Dryers
There are many reasons why a tumble dryer could break down. This appliance is not one with which to take risks. Tumble dryers are considered to be the source of many house fires. So, if you are in any doubt about the machine, it is always best to stop using it and call in an expert.
Even squeaking noises which could indicate a worn drum belt. Also, any indication of overheating is a sign that you should stop using the machine until it has been thoroughly checked out.
Although the consensus is that it could be cheaper to buy a new machine instead of going for appliance repair, some simple repairs are worthwhile doing.
A new belt, bearings for the drum or a new thermostat are three simple repairs that could be cost effective. Take advice from a reputable engineer on whether the cost is worth it. A regular cleaning schedule for filters and condenser dryer containers will help to ensure that your machine gives you value for money.
Your family won't consider you an EnGineer, unless you don't fix any of the home appliances
Click To Tweet
How much does tumble dryer repair cost?
It is difficult to estimate costs for appliance repairs to a tumble dryer. Some companies will come out on a 'no fix no fee' basis while others will ask for a call out fee just to advise you on the state of the machine. You are best off calling a few different repair companies to get an idea of the price range.
As a basic guide, here are some pointers to how much your dryer repairs will cost:
Gas dryer repair can be more costly. Washer dryer repair service can also be more expensive. But, you can follow the do it yourself dryer repairs listed above, for gas dryers and washer dryers before you choose to approach a repair company.
Reputable businesses will always include a three month warranty for repairs. In some cases you can pay more for a longer period of protection.
Many appliance repairmen will charge a call out fee plus an hourly rate, so make sure to ask about this before you order a repair.
If you need to replace parts in your tuble dryer, you can ask for "pattern parts". These are generic parts that will fit any brand and can cost half the price of the brand-specific parts.
Weighing up the costs for appliance repairs and breakdown insurance may help you to decide whether to repair or replace.
Should I Repair or Replace my Tumble Dryer?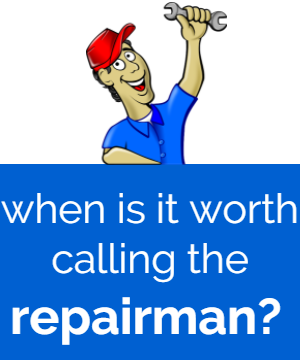 Your tumble dryer has broken and you don't know whether to replace or repair. On the one hand, you don;t have the money to fork out for a new tumble dryer. But should you pour more money into that broken, old tumble dryer?
Especially if your tumble dryer is older, you should consider replacing rather than repairing. But where will you find the cash to pay for a new appliance? That might mean that you opt for repairs instead of replacing.
But, when deciding whether to repair or replace, you should consider more than the price. Tumble dryers are the most frequent causes of fire in the home so if you are in any doubt about the safety of the machine get an expert in.
The modern tumble dryers now on sale are more energy efficient. Studies have shown that you could save up to £500 over a 10 year period just by choosing the right modern appliance for your needs.
With the winter upon us, most families depend upon a tumble dryer for the weekly wash. Having an efficient tumble dryer means you will no longer have to rely on the vagaries of the British weather. You can simply and quickly get your washing dry at low costs which could be as cheap as 30 pence per load.
Born a writer, Becky Hall figured she would use her talents productively. So, she became a content writer for Cashfloat, and she loves it. A Business and Accounting graduate, Becky scored high, graduating with a first, but also acquired a professional bookkeeping certificate in addition to her main studies. She always dreamed of becoming an accountant, something she still may achieve, but in the meantime, she is helping to break open a new industry of honest and ethical lending. Becky spends her spare time at the piano, with classical music her favourite choice, but will play jazz to keep her baby happy. Nowadays, though, she doesn't always have much time; Cashfloat has a revolution to make.