Story Highlights
Nothing will change for UK expats until negotiations are completed
The largest group of expats from the UK are pensioners.
UK expat pensioners could find themselves living on less and less each year
Brexit – How Will It Impact Your Life
– Chapter Twenty Three
One of the great concerns that has arisen out of the Brexit debate and vote is the residency rights of expats both in the UK and in other European countries. Some 1.3 million UK expats are living and working in Europe with many of them owning their property. Many of these people have cut residency ties with the UK and are rightly concerned about their future.
In addition, there are 3 million non-UK residents in the country who are now faced with uncertainty about their rights to stay once Brexit has been carried through. Until the government comes out and categorically states that they won't kick out anyone who is a long term resident of the UK, this uncertainty is going to have an impact on their day to day lives. Cashfloat, an payday loans direct lender looks at how UK Expats will be affected by Brexit.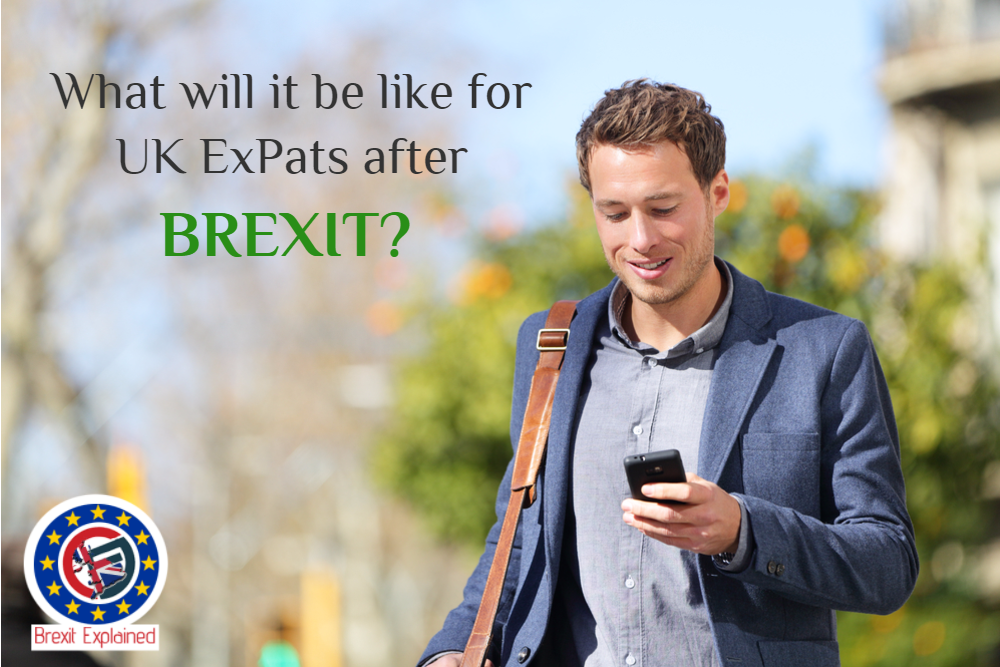 UK Expats After Brexit
Negotiations about UK Expats Will Be Protracted
In spite of being asked to confirm that long term residents will be safe, Theresa May has refused to end the uncertainty. European citizens who have lived in the UK for many years are being asked to live in a suspended state with all the worry that this entails until negotiations with Europe are completed.
The government line is that residents will be safe as long as the millions of Britons who live in European countries are also guaranteed a right to stay. However, it seems grossly unfair that these large groups of people are being used as a bargaining chip in the negotiations to leave the EU.
The Immediate Future For UK Expats
Nothing will change until negotiations are completed and EU residents will have the same rights as they always had. The same applies to UK expats who live in a European country. However, once the UK has made it's exit from the European Union things could change.
There has been speculation that UK expats who own property abroad could be subject to a higher property tax and that it could become more difficult for them to find work. Some of the EU countries already have in place a rule that states a non-EU citizen (which will be the new status of a UK expat) may only be employed if there is no suitable candidate for a job from within the EU economic area.
Impact Of Brexit On European Residents In The UK
The majority of Europeans who live and work in the UK are from Poland and Ireland with Germans making up the third largest group. These residents will already have been subject to the fluctuation of the pound and will have found that their money does not go as far as it once did.
British people who live in an EU country will be paid in euros so will not see any changes except pensioners who will see a drop in value to their monthly money. Europeans working and living in the UK will be subject the rise in inflation that is currently ongoing. At the moment anyone from the EU can obtain work in the UK but after Brexit is concluded potential workers may need to obtain a work visa or permit.
There has also been talk about setting up a points style system which would allow in only those workers whose skills were needed and those that already had a job organised. These restrictions are going to have an impact on anyone who wants to come to the UK to work and they could help create a situation where there is a shortage of workers in essential services like the NHS.
UK Pensioners Who Live In The EU
The largest group of expats from the UK are pensioners. In the aftermath of the vote these people have seen the value of their pensions drop as sterling has become less valuable. Any swings in the value of the currency will affect how much money they have to live off. But, there is a more worrying aspect about pensions that is concerning those who live abroad.
The situation at the moment is that anyone who receives a state pension also receives the annual increase which is guaranteed to be tied to the rate of inflation. This annual increase also applies to pensioners who live in EEA countries such as Switzerland and Norway.
Conversely, UK pensioners who live in Commonwealth countries like Canada or Australia do not receive the annual increase. Their pensions are frozen at the rate it was paid when they left. Thus the pension loses value each year. The principles of the single market mean that wherever you live in Europe, you will get the same amount as if you were residing in the UK. But, this may change.
Unless a deal is agreed with the other EU countries, expat pensioners could find themselves living on less and less each year. Some experts have predicted that if this happens there could be a surge of older people returning to the UK and this could place a heavy burden on public services, in particular, the NHS.
Promises Of The Past – Campaigning for Brexit
During the campaigning before the referendum, the Vote Leave side stated that there would be no way that current EU residents would be affected by a Brexit result. They publicly said on their website that people already in the UK would be automatically allowed to stay for an indefinite period.
On the opposing side, the Remain campaigners said the opposite. So far the government has refused to give any assurances, and there are no guarantees for either group of expats.
There has been some talk about acquired rights such as owning property and running a business but it would appear that as far as the government is concerned, everything and everyone is up for negotiation.
UK expats will be seeking to have their current rights preserved. But, although they may be granted residency if they own a property, rights to reciprocal health care that they have currently could be cancelled. Since many expats are pensioners, this is an important aspect of Brexit that is going to have a severe impact on their lives.
Waiting And Wondering
Like all aspects of the Brexit result, the fate of the rights of expats both in the UK and in EU countries is in limbo. In spite of calls to the government to put at ease the minds of expats, ministers insist that nothing can be confirmed until negotiations start.
This is a worrying time for any UK citizen who has chosen to make a new life in a European country. Most did so after careful thought and after considering all aspects of what this change would mean. However, no one could have predicted that a referendum to leave the EU was on the cards and no one would ever have thought it possible for the vote to go the way it has.
While government ministers pontificate about what they are going to demand from the EU and EU heads of state insist that the UK will not get an exclusive deal, the fate of expats continues to be in the balance.
Born a writer, Becky Hall figured she would use her talents productively. So, she became a content writer for Cashfloat, and she loves it. A Business and Accounting graduate, Becky scored high, graduating with a first, but also acquired a professional bookkeeping certificate in addition to her main studies. She always dreamed of becoming an accountant, something she still may achieve, but in the meantime, she is helping to break open a new industry of honest and ethical lending. Becky spends her spare time at the piano, with classical music her favourite choice, but will play jazz to keep her baby happy. Nowadays, though, she doesn't always have much time; Cashfloat has a revolution to make.