Different jobs and their salaries
– Chapter 12
The average salary for armed forces is £33,141 per year. Does it cover all living expenses of an army personnel? Cashfloat, a payday loan direct lender, discusses the benefits of joining the army apart from the salary.
How much do army personnel make?

Entry level officers
£15,864 to £20,793 per year
Lieutenants
£27,818 to £36,958 per year
Captains
£42,850 to £50,957 per year
Majors
£53,975 to £64,642 per year
Colonels
£75,754 to £87,716 per year
Are army personnel happy with their salary?
45% of personnel said they are satisfied with their basic rate pay. This is a 14% percent increase since 2018, when only 31% felt satisfied with pay.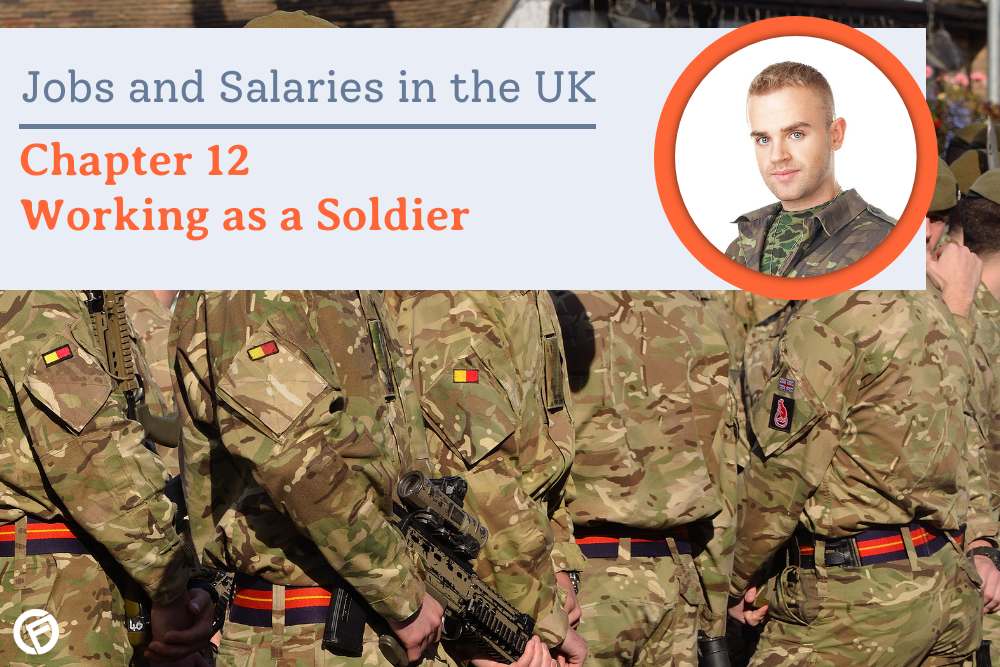 Life skills you learn in the British Army
The Army pushes people to the limit, and for some, this encourages them to do better and flourish in an instant. For others, it takes longer, but with self-discipline and hard work, they can achieve whatever goal it is they desire.
Work life goes like this. Throughout your career, you aim to achieve the best that you can. You look for promotion, and you look for recognition. To be successful in any career you chose after the army, you have to work hard and be disciplined. You have to show courage, sometimes, to make decisions that perhaps make you feel uncomfortable or make you less favourable to your colleagues. But, depending on your position, it is part of your working life. You have to follow deadlines and tight schedules. You have to be alert and ready to tackle the unexpected when it appears. The training and strict processes that the Army support will give you a base that you can put into practice after army life.
The military teaches discipline and determination and a sense of responsibility and positive mental attitude. These are vital skills to help you succeed in your career. You also have a good chance at any promotion that you go for, simply because you are not afraid of hard work and making decisions.
Benefits you get from Joining the Army
Although the pay for an entry level officer is not that significant that you can enjoy a life of luxury after a few years, the Army will provide you with more than you think regarding financial benefits. Consider joining the army not only as a career but also as a learning centre. You can develop and progress into areas you perhaps thought impossible.
Not everyone thinks about this, especially when you are young, however, providing for your retirement is crucial and important. The Army provide a rewarding pension that they contribute toward. You do not have to contribute anything.
As with any pension, the percentage contributed and the payment method and time depends on the provider and your service. But none the less, the pension provided by the Armed Forces is considered one of the main advantages it offers.
The Army will provide you with all the necessary training that you require to perform your task in your chosen career within it. You will also receive an education that can develop your existing skills and perhaps educate you with new ones.
The training and education that you receive in the Army will provide a good solid foundation for you to progress within the Armed Forces. Even if you choose to leave and return to civilian life, the education and training you have received will benefit you rather than hinder you.
Buying or renting a home can be very expensive. Property upkeep can prevent you from saving enough as you would like.
If you are a recruit undergoing training within the Army, you live on site in the barracks. However, after your training is complete you have choices available to you depending on your personal family circumstances. You can rent accommodation at a lower rate than you would otherwise be able to. Council tax rates are also cheaper for you.
If you live in the Army barracks, your meals are subsidised and are cheaper than other alternatives, although still of a high quality. Your meals are provided to you free if you are in operations.
There are many other benefits that you can enjoy. For example 30 days annual leave, healthcare, life insurance, discounts on rail travel. Some retailers offer discounts as well. Although you may not think of these benefits as financial, they will help you financially.
How to Survive the Army Financially
Joining the Army can be exciting and scary. But it can also be a financial crash if you do not budget and prepare for life after it. Pay in the Army for an entry level officer is not fantastic. However, with the additional benefits and reduced costs that you receive, the pay that you do get can provide for a comfortable and financially stress-free future without having to resort to loans for military personnel.
Budget your pay sensibly
If you are careful with your pay, you can make it go far. Just like you would in civilian life, try not to be enticed into buying things that you cannot realistically afford. Save for your future and your life after the Army. Do not spend unnecessary money on off-site housing when you are eligible for the reduced, if not free, on-site housing or barracks.
Prepare for your retirement
Although the army has a fantastic retirement plan, there are very few people who serve the entire army life and make it to retirement. Prepare for those unexpected events that could potentially cost you hundreds of pounds. For example, broken household appliance or a medical emergency can swallow up your nest-egg is you don't have any other savings.
An overview of the army salary UK
Although the UK is experiencing something of an economic recovery, with low morale now being experienced by many of our armed forces, military chiefs are very worried about the prospect of a greater number of soldiers leaving the forces. They have pointed to the fact that many soldiers have now reached the tipping point when they decide to go to the private sector to earn better salaries.
As the overall pay package for a soldier continues to be eroded, the state of the armed forces is in a fragile condition. The Ministry of Defence is concerned that it will lose experienced personnel and this applies even more so to those whose skills will be valuable in the private sector.
The Armed Forces Pay Review Body (AFPRB) recommended a 2.9% increase in base pay for 2022. The Government accepted "the spirit of this recommendation," with a 2.0% increase in pay.
With the growing competition from other sectors for qualified staff who have had experience in the armed forces, there is a real need to address the problem of low pay for the armed forces sooner rather than later.