Want to give Dad something he will value this year on father's day? Cashfloat have 10 ideas of gifts that Dad will be sure to value, but won't break the bank.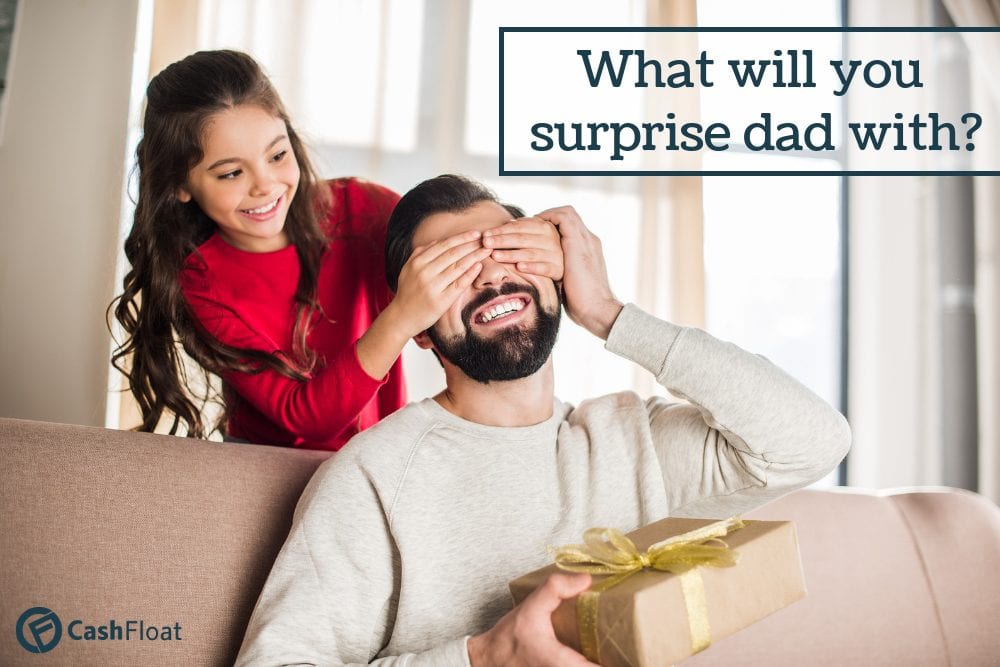 Story highlights
Read a beautiful poem that describes what a father is.
Discover ten gift ideas that you probably haven't thought of.
Sometimes doing something together is more valuable than a physical gift.
When is Father's Day
On Sunday 16th June will be Fathers' Day. A special day to honour and treat the man who has been a big part of your life since the day you were born. We're talking about the person who rocked you to sleep as a baby, who encouraged you to take your first steps, who taught you to kick a ball and stand up to bullies, helped with your homework and celebrated your achievements. This is the man who has given so much to you!
Now is the time to start giving back. But, you don't need a spend a lot of money to do so. Father's Day shouldn't mean turning to payday loan direct lenders. There are so many things you can do for free, or nearly free, that will mean just as much as spending a fortune on Dad.
Father's Day Ideas
In this article, we'll explore a few different ideas for a gift. Spending a large sum of money is one way of showing your appreciation, but it's not the only way. We've put together ten different ideas of what you can do for Father's Day. Some are gift ideas, and some are things you can do together. In a way, doing things is far more valuable. You'll all have a great time together, and build up fantastic memories. Then again, a gift is something he can keep forever. Depending on the gift, obviously. Either way, these ideas won't require you to take even a small loan to cover the cost.
So, what will it be? We've included ideas to suit all budgets, but the main factor in your decision should be the recipient. What type of things does your father enjoy? Think of something he loves to do, and plan something around that. No need to take out personal loans online this year!
But, before we go into different gift ideas, we felt that we had to take a moment and appreciate just what a father is. So, here is an original poem that explores some different aspects of what a father is.
Father's Day Poem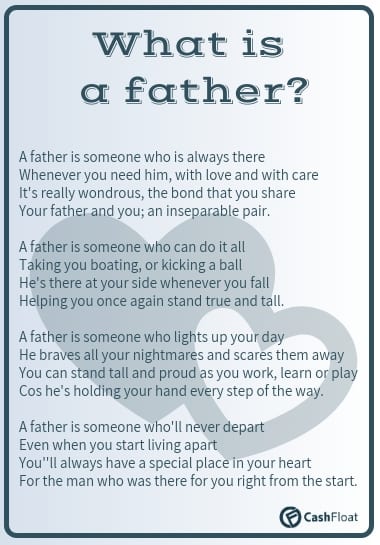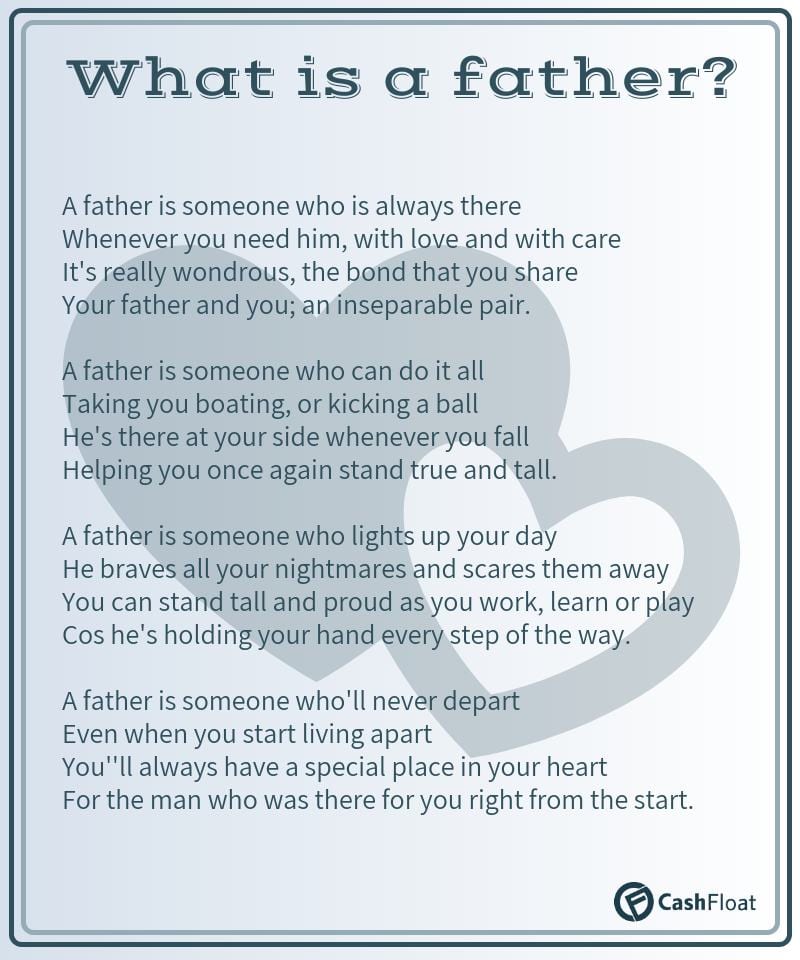 Father's Day Gift Ideas
Now for some gift ideas, for the man who truly deserves them!
Breakfast in bed

Why not begin the day with a treat? Making breakfast doesn't have to cost much, and serving it to the father of the house before he gets out of bed is a real treat. You could serve a full English breakfast, or maybe something sweeter like pancakes or waffles served with ice cream, whipped cream and fruit. Squeeze some oranges for a refreshing drink, or maybe a decadent hot chocolate, complete with mini marshmallows floating on the top. Whatever option you go for, make sure to include his favourite foods. He'll be looking forward to next year's Father's Day!

Fishing

There's nothing like a nice, relaxing day by the river. Pack up a nice picnic lunch, with plenty of snacks, and you're set for the day. Fishing is a great bonding activity – and if you're successful, that's supper sorted!



Bowling

Is your dad a bowling superstar? There's nothing like a bit of competitiveness to liven up the day! Bowling is a fun activity where everyone in the family can take part. For a fun home version of bowling, half-fill plastic bottles with water and use a tennis ball to knock 'em down.

Photo collage

There's a huge variety of photo frames for Dads on sale. You could buy one, or you could save some money and make one yourself. You can buy a plain wooden or plastic frame, and make something stunning to go inside. Choose some nice pictures, draw or print out a nice saying – the best thing is, you can personalise it as much as you want! Look online for some inspiration. This is sure to be a gift he will treasure forever!




Camping

A night in the great outdoors… sounds like a dream come true! Go the full whack – set up the tent together, gather wood for the camp fire you'll cook supper over (or at least toast some marshmallows over), get cosy in sleeping bags and tell spooky stories until you fall asleep. The best part? It's great in the countryside if you can get out there, but it's just as fun in your own garden. That way, there's always shelter nearby if it rains! This will be a night of memories you'll all treasure forever.

Brewery tour

Do you know what every beer-lover would enjoy? A trip to the brewery! Discover the entire process behind that golden liquid, and enjoy a nice drink at the end. He'll have a newfound appreciation for beer after this!

A good read

Some people love nothing more than to curl up with a good book. If your father is one of them, you have a few options of what to get him. Obviously, the first choice is a book! Go for the latest book by his favourite author, a novel in the genre he loves (remember – not a book that you would love to read, but one that he will!) or a non-fiction book – raid his bookshelves for ideas.

If you don't consider a book to be a real present, there are plenty of reading accessories you can get. You can design your own bookmark for him, complete with photos and all – that's something he'll treasure! Or you can buy one of those nifty little booklights that clip onto the book. They're so handy, especially for travelling. Your dad will love you for it!

Golf

Wide open green lawns, fresh air… there's nothing quite like golf. Unless you're going for crazy golf, that is. Or maybe your father is more of a tennis kind of guy, or football? Whatever the sport, go for it! You'll get fit, it's great exercise – and you'll have fun!




Touring

Have you ever toured your local town? Most cities and towns in the UK have a unique history, with different sites to see. Try being a tourist for the day! Go the whole way, with colourful clothes and cameras hanging around your necks. Why not put on a foreign accent too, just for fun? Go visit all the sites, and get to know your hometown from a new perspective.

Dad in the Kitchen!

Is your father one of those men who just love to cook? If so, you've got your gift sorted this Father's day! There are a huge variety of kitchen gadgets available, and some of them a really cheap. Check out your nearest Lakeland for some inspiration! He'll also love a new recipe book – the choice is yours!
Make this Father's Day an Everlasting Memory
There you have it! Ten ideas to make this Father's Day into the best one ever! Good luck with it all. Most of all cherish all those hours you spend with your dad and make sure to let him know how much you love him! Now you can avoid needing a short term loan this year on Father's Day! Dad is sure to be proud of you! Happy Father's Day!