Celebrating the holidays would go incomplete without giving on Christmas. After all, Christmas is the season for giving! Cashfloat explores some simple ways YOU can make a difference this holiday!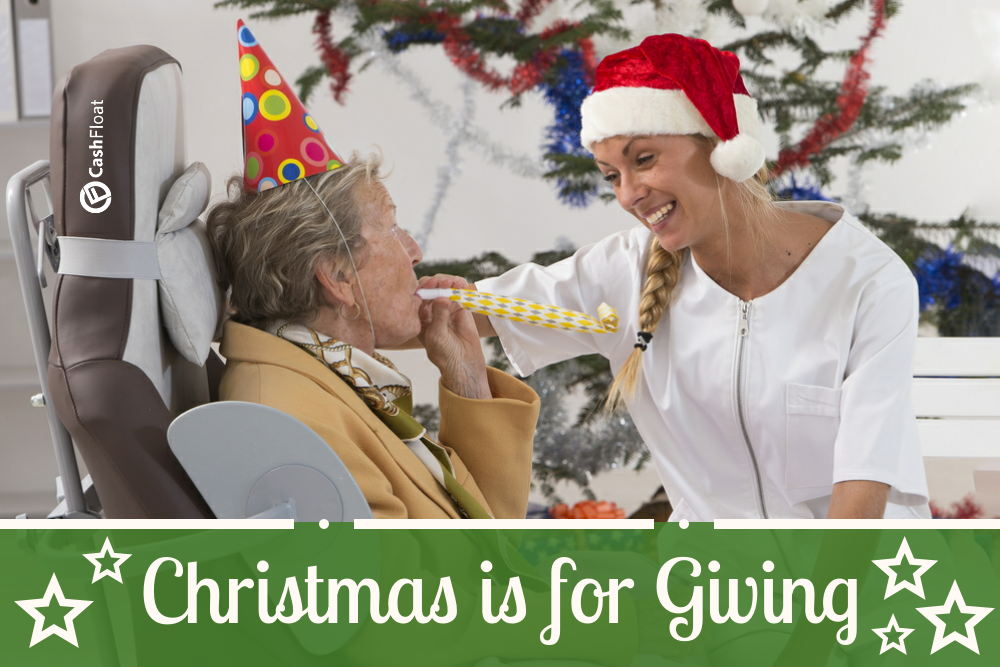 In this aticle Cashfloat presents 9 great ideas for giving on Christmas:
Read on to find out about Christmas giving ideas in more detail.
Giving on Christmas
For those of us who celebrate Christmas, it may just be the most exciting time of the year. The carefully strung lights, decorated Christmas trees, time spent with family, and even presents as an added plus! What's not to love about it? However, for some people, Christmas is just something to dread. The focus is on money, money, money and often this can take away from celebrations of the day.
Christmas is not just about spending money on your loved ones and cooking up a Christmas dinner. Christmas is also a time to give – even to complete strangers. In this article, Cashfloat present you with a list of simple ideas that can help you make sure you have a meaningful Christmas.
Christmas Giving Ideas
Volunteer For Christmas Dinner

Firstly, if you are one of those people that hate your family Christmas dinner, or are feeling lonely yourself, volunteer in a soup kitchen or homeless shelter. Not only will it make you feel good, but you will also helping other lonely people feel welcome and wanted. 'Crisis' is an example of one such organisation that you might want to get in touch with.




Spend Christmas With Your Lonely Neighbour

Do you know any seniors who live around you, who may not have family and will be celebrating Christmas on their own? Consider approaching them before Christmas and ask them if they would like to spend Christmas dinner together with you. Furthermore, you could make a simple dinner, or just bring round biscuits and cake and have a chat. This will help tackle their loneliness and social isolation. You may even make a new friend.

Babysit for Friends or Family this Christmas

If you are an introvert or just someone that hates the Christmas fever, instead of joining the festivities, babysit for your friends and family that want to. At least, this way you both are in a place you want to be. You may not enjoy the parties, but you are allowing other people to enjoy the night.

Dress up Christmas Themed and Raise Money For Charity

Giving charity at Christmas is a wonderful way to celebrate the holidays. You could do this in a number of ways, either walk around the street giving money or items to the homeless. Alternatively, you can volunteer with charities such as Marie Curie and really get in the Christmas spirit. Simply get in touch with them and don some festive clothing. Then, head for the throngs of shoppers, and raise money for families affected by terminal illness.




Light up the World with your Christmas Beam

Give a smile, a smile is worth a million words. Presents are materialistic but a nice smile and chat with a stranger on the street or in a nursing home, will be sure to change someones Christmas and help tackle loneliness and social isolation.

Do an Act of Kindness this Christmas

Christmas is a time to bring peace and harmony into your lives. Think of a way to be kind to someone you dislike or even the people you do like. Giving on Christmas to people will increase your feelings towards them, and that's definitely a brownie point to show Santa!

Give Post to the Postman on Christmas day!

Why not give something to the people that help you! Leave a homemade treat with a kind note for your postman or woman in your postbox (or chase them down the road if you miss them.) These men and women provide such an unacknowledged service every day. They deliver rain or shine, regardless of traffic and more. Let them know you appreciate what they do for you.




Decorate the Outside of Your House for Christmas

Create a fun, light display on the outside of your house. This gives light to your neighbours and passersby in the dark winter months. If you make it really grand, you can collect charity at the same time.

Make an Item Swap this Christmas

To prevent yourself and other people falling into debt to pay for Christmas stocking fillers, swap items you already have that you don't need or know your friends need more. That's kindness with everyone gaining.
Conclusion: Giving on Christmas
In conclusion, you know what you enjoy best. It may be baking cookies for your neighbours, locking yourself away from Christmas but donating money online to a good cause or getting onto the streets and singing Christmas carols and raising the locals' spirits. All you need to remember is that money is not the only way to give and make other people feel good. Let us recognise that a Christmas heart is a giving heart. A wide open heart that thinks of others first. Merry Christmas!