Want to enjoy a festive feast this Christmas without breaking the bank? Read on with Cashfloat to discover some great ways of making a delicious Christmas dinner on a budget.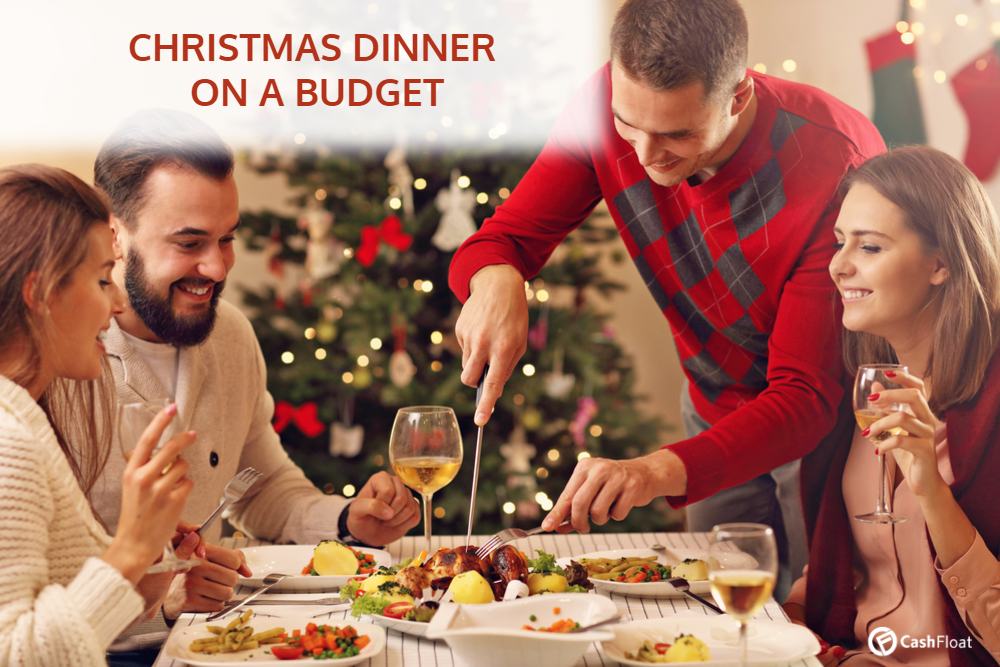 How can I make a Christmas dinner on a budget?
6 Top Tips to Make Your Christmas Dinner on a Budget
According to the BBC, this years Christmas dinner (2021) is set to cost more due to the rise in inflation. Even if you're on a budget, making a delicious Christmas dinner on a budget doesn't necessarily mean that you have to compromise on quantity, quality or taste.
Cashfloat presents you with some practical ways to enjoy your Christmas dinner without forking out loads of money to pay for it.
Shop in advance for your Christmas dinner

In the lead-up to the festive season, see if you can pick up bargains and special offers and freeze or store them. Some retailers put up prices in the count-down to Christmas, so shopping in advance and planning early for Christmas can save you paying these higher prices. Also, by doing the food shopping in advance you can spread the costs of your purchases over a couple of months. You won't notice an extra £5 a week on your weekly shop. This is better than the shock of paying it all in one go in the week before Christmas especially as you'll have other expenses to budget for.



Plan your Christmas dinner menu

Seeing how full some shoppers' trolleys are in the days leading up to Christmas, you'd think that rationing was imminent! Make up a menu plan for the holidays with a clear idea of what you're going to cook every day. This will prevent you buying too much, and the inevitable waste as perishables go bad and need throwing out. Once you have a menu, you can write your shopping list. Stick to this list when you're going through the aisles. Don't be tempted by special offers or discounts on foodstuffs you aren't likely to eat.

Buy the right amounts

Some people get confused when it comes to estimating the size of turkey they should get. Allow 500g per person when buying your Christmas bird. Prices of turkey vary, but in general, frozen birds are much cheaper than fresh. If you're trying to budget your Christmas dinner, you could add bulk to smaller sized birds with sausage-meat stuffing and extra servings of vegetables.




When shopping for your Christmas meal, make sure you compare the price per kilo to make sure you're buying the cheapest. Buying vegetables loose tends to be less expensive. Buying cuts of cheese from the deli rather than pre-cut and pre-packaged from fridges can also save money. Not only is it cheaper but you can pick the exact size of cheese you want and prevent waste. Add dried fruit, home-made chutneys and crackers to your post-dinner cheese board to make an impression and to distract from the fact that your pieces of cheese are smaller.

Cook your Christmas dinner yourself

With the exception of Christmas pudding (which would be more expensive to make yourself), most of the traditional Christmas foods can be made from scratch for much cheaper than their store-bought equivalents. You can easily make gravy from the giblets, roasting juices, flour and a stock cube. Stuffing for the turkey can be made from ingredients you already have in your cupboards. Pre-cut vegetables can be pricier than fresh produce so get your family to help with the preparation of the veg.

If you aren't a confident or talented cook, you could compromise on making from scratch. You can improve the taste of cheaper mincemeat by the addition of orange zest, spices like ground cinnamon and dried fruit or nuts. Similarly, why not buy a cheaper plainChristmas cake but decorate it yourself? All you'd need is some icing, marzipan and cheap plastic cake decorations from a pound shop.



Replace old Christmas favourites with cheaper alternatives

There are some parts of the traditional Christmas Day meal that we can't imagine doing without. However, you can substitute cheaper alternatives for some expensive foodstuffs. For example, you could replace smoked salmon with smoked mackerel or use salmon trimmings to make an inexpensive salmon pate.

As far as alcoholic drinks are concerned, you don't need to buy expensive champagne to make Bucks Fizz – a sparkling white wine is acceptable. Instead of having such drinks, why not use cheaper wine to make a fruit punch? It might sound like heresy, but you don't have to eat turkey at Christmas. You'll find that other meat is much cheaper during this festive season. Why not buy chicken instead of turkey but check for recipes online to spice it up a little?

Use up your leftovers

If you've made a menu and been careful with your shopping list, you've probably already have some ideas for using up any leftover food. Don't think you're limited to that old standby, turkey curry. Online there are plenty of sites which will give you ideas of recipes using the ingredients you have in your cupboards and fridge. If you can stretch the leftovers for 2 or more meals, you'll have made savings and won't throw anything away.
Conclusion
Using these practical ways on butgeting for your Christmas dinner you can halve the amount you would have spent on your christmas food shopping, and nobody will be able to tell the difference. Of course, we all want to indulge ourselves during the festive season. Still, this shouldn't mean we start the New Year with debt. All you need is planning and organisation, and you can enjoy an unforgettable Christmas without spending a fortune on your Christmas dinner.