A Guide to Credit Cards in the UK
– Chapter 3
Explore the fascinating story of how credit cards first came to the UK, with Cashfloat. The Barclaycard was groundbreaking when it was first released and it went on to seriously impact the way we spend money today.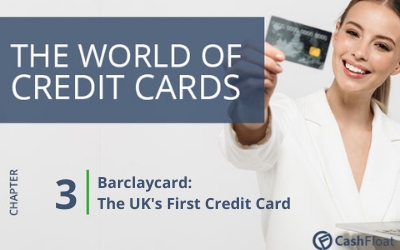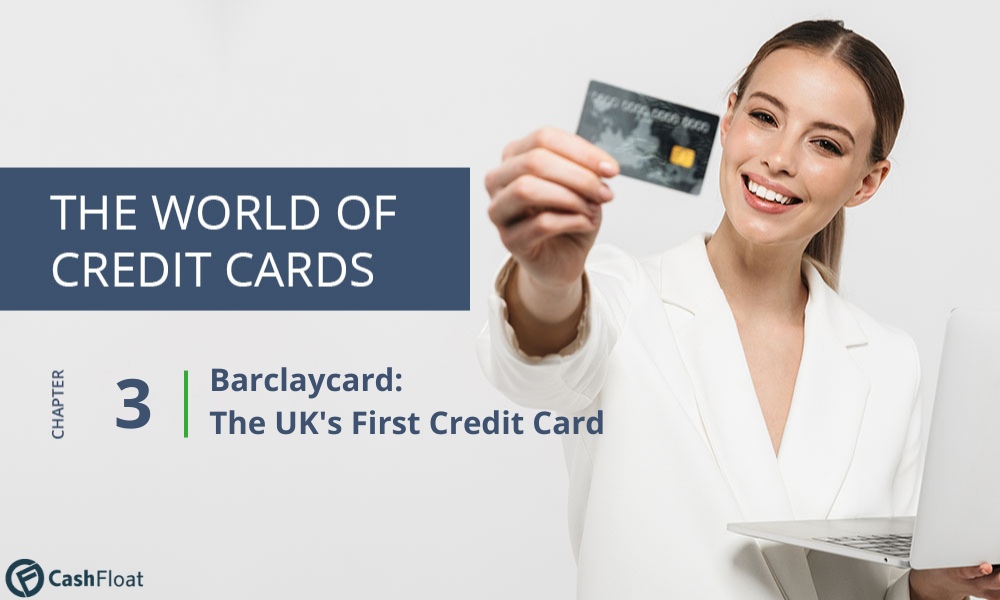 Article highlights
The first credit card in the UK was the Barclaycard
Surprisingly, this was one of the first forms of credit available to women in the UK which didn't need a male guarantor.
Since the introduction of the Barclaycard, credit card debt has increased in the UK to a household average of £1,962.
If you haven't read Chapter 1 or Chapter 2 of this guide, then you will have missed out on hearing about how credit cards first emerged in the US and how they eventually changed the whole world economy! If you're interested in American credit card history, go to chapters 1 and 2 to find out how credit cards were established. Also, discover what impact they have had right up to the financial crisis of 2008.
In this chapter, we will be looking at the very first credit card in the UK, the Barclaycard. We'll explain how, just as American Express brought credit cards to America, Barclays Bank made UK society accept buying on credit as the norm.
The Arrival of Credit Cards in the UK
Although the early American forms of credit, such as the Diners Club card and American Express charge cards, had already come to the UK, in the early 1960s credit cards had not really taken hold. The first successful credit card issued in the UK was the Barclaycard and this card changed credit in the UK forever.
Branded with the Visa logo, Barclaycard was first introduced into the UK in 1966. The card enjoyed a good amount of early success. It had a monopoly over the UK credit card market until the Access card joined it in 1972. After the introduction of the Barclaycard and the Access card, the idea of borrowing on credit became established in the UK. People saw ownership of one of these cards as a sign of success. As a result many people wanted to get hold of them. Just like in America, after credit cards became established here, a credit card industry developed. Nowadays, there are many different types of credit card available and we are all familiar with the idea of spending on credit.
How Did the First Barclaycard Work?
The first Barclaycard had the account number embossed on the front, like it is today. When a payment was made this number was stamped onto a slip of paper which was then signed by the account holder. After this, the retailer made three copies of the slip; one for the bank, one for the retailer and one for the customer. The bank would then get their slip in the post and would charge it to the cardholder's account. Can you imagine paying like that today? Nowadays, we just tap the card on the reader and we're done.
On top of complicated methods of operation, there were strict guidelines about who could get a Barclaycard. Credit was not easy to get hold of. Therefore, it became a sign of success if you could boast a Barclaycard in your wallet or purse.
The first Barclaycard users in the UK had to look for the Visa symbol in a shop to see if they would accept payment with their card. Only a select few retail outlets or providers of goods and services would display this sign. As the Barclaycard took off, more and more shops and stores began to accept the cards. With the arrival of the Access card, shops began to display the Access card symbol as well.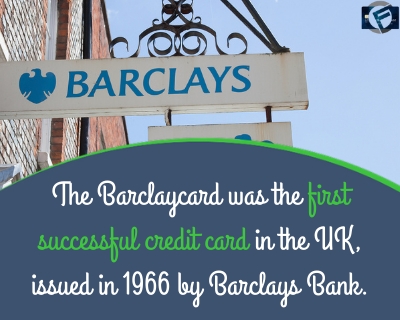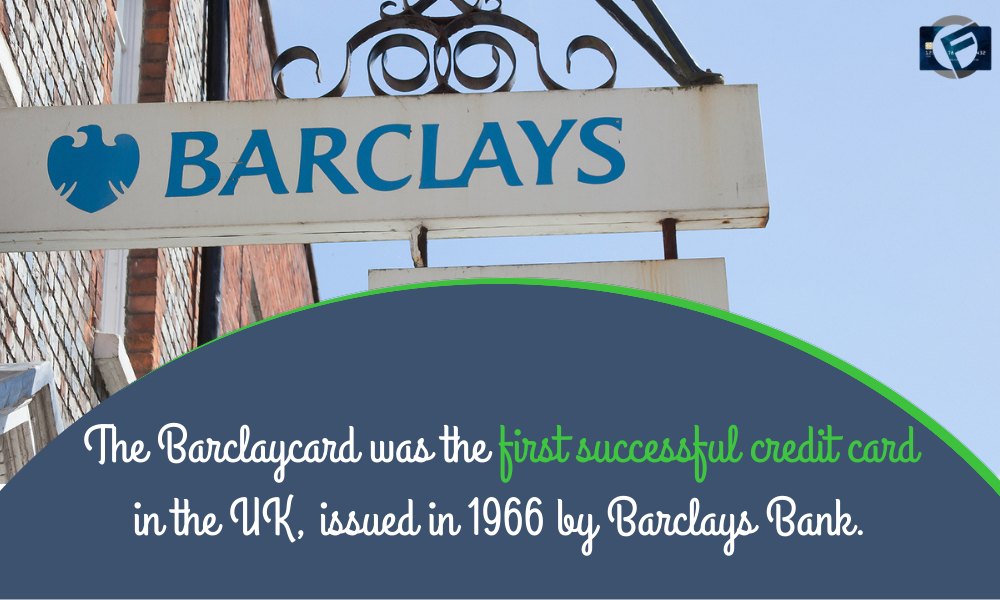 Who Were the Early Credit Card Users?
In June 1966, Barclays sent out 1.25 million of their first Barclaycards to select Barclays account holders. The letter sent included an explanation that only the best customers of the bank were being given this opportunity to use the new way of paying. While some of the cards were never used, many people took to the new payment system with gusto.
After initially choosing who to offer credit cards to, credit cards became available by application, with Barclaycards and Access cards being open to applications. Early on, applications were restricted to people with a relatively substantial monthly salary. These companies would only issue credit cards to those who they considered a good risk and that usually meant that people would need to have a high monthly salary and a good financial history as well.
Having a Barclaycard or an Access card was a status symbol in the 60s. Often it was young professionals who were the first people to use credit cards. As a result, some people link the birth of credit cards to the establishment of 'yuppie' culture. After the Barclaycard and the Access card gained popularity, more companies and banks began introducing different credit cards and before long there were a wide variety to choose from.
As well as promoting credit cards to consumers, banks also stressed that businesses would benefit from using credit cards by reducing cash transactions and cutting down on bookkeeping costs. Having easy access to credit would allow them to quickly cover the costs needed to secure new business while they waited for payments that were due to come in.
Groundbreaking Changes for Women
For women, the Barclaycard marked somewhat of a revolution. Only a few years previously if a woman wanted credit in any form she had to have the signature of a male guarantor. When the Barclaycard came out, it was as equally open to women as it was to men. As the Barclaycard and other credit cards became widespread, more and more women were able to have access to credit. This became accepted throughout society. Following this initial widespread change in women's financial freedom, it became more common for women to be in charge of their own financial affairs.
Credit Limits
The credit limits for the first cards were low by today's standards, with the Barclaycard in 1966 only allowing a limit of £50. Established borrowers were allowed a limit of £100. While £50 then is close to £1000 in today's money, the average credit limit in the UK today is between £3,000 and £4,000. On top of that, today's cards are more widely available. You don't have to be in a salaried job to get a credit card nowadays.
Did you know that, in the 1960s, some houses could be bought for £2,500 and a loaf of bread cost just 6.5p! A pint of milk could be delivered to your door for just 4p.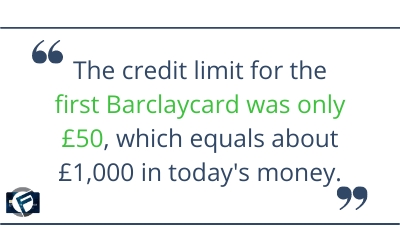 A Credit Card Industry Develops in the UK
Barclays was the first bank to give their customers the benefits of day to day credit. In 1966, they were followed by the Access card in 1972. Before the introduction of these cards, many people in the UK regarded living in debt as a shameful experience. After both of these cards were successful in creating a credit industry from high earning card holders, rival companies started to cotton on to the fact that a lucrative business could be made from issuing credit cards to ordinary people.
Soon other banks and companies began to issue their own credit cards and there began to be special offers or deals to try to tempt customers away from one card supplier to another. Barclays lost much of their business to these new cards and in the 1980's there was a huge advertising campaign by Barclaycard featuring Rowan Atkinson, which some people will remember. The level of competition between card providers demonstrates how prolific credit card use was at the time.
In the 1980s and 1990s it was commonplace for ordinary people to use credit cards and, over this period of time, access to credit stopped being a luxury commodity. As in America, debt became normalised and an ever increasing proportion of society lived in debt. This culture existed right up until the financial crisis of 2008, when the culture of living in debt helped to trigger a global economic crash.
The graph below shows the changes in volume of credit card usage in the UK since 1994, according to statistics from finder.com.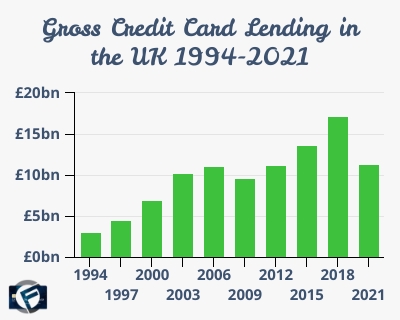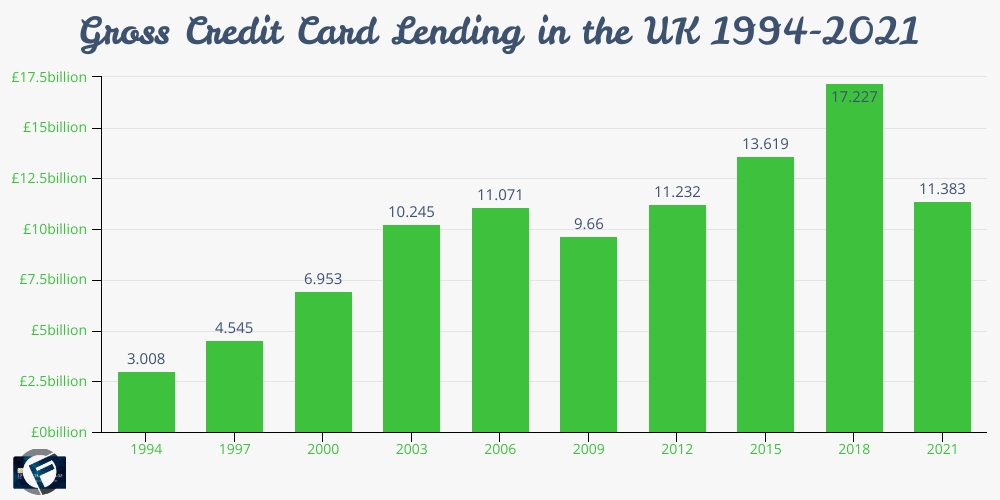 Credit Cards in the UK Nowadays
2016 marked the 50 year anniversary of the introduction of credit cards to the UK. 1966 was the beginning of a revolution that has changed how we pay for goods and services. This revolution is still going on today as new features like contactless payments and e-commerce are still being introduced and changing the way that we spend our money.
While the financial crisis of 2008 has, generally, led to a reduction in people's reliance on credit, credit cards still remain an established part of our financial makeup.
By 2019, there were more than 162 million payment cards in issue in the UK. Around 66 million of these were credit cards. In the month of January alone, UK users made around 300 million transactions using credit cards. This monthly figure remained relatively stable throughout the year.
Figures show that 42% of all credit card balances do not incur any interest. So, nearly half of all credit card users make payments using the card issuer's money, rather than their own. However, the remainder of credit card customers are paying high rates of interest. In early 2020, total credit card debt in the UK was around £72 billion.
If you are struggling with debt you can contact StepChange, the UK's leading debt charity, for support.
What's in Chapter 4?
Learn about how credit cards function in the next chapter of the guide, brought to you by lender of short term loans, Cashfloat. We'll explain the science behind transactions that you make with your credit card.