Exploring The World Of Credit Cards
– Chapter 6a
Ever wondered just how do credit cards work? Discover the fascinating technology in that plastic card, and how a swipe can pay your bills, with Cashfloat.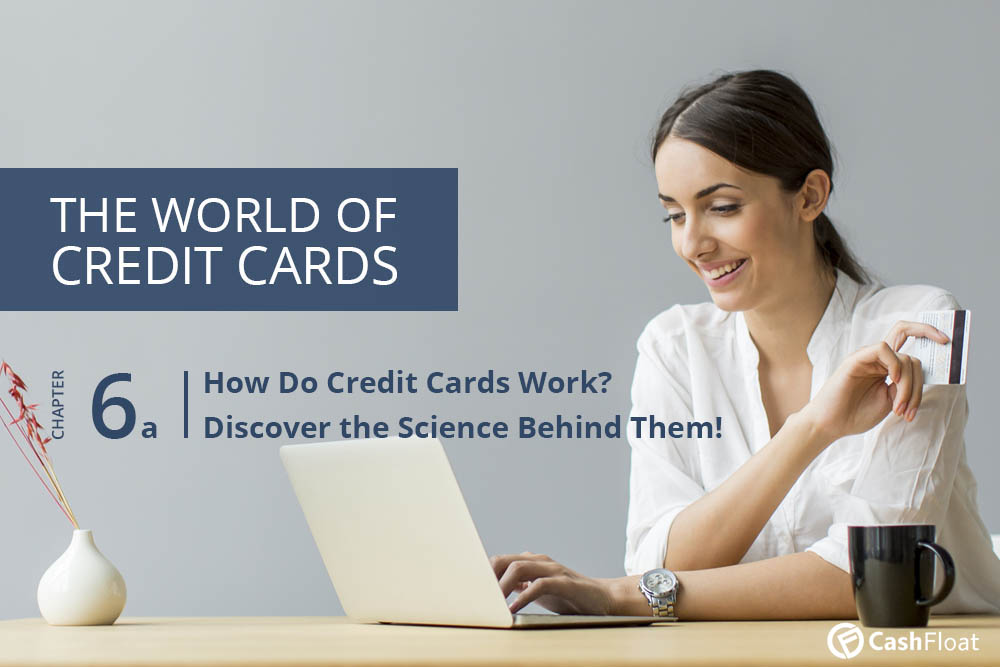 Story highlights
All credit cards must be the same size
If you put your card too close to a magnet, it could lose all the information on it
Smart cards are designed to replace all other cards, so you only need one
How Do Credit Cards Work?
Credit cards are useful. For some people, they can be an essential tool for paying bills and buying large cost items. When you want to make a purchase whether it is goods or a service; and whether it's something you planned to buy or just a bargain that you buy on impulse; a credit card is very useful and these days is incredibly simple to use. Have you ever wondered, how do credit cards work?
You just present the card to the cashier, enter your PIN and presto, you have completed the transaction. However, do you ever stop to wonder what happens during the transaction? How do credit cards work?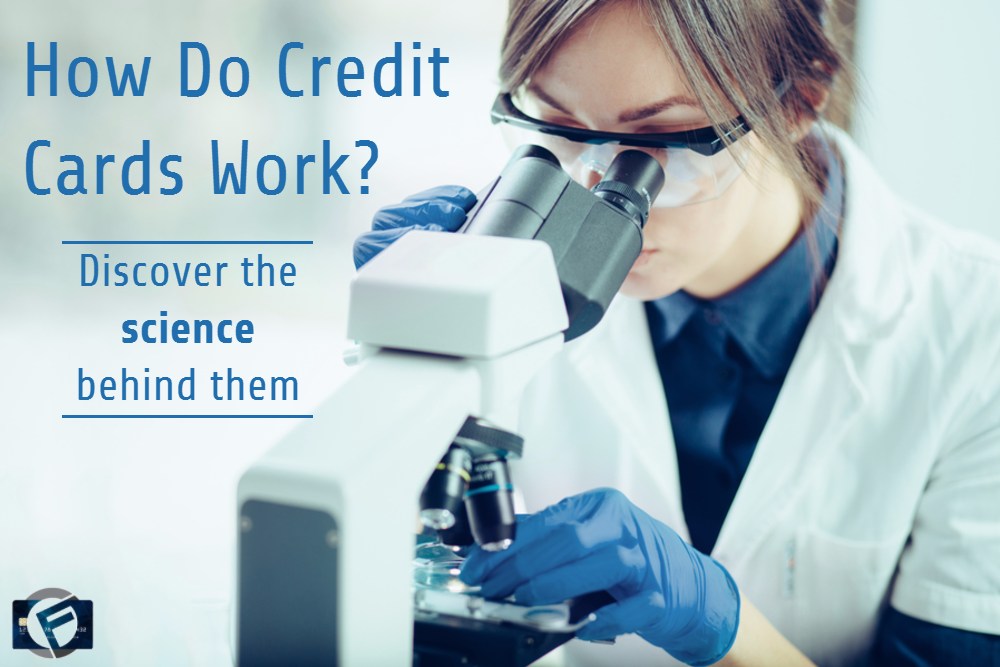 Most of us do not stop to think about the system of credit that we use. Of course, this is unless something goes wrong, or if we inadvertently run up a large debt. If a rogue transaction appears on the monthly statement, then we will shout from the rooftops and complain (quite justifiably). It will have a detrimental effect on our lives! But, apart from that, we do not question this handy system, or wonder how do credit cards work. It is just there, and we take advantage of paying for goods without having the actual cash, instead of needing a small personal loan.
Discover Credit Cards
This article is Chapter 6a in the series about the world of credit cards. It will explain in depth just how do credit cards work. You can learn about some of the technical data and systems. These provide the robust built-in security measures that make a card easy and safe to use.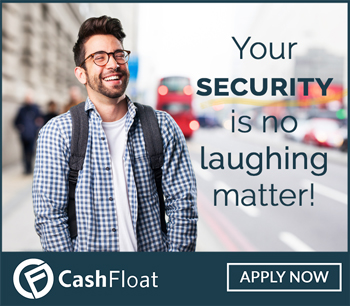 Knowledge is power. If you have some understanding of how the credit card system works, then it will help you to avoid some of the pitfalls that people often fall into when using a credit card for the first time.
Measurements
All credit cards are the same size. This means that they can be used universally and will fit all card readers and ATMs. A credit card measures 3-1/8 inches by 2-1/8 inches or 85.60 mm в 53.98 mm in metric.
Information Storage
This handy piece of plastic contains a lot of information about your identity, including your signature. It means you can use it in any establishment that participates in the credit card payment systems.
If you have a card, you must sign it on the back in the designated strip. Your account details are in the numbers imprinted on the card. A machine (card reader) reads the information on the card, and this makes the transaction simple and safe.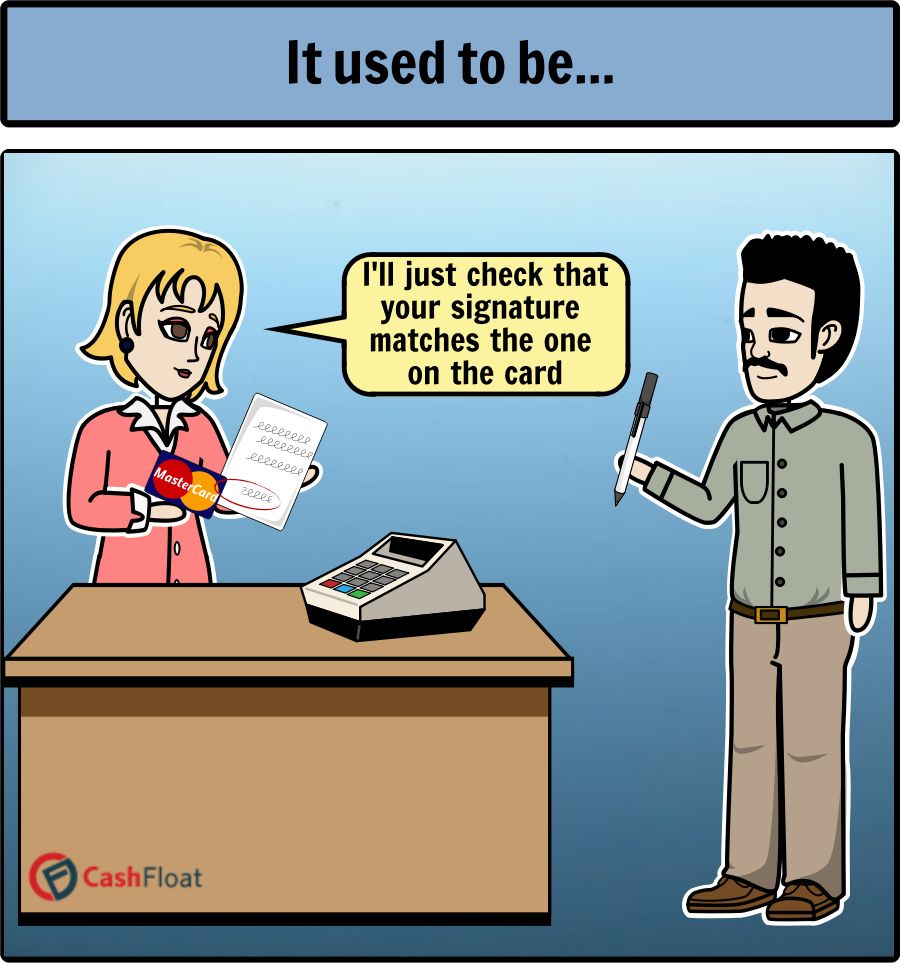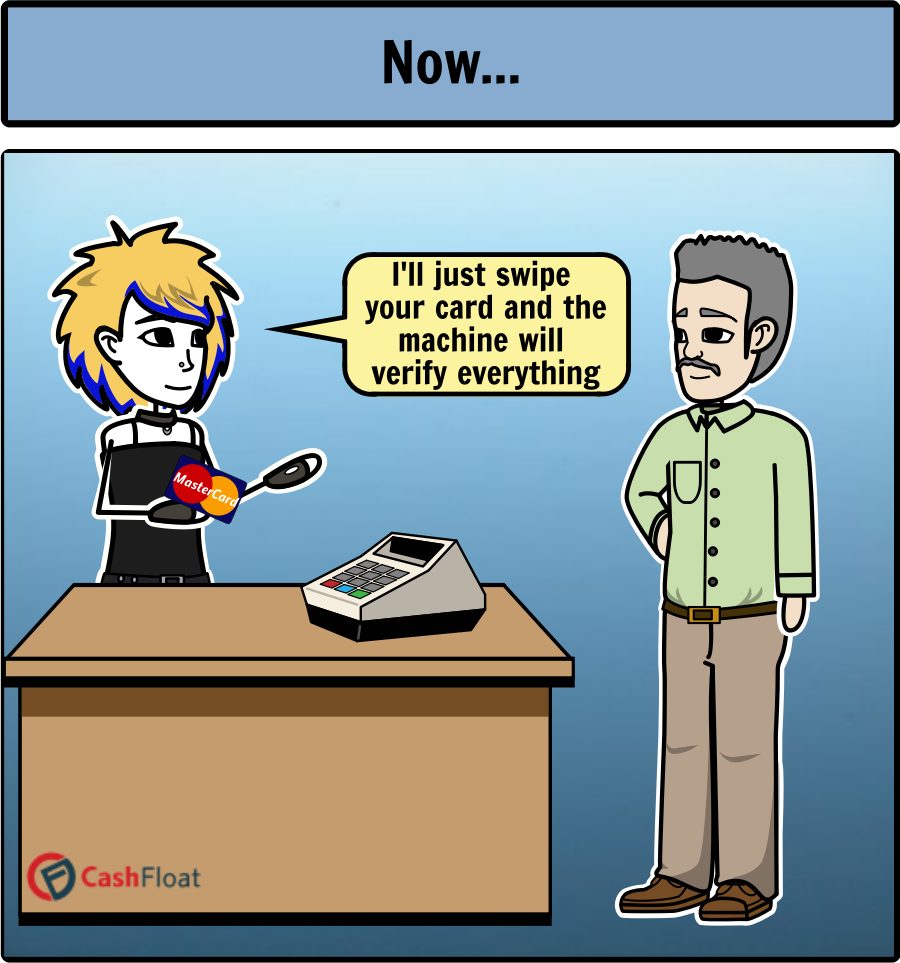 Want to see another comic from Cashfloat?
In the past, a cashier or sales person would have had to compare your signature to that on a slip of paper which you would sign in front of them. This outdated system was less secure than the automated one that is now in place.
Credit Card Payment Systems
All cards are part of two payments systems; Visa and Mastercard. And, these two payments systems are accepted throughout the world. Of course, there are alternative systems of making payments, and these will be covered in another article, but for credit cards, it remains just the two.
All Those Numbers
The long number on your credit card is part of a numerical system that is constant around the globe. The first number in the sequence denotes the system, so most numbers either begin with 4 or 5. Visa accounts start with 4 and Mastercard accounts start with 5.
If you own a charge card (different to a credit card), you will see that the account numbers start with 3. These cards are usually either Diner's Club or American Express.

The rest of the long number denotes the bank account, your account and a double digits sequence that is a check.
Magnetic Strips
How do credit cards work today? The latest generation of credit cards have a magnetic stripe on the back, and this holds the information that is read on the card reader or ATM. If this is damaged or dirty, then it can cause your card to be refused as the reader cannot get all the necessary information needed to complete a transaction.
It is also possible to erase the magnetic stripe by placing it too close to a magnet (even a small fridge magnet). So, it is important to keep all cards well protected from dirt or the possibility of damage as well as keeping them secure. If you need a quick loan fast and suddenly can't use your credit card, you'll be in a bit of a pickle!
There are three tracks on the magnetic stripe, and each has a different function, but only two are used in the UK. Track one holds information for the card issuer and track two holds information for the banking system.

The rest of the technical data about how do credit cards work is quite complex but just knowing how the magnetic strip works can help you to take more care of your card.
Confirming Transactions
When you make a transaction using your card, there are three methods of confirming that the card and account are valid for use. Stores which do not have many card transactions can use a touch phone to confirm validity but the main method is swiping the card through a reader. The third type of confirmation is used for online transactions, and this involves quite complicated encryption methods.
To maximise the security of Internet transactions, including shopping and internet loans, card issuers and banks use the latest technology. It works well as long as cardholders stick to the rules.
Swiping Credit Cards- How Does It Work?
Once a card swipes through the reader the technology kicks in, and the store terminal dials up a phone number that collects authentication requests. The system checks out the sales ID, that the card number is valid, the expiration date, the card limit and the usage of the card.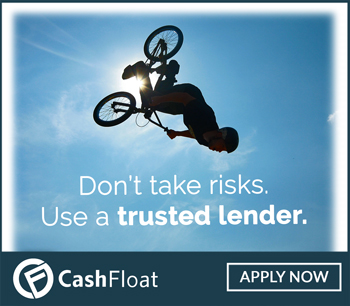 New security data systems alert the company if someone is using the card in a strange location or if there is suspect activity i.e. unusual amount of cash withdrawals. Most banks now ask cardholders to advise them if they are travelling abroad and this prevents them from declining a card due to the holder using it in a different location to normal.
All this is done is seconds thanks to the digital technology of the banking world.
So, while you are putting away your new purchase, the transaction is completed before you are ready to put the card back in your pocket or purse.
Using a PIN Number
Transactions using a PIN are almost as fast, and those done on the Internet are even quicker.

These days we take this speed for granted, and credit card technology has come a long way from the days when the card had to be imprinted on paper, the paper signed and the signature checked by a human.
The card details and PIN are all encrypted. This makes credit card transactions one of the safest methods of payment in the world. In fact, new designs by Mastercard bypass the PIN altogether, including fingerprint sensors as a secure method of preventing credit card fraud.
The Future – Smart Card Revolution
Smart cards are the latest development in the world of plastic payment but are not yet in full circulation. They work in a similar way to credit cards but have extra layers of cryptography that make them safe. A smart card allows different transactions to take place using just the one card. You can use them to buy using a credit card account, or a bank account. This type of card is intended to replace multiple cards so that you only need one card in your wallet.
At the current time, smart cards are not freely available. However, both Mastercard and Visa are actively investing in this new technology, and it will soon be available to everyone. Some experts are concerned that having only one card could cause consumers problems especially if the card is lost or stolen. So, whether or not the general public will take to this new concept, we will just have to wait and see.
In the next article, Cashfloat, a leading UK payday loan direct lender , will explore other, less technical aspects of using a credit card.