A Guide to Credit Cards in the UK
– Chapter 14
What are prepaid cards and should I get one instead of a credit card? Many people don't understand how prepaid cards work and why they might be useful. In this chapter, Cashfloat will explain how prepaid cards work and whether people should get one instead of a credit card.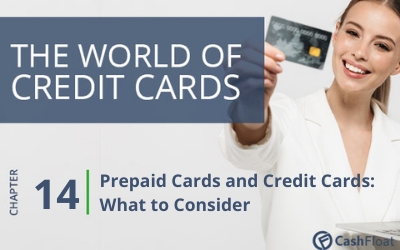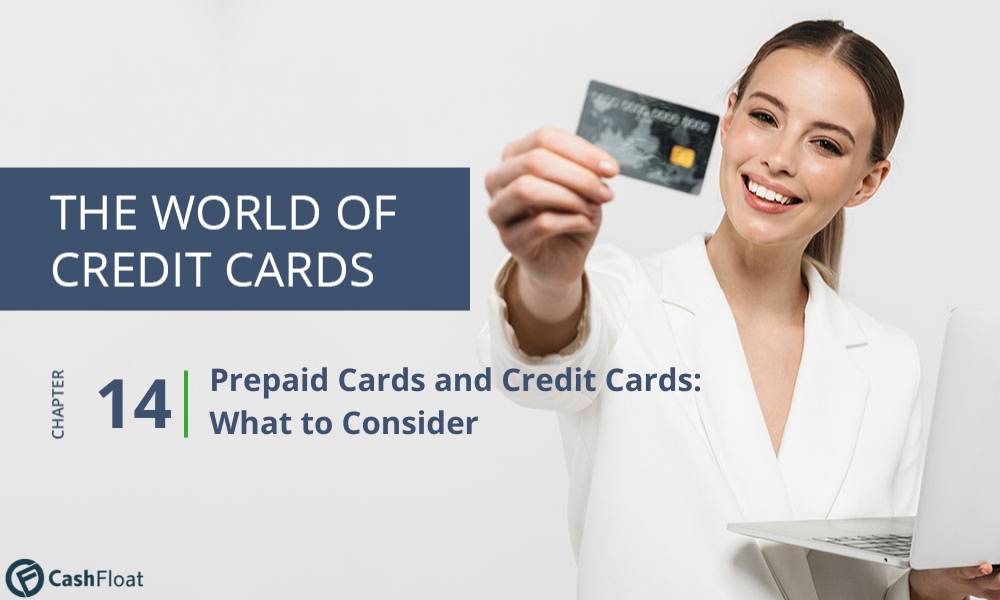 Article highlights
Do you really need a credit card, or can you do without it?
Which type of credit card is the most suitable for me?
Are prepaid cards a good alternative to other forms of credit?
Look on almost any money website and you will find a wealth of information about how credit cards can be used and lengthy advice about whether people should consider taking one out.
Having access to credit is both a good and bad thing. For many people, prepaid cards make either a good alternative to a credit card (or even a debit card). They can also be used as an extra financial tool, on top of having a credit or debit card. In this chapter, we will explain what prepaid cards are, how they work and why they might be useful. After that, we will compare them to credit cards and explain the main things that people should consider if they are making a choice between the two.
What are Prepaid Cards?
Prepaid cards are essentially the opposite of credit cards. Rather than being able to borrow money with the card and then pay it back, you have to load funds onto the card before you can use it. Credit cards allow you to spend money before you actually pay for it. With prepaid cards you have to pay the money before you are allowed to spend it. They do not offer any form of credit. Instead of this, these cards mainly allow people to make payments by card, rather than with cash, and can be used as a budgeting tool.
For people who are unable to get access to a credit or debit card, prepaid cards can be very useful. Credit scores are not checked when you apply for a prepaid card and virtually anyone can get one. The simplest way to look at prepaid cards is as an alternative to carrying around cash. Rather than having an amount of cash, you have an amount of money stored on your card. Both Mastercard and Visa prepaid cards are available and they are widely accepted, making them an effective spending tool.
Definition: Prepaid cards are cards you can use to make payments for any amount that you have already paid onto the card.
Why Take Out a Prepaid Card?
While to many people prepaid cards might seem unnecessary, there are some advantages to having one and, in some situations, they can be the best thing. Here are some of the advantages to having a prepaid card:
Advantages Of Prepaid Cards
Most prepaid cards are widely accepted (particularly Visa or Mastercard ones) and they are a useful alternative to cash, being more safe and convenient. For people who have a bank account or another credit card it is easy to load funds onto them via a transfer. Alternatively, cash deposits can be made.
Prepaid cards are available to people who have a bad credit history and to people who are unable to open a bank account or have a debit card. Some prepaid cards even allow people to build their credit score.
Prepaid cards are useful budgeting tools and can help people to manage their spending and avoid getting into debt. They are a great idea for anyone who is inclined to make impulsive purchases.
They can be really useful for travelling, where people want to avoid taking cash or to risk carrying a card with a large amount of money on it. Special prepaid travel cards are available.
Disadvantages Of Prepaid Cards
Obviously, the main disadvantage with a prepaid card, compared to a credit card, is that they don't provide any sort of credit. You can only spend what you have loaded onto the card. As well as this there are some other disadvantages:
Most prepaid cards come with fees. Often there is a fee for obtaining the card and monthly fees for having one. On top of this, fees are often charged for cash withdrawals and some even charge fees for making purchases with them. Fees are different for different cards.
Unlike credit cards, there is no section 75 protection for goods or services that you buy with them. Your card provider does not have to guarantee goods that you buy between the value of £100 and £30,000.
While prepaid cards have the same security features as credit and debit cards, they don't offer the same level of protection. Funds you load onto the card are regulated and controlled by the Financial Conduct Authority, but are not protected by the Financial Services Compensation Scheme. Normally, if you have money stolen from a prepaid card or have fraud committed against you, your card provider will reimburse you in the same way as they would with a credit or debit card. However, if your card provider goes bankrupt you will not be able to reclaim your money from the Financial Services Compensation Scheme.
Prepaid Cards vs Credit Cards
Choosing the right card is not always that simple. For some people, a prepaid card may be a more responsible choice than a credit card and, for other people, it may be the only thing that is available. For people who already have a credit or debit card, a prepaid card may make a useful addition for budgeting. If you are making a decision about what card to get, it is important to be careful that you make the right choice.
If you are irresponsible in your spending, if you have unresolved debt issues or if you are not eligible for a credit or debit card, then a prepaid card would be a wise choice. Prepaid cards are useful for budgeting, rebuilding your credit rating and for learning good spending habits. On top of this, they can be used to make the same kind of payments as credit and debit cards.
For first-time cardholders, learning to control spending is an important skill and if you are either a young person yourself or you are looking for a card for a young person, then consider prepaid cards. Many young people get into debt because they are unaware of the risks associated with borrowing money. Prepaid cards can be a great way to learn how to spend responsibly with a card. While credit cards have a spending limit, many experts recommend that you never take the balance over one-third of this limit. Many young people who receive their first credit card spend straight up to the limit.
Should you Get a Credit Card Instead?
While prepaid cards are a safe and convenient choice for making card payments and, for some people, are the only choice, people who are responsible with their spending may be able to take out a credit card. Credit cards, obviously, have the advantage of providing credit. If you can do without credit, then it would be much better to take out a prepaid card. However, if you need access to credit and are able to use it wisely, then a credit card may actually be better.
If you are unfamiliar with how credit cards work, then go to Chapter 6 of this guide for a complete explanation.
Access to Credit
Being able to access credit is really useful. It allows you the flexibility to buy what you want exactly when you want it. This can open up access to useful services like car hire, travel and booking holidays or a hotel room at a time when you might otherwise not be able to afford it. They can also be used to cover emergencies and, on top of this, they can be used to build a credit rating and some come with interesting rewards for using them.
Like all forms of card payment, online shopping with a credit card allows you to take advantage of bargains and this can save you lots of money. If you have a credit card, you can also be certain that you won't get stuck should the banks be closed and you run out of cash. Debit and prepaid cards both cover these situations as well, but credit card users have section 75 protection, meaning that purchases they make are guaranteed by their credit card provider. Also, using them can enable cardholders to access rewards.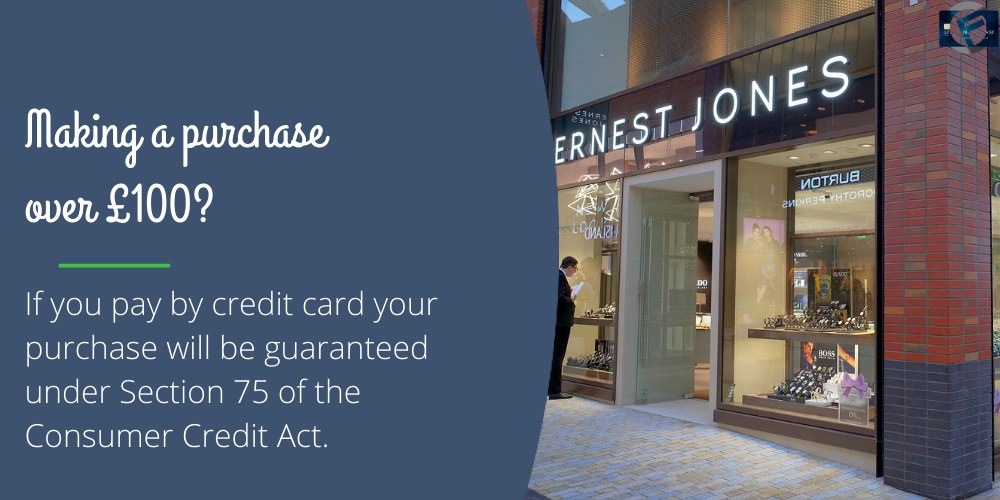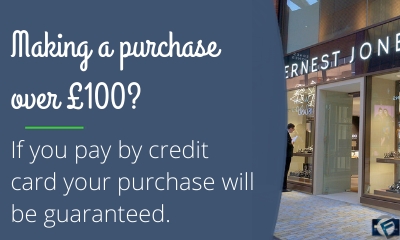 So, credit cards can be really useful. However, it is important to make a responsible choice. Here are the things to be careful about when choosing whether or not to take out a credit card:
Can you Afford a Credit Card?

Credit cards offer a lot of flexibility in how you spend money, however, you must be willing and able to pay the money back and to pay interest charges if you are not able to settle a bill on time. Remember that your circumstances might change, making it difficult to meet repayments if you overstretch yourself. Some cards come with fees and there can be hidden charges that you will be unaware of if you do not read the terms and conditions of your contract carefully. It is important to know exactly how much a credit card will cost before you take one out.

If you are able to afford a credit card, then they can be really useful. The important thing is that you are realistic about your ability to pay for one.

Are you Eligible for a Credit Card?

If you do not meet the requirements or if you have a bad credit history, then you may not be able to take out a credit card.

To get a credit card account you must be 18 years of age or over and meet various other conditions, such as having a regular income and an address. The conditions are different for different credit card providers. As well as meeting certain basic conditions, your credit rating must be good enough for a card provider to be prepared to risk lending you money. You may find that you are ineligible for a credit card.

If you are considering taking one out, do some research to find out if you will be eligible. Remember that making multiple applications for credit cards can damage your credit rating. Instead of applying to find out if you are eligible, use an eligibility checker first to get an indication of what cards are available to you before you apply.

If you are unable to take out a credit card, you can get loans for people with bad credit. However, as with credit cards, make sure that you can repay your loan on time.

Do you Really Need A Credit Card?

What do you want to use a credit card for? Do you want to make purchases online? If so, why not use a debit card? It will cost you nothing, and you will have no extra bill at the end of the month. Most people who take out a credit, need it to spread the cost of paying for large items, to cover emergency expenses or to build their credit rating.

It is important that you are honest with yourself about whether you really need one. If you do and you fully understand the cost involved, and you can afford it, then they can be useful.
The Credit Card Commitment
Credit cards are a commitment and are not a one time thing. Credit card contracts are legally binding. In the past, you may have heard about credit card companies writing off debts, but this just does not happen. Once you enter a credit card contract you have to live up to your commitments. They are great for people who can afford them, but can cause serious problems for people who can't.
Summary: Prepaid Cards
Prepaid cards are the most responsible choice for people who are looking for a payment card. With a prepaid card you will not be able to end up in debt. On top of that, for some people they are the only choice and allow them access to card payment systems where they would otherwise not be able to gain access. For people who already have a debit or credit card, prepaid cards can be a useful budgeting tool.
If you are making a decision between a credit card and a prepaid card, make sure that you are realistic about what you can afford and that you are making a responsible decision.
In the next chapter, we will look at the differences between credit cards and debit cards. We will explain when it is best to use your debit card and when it is best to use your credit card.