A Guide to Credit Cards in the UK
– Chapter 13
Are you looking for a way to borrow money, other than with a credit card? Learn about using overdrafts, short term loans and charge cards or borrowing from friends and family as alternatives to a credit card.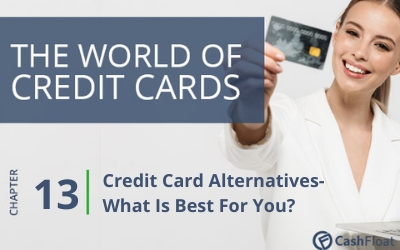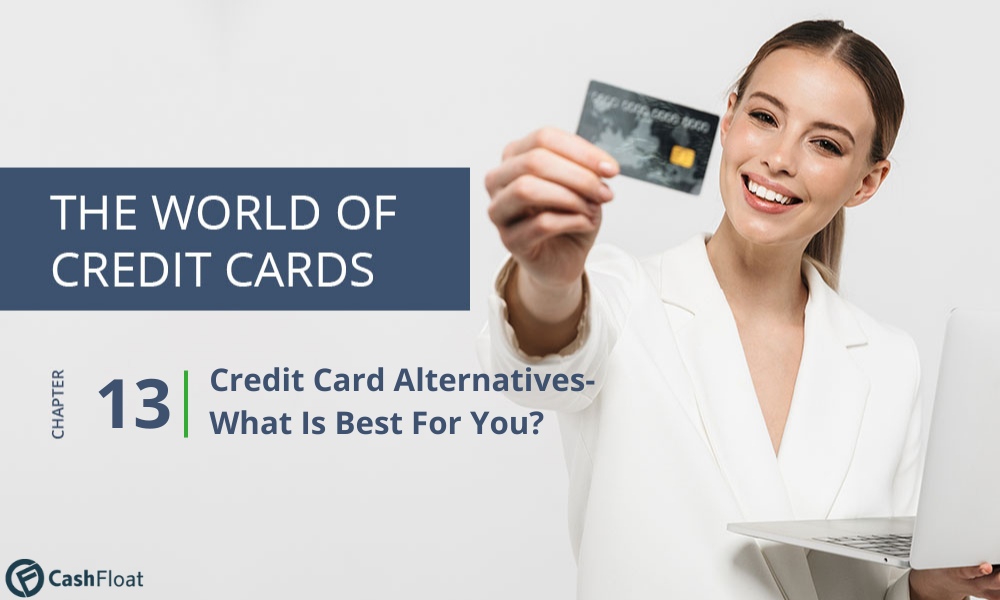 Article highlights
Using an overdraft is usually the best alternative to a credit card for people who borrow infrequently
Short term loans will suit some people as well
Paypal is a great, safe way to shop online, other than with a credit card
For most people, when it comes to borrowing relatively small amounts of money, a credit card is the best option. They are fairly widely available and offer credit amounts which meet the majority of emergency or casual borrowing requirements. However, some people are unable to take out a credit card, because they have a poor credit rating or for other reasons. Other people just don't want to have one. Often, this is because they want to avoid getting into the habit of spending on credit. While credit cards are what most people use to borrow money online, there are alternative ways to borrow, as we'll explain below.
After you've read about alternative ways to borrow money, learn about ways that you can shop online, other than with a credit card. Many people don't like to risk their card online and want to know what safer ways there are to shop online. Skip to the second half of this chapter to find out more about this.
Alternatives to Credit Cards for Borrowing Money
Use your Current Account Overdraft

Using an overdraft is a good option for people who do not need to borrow money regularly. Most current accounts come with an overdraft, of which some may be interest free. If you do not have an overdraft arranged with your bank or it is not large enough to cover what you need to borrow, then speak to your bank and see if they will be able to make the necessary arrangements.

If you have an overdraft in place, which is large enough to cover what you need to borrow, then you can borrow from your overdraft. The catch with using an overdraft is that interest rates are generally higher (where interest is applied) than with credit cards and, on top of this, there can be additional fees as well.

For these reasons, overdrafts are generally a more expensive way to borrow money. However, they are useful for people who rarely need to borrow money or for people who can't get access to a credit card. A point worth noting, for people who are unable to get access to a credit card and intend to use an overdraft for regular borrowing is that banks can take them away at short notice. If they deem that you are being irresponsible in your overdraft use, they may take it away.

Before you borrow from your overdraft make sure that you check the terms and conditions of your bank account so that you know exactly how much it will cost. Many bank accounts come with an arranged maximum overdraft, of which some will be interest free and some will have an interest charge. Make sure that you understand exactly what the rules of your overdraft facility are before you borrow money from it.

For in depth information about using an overdraft as an alternative to a credit card, go to Chapter 15 of this guide.

Short Term Loans

Short term loans, provided by companies such as Cashfloat, can make an alternative to a credit card. Cashfloat's short term loans and small personal loans are most similar to what can be offered to someone who would otherwise have to apply for a new credit card.

One major advantage of short term loans is that you can receive the funds much quicker than with a credit card. The time between applying for a credit card and receiving it can be weeks, whereas Cashfloat's loans are often transferred into a recipient's bank account within one hour of application. Also, new customers are often allowed to borrow more with a short term loan than they are with a credit card. Cashfloat offer short term loans of up to £1000 and small personal loans of up to £2500. Another upside to short term loans is that they are often available to people with a poor credit rating who are unable to take out a credit card.




On the downside, short term loans tend to be more expensive than credit cards. Interest rates are usually higher and interest is applied as soon as a loan is provided. This compares to many credit cards which have an introductory interest free period and a lower rate of interest. The repayment conditions of loans may also be less flexible, meaning that if you have a change of circumstances or find it difficult to meet the repayment conditions, you may end up paying more than you originally planned. On top of this, some loans will require you to secure them with collateral, which will be at risk if you can't make repayments.

Borrow from a Friend or Family

An obvious alternative to borrowing from a credit card provider is to borrow from a friend or someone in your family. In terms of cost, this is usually the best way to borrow money that there is. Most friends and family will not ask for any form of payment for lending you money. However, not everyone knows someone who can lend them money and, as with any loan, before you borrow money from friends or family, it is important to make sure that you will be able to repay it. Rather than risking interest payments, you may be risking your relationship with a friend or family member if you are not prompt in returning the money. For many people, harming a relationship is one of the worst things that could result from borrowing money.




Charge Cards

Charge cards are usually a luxury item and, generally, only make an alternative for people who are wealthy enough to afford them. As we explained in Chapter 8 of this guide, charge cards usually have to be repaid in full each month or expensive charges are applied. The borrowing options that they provide are not better than credit cards and they are generally inaccessible for people who have been refused a credit card because they have a poor credit rating.

If you have the money available to finance a charge card and are looking for an alternative to credit cards that will provide you with a high spending capacity and attractive rewards then you should consider charge cards. If you do not have a good amount of funds at your disposal, then charge cards make a poor alternative to credit cards.
Ways to Make Payments Online Other than with a Credit Card
Many people feel uncomfortable using a credit card to make payments online because of the security risk. On top of this, debit cards are not a better alternative. Using a credit card to pay online does not put your whole bank account at risk, as is the case when paying with a debit card. As a result, many people look for other ways to make payments online.
For in depth information on the risk of credit card fraud and how to avoid it, go to Chapter 10 of this guide.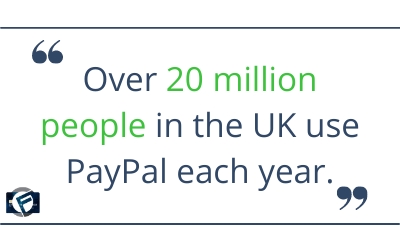 Luckily, nowadays there are a number of alternative ways to make payments when you're shopping online, which have become popular for precisely this reason. Read on to find out more.
Many online retailers and service providers offer the option of using Paypal to make payments and most people are familiar with Paypal. Over 20 million people use it each year in the UK. Popular websites, such as eBay, some airlines, some hotel chains and many retailers include the option of paying with Paypal on their websites.
Paypal provides added security for online transactions and also makes transactions easier to complete, with an account holder just having to remember their password in order to make a payment. To improve security, Paypal monitors transactions and works to prevent their customers from being affected by fraud, email phishing and identity theft. Transactions are also encrypted to prevent information from falling into the wrong hands and purchases which customers make are protected. Paypal will reimburse buyers if purchases don't arrive or match the online description.
Opening a Paypal account is simple and if you are concerned about online security then this is a great choice. The sign up procedure is simple and after you have linked a debit card to your Paypal account you will be able to start shopping more safely online.
On top of this, Paypal is free to use for making purchases. A fee is charged to people who receive payment for goods through Paypal, but for people who are making purchases there is no charge.
Amazon Pay is another online payment processor, which provides a similar service to Paypal. Using Amazon Pay, customers who have an Amazon account are able to pay for goods or services on websites other than Amazon, using payment methods stored in their Amazon account. The customer is charged in the same way as when they make a purchase on Amazon (usually to the card they have registered for Amazon), however, Amazon handle the payment processing and they provide the customer with a receipt as if they had made a purchase from Amazon.
As with Paypal, Amazon Pay offers extra security, faster payment speeds and simplicity. The process of paying with Amazon Pay is quicker than entering credit card details into a website and the fact that users are able to make all of their payments from one account adds a lot of simplicity. Instead of having to register with a site in order to make payments, users can just choose the Amazon Pay option and this speeds up the process. On top of this, payments are more secure and the condition and timely delivery of goods and services that people purchase using Amazon Pay are guaranteed by Amazon.
The increase in the use of smartphones has led to the introduction of new methods of payment. Google Pay and ApplePay are just two examples of digital wallets. These systems can hold details of more than one credit or debit card, and they allow users to send payments more securely and quickly than with a credit card. On top of this, if a smartphone is lost or stolen it is harder for thieves to access a digital wallet and to use it fraudulently than it is with a credit card. Different digital wallets work in different ways. Have a look at Google Wallet here or Apple Pay here to find out more.
Gift cards are normally prepaid and are, therefore, usually not as convenient as other methods of payment. However, the fact that you can limit the amount of money that is held on them makes them a very low risk option for shopping online.
If you have one available, the inconvenience of loading your gift card with funds may outweigh the security risk of shopping online with your credit card. After you have loaded enough money onto your gift card to do your shopping, you will be able to shop very safely.
Gift cards which use either Visa or Mastercard are particularly useful because they will be accepted by any seller who can take payment by Visa or Mastercard.
If you don't have a credit card or don't want to pay with one, one alternative method of payment is to make a bank transfer. Most banks in the UK allow their current account users to make bank transfers. If the company that you are trying to make a payment to does not already invite bank transfers, then you may have to contact them in order to make arrangements to pay with one. This can make things difficult and paying by bank transfer is usually only a good option for large purchases or with companies who regularly accept them, such as energy providers. Normally, all you need in order to pay by bank transfer is the company's account number and sort code, and a reference number for the payment.
Using a bank transfer instead of a cheque eliminates the delay between the payment being sent and it being cleared into the receiving account, and it is for this reason that most of us have completely forgotten about cheques. However, they still exist and if you need to make a purchase which isn't urgent then you could consider looking up the item that you want to buy online and seeing if it is possible to order it through the mail and to pay with a cheque.
Summary: Credit Card Alternatives
Credit cards are very popular and are most people's choice when it comes to borrowing regular and relatively small sums of money. However, they do not suit all people and all circumstances. For a lot of people, the best alternative to a credit card is an overdraft. Short term loans are also a useful option and some people will be able to borrow money from friends or family instead. For those who can afford them, charge cards make a good alternative to credit cards.
When it comes to making payments online, most businesses are now very flexible and allow methods, such as Paypal, Amazon Pay and digital wallets, which are an alternative to using a credit or debit card. If you don't already use one, why not subscribe to a service and see if you find it useful.
In the next chapter we will be looking at prepaid cards. We will explain what they are, how they work and which people will find them useful. After that, we will explain what people should think about if they are making a choice between a prepaid card and a credit card.