In November 2009, the FSA had Andrew Cumming, an employee at UBS, investigated and found guilty of helping the company to hide trading losses. Cashfloat, a responsible and direct payday loans lender explores FSA investigations.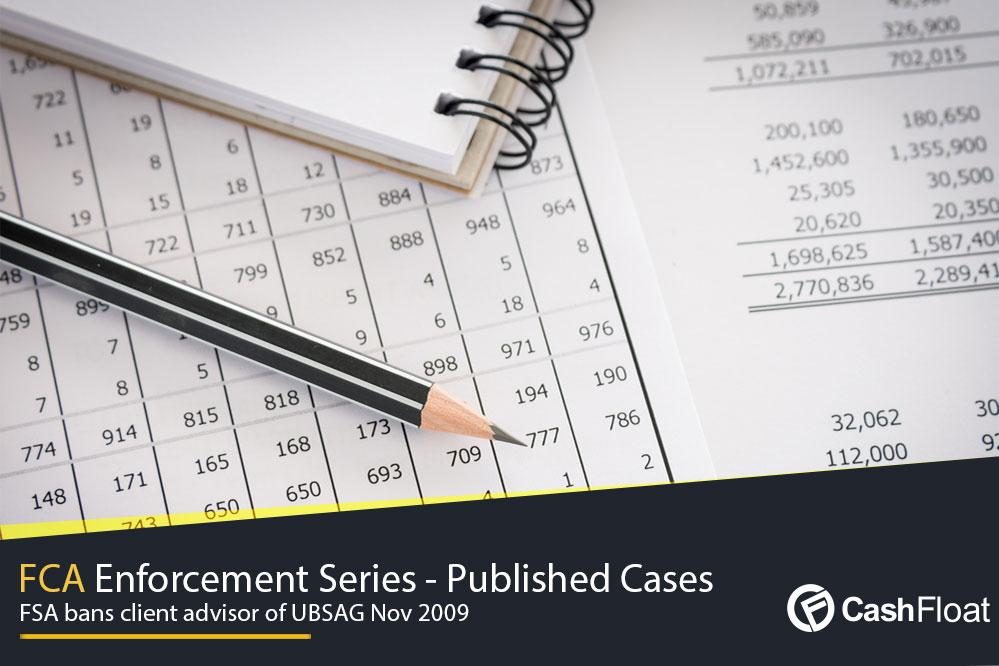 The FSA- Ensuring Customers are Treated Fairly
In the UK, it is deemed that all financial companies and their employees need to act in a responsible way. Enterprises of all financial products need to make sure that they are upholding the guidelines of the FSA. What is more, they need to ensure that they are treating customers fairly. All clients of financial products in the UK need to be assured that the company is performing correctly. A company is acting in a way that is deemed unfit; regulatory bodies can ensure that this is investigated. Of course, this does not prevent these cases from arising. But, there is some small comfort to British individuals. They can ensure that they are compensated for any issues that have arisen during their dealings with financial organisations.
Cases of Misconduct
In the UK, there have been some serious questions surrounding financial misconduct. Banks, mortgage providers and financial services have all come under the microscope for bad practice. In some cases, the customer is protected from this. In other situations, the client is left short-changed. As a result of this, there have been many questions raised around the issue of the effectiveness of the FCA. Many people are keen to discuss how effective they are when it comes to taking preventive action. There are a number of cases and companies that we can look at when it comes to financial irregularities in the UK. One of the lesser profile cases is that the case of UBS.
The Case of UBS and Andrew Cumming
In November 2009, the UB was under the spotlight once more. The
Swiss financial services company
had one of its employees, Andrew Cumming, investigated . This was as a result of helping the company to hide trading losses.
Andrew Cumming uses clients' money to cover company losses
Andrew Cumming was a client advisor for international wealth. As such, he held a position of trust and authority within the financial services company. During his time with UBS, Andrew Cumming helped conceal a number of losseswithin the organisation. But, more detrimentally, he also helped cover unauthorised transactions within the company. Cumming, who was responsible for a large number of clients, was found to be operating on a less than honest basis. As such, customers' money was used on the stock exchange to help the company conceal and hide losses that it had suffered. As a result of the investigation, Andrew Cumming was personally fined. Andrew Cumming, as the head of the department, was personally accountable for the actions that had taken place. He was issued a levy of £35,000. The result of the findings found that Cumming had not performed his duties with integrity. The foundation of the FCA and PRA is that of integrity. Customer and consumer trust have to be placed within any organisation. When that fails to take place, an individual can be fined and banned from operating within the UK.
Andrew Cumming is banned
Mr Cumming was banned for five years
from holding a position within the UK financial services industry. During his time with the company, he authorised a large number of documents to be processed which allowed for customers money to be moved around within the enterprise. Primarily, UBS played roulette with their customer's savings. With this, the money was used to conceal losses. Concealing losses raises the stock shares of a company. Any losses that are reported can ensure that a company is not getting its full market share. The FSA did find that Cumming had not perpetrated these acts himself. But, he did sign off a large number of documents that were needed to ensure that these transactions could take place. As such, he was deemed unfit for this role and was fired on the basis of gross misconduct. It was ruled that Cumming had deliberately misled the company and his customers. As such, he was fined, banned and dismissed from his role.
Preventive Action and the FCA
The FCA is thought to be a regulatory body. But, its functions seem to be more of a supervision role than a statutory force. The FCA is in place to ensure that companies uphold the integrity of the market. But, when it comes to these cases, much like this one with Andrew Cumming and UBS, it seems that their actions are more reactive than proactive. As a result, the fines and bans that are issued can be seen as an active deterrent. But, as so many financial institutions are operating in a less than honest way, the FCA needs to take a harder line.
The FCA and the Case of UBS
In the case of UBS, the FCA could have ensured that proper processes and training was implemented within the company. The FCA could guide and help businesses in the process of declaring losses. Instead of looking into company's previous history, they should start by looking at how they can tackle the problem head on. The FCA has recently stated that they need to improve their services. With this in mind, they can ensure that customers are treated more fairly going into the future. They can guarantee that complaints are dealt with in a swift manner. But, the FCA is also going to ensure that they are doing more to monitor the behaviour of companies. When it comes to concealing money, the FCA needs to have a positive approach to handling these cases It seems the FCA should be there to ensure that all businesses are offering upfront and honest advice. Operating on a discretionary incentive scheme could be a great way for the FCA to minimise the risks that companies take.
Improving the FCA
The FCA is an independent body. However, it needs to work more closely with privatised businesses and the UK government. This should be to ensure that integrity and honesty are at the forefront of business operations. By working in conjunction with companies, consumers of financial services like those on offer by UBS can be assured that their money will not be used in an illicit way. There needs to be more hard-line tactics from the FCA. This is to guarantee that all financial company's internal processes are deemed suitable and honest. The FCA has brought a lot of banks and financial services to justice in the last few years. But, now there needs to be a sharper focus on how these processes can be refined to help consumers more proactively.