One of Japan's biggest insurance companies came under fire in May 2012 when the FSA decided to fine their European arm $5.3 million. They are accused of making serious corporate governance mistakes, and the move is seen as a warning to all other businesses within the industry. Yohichi Kumagai was the executive chairman at the time, and he was in charge of Mitsui Sumitomo Insurance Co's London operation. He has since been banned from working for any firm within the City of London and handed a personal fine of £119,303 for his involvement.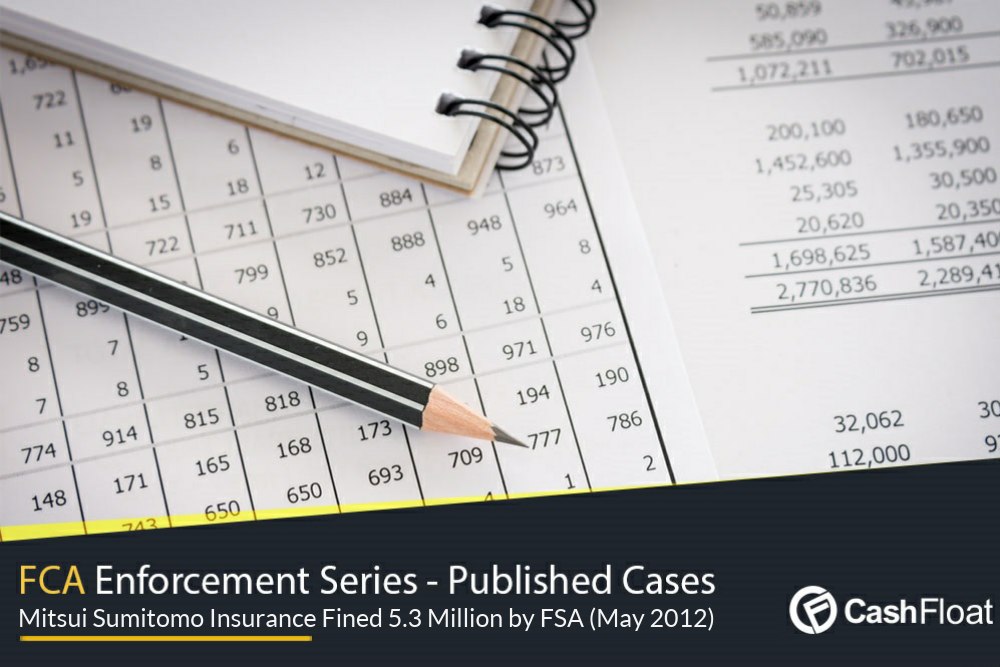 That came among a wave of increasing fines the FSA presented to individuals and businesses throughout 2012. The regulator came under much criticism from leaders of the companies concerned, yet public opinion seems to be on their side. At the end of the day, the financial services industry has been unregulated for far too long. All firms involved must be held accountable for the actions of their employees. Without the FSA and their investigations, such wrongdoing would never come to light. That would allow less than honest business practices to become once again commonplace.
The FSA says their fines have been increasing as part of their credible deterrence policy. They feel that collecting such capital from companies found to engage in misconduct should stop other professionals from following suit. By cracking down on firms that act in underhand ways and fail to manage risk, the FSA hopes the industry will start to improve slowly. That said, it will be a long time before the entire market is squeaky clean.
It is claimed that Mr Kumagai failed in his duties at the Japanese insurance specialist. He should have ensured that Mitsui Sumitomo Insurance Europe had the right people on-board to oversee a vast expansion. Especially when it was into different territories and activities. Their main area of business focused the sale of insurance to Japanese companies operating out of the Middle East and Europe. However, they were in the process of broadening their horizons.
The FSA alleges the firm breached no less than three of the regulators main principles for business during that time. Firstly, the company is accused of being irresponsible when arranging the control of Mitsui Europe's operations. Tracey Dermott from the Financial Services Authority released a statement on the issue. She said that Mr Kumagai did not respond in an appropriate manner to the varying risks posed to his business. Even after the FSA had made recommendations, he failed to alter his approach.
"If those in financial services have doubts about how we view their responsibilities, this fine and ban should make our position on the matter crystal clear,"
Mitsui Sumitomo Insurance Europe makes up part of the seventh-largest insurance group in the world, and so the FSA is right to come down so hard on them. If huge firms in that industry are breaking the rules and breaching regulations, what message does that send out to smaller brands? Penalties must be handed from the top down if we are ever to regulate and control the markets.
The insurance giant released a statement in the wake of these events that claimed they had taken many steps to ensure no similar events will happen in the future. They have implemented better internal controls and appointed a new chief executive to oversee the operation. On top of that, two independent non-executives and a general counsel have been employed to reduce the likelihood of more failings.
Not everyone is happy with the FSA's decision though. That is not the first time they have presented companies with fines without pointing out a particular breach. If they are ever to gain respect within the financial services industry, company owners deserve to know precisely which actions have caused their fine or ban. At the end of the day, there is room for argument in this case.
The head of corporate governance at Pinsent Masons was quoted as saying he saw the actions of the FSA are now based on much woollier principals. It does not seem right or fair that any companies should pay such massive fines without being told about specific incidences where misconduct occurred.
The FSA came under fire in the past too. While attempting to regulate the short term loan industry, many business owners complained. Their demands made it impossible for lenders to make a profit. However, it is widely accepted by the public that their actions made a noticeable improvement. Without the FSA's investigation into short term loan firms, it would be much for difficult for borrowers to find a responsible payday loans lender. During times of a poor economy, the worst off in our society need access to affordable cash from affordable lenders. Thanks to the FSA, that is now possible.
When all's said and done, many improvements need to be made in order for the FSA (now the FCA and PRA) to serve their purpose adequately. There is no doubt that funding is a major issue, but restructuring could be a step in the right direction. Their fines are so high because they are trying to send a message out to those who engage in less than honest practices. However, more needs to be done to whip the markets into shape.
Industry experts made recommendations to the FSA on a daily basis throughout 2012 in an attempt to create a fairer process, but they failed to take them on-board. That is why many people are now calling for the government to step in. The FSA's board was appointed by the Treasury in 2001, but they refused to offer funding right up until things changed in 2013. While the FSA has now been replaced by the PRA and FCA, their processes are still very similar.
Should we expect things to improve in the near future thanks to their efforts? It is impossible to say. One thing's for certain though, the companies that have been fined over the last few years made fast changes to ensure they didn't make the same mistakes twice. That is a step in the right direction.