Just received an unexpected utility bill, or a bill higher than you budgeted for and don't have the money to pay for it? Don't worry! In this article, you will find out what help is available to you to help pay off those bills.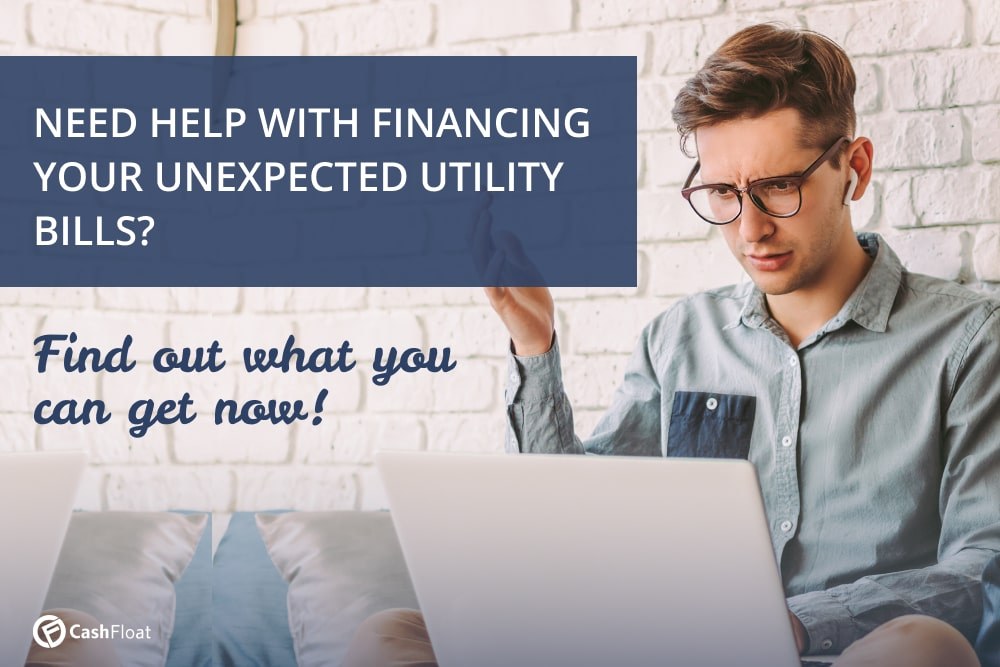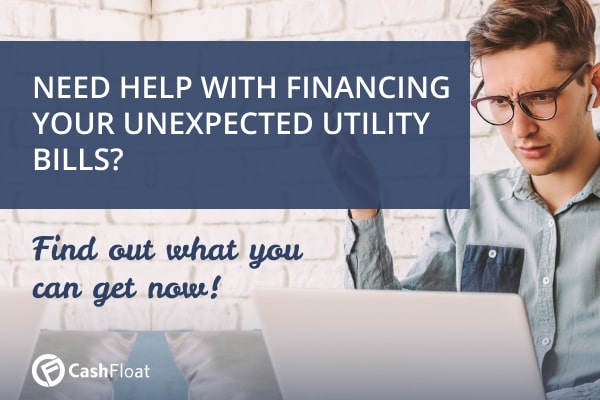 What should you do when you get unexpected utility bills?
Although you might want to bury your head in the sand and forget about it, that bill won't go away by itself, so you are better off working out how to pay off the bill now. Once you get over the shock, here is a plan of action to help you resolve the situation:
First call your utility provider and make them aware of your situation. Many providers are very understanding and will help you formulate a repayment plan. They want to see that you are willing to try and pay back as much as possible, so try and give over the impression that you want to make this work in the best way.


Have a look at your finances and see if there is any way you can free up money to pay off the bill. Look for payments you can postpone or cancel without any extra fees. For example, you might want to cancel your gym membership or magazine subscription to help you pay off unexpected utility bills without any additional fees or charges.


If you really don't have the money to pay that bill, explore your options for borrowing money. The cheapest option is to ask friends or family to help you out. If you are not comfortable doing that, look into short term finance options. You'll be surprised to find that they actually might save you money. If you take a £500 loan from Cashfloat and pay it back two weeks later, you will only pay back a small amount of interest. Is it worth paying little money to keep your electricity and water on? Is it worth it to keep your credit score healthy? Well, that is up to you. If you decide to borrow, make sure that you pay back your loan on time. The last thing you want is to run into late payment fees and extra interest charges.
Financial help with energy bills
There are grants and benefits that can help you pay off your energy debts. If you are struggling to pay your energy bills, you may be able to take advantage of these benefits offered by the government:
Winter fuel payment – This is a one-time payment to help you pay for heating in the winter months. You need to be born on or before 5 October 1954 to qualify.
Cold weather payment – This payment is only made when temperatures drop below a specific temperature for a certain amount of time. There are other criteria you must meet before qualifying for this payment.
Warm home discount scheme – If you are getting the guarantee credit part of Pension Credit or are on a low income, you may be able to get £140 off your electricity bill.
If you owe money to your energy supplier, you may be able to get a grant from a charitable trust. The British Gas Energy Trust offers grants that are open to anyone to apply for. You do not have to be a customer. There are also some companies you can apply for a grant with, but only if you are a customer. These are:
In all these grant applications, you will have to provide detailed information about your financial situation. You may also have to have received debt advice before applying.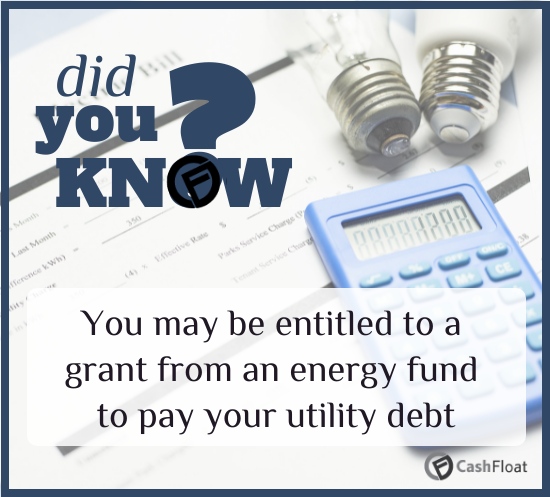 Payday loans to help you pay unexpected utility bills
Sometimes a payday loan may be the right option if you can not pay your bills because of a shortage of cash. For example, if your salary is coming in late and you need to pay your bills to keep the lights on, taking a payday loan can help you. Paying back the loan as soon as you get the money into your bank account will save you on interest.
If you are encountering an urgent situation now and need a loan quickly, please contact our fast track help desk directly at 020 3757 1928.
How do I avoid getting these horrible, unexpected bills in the future?
Check for a price rise: If the price of your utilities has risen without your knowledge, you will continue to get nasty shocks. Check for price rises or any other changes to your bill that will affect the price. When you get notifications from your utility company, make sure to read them carefully. They might look boring and unimportant, but they can save you further along the line.

Check that your meter is working: If your meter has broken or is faulty, it will be reflected in your bill. The best way to check is by switching off all appliances in your home. If you have a pilot light, switch that off too. Then check to see if the meter is moving. If it is, contact your supplier immediately. If it does stop, turn on each appliance one at a time. Does the meter start to turn very quickly? There may be a fault with that appliance.

Consider switching to prepaid: If you have had issues with paying your bills, consider switching to a prepaid meter. The key defining feature of a pay as you go meter is that you pay for the energy BEFORE you use it. You use a key or card to top up in the post office, newsagent, some garages or online. You can then only use the utility for however much you topped up, giving you complete control over how much you spend on your utilities. While the actual energy price may be more, the total spending on utilities is often lower than with a standard meter.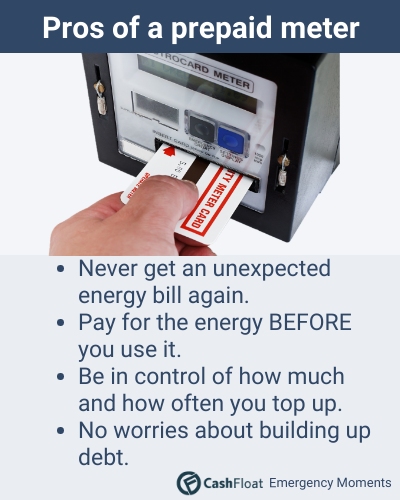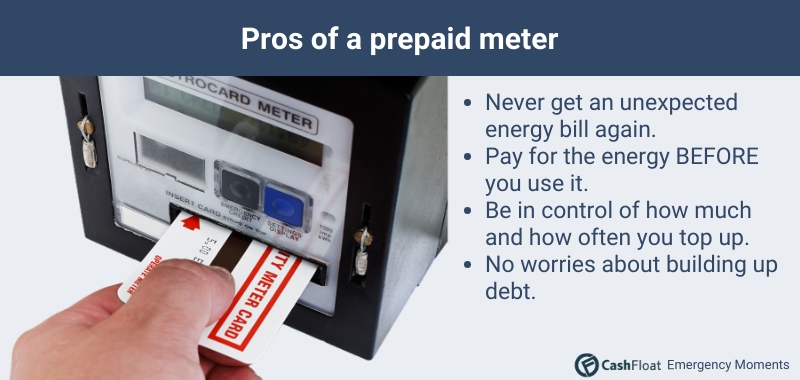 Consider this: You set aside about £130 for your gas, electricity, and water bills each month. One fine November morning, your TV breaks and you are forced to replace it with a new one. When your utility bills arrive, you realise that you don't have the £130 you usually set aside on hand. To make matters worse, your savings were cleaned out when you refurbished. Although you don't fancy taking out a payday loan, you may not have a choice. If you don't pay your bills soon, you will have extra fees and late payment charges added to your problems!
If this sounds familiar, a prepaid meter might be the thing for you. By paying for your utilities before you use them, you only pay for what you can afford. A Pay as You Go meter forces you to use your utilities wisely. You can also keep track of how much you have left by checking the meter so that you know if you need to be more careful. Pay as you go meters are often ideal for those who have difficulty keeping up with their bills since you cannot fall behind on payments with a meter.
How do I switch to a prepaid meter?
Speak to your energy provider to discuss how much it would cost you to switch to prepaid. Almost all energy providers have at least one prepaid plan. Some are cheaper than others, and some companies change for free. If you are renting an apartment, check with your landlord to get approval for the switch.
Conclusion
Extreme weather can come with higher bills you may not have been expecting. Cashfloat helps you navigate the world of utilities smartly so you can save yourself money and a headache. Now you have the tools you need to save on utilities. Try applying for a grant, and if you have no luck with that, you should probably consider a short term loan.