How To Save Money On Fixing Home Appliances
– Chapter Seventeen
Is your lawnmower broken down? Learn how to do simple lawn mower repairs with Cashfloat to get your lawnmower working again. These simple DIY repairs can save you money on the repair costs and even replacing the mower. Find out more here…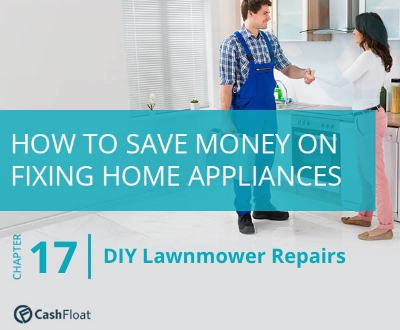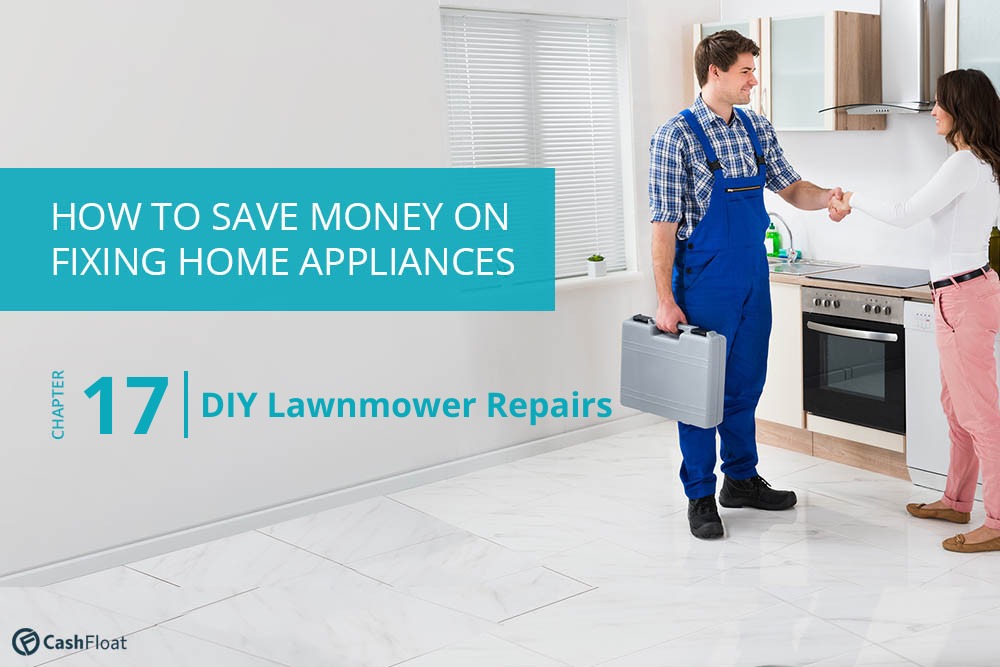 Story highlights
Avoid lawn mower repairs by using the right fuel.
Keeping your mower clean will help prevent the need to do lawn mower repairs.
There are two types of lawnmowers – petrol and electric. In this guide you can find troubleshooting tips for both types. Of course, if you keep up a good maintenance routine for your mower it is less likely to break down. But, even so, faults do occur. When they do, you can diagnose and fix some common faults before resorting to ringing the repair shop. This can help keep your costs down and might even prevent you having to take short term loans to pay your repair bills!
Lawn Mower Repairs and Troubleshooting
A lawnmower which is powered by a petrol motor may need an expert to make it work again. But, there are a few checks you can make before deciding whether it needs a mechanic to fix it. Similarly, with an electric lawn mower. You can check and fix some common problems at home. Cashfloat, a payday loans UK lender provides all the information you need about DIY lawn mower repairs.
Always be careful. Lawn mowers can be dangerous. Always switch off your lawn mower and unplug it, if it is an electrically powered one before carrying out any repairs. Remember that the blades will continue to turn even after it is switched off. Make sure you leave it long enough for the blades to stop turning before you try any repairs. Be careful of the blades and other sharp objects when you are handling a lawn mower.
Fixing a Petrol Lawnmower

The first thing to check if a petrol lawn mower refuses to start is that it has fuel. Although this may seem obvious, it is very easy to overlook the fact that there is no petrol in the fuel tank. If there is enough fuel, it could be that a spark plug that is not starting the engine correctly. You can clean a spark plug by using emery paper to clean the electrodes. If that does not work, try fitting a new plug. Click here for a guide on how to clean and replace spark plug electrodes.
You should also check that you are using the right fuel. Most push along lawn mowers run on 2-stroke fuel, rather than neat unleaded fuel. 2-stroke fuel is unleaded petrol mixed with 2-stroke oil at a ratio of 1:50. Click here for a tutorial on mixing 2 stroke fuel. Also, old fuel may go bad. So remove any old petrol and refill the tank with new fuel if you still have no luck.
The air filter is another possible cause of the problem if your mower refuses to start. When the filter is clogged, it can prevent air from getting to the engine and allowing it to start A blocked air filter can also result in overheating. This can cause significant damage, so always keep the air filter clean. You can often remove the air filter yourself in order to clean it. Have a look in your manual and see if there are instructions. If not, then you may have to take your mower in for repair.
If fuel is not reaching the engine, then the mower will not start. When sediment or rubbish from old petrol blocks up the fuel filter or carburettor, the fuel won't be able to flow to the engine. To fix this, clean the carburettor or the fuel filter and then refill your lawn mower with fresh petrol.
Finally, a faulty switch may also cause a problem. Test for power using an ohmmeter. If this shows no power or the power only comes on intermittently then replace the switch. If your lawn mower is electrically powered then be careful to disconnect it from the electricity supply before attempting this. If you are unsure then take it in for repairs.
Consult the user manual for instructions on how to perform these simple checks. You can save a lot of money on repair bills by doing so. If some of these tasks look too complicated, then call your local dealer who will be able to mend the mower.
Routine Maintenance for Petrol Mowers

To prevent yourself from needing lawn mower repairs, there are some routine maintenance checks that you can perform. These are simple to do and can save you money.
Note: You should never turn a mower onto its side as this allows fuel to flow into the air filter. This will prevent you from being able to start your machine and you may have to replace the filter. Consult your manual for the best way to access the underside of your machine.
Using the recommended engine oil and fuel is a good start when it comes to maintaining a petrol lawnmower. Make sure that fuel is fresh and regularly check the engine oil to ensure that it is at the minimum level. Petrol can go off within three months. If you don't use your lawnmower for three months, replace the fuel.
Lawn mowers which don't use 2-stroke fuel will normally need engine oil. Most lawnmowers like this will have a dipstick, which is smaller, but similar to a car for checking the engine oil level. Check the oil level regularly and make sure it is topped up.
Always store petrol in a safe container. If you want it to last longer then add a fuel conditioner. You can buy fuel containers from mower dealers, but only use them with fresh petrol. This should help to extend the lifespan of the fuel.
Keep spark plugs clean or replace them each year.
An air filter can be cleaned using soap and water if you have a sponge filter. However, you need to replace paper filters when they are dirty. Click here for a guide to cleaning lawn mower air filters
Making sure that all the bolts and screws on the machine are tight is a good maintenance measure. This also helps prevent accidents. You should replace any loose bolts or missing screws before you use the mower. Check the wheels for wear and tear and replace if needed.
Make sure that the drive belt is not slack as well. Tightening a lawn mower drive belt can be a complicated procedure, look at your manual for advice.
We recommend that you leave sharpening or replacing lawn mower blades to professional lawn mower repairers. It's important to keep your blades sharp.
After every use, it is important to clean the mower. Make sure to clean off any clippings from the blades and underside of the machine. When the grass starts to rot it creates an acid which can cause damage to the machine.
When the mowing season is over, make sure to drain any left-over petrol from the tank and change the oil. Keep the mower on a level surface to ensure that no oil or fuel flows into essential parts.
If you feel unable to tackle any of this routine maintenance, ask a reputable dealer to do the annual service. Costs for a full lawn mower repairs service are usually around £100 plus VAT. The service should include steam cleaning as well as a replacement air filter, spark plug and sharpening of the blades.
Troubleshooting for Electric Lawnmowers

Electric lawn mowers repairs are less complex than petrol models. The machines range from simple rotary devices to more complicated models which hover. However, they can all break down. These are some of the simple checks to make if the mower will not work.
Simple as it may sound, the first thing to check is that it is correctly plugged in. If the mower still refuses to start, check the plug for a blown fuse. Click here for a quick guide to replacing a plug fuse. Also, see if it has tripped out at the fuse box. If none of the previous suggestions work, then test the socket by trying another electrical appliance in the same socket.
If the on/off switch on the mower is faulty, it will not work. The only way to solve this problem is to replace the switch. This is normally something that you should get a professional repairman to do.
If the grass cuttings box is full to the brim with clippings, the mower may refuse to start. If this is the case, simply unplug the machine and empty the box or bag.
If the blades get clogged with too much mulch, the machine will not work. After disconnecting the mower, simply clean the blades. If you are mowing when the grass is wet, then this will cause the blades to get repeatedly clogged.
If the motor gets overheated, the automatic thermal cut out switch will cut the motor as a safety precaution. Allow the motor to cool before trying again. If this is the case, you may be cutting too quickly or cutting the grass when it is too long.
Intermittent Problems With Lawn Mowers
Nothing is more irritating than an unreliable appliance. So when a lawn mower only works sometimes, it can be very frustrating. There are some reasons why this may occur. It does not necessarily mean that you need to pay for lawn mower repairs.
Petrol Lawn Mowers
Petrol mowers may be unreliable simply because any of the routine maintenance measures have not been carried out. So, check for a clogged carburettor or fuel filter, a faulty spark plug or a blocked air filter.
Another simple cause might be a poorly fitting petrol cap or one that has the vent blocked. If the mower works well, but only if the cap is loose, the vent needs cleaning or the petrol cap needs replacing.
Electric Lawn Mowers
If the engine on the electric lawn mower is cutting out intermittently, it is probably because grass or garden debris is stopping the blades from turning. Clean the blades and the problem should go away. Remember to disconnect your mower from the power supply and leave it for long enough for the blades to stop turning before you try to clean the blades.
One important thing to check is the cable, which may have become damaged. This is a serious risk and can be a life threatening. Any damaged cable should be replaced and cannot be repaired.
An electric lawnmower that gets too hot will also stop working. All electric lawn mowers have a safety cut. Check that the blades are running free and then let the machine cool off before turning the machine back on.
Other Problems With Lawn Mowers
One common problem that can occur with any lawn mower is uneven cutting. If this is happening, turn off your lawn mower, disconnect it from the power supply, leave it for some time and then check the blades for sharpness. The blades may be blunt or twisted. Either of these problems will cause uneven cutting.
Sharpening blades and replacing damaged or twisted blades is probably best left to the experts.
Finding Lawn Mower Repairs Near Me
When looking for a repairman you want to find someone local, cheap and reliable. Cashfloat, a leading lender in the UK provides some top tips to help you find a suitable repairman today:
Ask family and friends: The first place to start looking is amongst friends and family. Needing to repair household appliances is fairly common, and you are most likely to have a family member or friend who is able to recommend a professional repairman.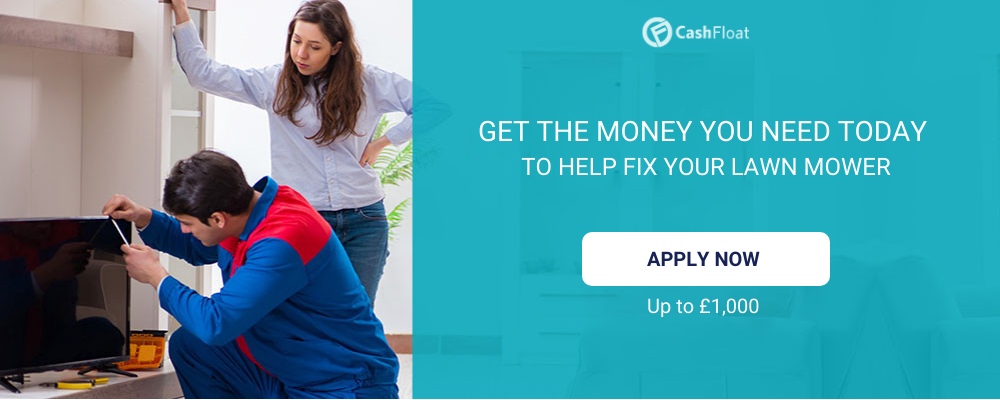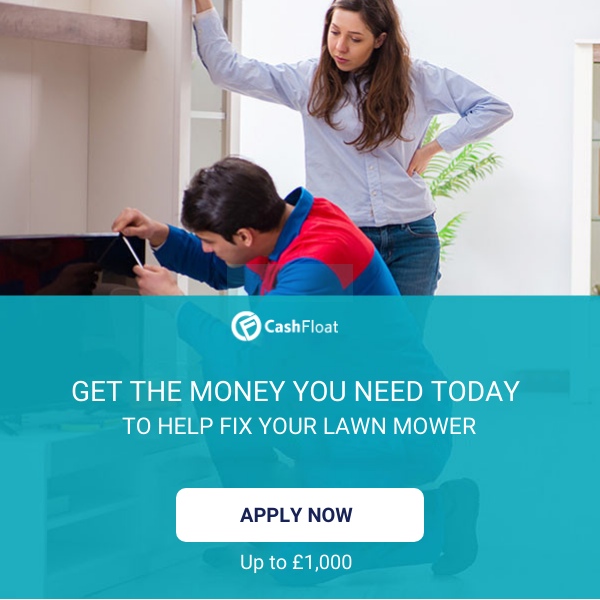 Local press: Reputable repair companies are often advertised in the local press. Choosing a local repairman is the best option because if you are not happy with the repair, then it will be easy for them to return.
Online search: Conduct a localised Google search for lawn mower repair services or independent engineers. You can also use trusted websites that list local appliance repairs. You are almost guaranteed to find a repairman in this way.
Buying a New Lawnmower
When the lawn mower eventually gives up the ghost and needs replacing there are some factors to take into consideration.
Petrol lawn mowers are more expensive to buy and to maintain. They might be beyond your budget meaning that you will have to take a personal loan to help foot the bill. So, unless you have a huge garden you may want to invest in a small, inexpensive electric model. There are three types to choose from, and prices range from around £35 for a basic model to £200 for a more robust model. Most are around £80. While petrol lawn mowers are more expensive, if you have a large garden you will probably need one to cope with all the cutting you will do.