How To Save Money On Fixing Home Appliances
– Chapter Three
Your washer is broken and you are at a loss for what to do next! Don't worry Cashfloat have you covered – Here's everything you need to know about washing machine repairs plus how to save money.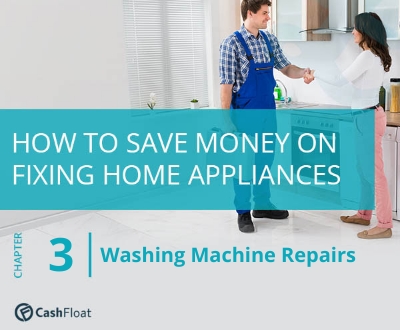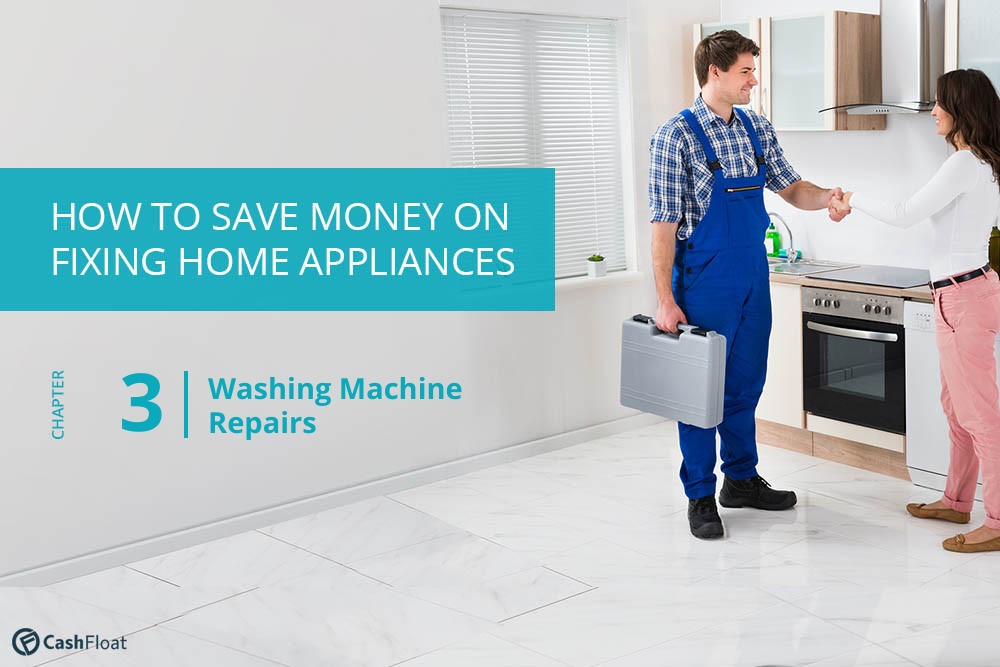 Washing Machine Repairs
One of the most essential home appliances today is the washing machine. The days when it took a whole day to do a weekly wash are now thankfully over. However, what happens when one day you start the machine and it refuses to work. Or, in a worse scenario, it pumps out water all over your kitchen floor? The breakdown of an appliance like the washing machine means inconvenience, disruption and it can be costly.
But it also come with a host of questions. How do you go about finding washing machine repairs at an affordable price? How much will repairs cost? Is it worth repairing or should you just replace? Cashfloat, an instant payday UK lender, explains all you need to know about getting your washing machine back up and running.
Do it yourself – Washing machine repair
Before you call out a repairman, check if you can fix the washing machine yourself. Watch this video to see all the reasons you should do DIY home repair.
Still not sure what is wrong with your machine? Check one these options below for more detail on washing machine repairs.
First check that the actual wall socket is working. Unplug the washing machine and plug in another electrical appliance that you are sure is working. If that is not the problem, the washing machine could have a faulty connection or a blown fuse. You can fix this yourself by checking the manual or watching a tutorial online. If you are using an extension lead to connect your washer, the lead could be overheating or not have an earth wire. Always connect large appliances like a washing machine directly to the mains power supply. If you don't have a power socket nearby, you can look into getting the washing machine fitted with a longer wire. Alternatively, you can pay a few pounds to get additional wall outlets installed.
If the machine is wobbling (either during a washing cycle or a spin cycle) it may be that the feet of the machine are not correctly balanced or you may be overloading the machine with laundry.
Another explanation could be a foreign body like some coins is in the machine which can cause a disturbance to the balance. Wobbling can lead to the drum becoming unduly worn when spinning and may eventually cause long term damage. Listen out for excessive noise and check that the machine is correctly balanced on a level floor.
Leaks may occur through the door or soap dispenser drawers of the washing machine. These can be caused by a build up of minerals especially if you live in a hard water area. Alternatively, the build up could be undissolved soap. Some quick washing machine cleaning can solve the problem. Keep the drawers thoroughly cleaned and prevent mineral build up by using a water softener tablet each time you use the machine.
If your washing machine is not draining correctly, the pump filter could be blocked with hair or other debris. You do need to make sure that you keep your machine clean, but you do not have to pay for expensive professional washing machine cleaning. You can clean it out yourself. The pump filter is usually found behind a small door on the front near to the base of the washer. Check the hand-book if you cannot locate the pump filter.
If there is no interruption to the water supply, then the machine may merely be in between filling cycles. Wait for a few seconds, and it may resume the complete cycle.
A washing machine that is not filling up may have a partially blocked inlet pipe, or there might be a twist in the pipe. Alternatively, the hoses could be perished and causing leaks. Hoses and pipes are relatively cheap to and simple to replace.
Just keep in mind that you should never jeopardise your safety by trying to fix electronic faults with a machine. Safety always comes first. You also don't want to attempt a DIY fix only to cause yourself bigger and more expensive problems further down the line.
Professional washing machine repairs
What happens when you can't fix your washer yourself? The newer models of washing machines and the latest smart appliances may break down due to either mechanical or electrical failure. Parts like the drive belt, the pump or the electronic computer chip which controls the programming for washing cycles can all go wrong. Worn belts can cause slipping, which you can hear. A faulty pump, however, can be identified by water remaining in the drum at the end of the cycle. Alternatively, the pump may simply stop working altogether.
So how do you go about finding a repairman and figuring out how to pay for it? Here we answer a few of the most important questions you will be wondering now.
How much does washing machine repair cost?
Depending on your machine and the washing machine repairman you use, the price will vary. The best way to find out the price of your washing machine repairs is to call a few companies and ask for a quote. But to give you a rough guide, here are some common washing repairs and the average price.
Common Washing Machine Repairs

Job (supply and fit new)
Price Range
Average Time
Door seal
£69-£89
0.5-1hr
Motor brushes
£55-£86
0.5-1hr
Motor
£175-£239
1hr
Pump
£72-£92
05-1hr
If you are on a tight budget, you may not be able to afford the repair. If you know that you'll have the money soon, sometimes an instant payday loans can be the perfect solution. Click here to apply with a responsible lender.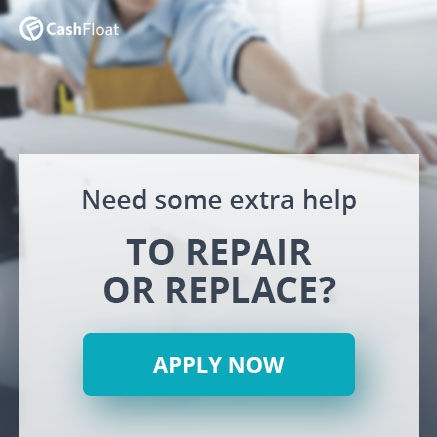 Should I repair or replace my washing machine?
The most important to think about when looking at the price of washing machine repairs is whether to repair or replace. Keep in mind that it is not usually worth paying for those expensive repairs if you can buy a new one for just a little bit extra. For example, some repair companies charge £170 for a repair to an appliance that only cost £200 new. On top of that, washing machines are now much cheaper to buy than a few years ago making it more economical to replace rather than repair. A new washing machine now costs only 1.5% of a monthly salary instead of 8% a few years ago.
Although you might not have the spare cash on hand to purchase a new machine, paying for repairs might simply be throwing money down the drain. Consider securing some short term funding such as a payday loan or an overdraft to finance your new washing machine.
Factors that affect the repair or replace decision
Does your machine have a microchip?
The latest machines with varied wash cycle programs are controlled by microchips like those in computers. Although these rarely go wrong, there is always the possibility of a faulty chip which causes constant spinning or constant filling. A problem may also cause the program to abort half way through the cycle. The only way to fix this type of problem is by replacing the microchip which will drive up the price of your repairs.
Does Your Machine Have a Sealed Drum?
Some washing machines have sealed drums which means that replacing parts can be very expensive. (Keep this in mind when you buy a new machine.) The cost for disassembling a drum can run into some hundreds of pounds if you call out the washing machine repairman, making it not worthwhile to pay for a washing machine repair.
There you have the most common problems that can occur with automatic washing machines. Some of these can easily be fixed especially if you are proactive and do not ignore the early warning sights or sounds.
Decided to replace your washing machine?
Here's what to look for in a new washing machine:
Energy Efficient: The cost of running the washing machine might be more important in the long run than the price of purchasing it. Keep in mind the energy consumption of the machine.
Easy to repair: A good brand washing machine that allows simple repairs to be carried out without hours of costly labour, so look for one without a sealed drum.
Drum size: They range from 5kg-12kg. It is worth buying a size that you won't struggle to fill.
Spin speed: 1200-1400rpm is standard. Higher spin speed generally uses more electricity and make more noise.
Decided to repair? Finding washing machine repair near me
Below is a list of the most popular washing machine brands – if you have one of these models, it's worth having one of their technicians come fix your machine. They will have technichians countrywide, so they should be able to send someone local within a short amount of time. If your machine is still under warranty, you'll also be entitled to a free call out as well as a free repair.
Alternatively, if you don't have one of these washing machine models, it's still possible to find a cheap and reliable repairman:
Ask friends and family: The first place to start looking is amongst friends and family. Although, it is important to stress that choosing someone who is a friend of a friend or cheap but not a professional could be money thrown away.
Local Press: You can find reputable businesses from advertisements in the local press. Looking for someone with a company in your town may be a better option. If you are not happy with the repair, choosing a local repairman makes it far easier to ask them to return.
Online Search: Conduct a localised Google search for washing machine repair companies or independent engineers. You can also used trusted websites that list local appliance repairs. You might have to fill in a form on the website to state the problem.
Contact by Phone: Use the local phonebook to call a few local washing machine engineers. Make sure to get an estimate quote from each one and compare. Also, ask about any call out charges and fees for spare parts.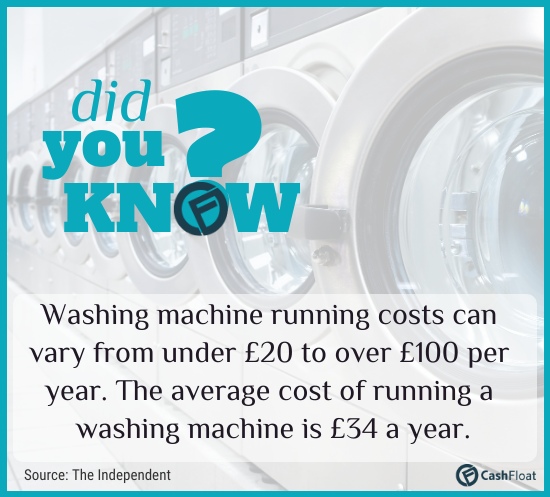 Getting fast results
Speed is also important as you will not want to be without your washer for any length of time. Most reputable companies will be able to attend within a few days of your call. Larger businesses may offer an emergency call out. But for this service you may need to pay out more money.
Guarantees and warranties
Finally, the best choice for washing machine repairs is to approach a reputable company that offers quality brand spares and also gives a warranty for the repair. The warranty may only cover the part that has been replaced and not other parts but at least you know that if the same problem arises it will be covered.