Startling recent accounts reveal that doorstep lenders are not lending as responsibly as we'd like to think. Many are calling for the FCA to impose similar restrictions to those of payday loans. Does this make doorstep lenders the new bad guys?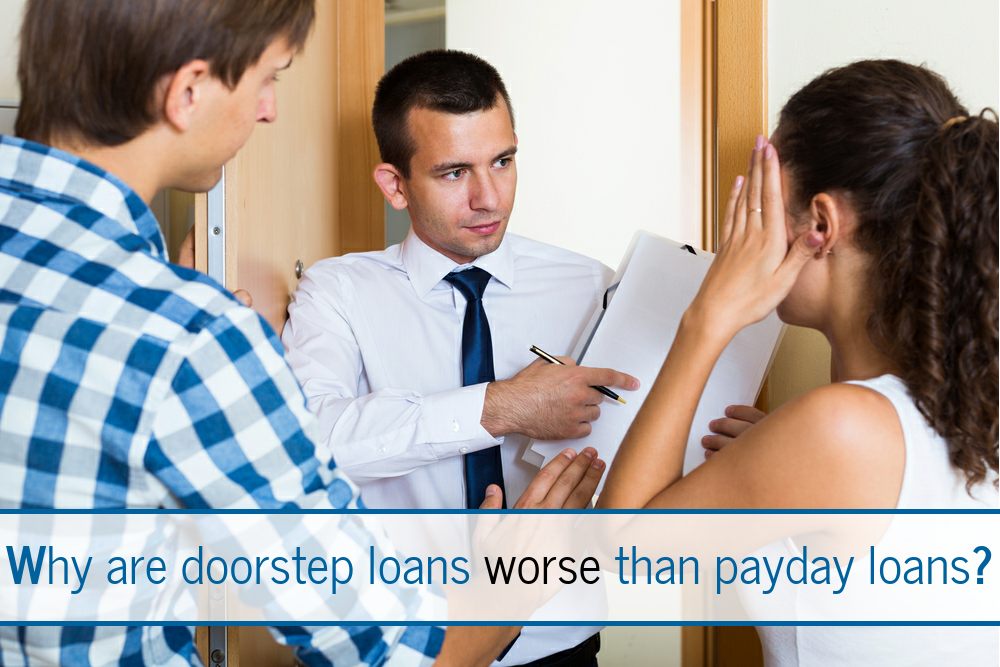 According to the Department for Work and Pensions (DWP), 7 million people have resorted to high-cost credit in the past year. Of these, 1.6 million people borrowed doorstep or home loans. In 2017 alone, doorstep and rent-to-own lenders made £240 million in profit. In this article, we will look at doorstep loans and how they work. We'll also discuss whether these types of loans are safe in comparison to payday loans online.
The Effect of Payday Loan Regulation on Doorstep Loans
If anyone had said five years ago that payday lenders would be one of the safest form of High-Cost Short Term Credit (HCSTC) on the UK market in 5 years' time, they probably would have gotten really funny looks. It's safe to say that no one could have predicted the 360-degree turnaround in the UK payday loans market that make today's payday loans a safe credit option for responsible borrowers. Of course, this is all thanks to the FCA. Currently, we hardly need to worry about extortionate interest rates on payday loans or abusive behaviour from unethical payday lenders. In fact, since the cap came into place in 2015, the number of people struggling with unmanageable debts to payday lenders has more than halved.
Although the payday loan industry suffered a huge blow to business, lenders learned to adapt to the new changes and I think we can all agree that, overall, payday loans from direct lenders are a much safer product than they were a few years ago.

Doorstep Loans – A Payday Loans Alternative
Undeniably, many longstanding payday loan customers can no longer obtain payday loans. This is mainly due to the new regulations that require lenders to carry out rigorous credit and affordability checks. Some speculate that, as a result of the clampdown on payday loans, a percentage of the population has been left with no credit options and may have been put in a direr situation. Still, the regulators continue to stand by their decisions and advise anyone who finds themselves relying on HCSTC to seek debt help rather than look for alternative credit options.
But what if they don't listen? What other credit alternatives are available for people who struggle to borrow from mainstream lenders?
Without access to payday loans, more people are borrowing home loans
Some are even turning to illegal loan sharks as a final resort.
Without a doubt, illegal loan sharks should be avoided at all costs as they are, well, illegal. This means they often act on their own accord without any regard for the law. Loan sharks often display abusive, intimidating and even harmful behaviour. Luckily, the awareness for loan sharks is growing rapidly and more people know to stay clear.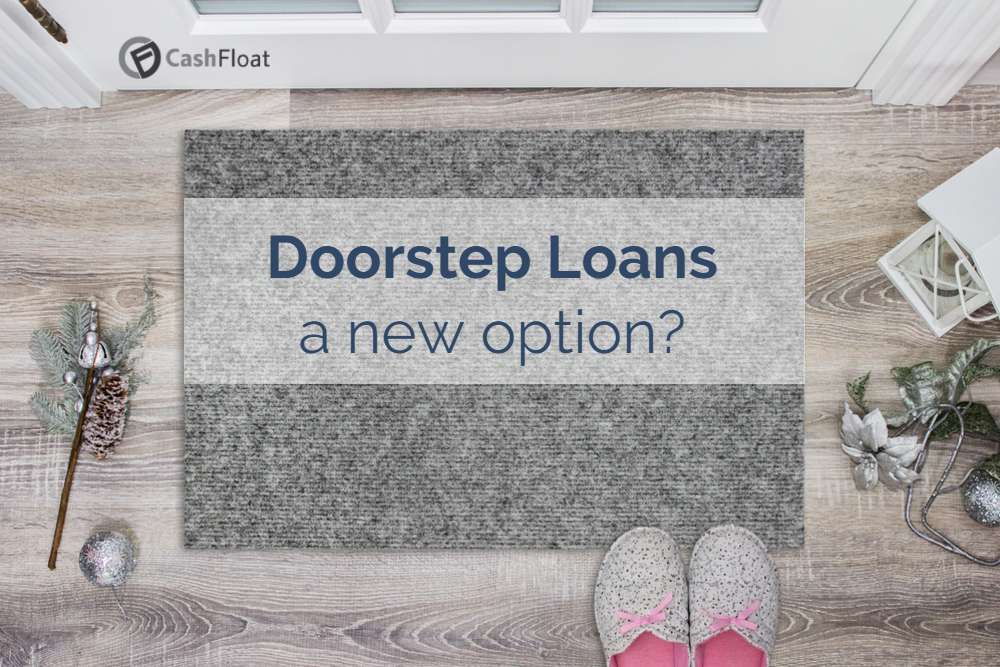 Doorstep Lenders
Officially, doorstep lenders are approved by the FCA. These types of lenders operate a wide network of local agents that will physically call on people's homes to distribute and collect money. Oftentimes, you don't need to have good credit, you don't need a bank account and you don't even need access to the Internet. As a result, doorstep loan customers could be some of the poorest people in society.
You might think that it's quite uncomfortable to literally have someone knocking on your door to collect your debt. However, the Citizens Advice Bureau found that more than 1.6 million people use these loans in the UK, making it one of the largest high-cost credit markets. If so many people are being helped, where is the problem?
The Problem with Doorstep Lending
Doorstep lending is minimally regulated. This means that there is no limit on the interest that can be charged. This often results in people paying back more than twice what they borrowed. In fact, people pay more than double the value of their loan on up to 490,000 doorstep loans each year due to refinancing.
| | |
| --- | --- |
| Payday loans | Average APR: 1,100% |
| Doorstep loans | Charging interest rates of up to 1,557% |
Furthermore, some doorstep lenders are failing to protect consumers as proper affordability checks are not carried out. Even lenders who offer loans for people on benefits carry out rigorous credit and affordability checks. Just last month, Provident, one of the most prominent doorstep lenders in the UK, was instructed to pay £169 million in redress to ill-informed customers. In short, most of the bad things you heard about payday loans in the past apply today to doorstep (home credit) loans.
As a result, Citizens Advice is calling for the same protections to be extended to doorstep loan customers as payday loan customers. It estimates that extending the same rules to doorstep lending could save up to £123 million in interest payments on over half a million loans each year.
Normally, payday loans are the target for blame by debt help charities. However, Citizens Advice suggests that, nowadays, home credit is the most common form of high-cost credit problem.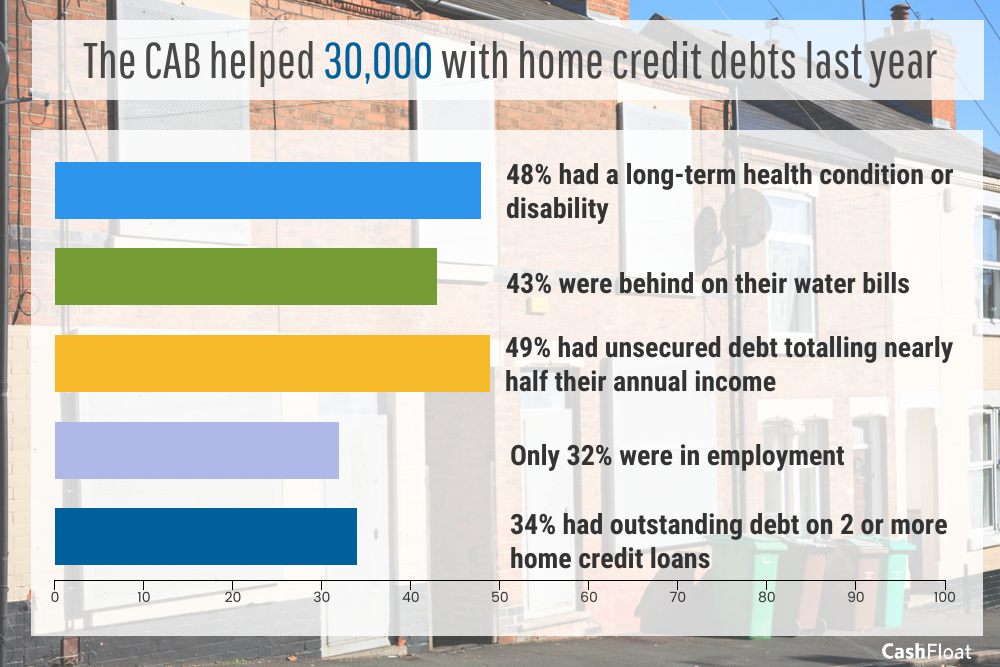 Public Outcry Calls for HCSTC Regulation
The Media
Many news outlets have been reporting on various stories about doorstep lending in an attempt to raise awareness. The Sun has taken a particularly firm position on the subject, launching a campaign called the 'Stop the Credit Rip Off Campaign'. The campaign calls for an all-round cap on the total amount of credit so that no one ever pays more than double the amount of what they are lent. In addition, they want the following changes for doorstep loans:
Stricter affordability checks
A ban on discounts for existing customers to tempt them into more credit
Here, we have collected some examples of the stories that we found in the news:
| | | |
| --- | --- | --- |
| Case Study 1 – BBC | | Case Study 2 – The Sun |
| One case involved a woman with severe learning difficulties who had debts from a doorstep lender amounting to £3,016. She received offers of more loans even though the lender was explicitly told by a social worker that that a responsible adult needed to be present for financial decisions. | | A grandmother from Edinburgh has been a customer Provident, a doorstep loan company for 32 years. As of now, she has four loans totalling £2,600 which she claims leaves her with just £40 a week to live on. "They make it so easy to get into trouble." She commented, pointing out that agents would never ask her about outstanding credit commitments or ask her to evaluate her income against her expenditure. |
One single Mum from Guildford revealed to the tabloid that she turned to doorstep lenders after she found herself alone caring for her children, especially since one was special needs. "I had no choice but to go to them," she said.
After asking the doorstep lender for money, they turned up the next day with the money ready in an envelope. That first loan took her six years to pay back. In total, she paid £3,200 – more than three times the original amount.
The Mum of three describes the temptation as 'unbelievable' since the agents always carried a lot of cash on them and would constantly offer her new loans on top of her existing ones or at least every time she repaid one.
Michael Sheen, Hollywood Actor
The subject has even caught the attention of a Hollywood actor, Michael Sheen, originally from Wales. In a statement, he stressed the need for ethical alternative credit providers that will put people before profit. He is backing a new fund called the Affordable Credit Loan Fund which has been set up by the Carnegie UK Trust and Social Investment Scotland to provide affordable credit to financially excluded households in Scotland.
What does the FCA have to say?
A spokesperson for the FCA released a statement on the matter:
"We secured over £900 million in redress for customers where standards have fallen short.
As we made clear in January, we have concerns about the impact on consumers who take out repeat loans. We intend to publish our conclusions in May and take action where we find harm."
Conclusion
As a payday lender born into the FCA era, it's hard for us to imagine how a lender can conduct themselves so unfairly to customers in the way so common for companies not long before us. Cashfloat is 100% committed to responsible lending and our Treating Customers Fairly (TCF) policies are the foundation of our business model. Our products are expensive and should never be used to try and solve a long term credit problem. If you need help managing your debt, check out our free debt management guide for more information.
Although we were not a part of the pre-FCA era, at the end of the day, payday online loans did go unregulated for a long time. At some point, it was hard to see a light at the end of the tunnel. But when the UK decided that enough was enough, things began to change. With the help of much-needed media attention, we think that change is on the horizon for other forms of HCSTC too.