How To Save Money On Fixing Home Appliances
– Chapter Five
Has your fridge or freezer broken down again? Discover some simple DIY repairs that you can do yourself! Not sure whether you should repair/ replace? Find out with Cashfloat.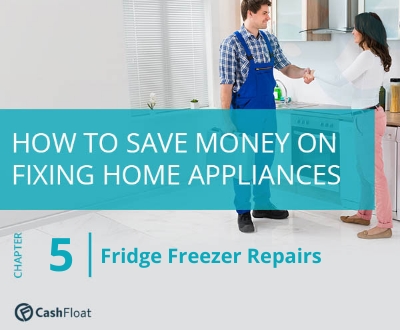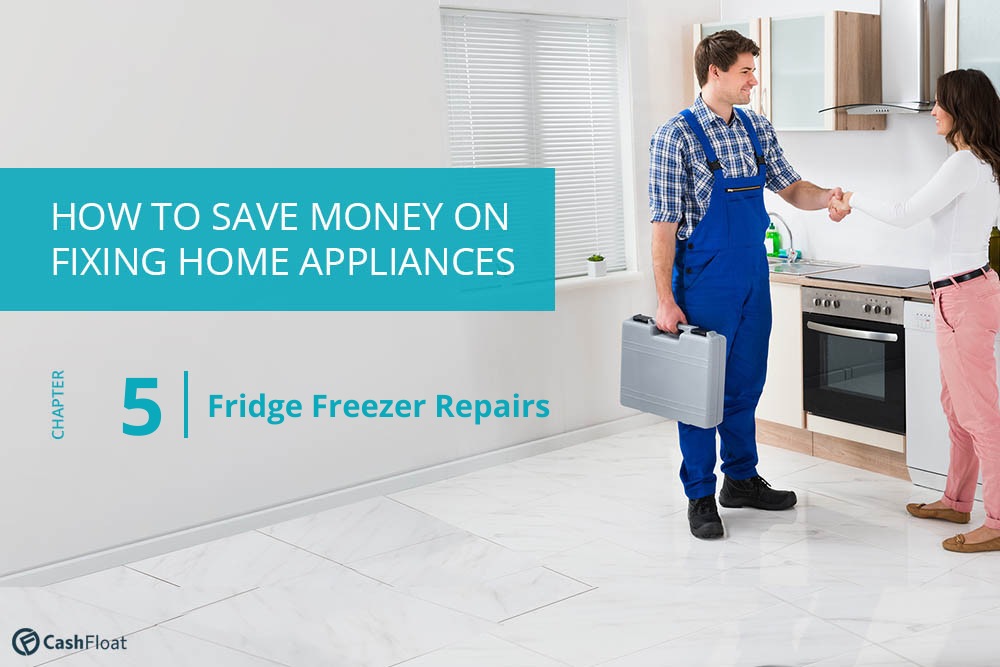 Story highlights
You can often identify and fix problems with your fridge yourself, saving on fridge freezer repairs.
Fridge freezer repairs can be costly. Find a guide to appliance repair costs below.
Every year householders in the UK pay large amounts of money on fridge freezer repairs. Sometimes, it can be well worth paying out for a new fridge freezer especially if you are buying one that is more efficient or a better size for the family. Most families cannot afford to do without a fridge freezer. Therefore, when the fridge freezer starts playing up it can be a major problem especially when both adults in the home are going out to work.
Occasionally, families will choose to buy a new appliance simply because they can't arrange an appointment for a repair company to come assess the problem. Other people assume that a repair will cost the same amount a new appliance and opt to replace to keep things simple. We understand this could be a big expense so if you need help, we're here for you. Apply today with cashfloat, a premium payday loan direct lender in the UK and recieve an instant decision!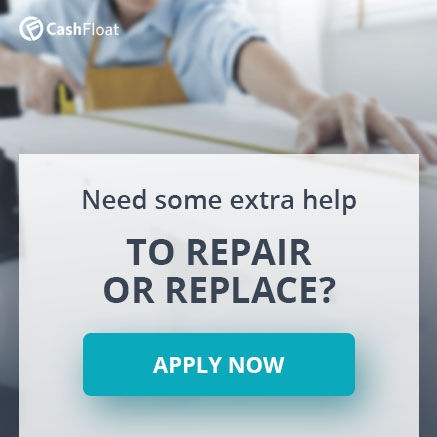 Below are some easy DIY fixes that you can do yourself, which will save you the expense of calling a repairman or replacing the appliance altogether.
DIY Fridge Freezer Repairs
Detecting And Identifying Faults With A Fridge Freezer
There are some pointers that could indicate a problem or one that is going to arise soon. Buzzing and humming is quite normal but if the sound increases or changes drastically it can be useful to look at what could be going wrong.
Similarly, if the freezer leaks onto your kitchen floor there could be a problem with the defroster. Listed below are some common problems that occur with fridge freezers that may help you to identify what is wrong and how to fix it.
If you have been away from home for some time and have turned off your fridge freezer, you may find on your return that it will not switch on. When this happens, you need to check that the power is on and that the appliance is properly connected to the socket. Modern electrical fuse boxes have separate circuits for large appliances, power outlets and lights, so it is also best to check that the fuse has not tripped out.
Powerful appliances such as fridge freezers should always be connected directly to the socket. If you have the machine connected by an extension lead, this could also provoke a problem. Extension leads can cause overheating and even a fire. You should always connect the appliance directly to the power socket. If the appliance still does not work, check the troubleshooter guide in the user instructions for more help and advice.
When the light inside the fridge stops working, there are some simple reasons. Firstly, it may be that the bulb has blown and just needs replacing. This can be replaced very easily by switching off the appliance, taking off the lamp cover and fitting a new bulb. Always refer to the instructions before replacing any small parts. These will advise you how to fix the lamp.
It is possible that the lamp has merely worked loose and once you access it you can tighten the screw connection which will deal with the fault.
If you open and close your freezer often, it might cause a problem with cooling. Every time you open the door, cold air is replaced by warm air. This can cause a fault with the efficiency of the machine. You may also see the temperature warning light come on. If this is happening on a regular basis, you may need to call an engineer to assess the engine.
Also make sure that your appliance is set to right temperature.
| | Minimum Temperature (Celsius) | Maximum Temperature |
| --- | --- | --- |
| Fridge | 2 Degrees | 6 Degrees |
| Freezer | -18 Degrees | -22 Degrees |
It may be that the setting has been accidentally adjusted and this is one of the simplest things to check before calling an engineer. The instruction manual will show the correct settings for an individual brand and model.
If the appliance is not level on the floor you can adjust the individual feet. A level fridge freezer will not put pressure on the door or make it swing open. Too much weight in the door shelves can also prevent the door from closing correctly. Or, in older models, there may be a build-up of ice that is preventing the door from closing. You can also check the door seals for wear and tear and get them replaced if necessary.
The most common reason for this is that the thermostat is set too cold. You can easily check the temperature using a refrigeration thermometer or just use common sense. If your food has ice on it, then the temperature is not correct.
Foodstuffs that are in contact with the rear wall of the appliance can cause them to freeze. This is because the rear wall may be below freezing temperature. Most fridges have shelves that are designed to prevent this from happening but it is another easy check to make before you phone the appliance repairman.
If you are always opening and closing the door to your fridge freezer then the motor will be in use continually. The engine will try to keep the inside of the appliance at the optimum temperature. So keep the doors open for as little time as possible to prevent the inside of the appliance from warming up. Most modern appliances have a warning light or bleep sound providing an alert that the doors need closing as soon as possible.
Kitchen Temperature Too High
If the temperature in the kitchen in very high, the appliance motor will have to work harder to keep the internal temperature at the optimum level. Fridge freezers in the UK are designed to work correctly at certain temperatures. Those in hot countries have different optimum settings. A layer of ice at the back of the fridge may also cause the motor to run continuously. The appliance may require defrosting or an adjustment to the temperature setting.
Finally, check that the fridge freezer is not overloaded. This is a common cause of problems with cooling. There should always be space around food items so that air can circulate. Freezing fresh foodstuffs should always be done on the fast freeze function. Some appliances have vents that must always be kept clear. Vents which are covered can freeze over causing problems with efficiency.
Paying for Fridge Freezer Repairs
If you are wondering how you are going to pay for fridge freezer repairs, you are not alone. One of the most common reasons for taking out a loan online is for emergency appliance repairs. But, a little thinking can save you from relying on credit and might even help you avoid fridge freezer repairs altogether. It is well worthwhile looking at ways to effect a simple repair before adding the cost of a new fridge freezer to your already overloaded credit card or taking out a short term loan.
Things To Consider When Having Problems With A Fridge Freezer
If you need fridge or freezer repairs, it is worth considering these factors before you call out a repairman.
Age of Your Fridge/Freezer
The most important aspect being the age of the appliance. Technology moves very quickly and any fridge freezer over 10 years old will almost certainly be very costly to repair. Spares for old models may be difficult to locate. The energy running costs of old models also make them inefficient and possibly damaging to the environment.
Cost of Fridge Freezer Repairs
If your appliance is not one of the well-known brands or the company that made it has gone out of business This could also cause problems as will any appliance that is built-in. The labour costs for fixing a built-in appliance may outweigh the costs of buying a new one.
Energy Efficiency
Finally, modern fridge freezers have got a whole lot more efficient. Your outdated machine may be adding considerable costs to the home energy bill. The latest models run on far lower costs. Most are now designed so that they perform the defrosting job automatically. If your appliance has an ice maker, this will also make it more expensive to repair.
Should I Repair or Replace my Fridge Freezer?
So you have checked the obvious simple faults listed above which can cause problems with a fridge freezer and it is still not working. You might need to weigh up whether or not it is cost effective to repair the appliance or to buy a new one. It is usually not worth repairing old appliances or very cheap appliances.
Also, it is a good exercise to add up how much the appliance has cost you over the years that you have had it. If you have already spent a fortune on fridge freezer repairs, it is probably not worth pouring more money into the machine. It may be more worth it in the long run to take out a payday express loan to buy you new appliance if you don't have money saved up.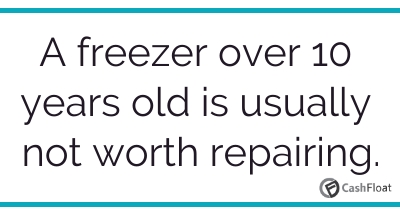 You might think since you already spent so much money on this appliance, it's worth spending more to keep it up and running. That's a logical thought process, but it's ultimately throwing good money after bad money. Any money already spent on repairs is now gone, so don't waste more money trying to recover your losses.
Any fridge freezer that is over ten years old is unlikely to be worth repairing. A new one will be more energy efficient and cost much less to run. The high cost of replacing a side by side expensive large fridge freezer may make repairs cost effective especially if the machine is not too old.
How Much Does Fridge or Freezer Repairs Cost?
The best way to find out how much your appliance repair will cost is to get some quotations. For a rough guide we have included a table to give you some guidelines to help you when calling up repair companies.
| Repair | Average Cost | Time |
| --- | --- | --- |
| Fit and supply thermostat | £67-£96 | 1/2-1 hour |
| Fit and supply door seal or gasket | £66-£100 | 1/2-1 hour |
| Replace defroster mechanism or motor | £80-£150 | 1 hour |
| Repair ice maker | £180-£280 | 1/2-1 hour |
| Replace compressor | £325-£445 | 1 hour |
Decided to Repair? Finding Fridge Freezer Repairs Near Me
When looking for a repairman to fix your broken appliance you want to find someone local, because if you are unhappy with the repair, it will be easier for the repairman to return. To add to this, if you find someone local, the repair is likely to take place quicker. Here are some useful ways to finding someone local to fix your broken fridge freezer.
Look in the local newspaper: Very often local reputable repair companies advertise their services in the papers. But make sure they are good before you take them.
Searching online: Conduct a localised Google search for fridge freezer repair companies or independent engineers. You can also find trusted websites that list local appliance repairs. You might be required to complete a form on the website to state the problem.
Contact by phone: Use the local phonebook to call the fridge freezer engineers that are local to where you live. Make sure to get an estimate quote from each one and compare. Also, ask about any call out charges and fees for spare parts.
Getting Quotations for Your Fridge Freezer Repairs
It is always worthwhile getting more than one quotation for repair work. Even if you usually call the same company for repairs, when a costly item like a fridge freezer is involved, it can pay you to shop around and compare quotes. Always compare like for like as a cheaper quote may not include any warranty on the deal.
Decided to Replace? Buying a Replacement Fridge Freezer
One thing to consider when buying appliances for the kitchen is the energy efficiency of the machine. Modern machines cost so much less to run, and you can save lots of money by investing in the latest technology. Ask your chosen company to take away the old machine and to dispose of it correctly.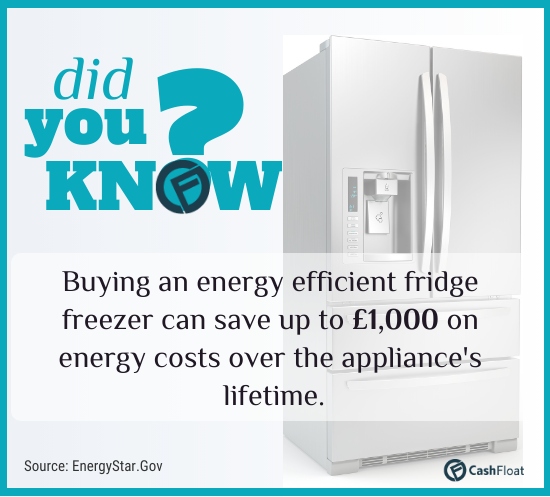 Something else to consider is whether you really need a side by side refrigerator with ice maker as these are more prone to breaking down than the simpler bottom top fridge freezer configuration.
Look for the most energy efficient appliance that you can afford. There are many websites which show comparison tables and these will help you to make the right decision if you decide to go ahead and replace your essential fridge freezer. If you do need help paying for a new freezer, click here to borrow 500 pounds from Cashfloat.
FAQs about caring for your fridge or freezer
Here are answers to FAQs you may have about caring for your fridge or freezer.
How should I defrost my freezer?
Here are steps to follow to defrost your freezer efficiently and correctly:

Ensure the freezer is empty of any food items.
Unplug the freezer and let the ice melt away. You may need to place some towels around the freezer to help absorb the dripping water.
To speed up the ice melting, you can use a blow dryer or put a bowl of hot steaming water in the freezer.
How should I clean my fridge or freezer?
Defrost your freezer and remove any food from your fridge.
Remove any draws or shelves and soak them in warm soapy water.
Wipe the interior of the fridge or freezer with a warm soapy cloth.
For stubborn stains, use a mixture of baking soda and water to loosen the stain.
Do not use any harsh cleaner, such as disinfectants or bleach, as the chemicals may come in contact with food. Sticking with dishwashing liquid or natural cleaners work very well.
What is the ideal temperature for a fridge?
The prefered temperature for a fridge is somewhere between 1.7° to 3.3° celsius (35° and 38° Fahrenheit). A refrigerator which is too cold may freeze items, and higher than 3.3° celsius (38° Fahrenheit) may cause foods to spoil quickly.
What is the ideal temperature for a freezer?
Your freezer temperature should be -18° Celsius (0° Fahrenheit). It's important to check temperatures regularly and be alert for any spoiled food.
Can you plug in a new fridge or freezer right away?
A fridge or freezer in transit gets shaken around a bit, so it's best to let everything settle before you plug it in. If the fridge or freezer was transported upright, you should give it an hour before you plug it in. If it was transported in its side, you should stand it up and leave it for at least 4 hours before you plug it in.